Everyone loves a good spy movie, and it doesn't matter whether it's animated or live action. Intrigue, suspense and…comedy. That's what Spies in Disguise, from Blue Sky Studios and 20th Century Fox, in partnership with Disney, brings to the big screen on December 25. Keep reading for my no-spoiler Spies in Disguise review and some insider info from an interview with the directors.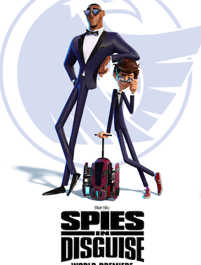 Starring Will Smith, Tom Holland, Masi Oka, Ben Mendelsohn, Karen Gillan, Reba McEntire, Rashida Jones and DJ Khaled, it comes in at 1 hour and 44 minutes long and is safe for all ages. Directed by Nick Bruno and Troy Quane, it's a fast-moving light movie with a soundtrack that everyone will appreciate, especially the adults.
We watched the movie twice. The first time was at an early-advance screening where several of the writers were with their children. Not only did some adults laughed, but the kids were giggling quite a bit. The story is based on Pigeon: Impossible and because pigeons can be, well, gross, the movie has some silliness that will have everyone looking at pigeons in a new way. Next time you spill some food on the ground and a bird swoops in to grab it, you may think of Spies in Disguise.
Spies in Disguise Review
The movie's main characters are Lance, a super-spy who is smooth and suave and used to being adulated and adored, and Walter, a nerdy young scientist who marches to his own inventive beat. They meet when Walter's unique gear for Lance lands him in some hot water, and the two must team up when Lance is framed for a serious crime he didn't commit. The two come together, despite their very obvious differences, to not only solve the crime but to get Lance back in the good graces of the CIA. But, that's not so easy.
Along the way, Walter learns that being different and thinking big can pay off, that he is really capable of so much more than he thinks, and he makes a friend. Meanwhile, Lance learns that being part of a team is a good thing and that flying solo isn't the only way to success. In fact, he realizes that being a part of a flock may be the best way to go.
Speaking of flock, this is where some of the funniest parts for the younger crowd will appear. The behavior of Lance the pigeon's newfound friends may be weird to an outsider but those birds band together in a way that humans could take a lesson from.
The movie ends on a high note, and if others take to the movie like we did, I'd bet a Spies in Disguise 2 will be along eventually to further the adventures of Walter and Lance.
When we met with the directors of Spies in Disguise, we asked them why make this movie. What about it resonated? One of them shared that his son was different, and he wanted to amplify this fun story that being different is a good thing. As the mom of a 'different' kid, I could relate. Walter is most definitely different, not appreciated enough for his skills and yet when someone gives him a chance, he shines. I feel like this is the case for most 'different' people.
We also got to meet with Masi Oka, who is remembered so much for his role as Hiro in Heroes. (I could swear he even pushed up his glasses at the top of his nose just like Hiro did.) I'd give you more inside scoop on what he shared with us, but my recorder broke somewhere between the inside of the interview room and my return home. (It's a first in all my years and I'm so bummed because Hiro was hilarious when asked if there was going to be a sequel to Heroes. I can tell you that he said he would love it if it happened!)
Something I found really interesting was Masi's interest in graphic design. Fun trivia fact: he actually worked on Star Wars 1, 2 and 3, as a part of Industrial Light & Magic (ILM) and his name is in the credits!
Don't just take my Spies in Disguise review as is — go see the movie for yourself. It makes a fun family movie night and you can't go wrong with Will Smith and Tom Holland!