A couple of weeks ago I was fortunate enough to be able to attend a media pre-screening of Tomorrowland at the TLC Chinese Theater in Hollywood. I had seen a few of the trailers prior but still wasn't quite sure what to expect; Tomorrowland is such a different type of movie, a mere trailer doesn't do it justice!
Tomorrowland is, in short, a futuristic clash with the present but based on the past.
Confused yet? Don't be — it's all good and comes together perfectly!
The young Frank Walker and Athena, played by Raffey Cassidy
George Clooney is wonderfully cast as Frank Walker, the now-adult inventor who got involved with Athena (played by Raffey Cassidy, a beautiful young actress) as a child and it affected his life forever in a way not revealed until almost the end of the movie. Athena isn't all that she seems, and the mysterious demeanor belies a heart and mind that you have to see to believe. If you have ever imagined a world of the future, with flying vehicles and amazing technology being just the beginning of crazy inventions to change the world, you'll enjoy Tomorrowland, a place not really on a map but completely exists.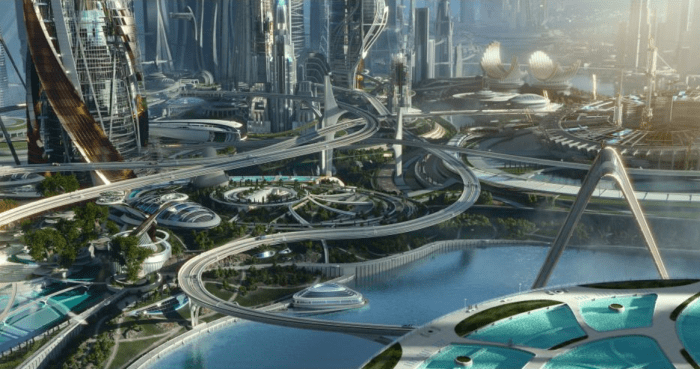 Tomorrowland is a Disney movie for all ages. My husband and I enjoyed it thoroughly and I can't wait to go back with the kids; it's not violent by any means, has no questionable phrasing that's so common in movies today and Disney lovers will get a kick out of the World's Fair and other Easter eggs that are all throughout the movie.
An underlying theme, without giving anything away from this fun movie, is that we can all cause change in the world. Not all change is good though, and we can't give up when faced with difficulties. The world evolves and moves on and we all have the choice to speak up and do good if things go awry. It doesn't matter whether we are a little boy with a jetpack and a big dream, a teenager devoted to her family's happiness or an adult whose heart was forever changed and needs to learn to care again.
George Clooney as Frank Walker, though you didn't really need a label on this one.
There are no clichés in this movie and the message is a positive one. We all have probably wondered at some point what our future holds, and if we'd want to know what it is if that possibility existed. Would it help us or harm us? And what would we do with that information once we knew?
Britt Robertson as Casey Newton
As I write this, I am looking at my own Tomorrowland pin, wondering what magic it holds, if I just believed enough. Belief in ourselves and others is a powerful thing, and Disney does a fantastic job of getting that point across in this fast-moving, dramatic yet humorous movie. When you put George Clooney in any movie, you know it's going to be good but add in Hugh Laurie (notably, "Dr. House") as a man of questionable motives, Britt Robertson and Tim McGraw as daughter and father, and Raffey Cassidy as Athena, you've got a winning combination as the cast comes together perfectly to portray everything Brad Bird, Damon Lindelof and Jeff Jensen, the writers and producers, intended.
Hugh Laurie as David Nix
Tim McGraw as Ed Newton
Opening May 22, Tomorrowland is a fun family event or even a light date night movie. Enjoy the movie and be ready to revisit your childhood dreams!