Have you heard of the True Citrus – Be Healthy, Be Happy, Be True Sweepstakes?
The #HealthyHappyTrue Sweepstakes was created by True Citrus to celebrate how people live their healthiest, happiest and truest life possible. We all want that, right?
I'm excited to try the True Citrus line of products myself! True Citrus is shipping me a complimentary package of their products so our family can try them ourselves. I have a son who is a lemonade-head, and I hate the idea that he could be drinking a lot of sugar. He's a fitness nut who works out five or six nights per week at the gym, but as a growing teenager, I know the importance of ingesting the best products you can so you don't negate all the good you do at your workouts. I personally don't do well at staying hydrated, which doesn't go well with the fact that I run four to five days myself. It's easy to get dehydrated if I'm not careful. Delicious lemonade will make it easier to not worry!
True Citrus products are exactly what I want to have in my kitchen: real flavor from real fruit, no artificial sweeteners or flavors, no preservatives, gluten-free and non-GMO. And they look like they taste great!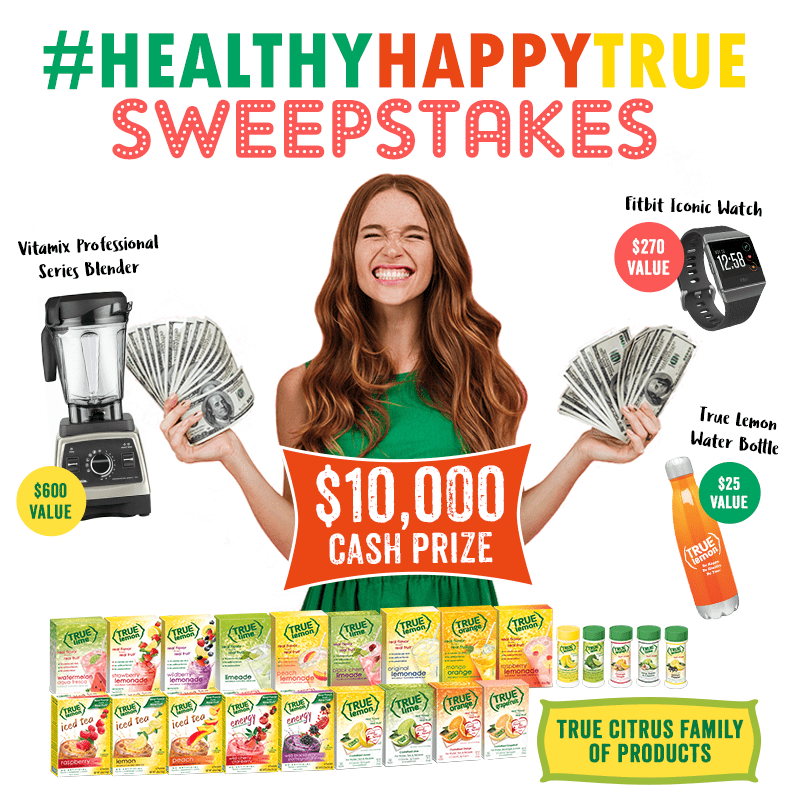 Entering the sweepstakes provides the chance to win a grand prize including a $10,000 cash prize, a Vitamix Professional Series Blender ($600 value), Fitbit watch ($200 value), a True Lemon thermal water bottle and a sampling of all True Citrus products.
To enter the sweepstakes and for details on how to increase chances of winning, visit www.truelemon.com/be-healthy-be-happy-be-true-sweepstakes through June 15. ENTER HERE!
Interested in trying True Citrus for yourself? Save 40% on your order at www.truelemonstore.com by entering the code TRUEFAMILY40US at checkout.
With summer time fast approaching, the temps are slowly creeping up, so having healthy beverages on hand is going to make it lot more enjoyable. I look forward to sipping delicious lemonade sitting on my new patio furniture out back. That's a summer memory I can't wait to make!