Attention Disney fans — a new Disney Channel show is debuting on January 25 at 8:30pm ET/PT!
Entitled Sydney to the Max and set in the present day with flashbacks to the 1990s, the comedy revolves around outgoing middle schooler Sydney Reynolds who lives with her single dad Max in the house he grew up in, along with her progressive grandmother Judy — three generations under one roof.  As Sydney's preteen pursuits begin to expand with unexpected and funny twists, Max tries to get a better sense of the guidance, perspective and support she needs. Grandma, full of both parental wisdom and wisecracks, has a razor-sharp memory that proves Max's own teenage antics parallel Sydney's.  Flashback scenes to a young Max and his best friend Leo juxtapose the funny predicaments invented by Sydney and her vivacious friend Olive.
School of Rock alumna Ruth Righi leads the cast as the title character, along with Ian Reed Kesler (Suits, Kickin' It), Christian J. Simon (The Amazing World of Gumball), Ava Kolker (Girl Meets World), Caroline Rhea (Sabrina the Teenage Witch, Phineas and Ferb), and newcomer Jackson Dollinger (Puppy Dog Pals).
Sounds like another 2019 programming winner for Disney channel, right? It sounds like something my kids would have definitely watched, and anything with Carol Rhea is always fun!
Here's a sneak peek trailer — then keep reading so you can enter our newest giveaway for a chance to win a tote bag full of fun Sydney to the Max swag!
Now it's time to enter the giveaway, which includes:
Disney Channel tote bag
Disney Channel sunglasses
Disney Channel Metal Water Bottle
Disney Channel branded fanny packs
Sydney to the Max retro telephone headsets (that connect to cell phones!)
Sydney to the Max branded coloring books with Disney Channel colored pencils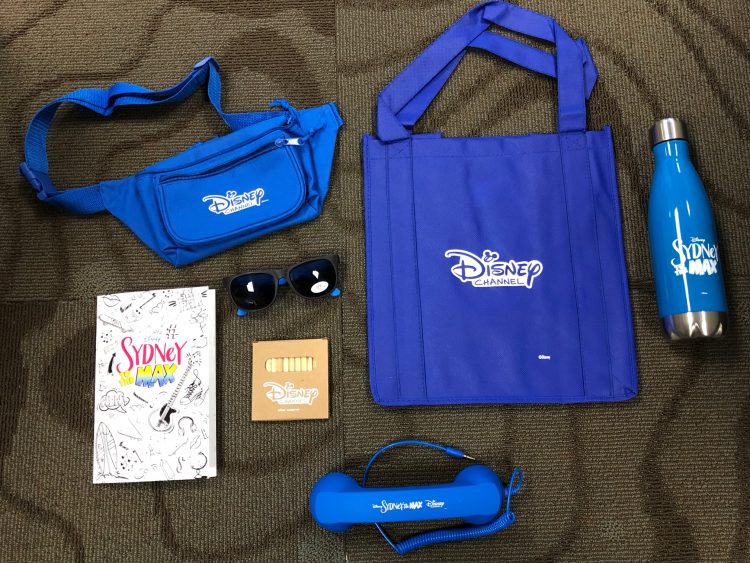 Giveaway rules: winner must be at least 18 years of age and a United States resident, one winner per household. No purchase necessary and void where prohibited by law. Prize fulfillment comes from the PR company, not the Dangerous Cupcake Lifestyle team.