Watching a Disney movie is always a special family moment, but watching one at the El Capitan Theater in Hollywood makes it even more magical. During this September, the El Capitan Theater shows throwback movies! With one movie showing per week, everyone will enjoy the programming and you'll want to return again and again.
The schedule — available at the El Capitan Theater website — begins September 6 and plays throughout the end of the movie. Along with the special movie schedule, you'll also have the opportunity to take advantage of some spectacular deals that will save money on your visits as well as just make them more fun!
Up first is Enchanted, playing from September 6 – 9, starring Amy Adams, followed by a double Flubber feature on September 13, which of course stars the beloved and unforgettable Robin Williams. If a double-featured is too long of a night for you, the original Flubber plays on its own from September 14 – 16.
Then comes my favorite, Up. This movie made me laugh and made me cry and is such a classic. (I'm so excited to see it is so prominently featured in the Pixar Pier area of Disney's California Adventure! I got my photo taken with the balloons from Up just yesterday at Disneyland!) It is playing September 20 – 23.
I was away on vacation but the throwback month started with Who Framed Roger Rabbit, which always makes me want to run to Toontown and ride the Car Toon Spin!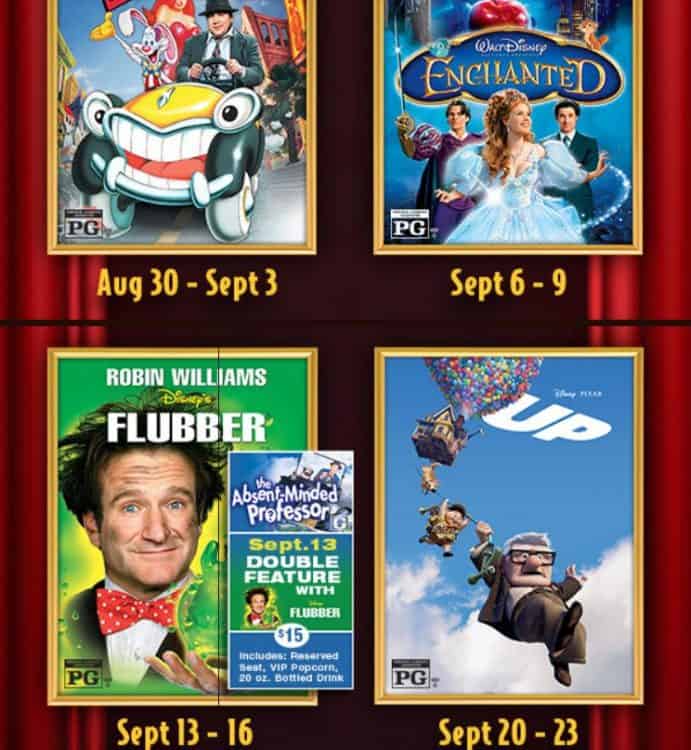 In keeping with throwback movies, the El Capitan Theater is also including throwback prices! Only $10 gets you a ticket to the movie, including a reserved seat, a small drink and a small popcorn. If you want to include dinner at the Hard Rock as part of your night out, you can buy a combo ticket, and to sweeten the evening even more, parking at Hollywood and Highland is only $2 with theater validation! Score!
Let me know if you decide to take in a show — which one of these sounds like your favorite? Sign me up to see Up!