In one more day, you can get your hands on Disney's Christopher Robin on Blu-ray. It's going to be amazing, I promise!
I was given a copy by Disney, when I was a part of a press junket last week in honor of Disney's new Nutcracker and the Four Realms. As part of the event, we created a floral arrangement, had a 100 Acre Wood Friendsgiving picnic, and interviewed Jim Cummings. (More about that HERE.) I love Winnie the Pooh and was ecstatic about being involved in such a festive event!
I also am ecstatic that Disney created another movie about Winnie the Pooh and his friends. Even though Christopher Robin focuses on the main character as an adult, his childhood friends find a way back into his life and the movie is a fun tale with a credo of "sometimes doing nothing leads to the very best something."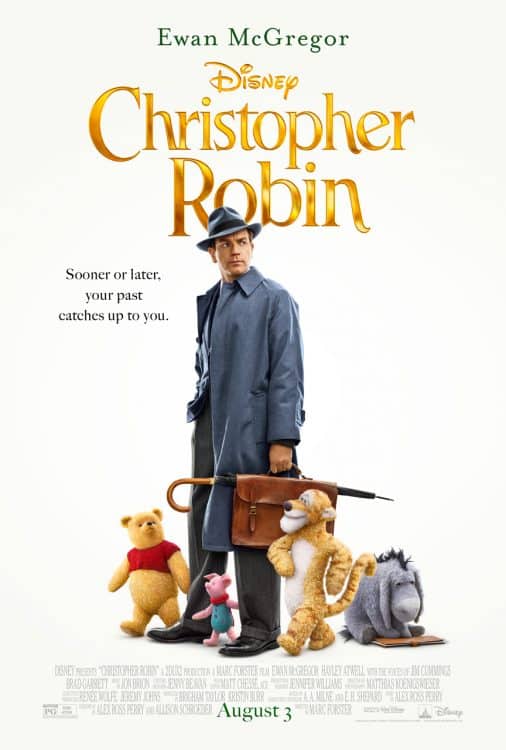 Disney's Christopher Robin is not just a story about a grown-up Christopher Robin, but the full-circle of his friendship with Winnie the Pooh, Tigger, Eeyore and Piglet. While they may not age, that doesn't mean they don't continue to grow, and Pooh's ongoing tidbits of silly old bear wisdom are worth watching the movie for alone!
If you've seen the trailer already, you know that Christopher Robin (Ewan McGregor) is a harried adult, one attempting to handle his family life with his work life, where he struggles to deal with the tasks at hand — which, if done badly, can negatively impact the employees. In worrying about them, and his job, his family is put on the back burner, and Christopher is about to get called out when he is roped into working on a weekend that was already promised to his family, played by Haley Atwell and Bronte Carmichael.  (And if you haven't seen the trailer, keep reading! It's down below.)
In comes Pooh and the gang, and Christopher quickly remembers the love he has with Pooh, despite displaying a little irritation at what he feels is another interruption into an already busy life. When he and Pooh are on the train, the "Say What You See" game comes naturally to Pooh, but Christopher prefers Pooh do it a little more quietly. Much like an adult is with a regular child, he enjoys Pooh's fun but that goes against his ability to get the work done that he needs to complete…which is a very small symbolic explanation for Christopher Robin's entire life, but he doesn't see that…yet.
I won't share the end results of the movie, but let's just say that Disney magic means things have a way of working out. It isn't without a lot of emotion, and while I am typically not one who cries much in movies, there's something about this one that tugged at my heart. Maybe it's how much my daughter loves Pooh, maybe it's just some remnant of childhood memory of my own, but Winnie the Pooh brings out the child in everyone.  The movie is full of surprises and it's sure to be a hit for your home movie library, and it will make a good Christmas gift!
The Blu-ray edition comes with a lot of surprise, too! You'll find a short on how the "Stuffies" are magically brought to life, as well as how Pooh and Friends come to life, where you'll see how love, magic and special attention to detail make their way into every frame of the movie. A favorite for me was the history of Pooh's iconic voice, including Jim Cummings. After having had the distinct pleasure of interviewing him twice now, I appreciate these movies even more. (When I interviewed him last week, he complimented my shirt, and then did a Pooh laugh. My heart!) There is always a digital download code, where you can use Movies Anywhere to watch the movie on any of your mobile devices. This is great for the kiddo's laptop or iPad for an upcoming holiday road trip! (Or maybe an adult's….I am not a road tripper by nature and I'd happily watch this movie on the road!)
Pre-order Disney's Christopher Robin on Blu-Ray on Amazon now, or head to the store in the morning to pick up your copy. I am going to grab a couple of copies for gifts for some special kids in my life — I'm keeping my own copy to add to my Disney Blu-ray collection. (I'm slowly rebuilding my old VHS movies with Blu-rays, so my first grandchild, arriving in March, will grow up seeing Disney as early as she can remember!)
"If anyone wants to, now would be a good time to clap."…..Eeyore