I love cooking. I love to create a delicious meal and set it on the table so my family can eat well and enjoy. This, however, did not apply as much anymore when I was shorted on kitchen ingredients and we had to cook three meals a day for weeks on end. After a while, I decided to go back to some easy sheet pan dinners, but even then, I got bored….until I tried adding new things.
Melissa's produce sent me a big box of their products: fresh produce, chopped garlic, dried tomatoes and more. Below is my very quick 'don't look at my kitchen, we're prepping for a major renovation' photo of the ingredients.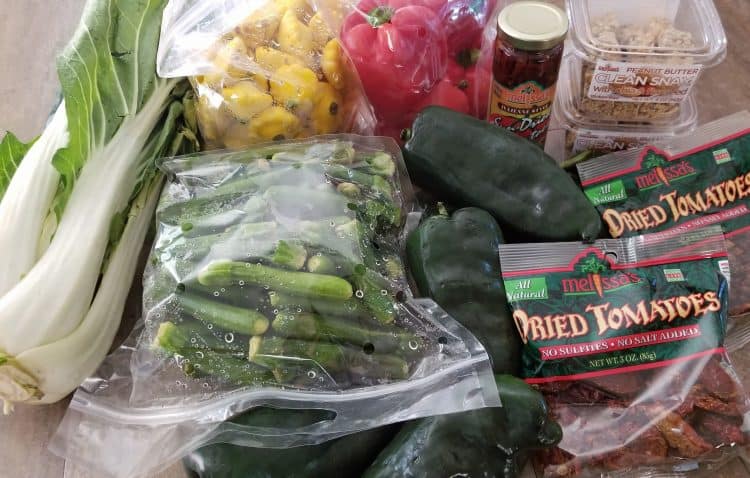 So much good stuff! They also sent me another box of things to incorporate into a summer dessert, but I ended up mixing and matching for even more variations.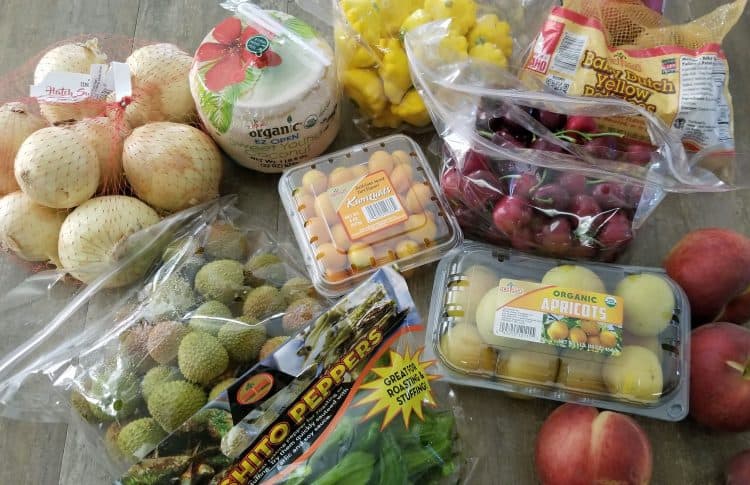 Those Baby Dutch potatoes are some of the best potatoes I've had, straight out of the bag. They're blemish-free, easy to chop and they already taste like butter, even before you add anything. You can find so many ways to use these, you won't bother with big potatoes nearly as often.
My cooking methods aren't as gorgeous as many home cooks. Cooking for four kids, I got in a habit of 'get it on the table, and get it done fast' because time was of the essence. (My baking is a different story; I like things to be pretty and perfect.) I had to get creative, making meals that six different palates would still enjoy while navigating some health issues.
One of my kids was severely allergic to 14 things as a toddler and another was allergic to latex, bananas, walnuts and annatto; both were anaphylactic. Throw in personal preferences and I learned early on that sheet pan dinners allowed me to roast a lot of different things at once while easily serving each person what they preferred from those sheet pans.
Fast-forward all these years, and I'd gotten away from making them. COVID lockdown though brought them back, more as a need than a want. I thought I'd have a lot more time when locked at home, but I felt even more rushed than before…despite no longer having a full-time job! Produce wasn't always easy to find, and if we couldn't get something delivered, we'd not be able to make what we planned, so planning went a different direction. Lockdown caused us to plan using only what we already had in the house, and clearing out the pantry, refrigerator and freezer.
This is the perfect storm for sheet pan dinners.
The best sheet pan dinners require no recipes. Instead, they require some chopping, creativity with seasoning and willingness to try new things. Not all items roasted together are a win; roasted corn off the cob is great on its own but it dries out a lot faster than the rest of the food on the sheet pan, so don't try it unless you want something like fleshy but dry popcorn. I have no picture of that mess, so just take my word for it.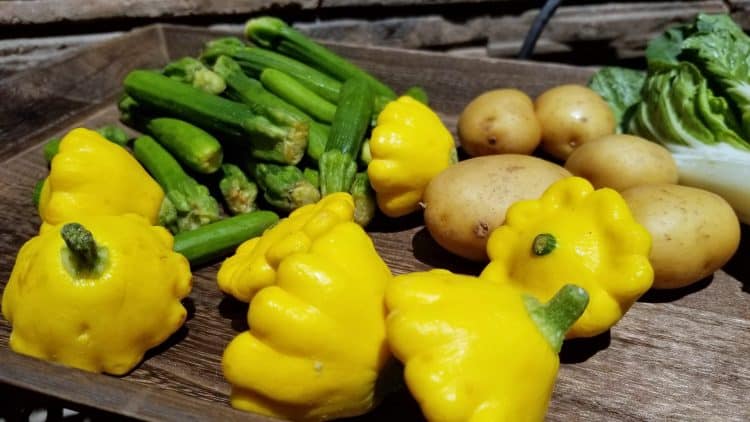 Sheet pan dinners are basic and all require just a few things:
protein: keilbasa (beef/pork or turkey), chicken thighs or breasts, pork loin strips or even shrimp, or sub in seasoned tofu if you are vegan
standard "fill you up" vegetables: potatoes, carrots, cauliflour, pearl or chunks of onions or broccoli
fancier "shake it up" produce: patty pan squash, kale, bok choy, mushrooms, bell peppers, brussels sprouts, summer squash, zucchini, cherry or grape tomatoes, mild chile peppers
seasoning: garlic powder, salt and pepper, chopped basil, thyme, oregon or Italian seasoning mix, cumin, paprika, turmeric (which has additional health benefits on its own), lemon pepper or fun mixes like Everything but the Bagel from Trader Joe's
toppings: pepitas, dried cranberries or cherries, sun dried tomatoes, feta or bleu cheese, parmesan cheese
To feed four and have leftovers, I typically use two full turkey keilbasas, sliced in half and then quartered. They cook evenly and sometimes even caramelize a little. (SO good.) You can beef it up with more veggies if it's looking light for your crowd; we've fed eight people with two sheet pans.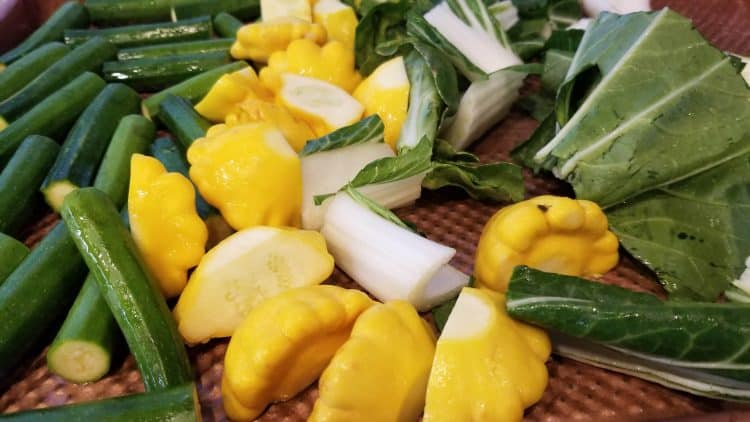 Lightly oil a baking sheet. Chop up those baby Dutch potatoes from Melissa's (halves or quarters), add in two other vegetables from either the standard or fancier suggestions, drizzle on some olive oil, sprinkle on your seasonings and throw them in the oven. 350 to 375 degrees for 25 minutes or so, depending on your oven, and you've got a meal!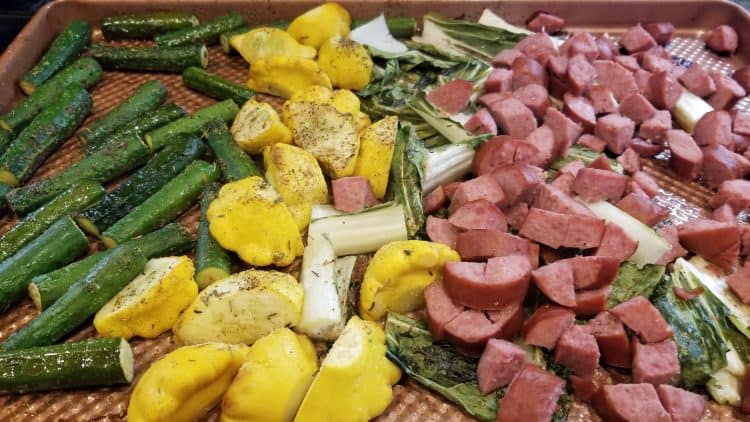 When you remove it from the oven, sprinkle on the toppings. If you use the feta or bleu, popping it back under the heat for another 3-5 minutes adds a new level of flavor, allowing the cheese to almost bloom and taste stronger. If you're not a fan of strong cheeses, fresh grated parmesan or Romano is good here, too. Bonus points here because you can customize a person's serving this way! (All my kids are cheese lovers, and I will admit now to sprinkling sharp cheddar on a kids' plate if they were not into the vegetables. It added to their dairy consumption, so it's another win-win!)
Not only are sheet pan dinners low maintenance, requiring just basic chopping, but you work with what you've got. Pick a protein, then rummage through your drawers or veggie bowl. Boom, it's that easy. Experiment! This is how I learned that bok choy chips are a thing! Similar to kale chips, they are flavorful and give you another way to use bok choy than the typical usage. So easy — chop the stems/leaves and roast as you would kale chips. We found these were better if cut smaller; the crisp bite was a surprise! One time, I sliced up slabs of Melissa's Produce premade quinoa tubes; these were a huge hit!
We've never been a 'set the table' kind of family. We eat more buffet style, grabbing a plate and filling it as we walk the counter in the kitchen. With a sheet pan dinner, everyone can pick what they want and sit down without any fuss. The hardest part is just figuring out what to throw on the pan, because you can do almost anything!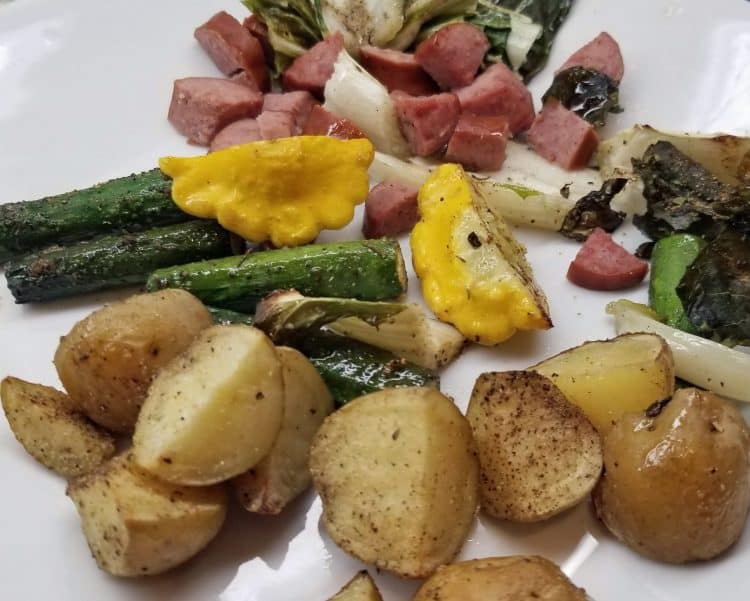 If you're back at work and come home tired, or you're just enjoying binging on Peaky Blinders, take advantage of a one-pan dinner that suits everyone and get to the table with your family fast!