Hey, Donna, want to review a Marvel….YES. So now I am the happy owner of the new Marvel Battleworld: Mystery of the Thanostones game to share with you here on the blog. I had already mentally answered before I even knew it was a Marvel game.
Quite honestly, I'm Marvel-obsessed. Marvel clothes, Marvel games, Marvel bags, belts, pajamas, license plate and frame, artwork, mugs, kitchen gear, you name it, it's here in the house so I'm always up for trying something new. Even though I don't have any small kids here in the house now, that didn't stop me because a Marvel game is a Marvel game….and this game isn't necessarily just for kids. It does recommend ages 6+ but I think it could go a little under if you're there playing with them. It can also definitely go older.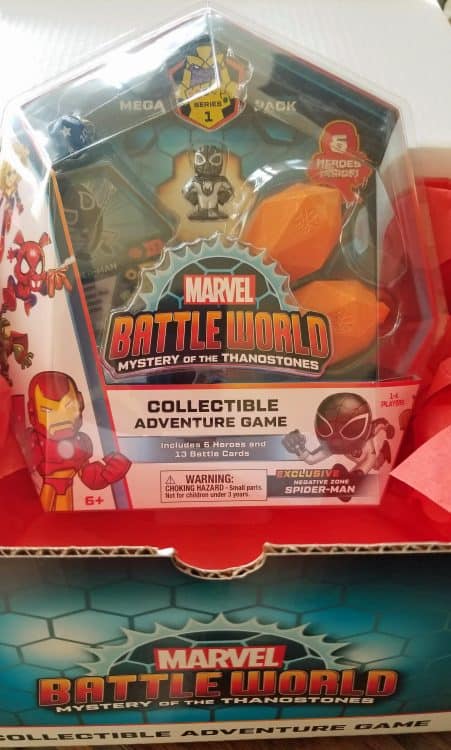 Marvel Battleworld: Mystery of the Thanostones reminds me of the early phases of Pokemon games, where you collect the characters and use the cards in each package so you can build a huge collection. Battle your friends and their characters, making it a game that a large number of people can play. With different characters, or game pieces essentially, every game will be different.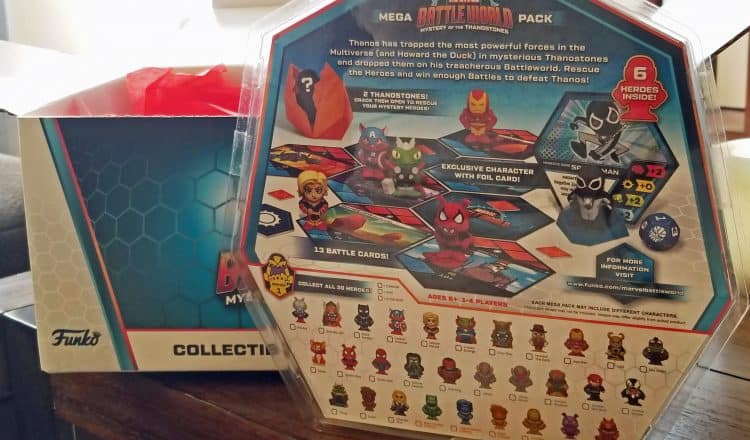 And if you're like me, it's fun to see what characters (up to 30 are available) you can add to your collection in the event you display them on a shelf because if it's Marvel, it has to be visible….especially when you get Thor, or as the card says, Ultimate Thor. (But aren't all Thors the ultimate?) I did get Dino-Thor, too. This game's pretty clever!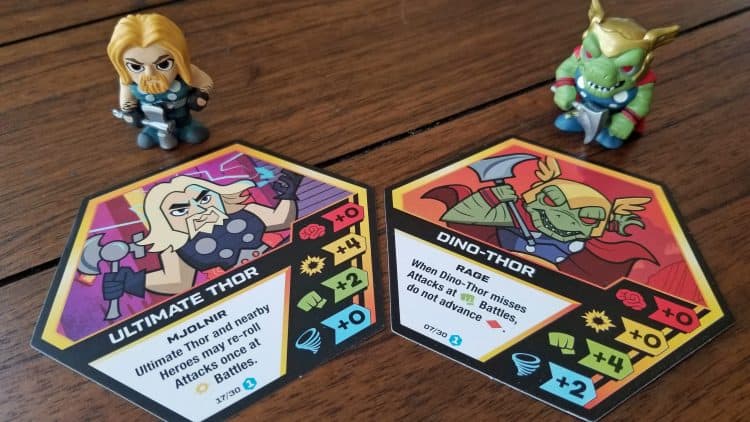 This Mystery of Thanostones set came with six heroes and 13 Battle Cards. Two of the heroes are hidden within the stones, so you don't see them until you open the game and get to that point. Available characters include Captain Marvel, Iron Man, Groot or go deeper into the Marvel universe with Captain Americat, Ant-Ant and Throg!
It also includes an exclusive Negative Zone Spider Man variant. See what else we got?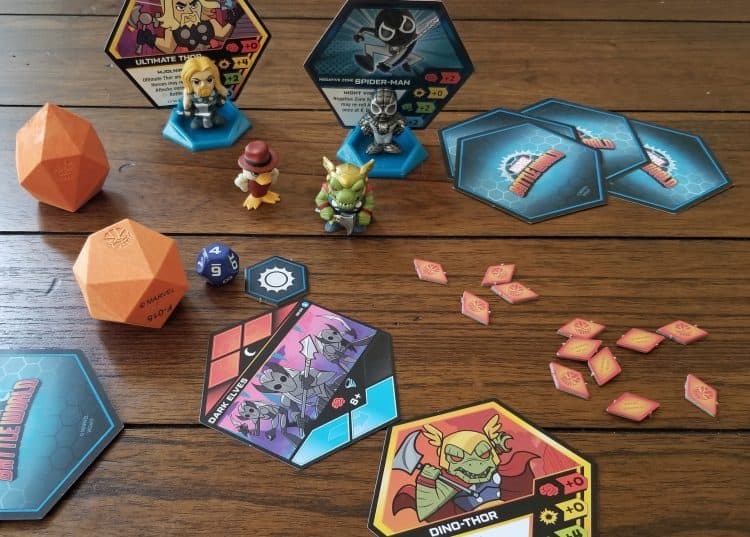 The game is available online but also at Target being June 21. For more information on it, and how to play, visit the Funko.com/Marvelbattleworld website. It says 1-4 players, but it seems easy to add people into the game, which is perfect for families trying to stay occupied during quarantine or shelter in place. (And by now, who doesn't need something new to try, right? Boredom is a real thing and kudos to all parents keeping kids busy!)
Thanks, Funko, for sending us this Marvel game to try! We're going to be keeping an eye out for additional heroes and cards to add to the set so we can change up our game nights. (We also have another awesome thing for the grand baby to play with us so we can continue her early Marvel training!)
Follow along on social at #MarvelBattleWorld and #FunkoGames or @OriginalFunko. You'll find you have a growing shopping list from minute one!