For many years, my family and I frequented the Rancho Cucamonga location of On The Border. A close, big building and great food made it a place we loved to go for informal meals that everyone enjoyed. When they closed last year, we were saddened. Lots of fun memories there! When word got out that the building was being renovated to turn into a Stonefire Grill, I was really excited — I'd heard tales of the good food at Stonefire but hadn't been to any yet. With eight prior locations scattered through the valley, LA and Orange County, none were close enough for regular family visits…until now. The new Rancho Cucamonga Stonefire Grill is open!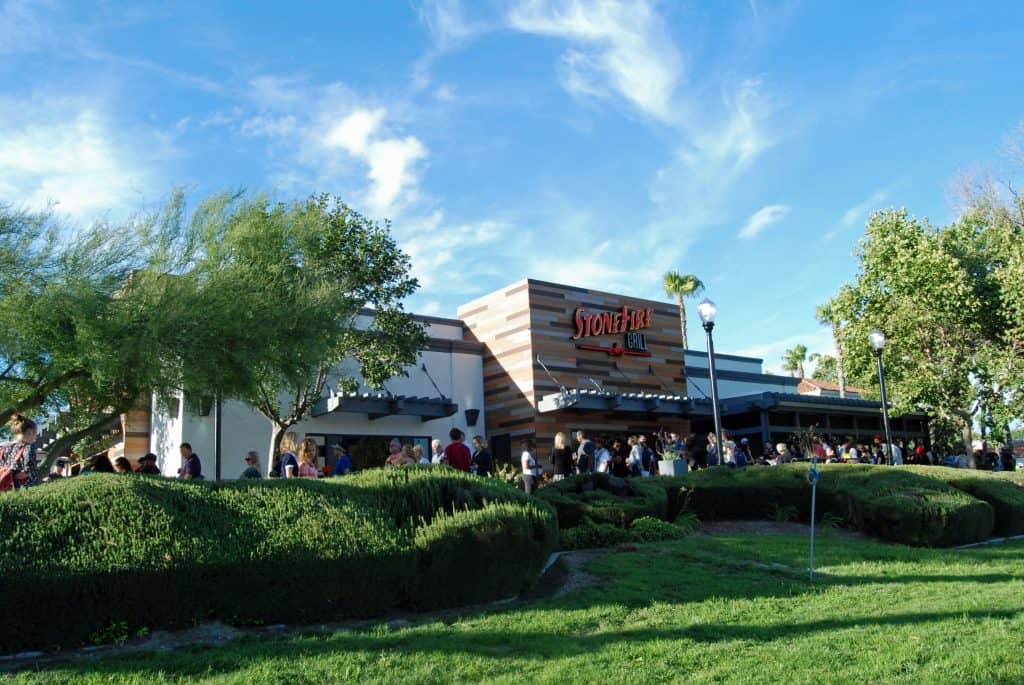 We were invited to attend a media tasting at Stonefire Grill's new location on Foothill Boulevard just east of Haven. Our Saturday visit was right at the beginning of a Friends & Family event and the line outside was long. Clearly, there's no shortage of people interested in finally having a local Stonefire Grill. With a dine-in or takeout menu full of signature salads, grilled chicken/ribs/tri-tip and seafood meals, pizza, pasta and sandwiches, there's something for everyone.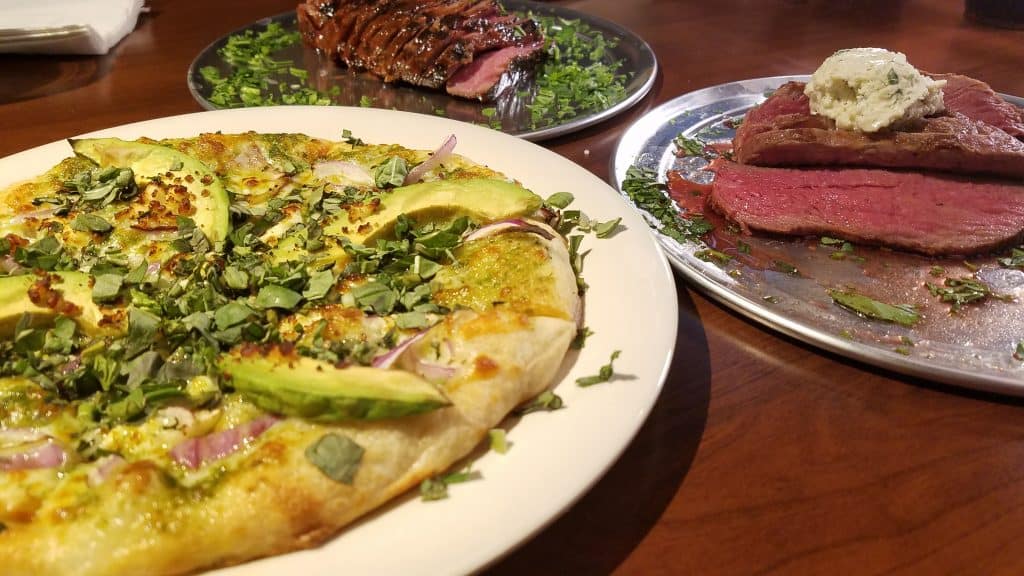 From our entry into the restaurant, it was clear this isn't your regular sit-down family restaurant. Stonefire Grill has a different approach to serving customers. Not only is every employee empowered with menu knowledge to answer your questions, they also know how to properly recommend food, especially to newbies to the chain. I went in having heard great things about the tri-tip salad and their BBQ ribs, and was leaning towards a Seared Ahi + Arugula Salad, but after the wonderful description by a host, I switched to the Stonefire Favorites pizza. How could you not want to try a pizza with homemade pesto, avocado, red onion, mozzarella, fresh basil and Feta cheese? The avocados, baked in the oven with the rest of the pizza instead of being added on after, were a first.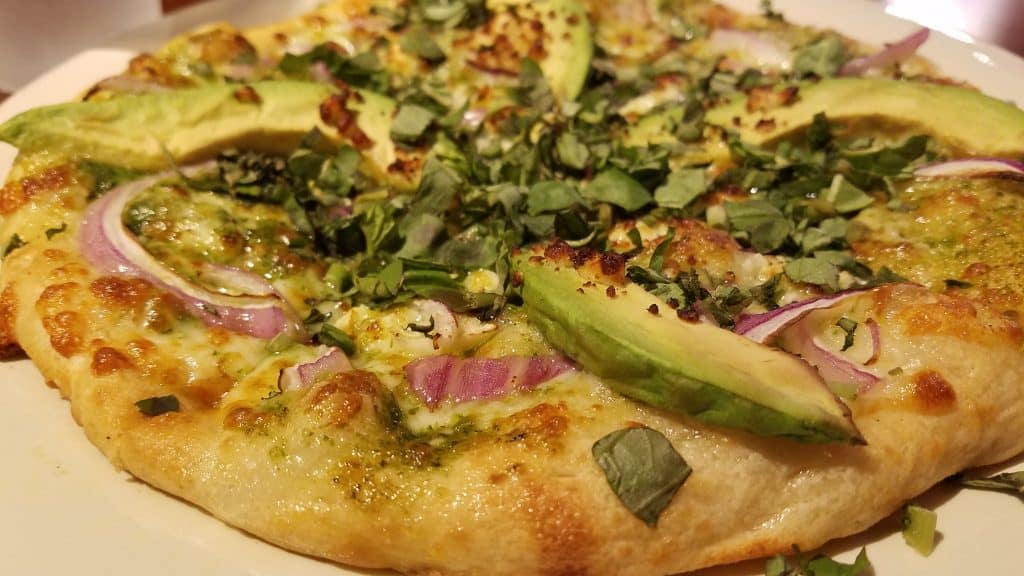 One big difference you'll see right away is how you place your order. Customers line up at a counter inside the door, placing their orders and paying for them before they are seated. Once your order is complete, server staff will deliver your food items to your table, which they find by a locating beacon handed to you after you pay. You choose where you sit and you save the time waiting to be seated or to have someone take your order at your table.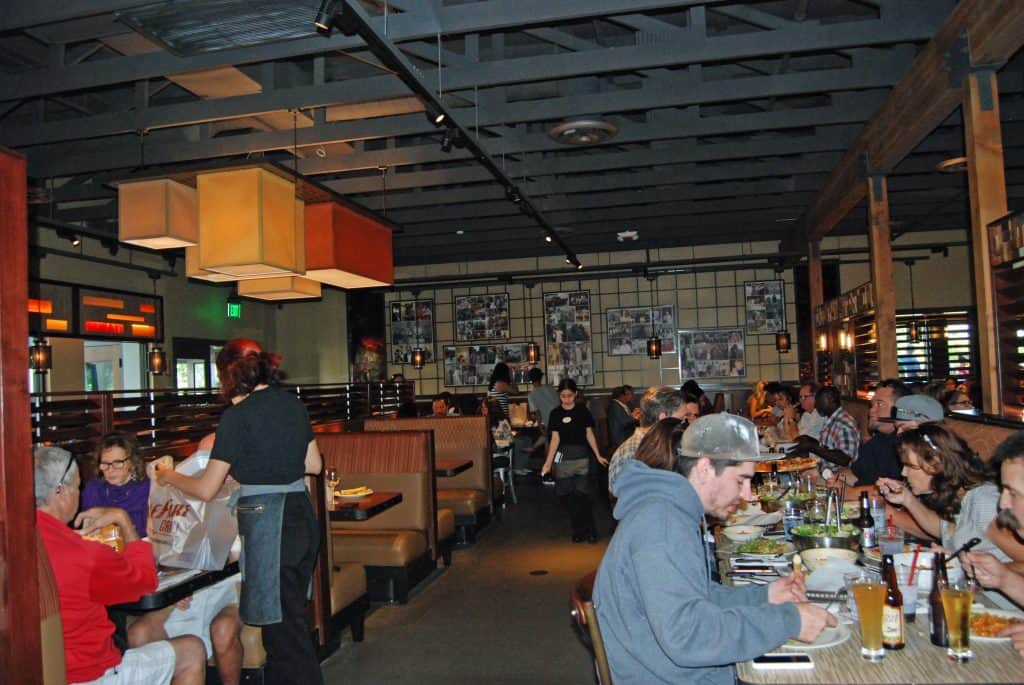 We sat near the back, not far from the large drink station (you fill your own drinks, other than the alcohol menu options) and within view of the kitchen. The restaurant is large, and the ambiance is understated, so you get more of a feeling of privacy as you eat and chat. One wall is covered with black and white family photos, and you can't miss the two-sided floor-to-ceiling fireplace structure right behind the cashiers up front.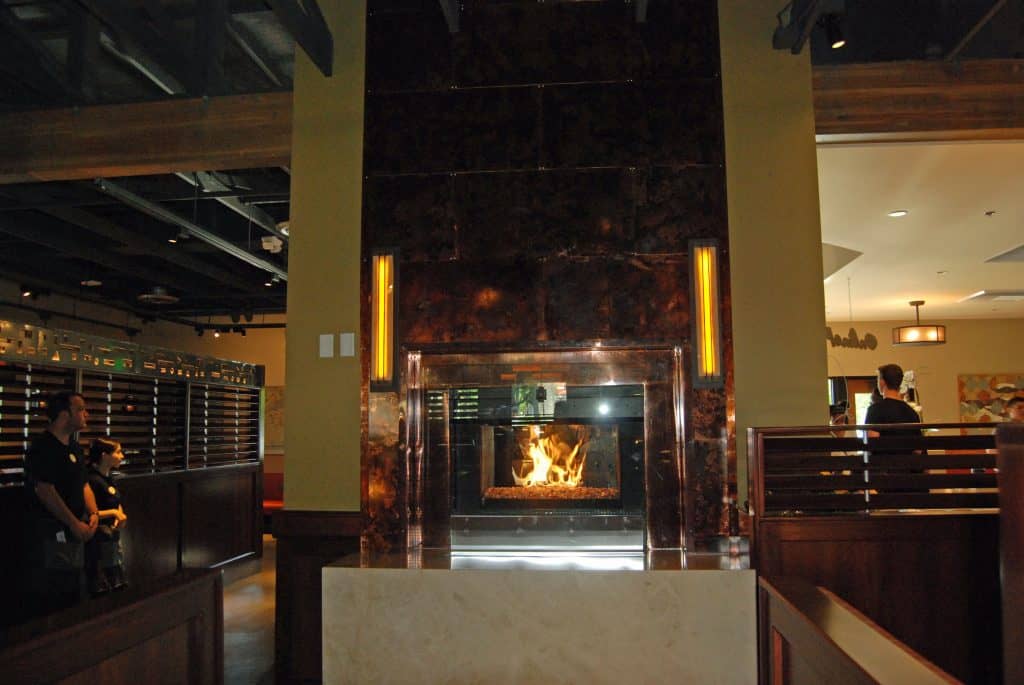 At the end of each aisle, the dividers are partially built of what appears to be cast-off wooden blocks — it's such a cool effect. The interior is spacious, quiet and relaxing. Parking is easy and while they don't take reservations, the line moves quickly. And the Stonefire Grill menu is fabulous.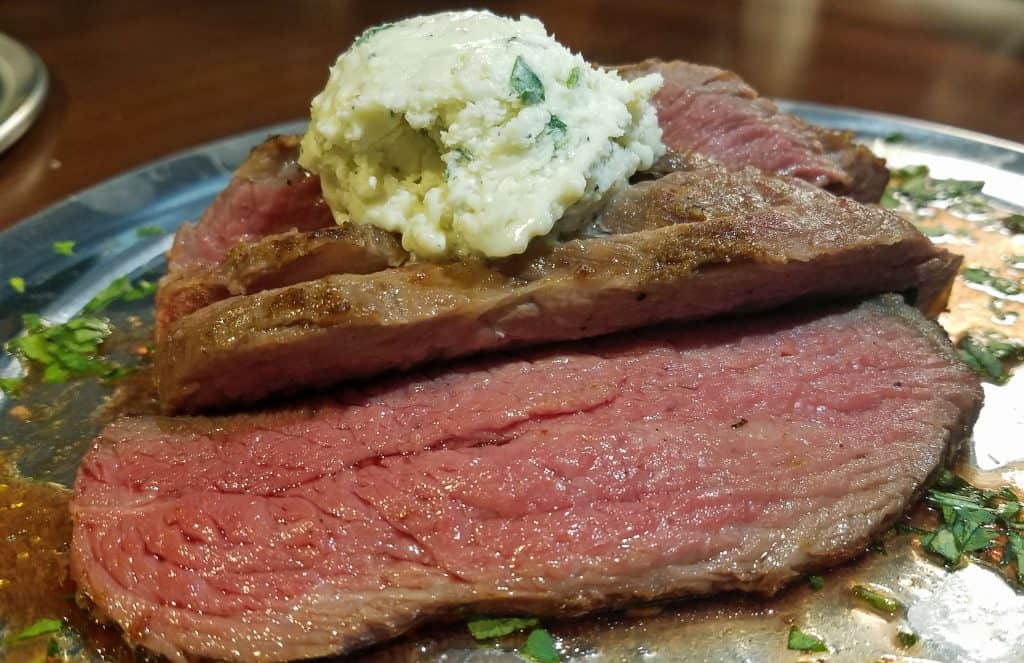 My husband and son both tried tri-tip meals. The grilled meat meals each come with a salad (Garden, Caesar, Cartwheel or Greek) or a small side item and 2 breadsticks. One got the pepper garlic topped tri-tip with the Gorgonzola butter, and the other tried the Mesquite BBQ. Both looked so good. I can't eat beef so I tried a tiny bite of the pepper garlic-topped style. Ohmyyum, I wanted more. And that butter? You have to try it. The salads were substantial and fresh, and the breadsticks, well, I may have stolen one of them. The outside has just the right amount of crisp and the inside is soft and fluffy.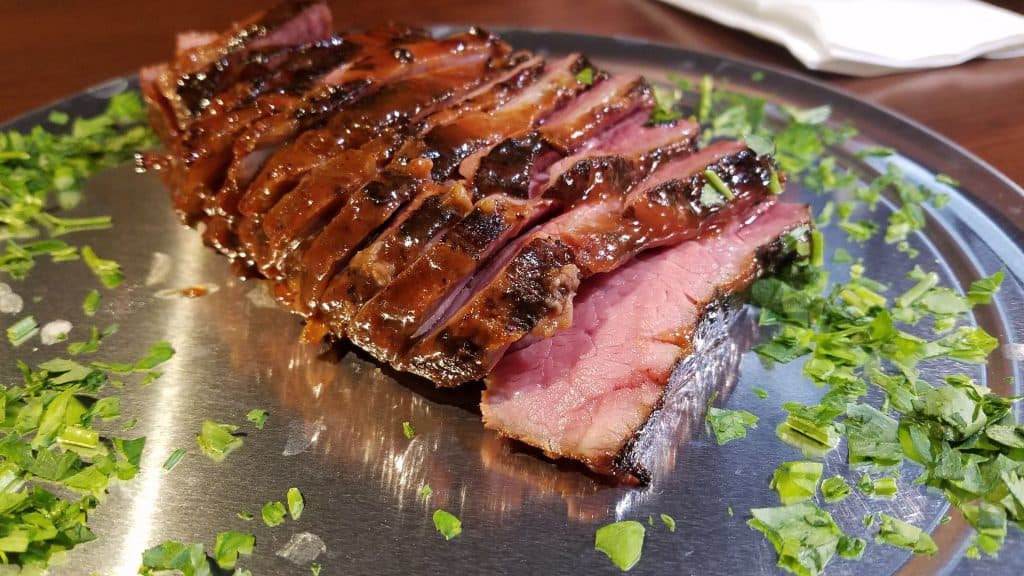 We were full but when we were brought a dessert sampler, we did it justice. The Heavenly Cheesecake, Incredible Carrot Cake and Famous Fudge Brownie were dusted off completely. I had a little something to do with the carrot cake going so quickly. Moist and very full of carrot flavor — and no raisins, so that's such a big plus for me — it was delicious and the frosting didn't overpower the cake.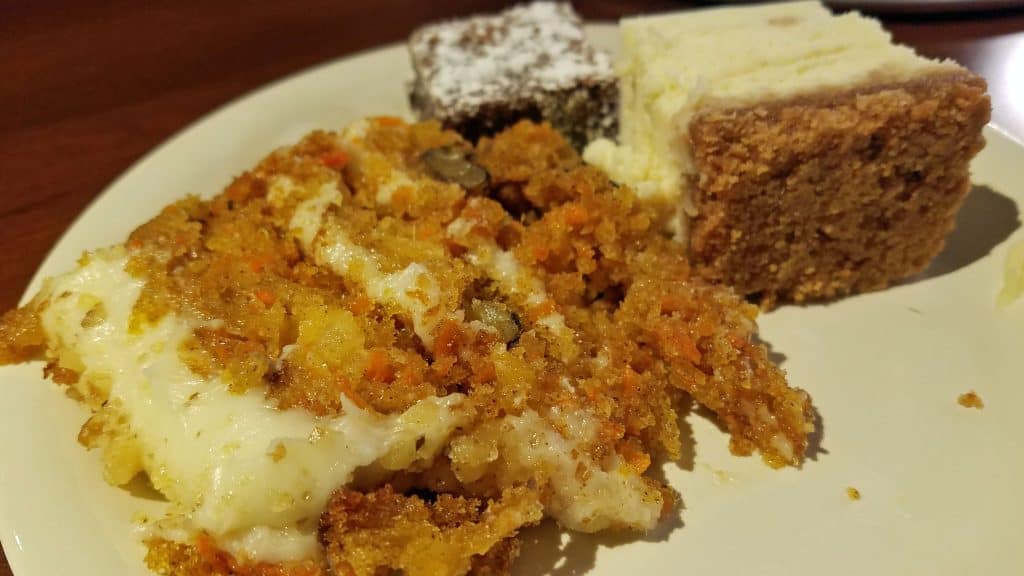 The Stonefire Grill menu offers family meals in addition to the individual meals. Perfect for four or more, the meals come with grill options, a salad and 12 of the signature breadsticks. Add in a pizza or two more sides if you want to expand the size of the meal for added guests. The kids' menu has seven offerings, from pizza to pasta to ribs, so kids won't get stuck in a rut ordering the same thing they do off of every other kids' menu.  Sodas, tea, wine, beer, the menu is varied for guess of all ages.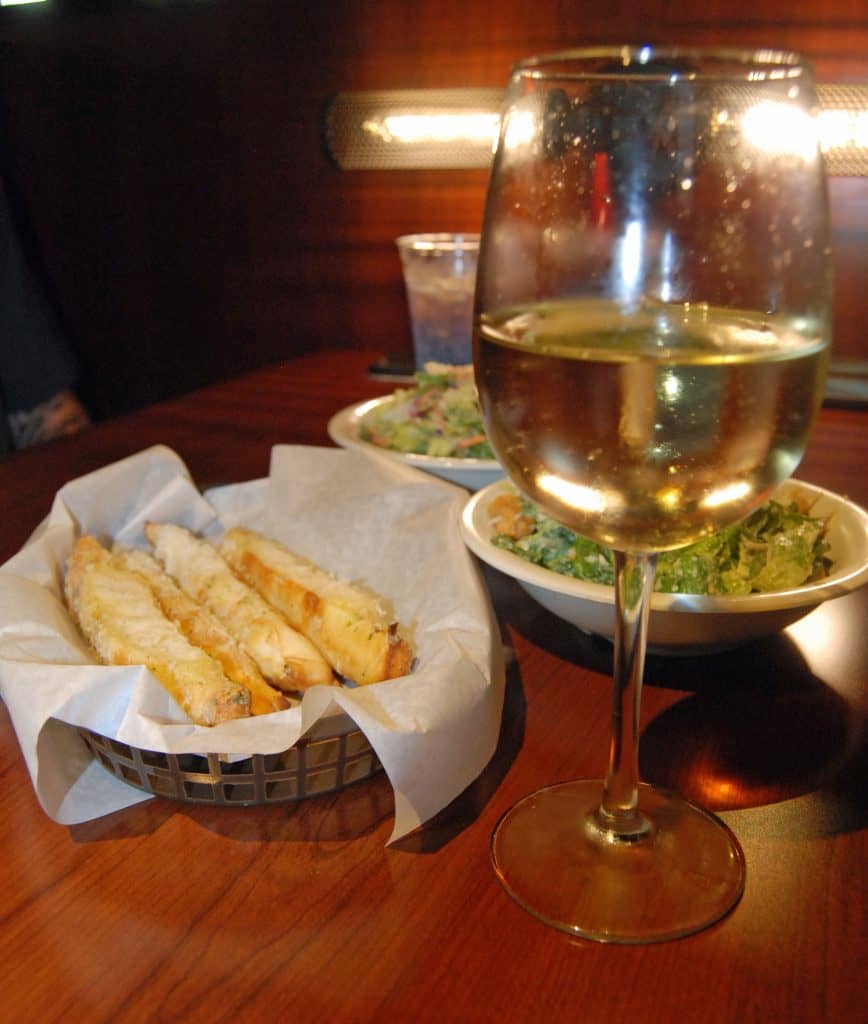 For added convenience, order takeout and pay online via the app — less wait and fresh food is yours to take home in no time at a fast food price. Visit their website for more info. Started back in 2000, there are now nine locations, with two more coming soon in Torrance and Venture. Follow them at @StonefireGrill on social media but don't look while you're hungry — or do, then head over and order a piece of that carrot cake. You're welcome.