Sometimes a movie comes along that you can really relate to in one way or another. Rarely does one come along that I can relate to as well as "God Bless the Broken Road," by Lionsgate, which is now available on Blu-ray as of December 4.
Why can I relate to God Bless the Broken Road so much? I'm a military veteran. I love NASCAR. And I was a single-parent of two, struggling to pay the bills and make ends meet. My faith in men was pretty much zero, and my faith in higher things and the world around me wasn't that great either. I may not have everything in common with the star of this movie, a young single mom who lost her husband in Afghanistan, but there was enough that I found myself very much enjoying the whole story.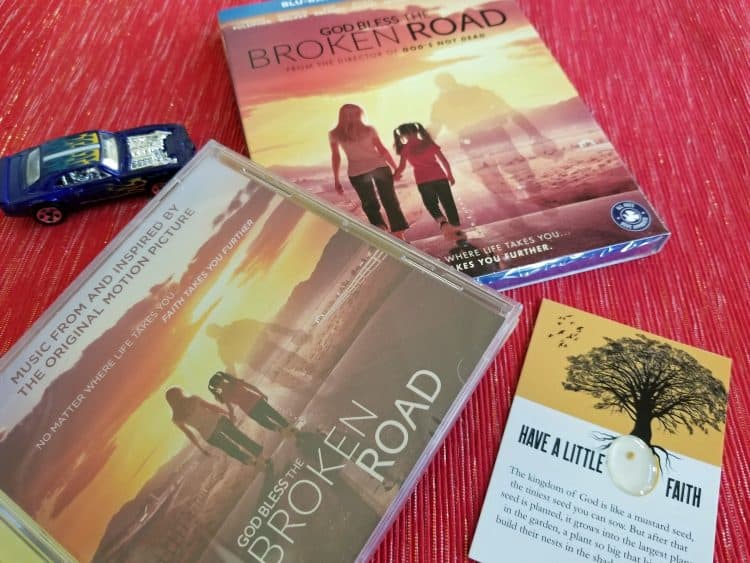 No spoilers here — you'll have to see the movie to learn the story — but Amber Hill (played by Lindsay Pulsipher) is mom to her daughter, Bree. While trying to keep things together for her and Bree, Amber meets Cody Jackson (played by familiar Andrew Walker), an up-and-c0ming stock car driver. Things aren't always smooth, but Amber's seeing life in a new way, but in keeping with the name of the movie, she is forced to make a difficult decision: keep going along the familiar, but broken road she's used to, or let her faith take her in a direction that's unknown. New directions can bring new love….if Amber dares to put her out there again.
God Bless the Broken road is available on Blu-ray for purchase for a Christmas gift or a family movie night. (A friend of mine watched it during the December meeting of her woman's group from church. She said it was the perfect movie!)
The cast of the movie is a long list of names you'll recognize — Kim Delaney, Robin Givens, Madeline Carroll, Gary Grubbs and Jordin Sparks, the beautiful singer and winner of the sixth season of American Idol. Here's the official trailer from when it hit theaters on September 7:
All the feels, right? Amber's faith was so terribly tested when losing her husband, and even though she's surrounded by a strong support system, she is young and trying not to lose her home. Meeting Cody brings light back and shows her that God really does work in mysterious ways, ways we don't need to understand but with faith, things can improve, get better and be more than you ever thought.