Father's Day creeped up on me this year, and we're just a few days away, finalizing our plans and putting together food shopping lists. I can't spill the beans here, since the husband still reads the blog, but I will say that, as always, food plays a big part. The Father's Day menu is long and varied, since we're celebrating it two days in a row. If you haven't put together your holiday meal yet, there's still time!
I did my shopping this week at my local Smart and Final Extra! Same good Smart and Final prices, bigger selection. I can grab a huge package of recyclable plates for our neighborhood block party and an individual serving of yogurt for lunch. The days of Smart and Final being only a party supply store are long over, and their produce department is a really good example. Aisles of fresh vegetables and fruit, and a huge organic section as well as a section for locally grown items.
My hubs prefers to not go out on the actual holiday, so we get pretty creative with three meals, appetizers and at least one dessert. Nothing needs to be fancy or expensive — just flavorful and something we don't serve every day. For this year's Father's Day menu, we considered barbecue, but dad's the barbecue-r so there's no way I want to put him to work, especially since it's going to be in the mid-90s this year. We've got some special activities happening before dinner, so I decided to go for easy, knowing I could find things at Smart and Final that would be unique and delicious without anyone miss the fun happening in the other room.
If you are making things on the BBQ, check out their meat sections. All levels of convenience and price are available.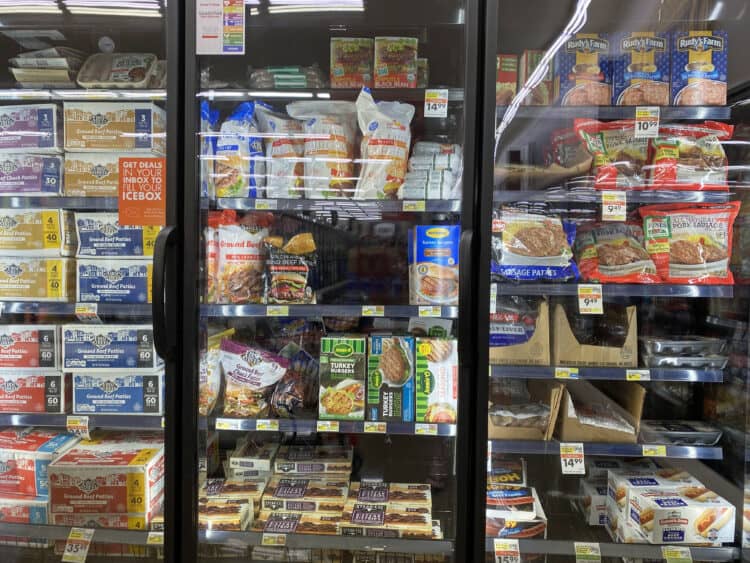 I found great prices, especially given how inflation has caused food to frequently be more expensive. Those pork loins can be cut up at home for multiple meals, frozen in portions in freezer-safe bags, and thrown in a smoker, a slow cooker (with green sauce from a jar, no judgment) or an Instant Pot, which cuts your cooking time way back while enabling a one-pot meal.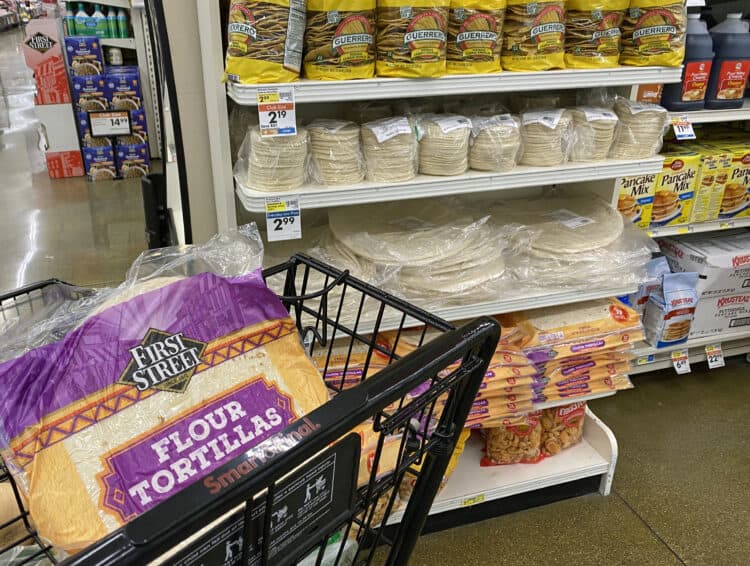 Grab some of these First Street super huge tortillas and make burritos out of the pork — or frozen tilapia also available in the frozen food section.
And look at these pork chops! They'd go great on the grill or sliced up thinly on top of a bowl of ramen you fancy up with hard boiled eggs, sliced purple cabbage, shredded carrots and cilantro.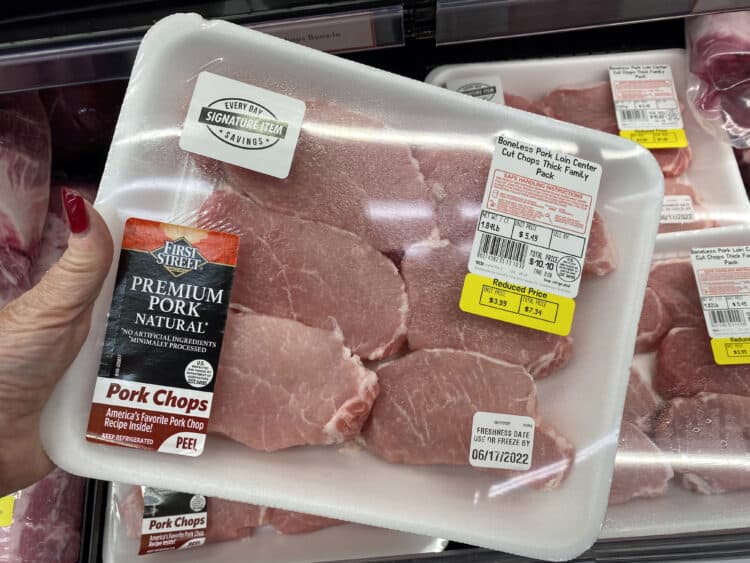 Looking for the discounts in the meat department is always a good way to cut back your grocery bill without sacrificing quality. (And if you're not going to use the meat right away, freeze it to give yourself more time.)
One meal I could make is what I made for a friend's graduation dinner. She graduated from college with her PhD (in her 50s!) and everyone brought food over for a big potluck….but I liked it so much, I made it last night with part of my Smart and Final haul. Crab cakes with a sriracha-ish dipping sauce — except it was a total cheat and no one knew it! You can buy this whole sleeve of pre-made crab cakes at Smart and Final for only $11.99. Throw together this easy dip and you've got a nice addition to a buffet table or an appetizer when you entertain.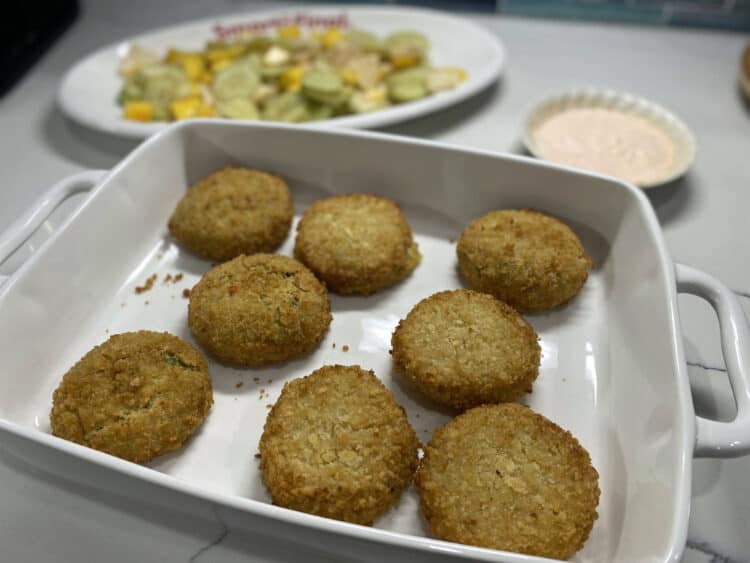 Speaking of Sriracha, apparently there's a shortage ahead, so I made sure to pick up a bottle. I had been looking at a couple of other stores and couldn't find any. I felt like holding this one up and saying I FOUND IT with a beam of light shining down. (It was the last one, so that's really not dramatic…)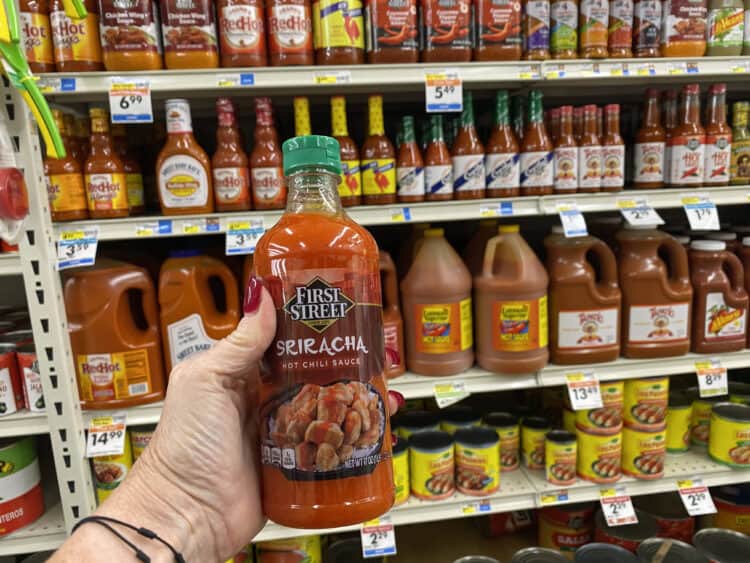 This seems like a good time to thank Smart and Final for not only sending me gift cards to shop with, but this bake- and serving-ware. The salad in that tray, by the way, is also incredibly easy to make. I hit up the Smart and Final produce section for two cucumbers, two mangos and a whole jicama. Peel and slice the cucumbers, chop the mango in tiny pieces and chop the peeled jicama into a bowl. Douse with fresh lime juice, a little salt and several dashes of either tajin or chili powder, your choice. If you want to make it a little hotter, add a finely diced fresh jalapeño or a couple of shakes of cayenne pepper. Let it marinate in the refrigerator for an hour and you've got a refreshing side dish that can go with anything and is easily transported.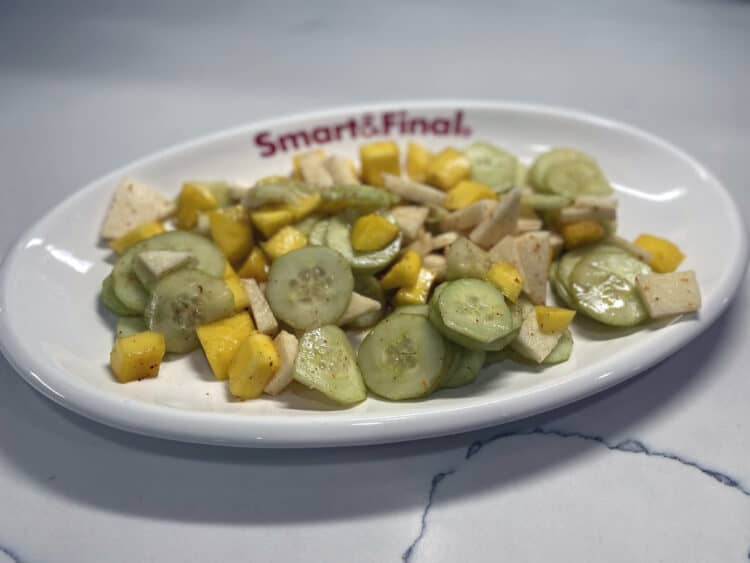 Smart and Final sells a lot of frozen seafood; you always hear "fresh is best," but don't let that stop you from using frozen shrimp, crab, mussels or scallops. One bag of mini-scallops costs $9.99 and can be used in an easy pasta dish, served with brown butter and roasted grape tomatoes. You can turn out a plate of food that looks restaurant-worthy but costs 1/4 of the price. Any Father's Day menu you make gets appreciated but to make it something cost-effective during this uncertain economy is even better.
To dress up your table for the day, pick up some flowers! They have a good variety that are far cheaper than you'll find at a fancy florist, you just need to supply the vase.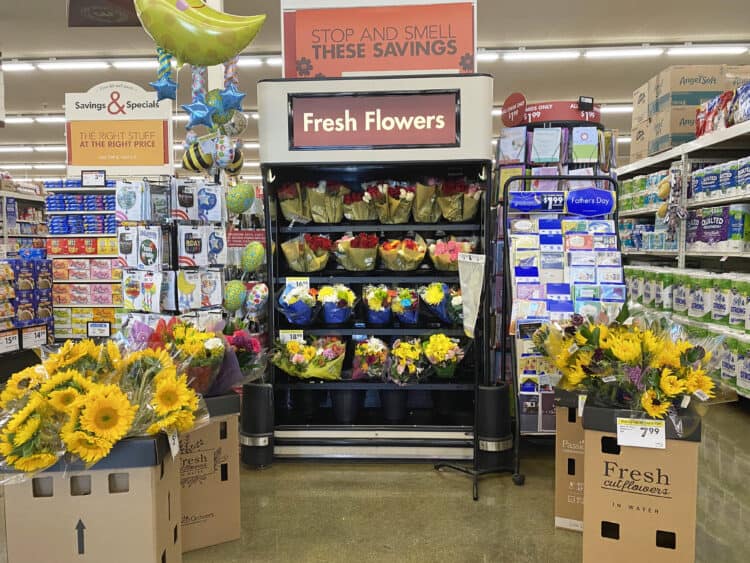 And don't forget to start the day with one of the many, many coffee varieties available, no matter what kind of coffee maker you use.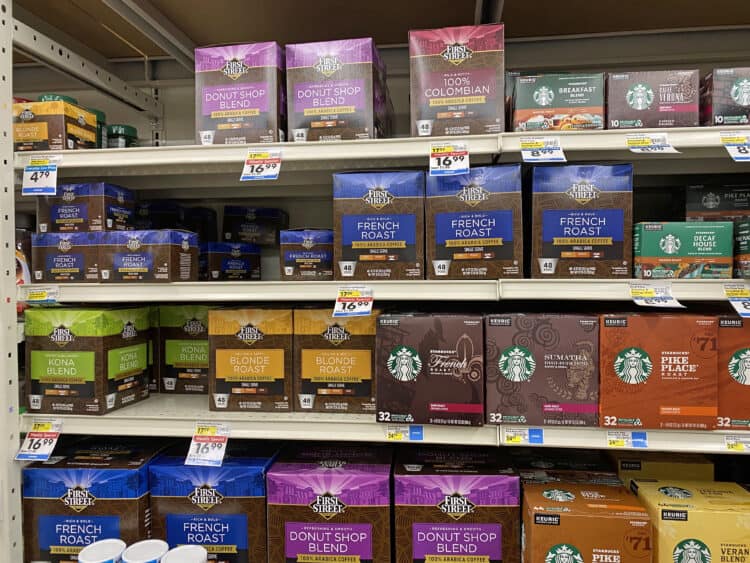 Whatever you put on your Father's Day menu, I wish you a very happy holiday! Don't let the idea of putting together a full day stress you out. I used to try to do so much, I missed fun memories and felt pressured to make it an amazing day. Turns out, all we parents ever want on these days is a good time with our family…and maybe a massage.