If you're a foodie who likes to cook healthy meals for the fam, you've undoubtedly heard of Melissa's Produce. Based out of Los Angeles, they operate in a 280,000 square-foot building that is home to their office, warehouse complex and CCOF/QAI Certified Organic Packing Facility. I was invited last week for my first visit, where my eyes got big at the spread that was laid out before us! More on the food later though.
Melissa's Produce had set up a foodie and blogger demo, hosting cookbook author Laura Bashar to speak with us on camp cooking hacks and tricks and to eat a big meal consisting of recipes from her new book, the Camp & Cabin Cookbook. Published by Countryman Press, it is 100 recipes to prepare wherever you go, using your favorite Dutch oven and other camping equipment. I had been excited at the idea of going but after I arrived, I was really amazed — we had been warned to come hungry, and now I understand why!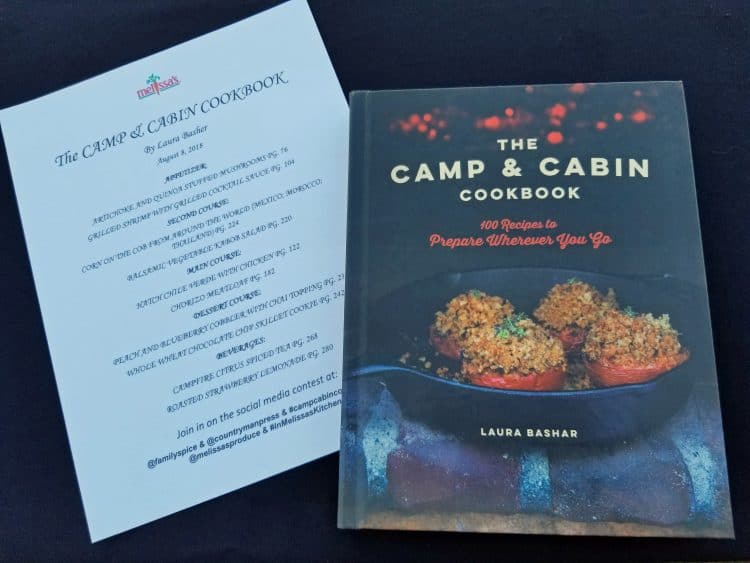 The event started with the buffet of delicious and pretty foods, such as Artichoke Quinoa-Stuffed Mushrooms, three kinds of street corn (Mexican, Moroccan and Thai), Hatch Chile Verde with chicken (and a taco bar), shrimp, Whole Wheat Chocolate Chip Skillet Cookies, Peach and Blueberry Cobbler with Chai Topping, and more! The above photo includes a menu for full reference of all the yum.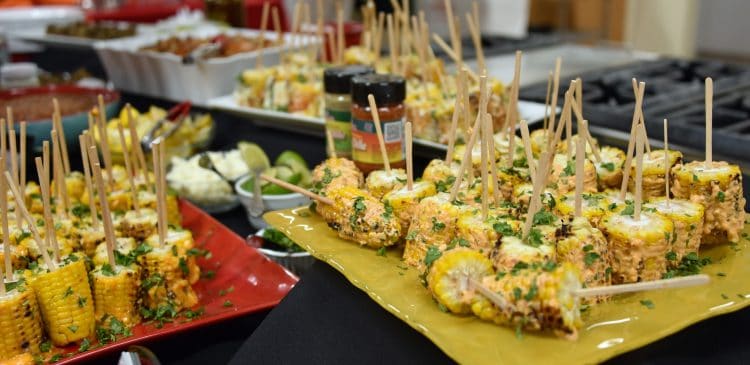 My favorite of the corn varieties was the Mexican corn. All were delicious, and the color of each of them made for such a pretty plate. (I'll be honest — the reason you don't see a picture of my plate is because it was literally piled so high, there were foods on top of each other. Don't judge, I was hungry and it all smelled so good!)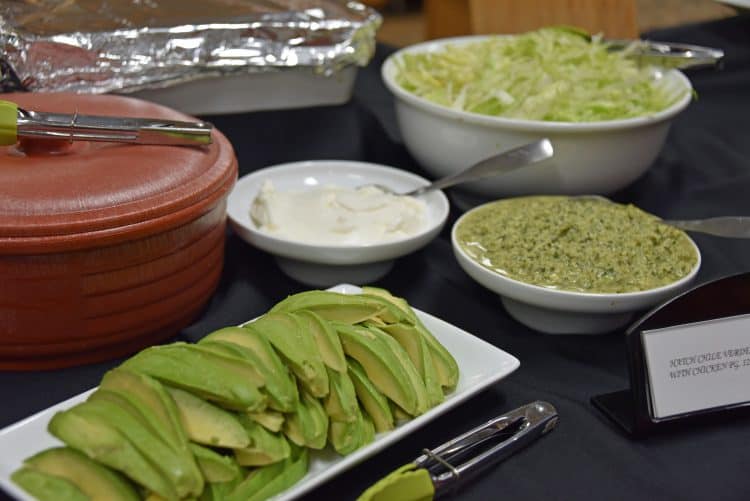 That Hatch Chile salsa had a long line! I may have gone back to get seconds of it with the avocados and tortillas. Don't shy away from it even if you don't have any chicken — dipping just a rolled-up tortilla into the salsa was so good even.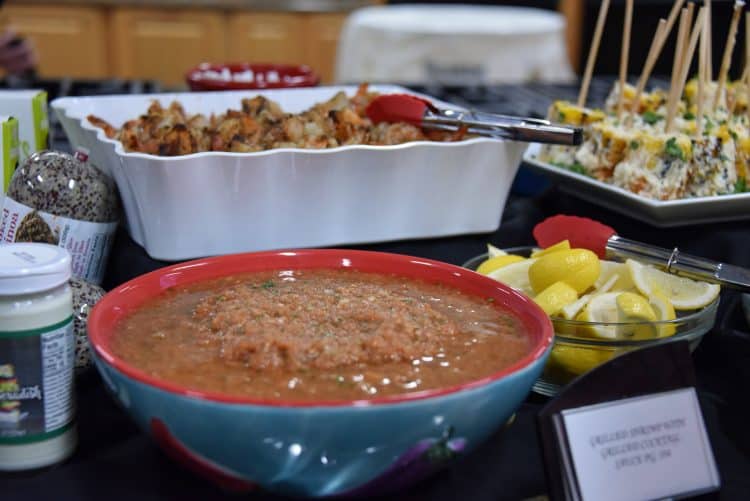 The whole table, in fact, was one long array of colors and textures. That Balsamic Kabob Salad in the back there?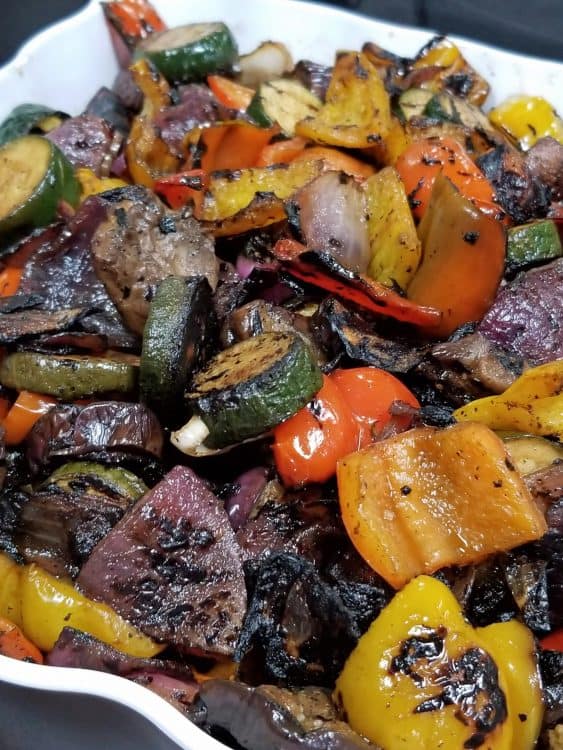 Beautiful, right? I loved the mix of the roasted peppers with the zucchini and purple onions, and the balsamic glaze was the perfect touch. I'm going to be making this one again at home as part of our family dinner. Laura taught us a lot of ways to utilize our Dutch ovens more effectively while camping, such as stacking them and using the lid to warm tortillas, amongst other things. Perhaps my favorite tip was to use an oil pan as your fire pit, starting the coals with a chimney, then setting the Dutch oven atop the heated coals. No muss, no fuss, and you can do it anywhere, even while tailgating! This trick is going to allow me to more easily use my favorite camping recipes in my newly renovated backyard, where we have a nice gas grill, a smoker and a pizza oven.
The Camp & Cabin cookbook even tells you how many briquets to put underneath the oven and on top to maintain proper temperatures! This is an area where I've often failed, burning things too crispy on the outer edges or releasing too much heat while I check to see if it's cooking. I won't have to do that now. I will confess that I came home and went straight to Amazon…after hugging the dogs..to order a cast iron lid lifter. When we camped in Kern, we made a dump cake but we didn't have anything to lift the lid off the Dutch oven without tilting it. This meant that one person got a bite of the cake that had charcoal in it. Guess who it ended up being? Yes, me…never again though! My lid lifter came the next day, and all I still need to get is that oil pan.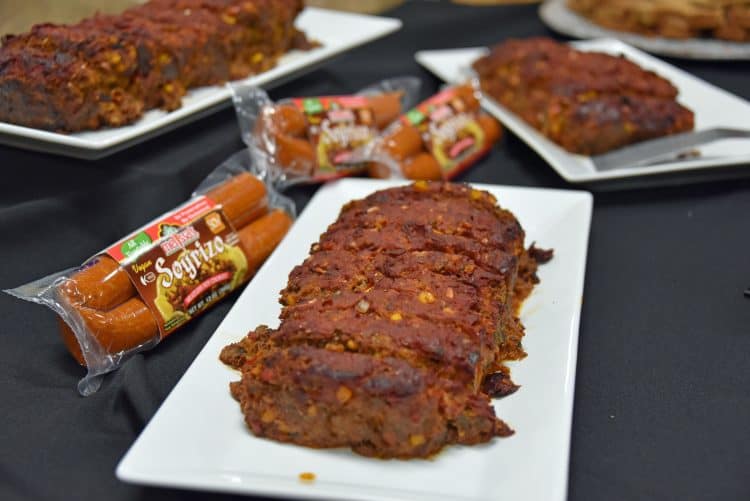 I love chorizo, but I don't eat a lot of meat these days. Melissa's new Soyrizo is a great alternative — it's not vegan, but it is a meat-free substitute and I'm really excited about that! The above meatloaf had a good spicy flavor and a meat loaf consistency that I haven't had in many years now. I think I could change my family's opinion about meatloaf with this recipe.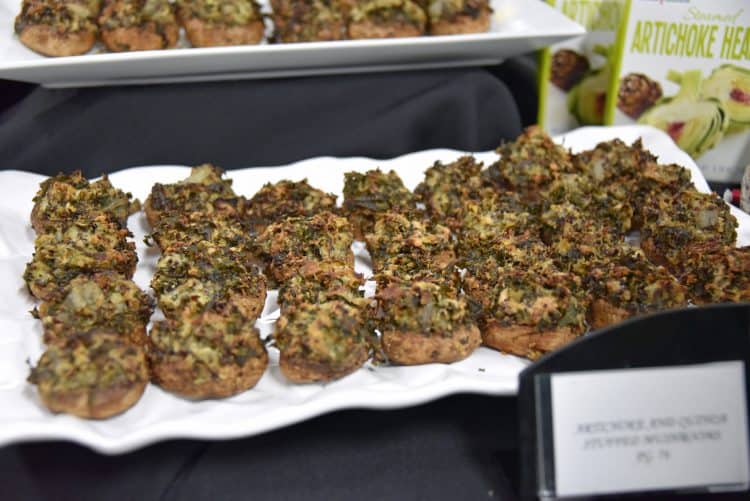 I also went back for seconds of these Artichoke and Quinoa Stuffed Mushrooms. The top had a bit of a crisp while the inside was soft and tasty. We love artichokes and I can see us making this for our monthly dinner party, where four couples rotate houses. The host and hostess provide the main entrees and the rest of us bring apps and sides. They'd love this!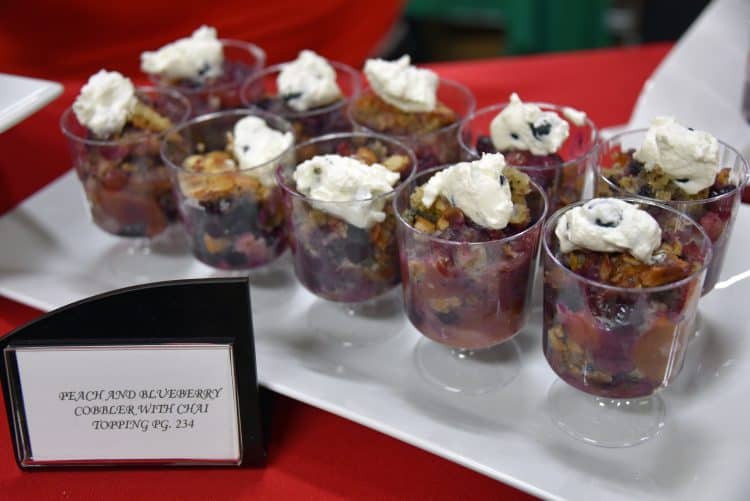 You can order The Camp & Cabin Cookbook on Amazon, along with whatever else you need to complete your cooking equipment collection. I'm sending the husband to the store this weekend to get our oil pan, so we are ready for any Labor Day barbecue needs. It's still going to be very hot here in the Inland Empire area of Southern California, but we won't let that stop us from entertaining and gathering with our friends. Get out the outdoor games — bocce ball, yard dice and more — and maybe make an adult beverage and we're ready for some fun!
Check out Melissa's Produce online and look at their wide variety of quality produce, spices and other cooking items, as well as baskets you can have shipped as gifts. I won a tropical fruit gift basket at the event and it was beautiful. My family and I dug into the unusual fruit items, things you see at farmer's markets where they sell the other-than-ordinary options but aren't always sure what to do with them or what they taste like. This basket was so much fun, exploring new things and taste-testing as a family! My favorite was the dragon fruit but the pear with a slightly licorice taste was a hit as well. It all was, and I can't wait to try more! (The wine in the basket was also really good!) I also came home with this huge treasure trove of items!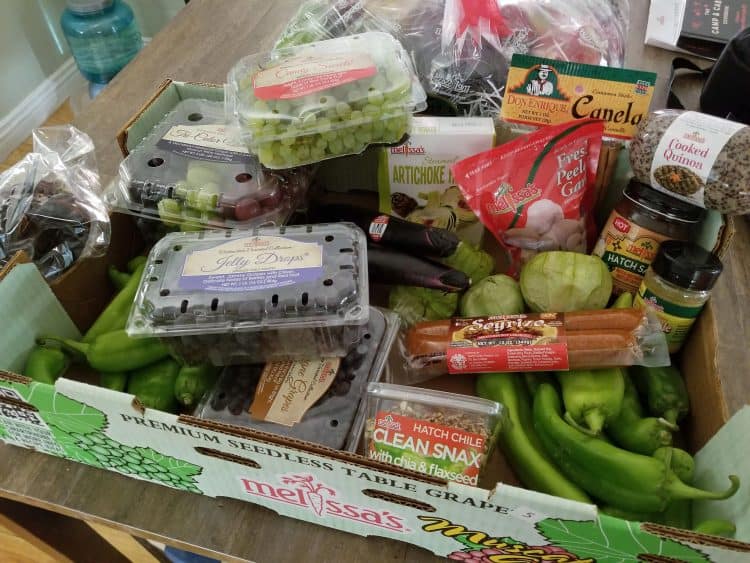 I'd never tried all of the grape varieties I came home with: Jelly Drops, Candy Sweets, Champagne Grapes and three types of Moscato grapes. The boys ended up favoring the Jelly Drops the most, the husband the Moscato and me the Champagne. With so many people here that week, they didn't last long! I put the champagne grapes in my homemade granola at breakfast, dropped some in wine (wow, be sure to eat them after) and sliced in half on top of toasted five-grain bread with a teeny bit of almond butter.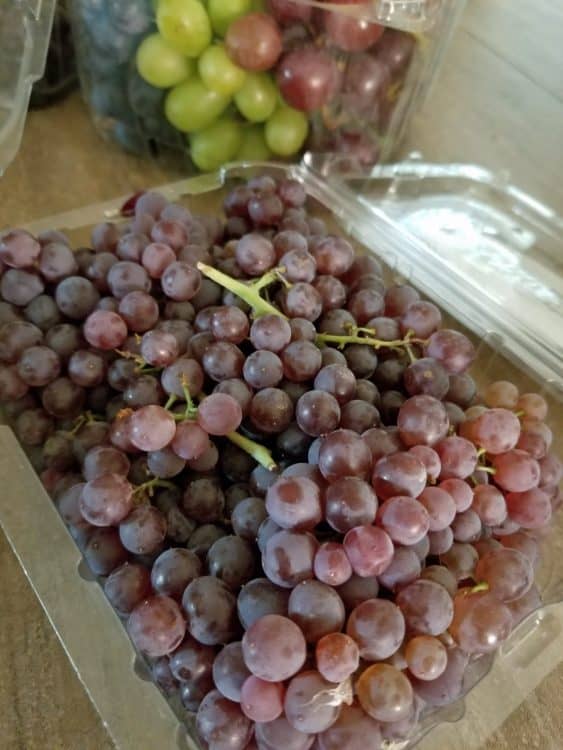 Those Hatch Chile Clean Snax with Chia & Flaxseed? I ate most of them straight out of the container. My boys ate the rest. I'm sure there are fancier ways to use them but when they're this good, no need to embellish!
I attended the Pacific Wine & Food Classic on Sunday down at Newport Dunes. Melissa's Produce was there, sharing some refreshing agua frescas and other treats under shady canopies. They were giving away some of their signature drawstring backpack totes, a bright orange color that folds up into a carrot shape. I still have my original bag from seeing them at a festival a few years back. If you've seen it, you'll always remember the logo.
Thank you, Melissa's Produce, for inviting me to attend this event for free, and for giving me so many cool things!
Whatever type of food lifestyle you follow, Melissa's Produce can help, and keep an eye out here on the blog as I'm attending another event tomorrow for a different Melissa's Produce food demo. The Camp & Cabin Cookbook sits on my shelf now awaiting our next camping trip or backyard party. Follow Laura Bashar on Twitter and Instagram for her beautiful food photography and food inspiration!