Whenever we say the word "treat" in our house, this is what happens. Tails wag and back-ends sway. Nails click. Prancing occurs. Feeding my furry loves is a highlight because of this.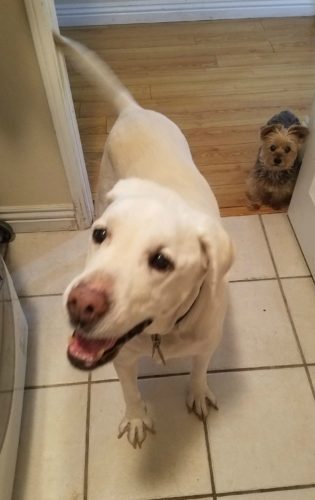 The little one peeking around the corner is my Yorkie princess, Missie. Big smiley guy in the front here, dancing too much to get a clear photo, is Charlie, my son's autism service dog. They're both very pampered pups, both almost 10 years old and they were raised together by the service dog trainer before they became members of our family. Ever since New Year's Eve 2009, they have been babies #5 and #6. Together all the time, despite their obvious differences in size and personality, they are best friends.
Throughout the years, both have faced significant health challenges. Missie had to have a kidney removed and a liver shunt repaired back in 2011. Charlie had both rear ACLs repaired within a 10-month span. She'll forever be on special medications and he no longer is allowed to jump and spin. She's a feisty girl with the spunk and energy of a puppy, and Charlie's more into doing his service dog thing, then laying down at your feet. They've brought so much joy to our family, we only give them them the best.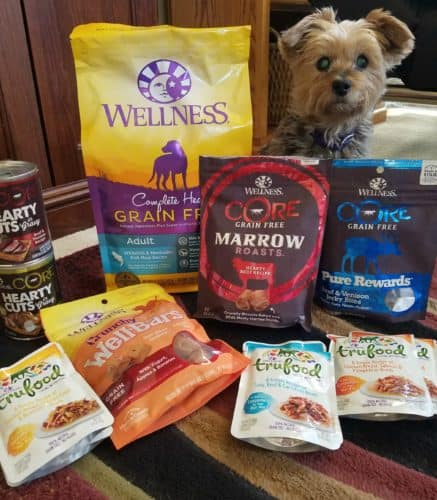 Now we've added Wellness dog food into the mix. They reached out to me with the offer of samples so that we can try the food, and I took them up on their offer. The dogs try the complimentary food and I share my feelings and photos with you. I'd never heard of the brand before so I was very interested in testing it. Missie has typical Yorkie teeth and despite twice yearly dental cleanings, she's had a lot of teeth removed. Charlie fights us on tooth brushing, so he's also had quite a few teeth removed. They both still eat some hard food though, so we want to keep the remaining teeth in good shape by allowing them to chew as much as possible. Wellness dog food is the perfect mix of substance and taste for this.
Wellness pet food is grain-free. They offer optimal levels of calories and fat for everyday feeding, and they include Omega 3's to help maintain healthy skin and coats. The whole Core line will give you a lot of options depending on your dog's needs and preferences. We like to offer Charlie treats that really help clean his teeth while he eats, in a way only crispy treats will do. He's gotten a little picky, and his favorite meal includes both soft and hard food, so I was particularly interested in the truFood packets.
TruFood packets are referred to as meal complements, a mixer, topper or snack to be added to existing meal plans. We use 2/3 of his typical hard food measurement and one of those envelopes. He loves it! Each of the TruFood complements is 100% natural with no additives and has no more than five ingredients. With no meat by-products, preservatives or artificial additions, these pouches are a perfect way to segue back to hard food after a dental procedure or just show your pet how special he is.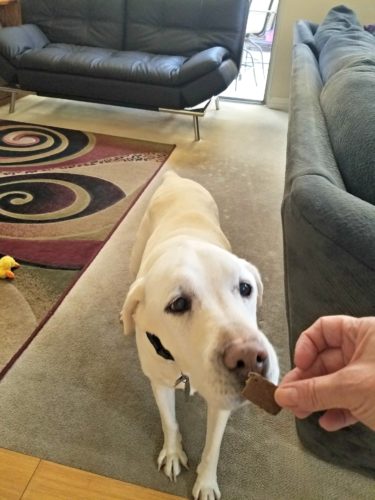 The various snacks were also a hit. The Pure Rewards Beef & Venison Jerky Bites had Charlie jumping all over the place. Whoa, big boy, slow down! I honestly had to put them down for a second so he'd chill. He's never had a venison product and clearly, he's a fan. Also with minimal ingredients and no artificial additions or anything bad, they're only five calories each so I don't have to worry about adding to his weight at all. He's at a healthy weight right now but we watch it carefully.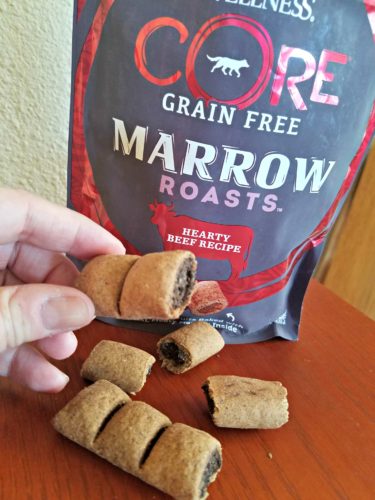 I also don't think he's ever had a marrow treet, so the Core Grain Free Marrow Roasts were a hit. I gave him two together at first. They come somewhat attached but you easily pull them apart if you need them in smaller pieces. They give his teeth a good workout and he's such a messy eater that he was licking up the pieces afterwards like he was afraid someone was going to take them away. No, big guy, they're yours, all yours. They are soft pieces that remind me a bit of round doggy fig newtons.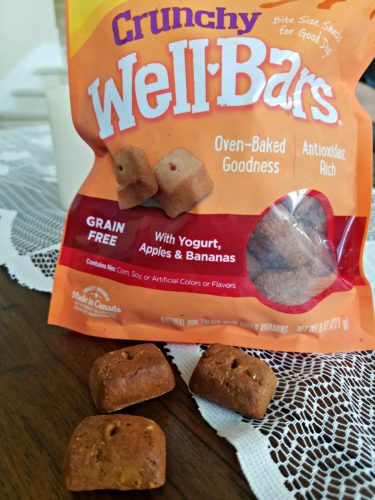 All of the products are quality, clearly labeled so I know what we're giving and how much to give, and they smell good. Sometimes dog food can smell artificial or odd, but the Wellness dog food products all had a pleasant scent. Storage is easy as the pouches have a bottom that easily sets flat in limited space. We try new things a little at a time, but all of these things are a win for the dogs we love. Readily available online at Amazon or at Petsmart, Petco, etc., you won't have a hard time locating them for purchase.
If you're looking for protein-filled, grain-free quality pet food with probiotics, antioxidants and omega fatty acids, head over to the website to read more. It's not just for dogs, either. Cat products are available. You can also follow along on Facebook, Twitter, Pinterest and Instagram.
Let me know what you think — I'd love to see a photo of your pets enjoying Wellness dog food!