Ever since Victoria Gardens opened back in October of 2004, we've been frequent visitors…so frequent, in fact, that I do the majority of my shopping there. It's also our favorite mall to wander throughout the Christmas holidays. One reason is that Victoria Gardens has the Santa to see. Ask my kids. All four will tell you that the Santa, the one you need to see, the real Santa, resides there each holiday season. The rest are just helpers. We've been taking them ever since 2004, and I have a sniff-inducing array of photos throughout the years, demonstrating how fast kids grow. Oh, the stories each photo could tell you! The year my son refused to get near Santa. The year my daughter decided she was too old to sit on Santa's lap. Each family has stories like this and I'm so thankful for these memories!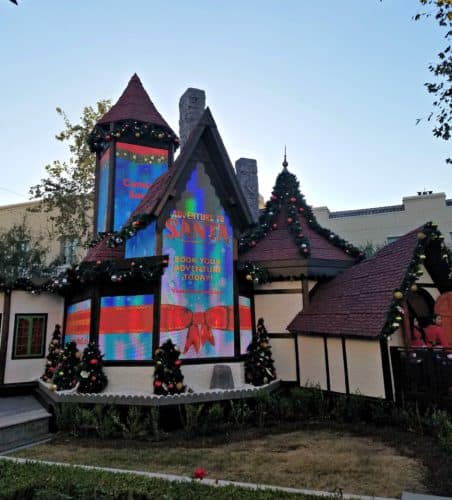 This year, I only have one child young enough to really believe still, and while that's hard for a mom to deal with, I knew it was coming. What I didn't know was that he'd be too sick to attend the opening of this year's Adventure to Santa by DreamWorks. (Victoria Gardens hosted a press event so our photos and visit were complimentary.)That means this year's photo with Santa has me in it. Me and Dad.
Just me, the husband, and Santa.
No kids.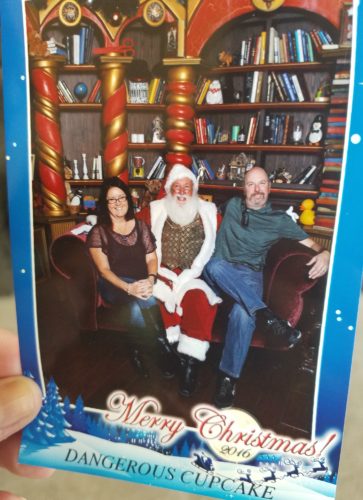 That didn't stop us from having fun though. We were the first family through the house that night and officially we christened it. It was a blast, and of course, telling Santa what we wanted…it doesn't matter how old you are, that magic sucks you in.
DreamWorks Adventure to Santa is fun for all ages. While last year's adventure included the cast of Shrek, this year you'll be hosted by DreamWorks Kung Fu Panda characters. Who doesn't love the engaging panda bear named Po?
I can't give you any spoilers, and I wasn't able to take photos inside the house, but here are a few cool facts:
The house is much larger inside than it looks. You'll visit no less than 5 rooms before you exit.
You will be transported to the North Pole.
The visit is very multi-sensory and interactive, and I don't mean just the Christmas cards you get to create.
The digital special effects and technology are among the best you'll experience anywhere for visiting Santa, indoors and out.
Santa. He's the best.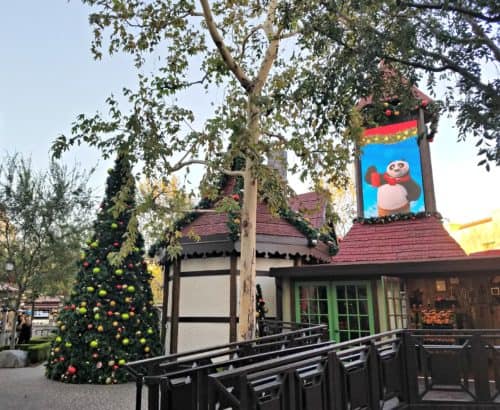 Make your appointment now. It's your best bet for quickly getting to see Santa and the Adventure to Santa crew. You'll get your own Dream Guide and you'll leave with souvenirs. Package prices for photos vary between two main packages, but our package included several photos in various sizes, copies of the cards we designed, a photo passport for our 'trip,' and a flash drive that includes digital copies of all our photos and one special new addition this year: a video! I didn't even know the video was being made and it's pretty funny. The husband squeezed in next to Santa first and poor Santa, two adults asking for high-tech items on his red velvet settee as though we were ten again. Oh, the magic of Santa!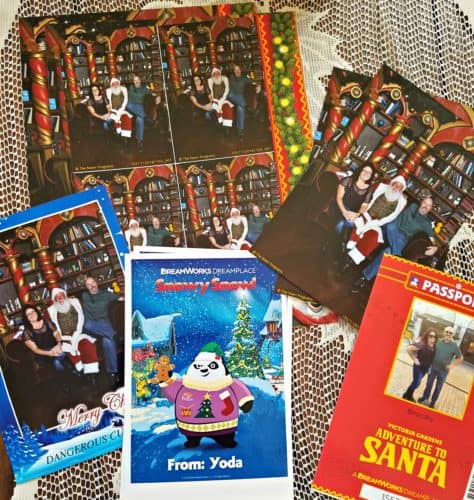 For more information, visit their website.  The lights are now on the huge Christmas tree in Town Square and snow falls nightly at 7pm. With Christmas decor and lights everywhere, it's such a good way to welcome in the season!