Over the last year, I've shared a few stories about my miraculous little Yorkie, Missie. (She has her own Instagram and I share about her a lot with the hashtag #MissieTheYorkie if you're interested!) In short, back in 2011, she was diagnosed with severe kidney stones and an infection that resulted in the removal of one of her kidneys. The specialists, at a very high-end clinic in Mt. Pleasant, South Carolina (2.5 hours from our home) also fixed her congenital liver shunt. It was a double-whammy but she came through with flying colors.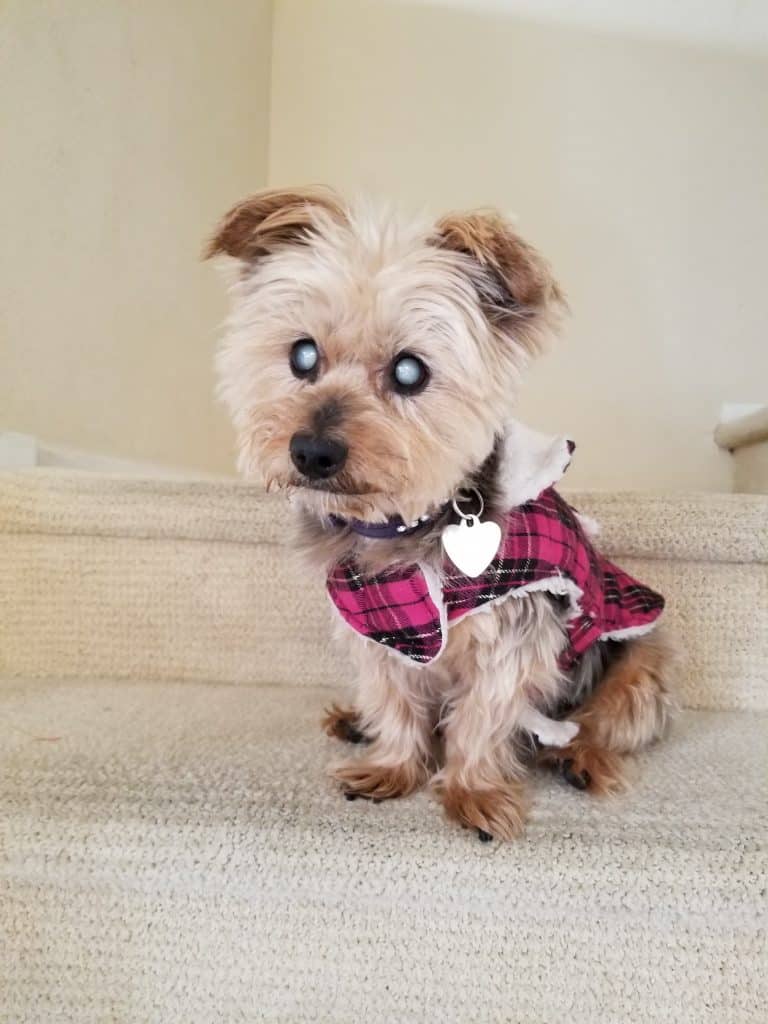 Because we lived so far away from her doctors, and her condition was unusual and serious, I had to learn how to take an active part in her care. This meant giving her sub-cutaneous injections every day for 10 days after she was released from the hospital. She had staples from her chest all the way to the bottom of her abdomen, and we watched her closely. To say I was nervous was an understatement, and I found myself developing anxiety every time she acted different. I joke that when she burps, I'm looking at her closely, but it's not really a joke.
Immediately after the surgery, Missie was a different dog. She had remained feisty and spunky throughout her three-month long ordeal, but after recovery, she was like a young puppy. She played, she ran, she loved. We knew that the severity of her issues meant that it was quite possible she'd face kidney and/or liver issues later in life, but every penny of the $12k+ was worth it.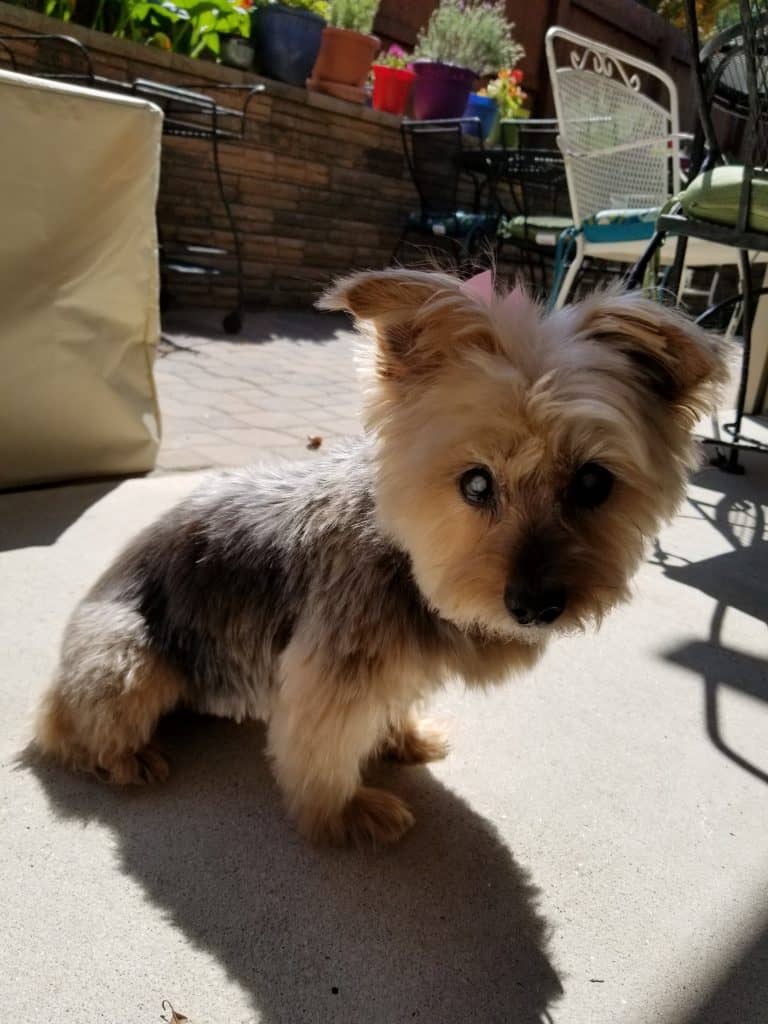 About 11 days ago, Missie showed little interest in breakfast. This was highly unusual, as Missie LOVES to eat. We have to watch her when we feed her brother, Charlie, because she tries to share his food sometimes….and he will allow it! I felt something was off, so I called her wonderful veterinarian, who immediately called me back to discuss what we should do. He made room for her that afternoon, so the husband met me there to talk about what to do. I'm so thankful, because I'll share a secret with you: I turn into a blubbering baby when Missie is dealing with anything. The husband also loves this little fuzzy bundle so much that he wants to be involved, too.
We see a wonderful vet clinic about 15 minutes away, with a team of reputable doctors who clearly all love animals, but the owner typically is the doctor we see. He prefers it that way, as do we, because he knows her better than anyone else. He share his concerns that it could be her liver, which was at a 2.0 when last tested. (When an albumin level gets lower, there can be problems.) There's only so much you can do for a liver when it gets to a certain point, and she's already on the most strict diet available. She also takes daily medications, since the surgery, to help prevent future kidney stones.
The doctor ran blood tests and we spoke early Monday morning regarding the results. It wasn't her liver, but her kidney. While we knew that it was unlikely she'd live to 16 like some Yorkies, it was a shock to know that her health was being adversely affected now. The doctor was so kind but clear: could be two weeks, could be two years, we just don't know. He went over options with us, which was pretty much only one choice: do at-home dialysis-ish (flushing her kidneys with sub-cutaneous saline injections three times per week) or not do it.
We of course chose to do it. Now we are in our second week of treatments, the first week of doing it at home. We did it at the vet every day last week so I could be trained in handing the IV and needle.
It's fairly easy in the big picture. There is a large IV bag full of saline with normal tubing and a cap at the end. We get her settled down comfortably on a couch, hang the bag on a coat hanger from the drapery rod, put the sterile needle on the tube, and inject into a pocket created by gently tugging on her skin and turn on the flow. The saline flows into the pocket pretty quickly, as long as the tubing isn't kinked and the bag is high enough. It creates a bubble of sorts under the skin, so we can feel that it's getting in there properly.
The vet techs make it look so easy, and why it's not difficult, we go slower than when we're in the vet's office. Once the husband touched the needle when Missie moved and the needle came out, so I had to quickly shut off the flow while the saline squirted. We did have to re-stick her  — with a fresh, sterile needle — but she's a trooper and that second injection went fine. Two minutes later, the treatment was over and she was running to the kitchen with me to get a snack.
Caring for a dog with kidney disease can be scary. It IS scary. You love your animal and you want it to be fine. You want to do all you can to help it live a long and healthy life. You know that at some point, you will have to make a decision. As our vet put it, when the bad days outnumber the good days, we'll have to talk.
Nothing takes away the sting of the reality and fear and worry, but there are a few things you can do to make it a little easier:
Ask questions: write down a list if you need to. You're better off knowing an answer than wondering or worrying more than you need to. Googling things can unnecessarily scare you, so develop a good relationship with your vet. (I am not a doctor so I give no medical advice — go directly to your vet for that.)
Apply for CareCredit: it is an interest-free extended payment program that can help remove finances from major decisions. You still have to make payments, but they are without interest for a period of time (6 or 12 months, usually) and it can also be used for human dental care. (Odd mix, right?) You do need to pay attention to your transaction dates so you make sure you pay off the balance by its due date or the old interest can all be added onto the balance.
Talk to a friend: find someone who understands your love for animals and is willing to listen. It's normal to be scared and to worry, so don't let someone else blow off your concerns.
Put together a shopping list: find a few things that will make any health treatments easier or make your pet more comfortable. A new bed for the pup, a better harness for the car rides, food that you know your pet will eat so he/she will eat the medicine. (Missie is VERY finicky in this department, so we are currently trying to figure it out.)
In regards to the above tip, be patient: our pets obviously can't tell us how they feel, so they can present as a puzzle sometimes. Trying to figure out something as basic as if they need a new food bowl or that they prefer chicken over beef flavor can be frustrating, because you want them to eat and do all the proper things by way of food, drinking, sleeping and potty habits. It may take a few attempts to get the magic mixture of soft/hard food combined with the medicine that your dog will easily eat.
Stay on top of prescription refills: be sure your pharmacy is willing to call the vet if a prescription expires and if there's a huge price increase, ask why. Some pharmacies will charge more than others, and for us, CostCo has been wonderful. They get the lowest rate on any of our meds and this last month, they changed manufacturers when the prior one raised their rates 105% without warning. (There are compassionate care programs out there, so ask around if the costs are prohibitive for you.)
I hope you don't ever find out your sweet pup develops any form of kidney disease, but if you do, take a few minutes to gather your thoughts and jump in to the care plan. Get what you need to help it work for you all, and take it one day at a time!
For more info on Missie's history, read these posts: Taking Care of a Special Needs Dog and Tips from Missie the Yorkie — she's 100% blind and has also had a couple of dental surgeries, resulting in her having only six remaining teeth, another genetic issue which we can't control. (Take care of your dog's teeth! Brush them, give them healthy dental snacks and get them checked out at twice-yearly exams! Dentals can be costly but uncontrolled dental issues can cause bigger issues for your dog's health. Preventative care is more affordable and safe!)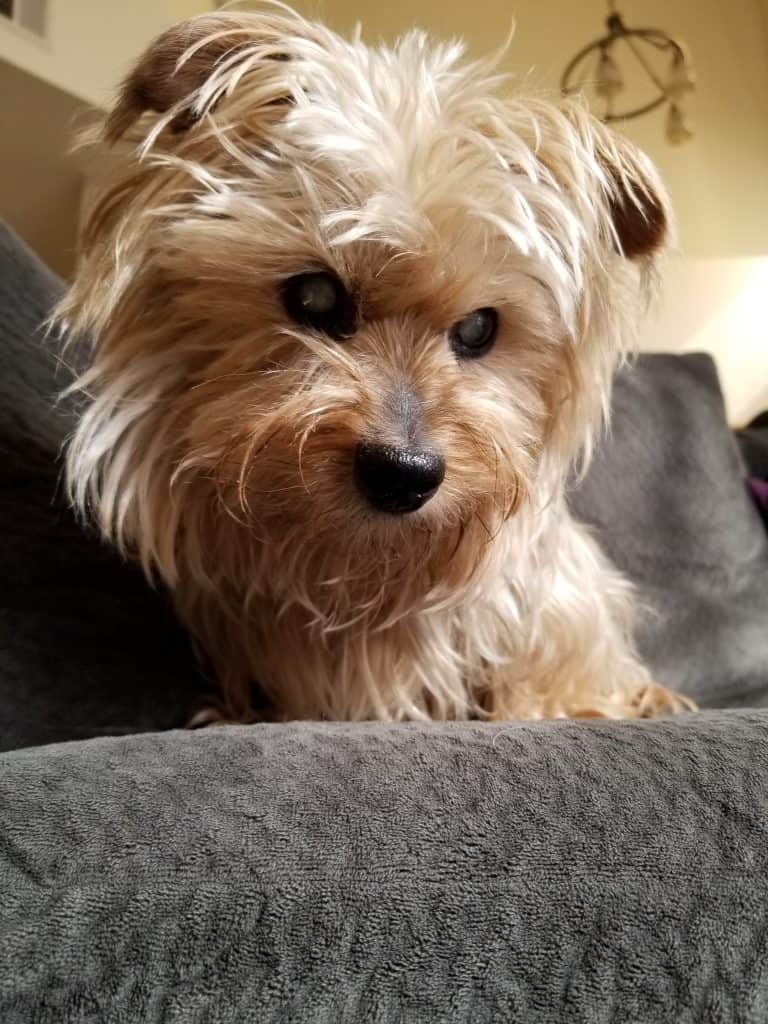 Dog people unite!