Decorating home for the holidays can be a lot harder than you envision.

What you're thinking: a house that looks straight out of a holiday movie, with twinkling lights and holiday decor everywhere you look.
Reality: decor scattered sparsely throughout the house in no sense of order because you can't buy everything you envision at one place, so it doesn't match, and it costs a lot more than you expect so you're missing out on half of what you wanted to do.
Or is it just me?? 
Every year, I buy the egg nog, I light the scented candles, I put on the Christmas carols and I dig into the 374 boxes of decorations. Three hours later, boxes are still spread down the hallway, only part of the house looks sufficiently Christmas'd, and I'm thoroughly disappointed. This year though, that's not going to happen! I'm going to have a house completely full of holiday colors and sparkle and it's not going to cost me an arm and a leg!
I started my shopping over at Wayfair.com. (They have sponsored this post so I can tell you about the holidays, but the opinions, stories and holiday angst are my own!) I've been shopping at Wayfair for a while now, because their products are quality, I can always find what I need at the right price, and their customer service is fantastic. They also get my orders to me quickly, when they say they will. When a company does that for me, I become a dedicated customer!
Before I started decorating this year, before I unpacked any boxes, I sat down and thought about where my gaps were last year, what things didn't work for me. The first thing was my mantel. It was pretty, but it just didn't POP. There wasn't enough sparkle, enough drama, enough color. I am not a decorator — I have a hard enough time matching my outfit — and the idea of putting together a mantel in the way I pictured was intimidating. I headed over to Wayfair.com though and from there, it was easy!
In fact, it may have been too easy. There were so many evergreens available, I didn't know which one to choose! The winning number is this baby though! This decorative pre-lit garland is THE one I needed for my fireplace mantel in my family room, and it's absolutely perfect. The rose gold coloring, the 35 white lights and the gold, sparkly, glittery additions is gorgeous! The white lights nestle inside all the green tips and make the entire 9′ glow. I love it!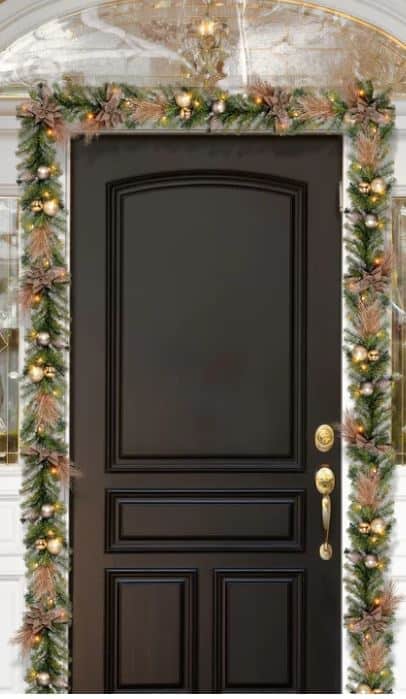 It came wrapped safely in a large box — none of that cramming into a box so it arrives bent and broken.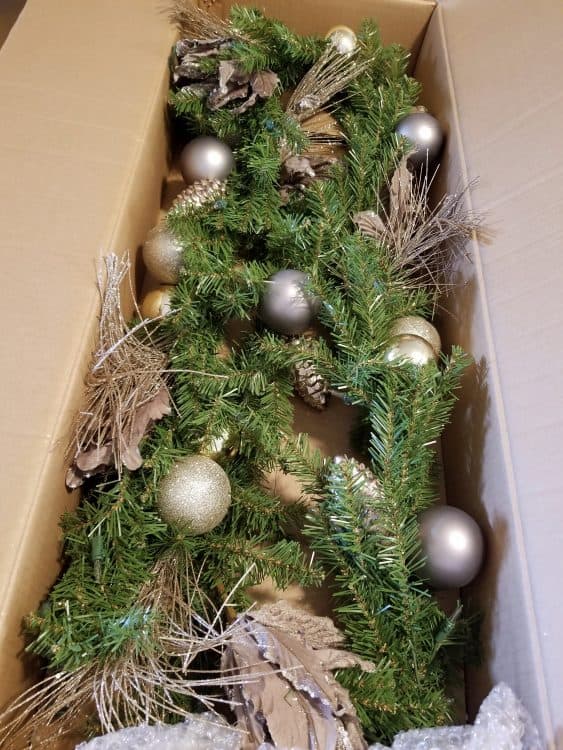 Straight out of the box, I laid it on the mantel, bent it a few places where I needed to secure it around the corner, and it was done. Then I added a few candlesticks, a few poinsettias to match the red I'd used elsewhere in the room, and my favorite angels that I've put on my mantel for 15+ years and I am so happy with how it turned out!

The colors are so bright and I absolutely love the glitter! Look at it up close!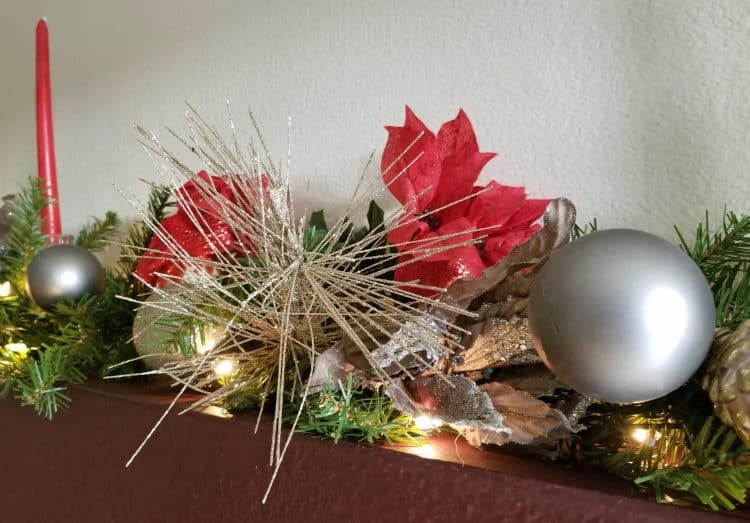 When I ordered the garland, I also had my eye on a few other things:
Purple Christmas lights — they have so many different sizes and styles to choose from, including both indoor and outdoor. Just search the Wayfair.com site for "purple Christmas lights" and you'll see a huge list of choices.
Angel tree topper — I have a lot of angels on the Christmas tree and it's important to have a beautiful topper.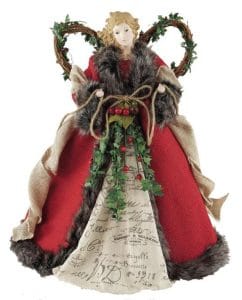 Evergreen centerpiece — isn't it beautiful?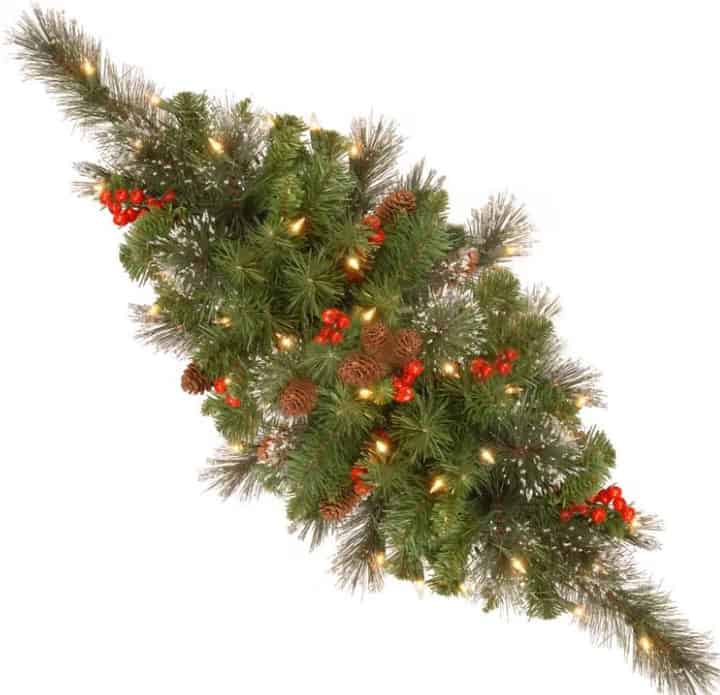 And last but not least, in honor of our yearly Griswold Christmas Vacation party, I ordered one of these odd little things you may have seen in the movie. Clark's cousin Eddie knocks it apart and can't put it back together again, and it's one of the many funny scenes in my favorite holiday movie. (It's so much our favorite that we host a yearly party where everyone comes in costume, we watch the movie and play games! Last year's prizes were legit "Jelly of the Month" club memberships!) These are hard to find, and they're pretty expensive when you do find them. I guess the movie made them popular, and while I don't really want one sitting on the counter — they do fall apart easily, we had one years ago and gave it away after putting it back together too many times — I do need one for the party. Now I have one that's affordable, doesn't take up a ton of space and brings another part of the Griswold "fun, old-fashioned family Christmas" into our house!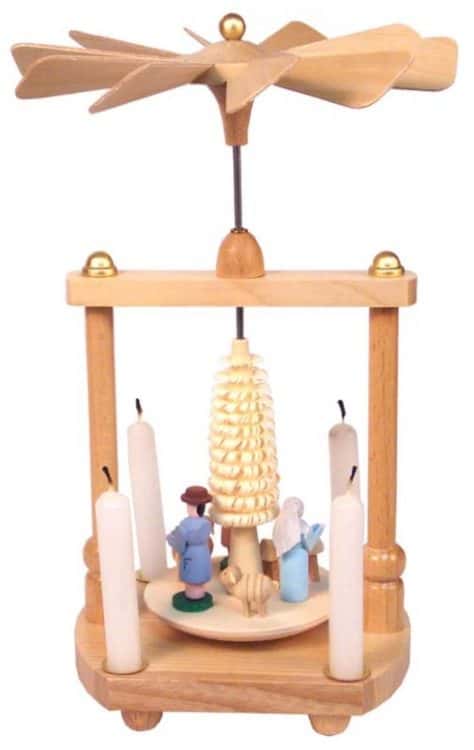 My suggestion when you shop at Wayfair is to create a "List." You can basically bookmark things you're considering and put them in a list for reference later. You can also create mood boards! I have used these options when putting together a couple of parties now, and it was so helpful. I could show the husband or the guest of honor the list for their input before I place any orders, which saves me both time and money. Wayfair makes the whole shopping experience easy!
However you plan on decorating home for the holidays, take a peek at Wayfair. For inspiration, ideas or to fill the gaps like I did, you can't go wrong!