I'm beyond excited to share that on Monday morning, I fly to San Jose to attend the #FindingDoryEvent at the Monterey Bay Aquarium, held in honor of the upcoming debut of Finding Dory, in theaters on June 17th. 25 bloggers, myself included, will be meeting a ton of amazing filmmakers, including 2-time Oscar winning Director Andrew Stanton, and animators, and I can't wait! Being able to learn so much about the follow-up to Disney's 2003 Finding Nemo by the sea? The Monterey Bay Aquarium couldn't provide a more fitting scene! I was literally finding Dory at the aquarium!
Have you seen the new trailer yet? Released on The Ellen Show on March 1, it will make you fall in love with Dory and her friends, including Marlin and Nemo, all over again! "Never forget" will become as popular as "Just keep swimming" — watch the trailer to see why!
This movie is going to be so popular, as was Finding Nemo. With Ellen DeGeneres again playing Dory, you know it's going to be good. Dory's memory loss personality makes for such a fun character and I know I'll be laughing as much as the kids. (And you will be too!) Do you remember how she talks about speaking whale? The trailer gives a nod to her childhood and her history, and I hope I don't need tissues; after seeing the flashback to her parents, you never know!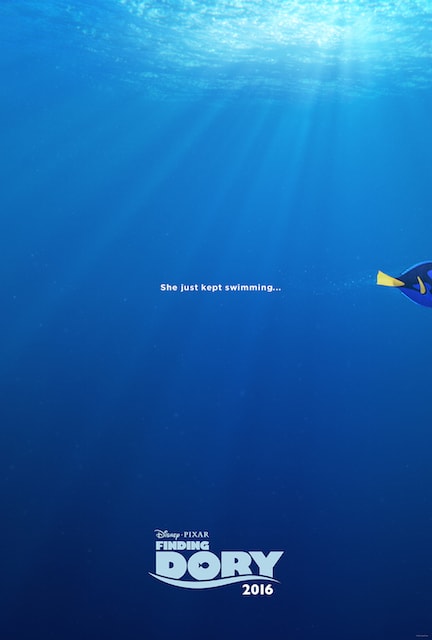 Like the movie's Facebook page for more information, and follow the #FindingDoryEvent hashtag on Twitter and Instagram for our photos and cool movie and sea life trivia! (Here's one piece of trivia: do you know what kind of fish Dory is? She's a Blue Tang Fish! I'm sure I'll come away from the infamous Monterey Bay aquarium, right on the ocean, with a lot more fun trivia facts.) Just keep swimming!
Finding Dory at the aquarium was a Disney dream come true. Just keep swimming!