Coffee. Thank goodness for coffee. With the kind of schedule I keep as a mom and business owner, I rely on it each morning to help me get going. I only drink a couple of cups on a typical day, but those had better be good cups — and get out of my way <she says politely> until I wake up with that first one. I am constantly trying new types of coffee, new coffee shops and of course, coffee gear, always on the quest to find the best ways to enjoy it each morning.
So before I go any further, I want to thank Hamilton Beach for sending me a complimentary FlexBrew 2-Way Coffee Maker to try out for the purposes of this review. The opinions and photos I share are my own though, and you know me, I say it like it is.
**THIS GIVEAWAY HAS ENDED!!**
The FlexBrew Coffee Maker is a pretty machine. I prefer black and/or stainless appliances on my counter top, in keeping with my stainless major appliances, so it fits right in. Its footprint isn't unnecessarily big, though I think part of this may be that you add in the water each day rather than it keeping a reservoir as you would in some other machines that use k-cups.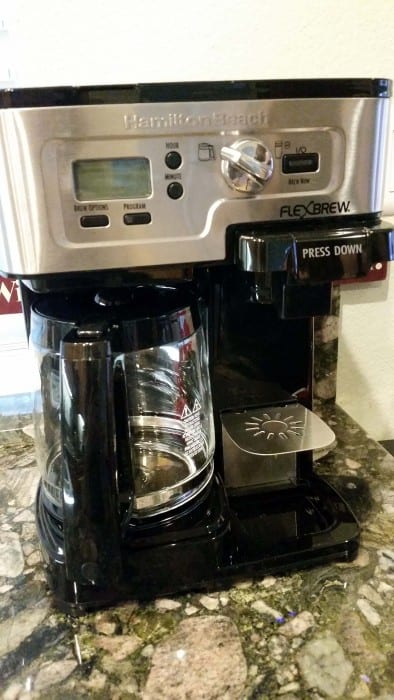 Speaking of k-cups, the FlexBrew gets its name because it's a flexible brewing system. Not only will it make a full-sized pot of coffee in the accompanying glass carafe, but it will brew with standard k-cups. If you like to use ground coffee beans for individual cups, you also have that option as the system comes with a refillable one-serving container. Perfect, right? I rarely make pots of coffee anymore, but if I need to, I like having that option. I typically buy k-cups but I sometimes see beans that look too good to pass up, so this machine will allow me that choice. Win-win!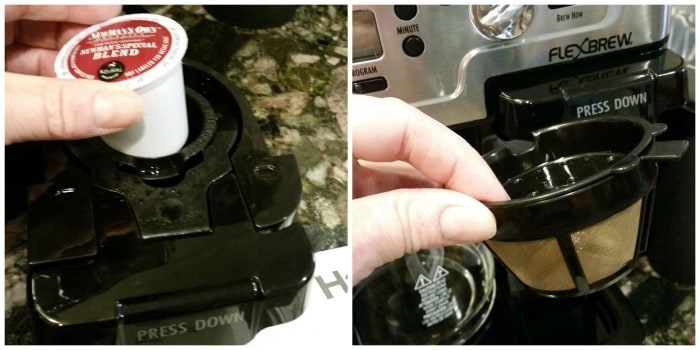 The k-cups take about a minute for the water to heat up in the reservoir (which, as I stated above, is not a typical clear-view that stores days' worth of water, so you add the amount you need each time) and it is pretty quiet, so if you're not ready for the world yet, the machine won't wake you up either. If you take a carpool mug, like the husband does each morning, the stand where you place your cup is adjustable, allowing room for a tall mug or a regular sized at-home mug. I like that you can customize your brew's strength this way a bit, and you know the water is fresh, too. I'm used to a little faster brew but I like the noise level being low so I think that's the small trade-off that's not a bad thing.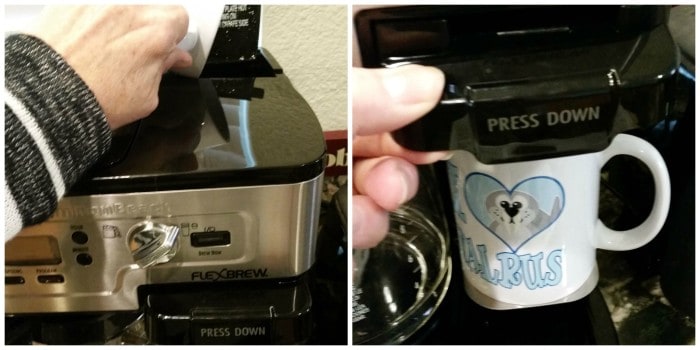 Interested in getting your own Hamilton Beach FlexBrew Coffee Maker? I'm giving one away! Enter for a chance to win, using the Rafflecopter widget below — open to all U.S. residents 18 years of age and older, the prize will be shipped directly from the manufacturer. (And if you don't win, the machine is available at Wal-Mart and other stores nationwide.)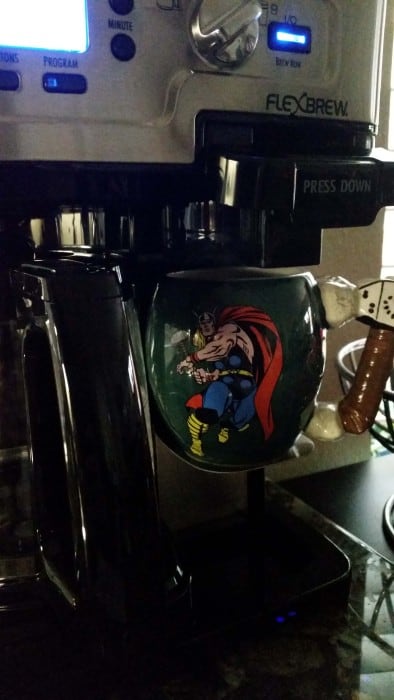 It looks really good this way, right? My Thor mug on the Flexbrew = perfect morning.