I love date night. You've heard me spout off about it before so I'll spare you my speech on the importance of it and fast-forward ahead to our latest fun night out with food and friends. This time, it was at Savannah Chophouse in Laguna Niguel, courtesy of the restaurant, their General Manager Phil Roberson, Chef Chris Tzorin and their amazingly accommodating and attentive team.
Savannah Chophouse is located on Golden Lantern in the heart of Laguna Niguel, with a beautiful view of the beach from the back patio. They offer live entertainment, childrens' cooking classes, magician dinners, wine-pairing dinners and other fantastic reasons to come eat Chef Tzorin's fabulous food and have a good time. With numerous areas to eat and/or socialize, you can't go wrong whether you are seated inside by the huge rock fireplace near the bar, the main dining room, the veranda or the patio under the stars and trees laced with white lights.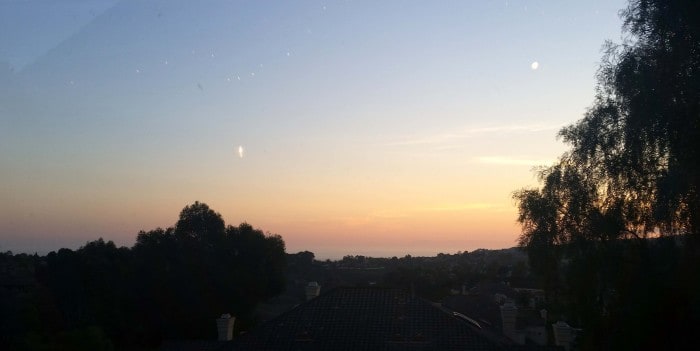 For our date night, our large boisterous and fun group sat out back on the patio. It was a typical August summer night, almost humid but with a light breeze keeping it from being too hot. We were able to see the sun set over the ocean and enjoy the company of other media and bloggers while trying a five-course meal complete with cocktails paired for every course.
You know when you walk into a party and aren't sure where to go? What's the best thing that happens, ever? You are handed a cocktail. We ended up with this delicious blood orange mimosa before we even had a place to sit — priorities! Savannah Chophouse gets it!
The mimosa…okay, mimosas…were delicious. Paired with several appetizers, including Savannah's Signature Bruschetta, Smoked Salmon on Toasted Points (with black pepper sour cream and shallots) and Grilled Proscuitto-Wrapped Shrimp, it was the perfect way to relax after an almost-two-hour drive down some crowded freeways. My favorite was the salmon — I may have had 4 or 5. So fresh, so light and just the right size to hold you over until the rest of the meal.

Then we had a surprise — recognize these, uhm, fellows? They followed us from Knott's Scary Farm!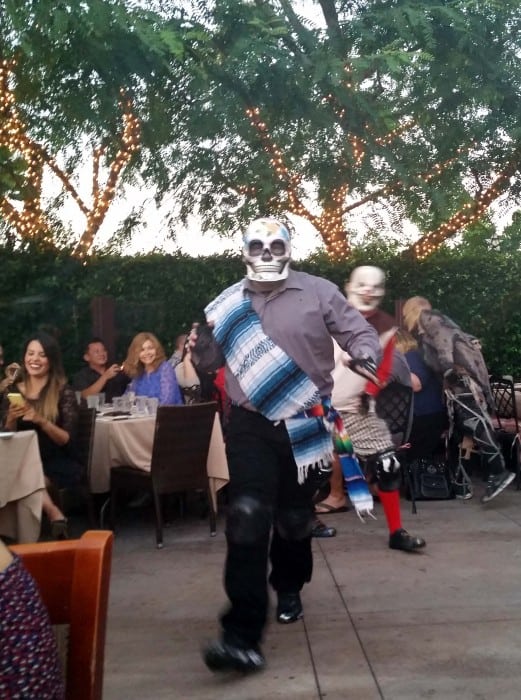 The first course was a Tempura Stuffed Zucchini. It included herbed goat cheese and sun-dried tomatoes, baby mixed greens on the side and ponzu, which we ended up swiping the gorgeous edible orchid leaves in after finishing the zucchini. Thank you to our server who clued us in that it was edible! I'm so glad we tried it, that was a first and as a foodie, so fun trying new things!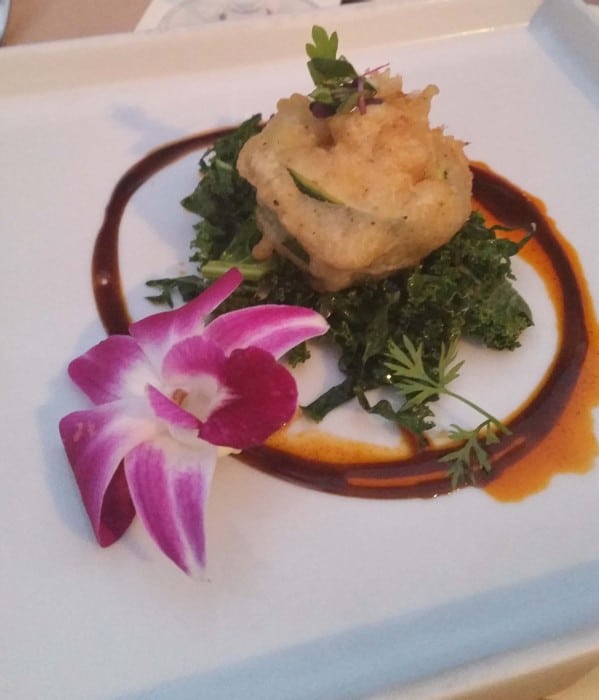 And we were enjoying this White Wine Sangria…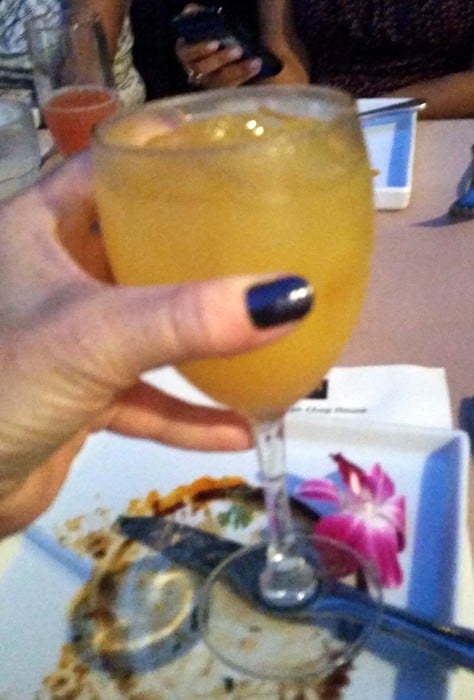 For the second course, we were served salads: the Caesar Salad, with fried capers, croutons, house dressing and parmesan and the Watermelon-Beet salad, with mixed greens, candied pecans, goat cheese and herbal vinaigrette. I have always wanted to try a beet salad and this was a great first! The beet was just crispy enough to add texture to the watermelon and greens and I loved the dressing on the Caesar, which was a little more 'caper-y,' for lack of a better word, and I found that fantastic. I love things that are just a little different and with flavors that push the envelope.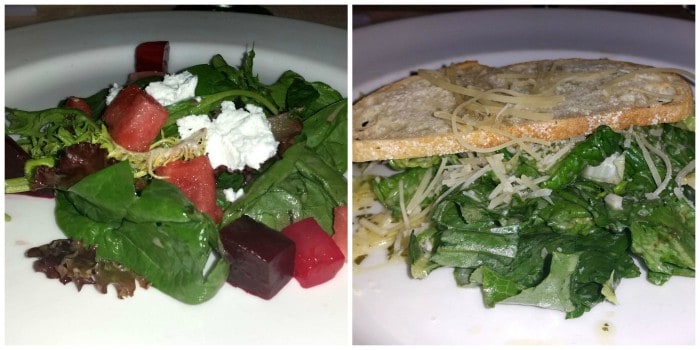 Next up was the main course, a surf and turf plate with shrimp scampi and filet medallion. I can't eat red meat, so the husband and I swapped out the filet for the shrimp. Not a bad deal for me at all! We both won on this and both ended up really happy with our meal. The surf and turf was served with seasoned mashed potatoes (really delish), a brown reduction and roasted brussels sprouts. Both our plates were completely empty when they were quickly cleaned off the table. (The staff is ON IT. Our drinks were continously refilled, empty plates and glasses removed immediately and questions answered thoroughly and easily.)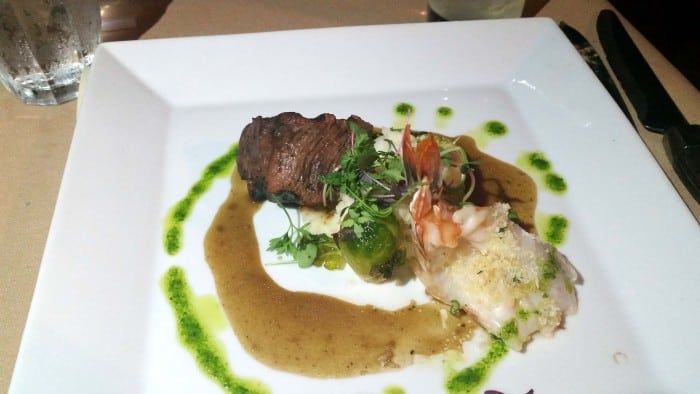 Then you've got dessert. No matter what you ate beforehand, you had to make room for these two desserts, the Flourless Chocolate Cake and Strawberry Shortcake. I am not a huge chocolate person — I know that's weird, but I like the lighter type of dessert so I was a little hesitant about the cake. I was SO wrong. I ended up finishing it and swatting the husband's hands away. And no, I didn't let him eat the entire strawberry shortcake to make up for it. I let him have some of the flourless cake, which was topped with vanilla bean ice cream, fresh berries and chocolate sauce. Such a good consistency, a light chocolate flavor, not overly rich and not heavy in texture at all. The shortcake was equally light and delicious, made simply with warm vanilla cake, fresh whipped cream and strawberries. Some shortcakes are too dry and this was not dry at all.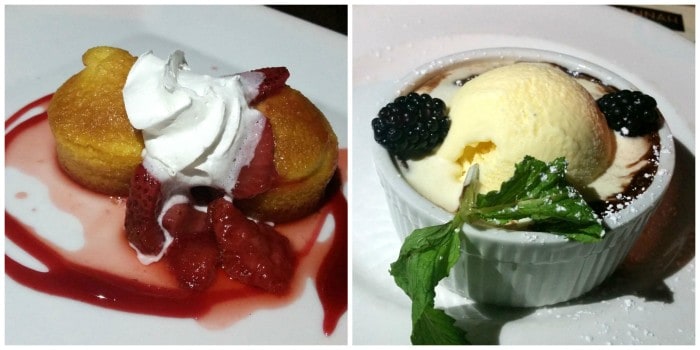 Phil Roberson, the GM, was an engaging host who gave us a brief rundown on the changes at Savannah Chophouse. The restaurant has been around for quite some time now and is known for its holiday parties in addition to its food and relaxed ambiance while enjoying Class-A food. They typically hold 50+ holiday parties during the Christmas season, which speaks to their success.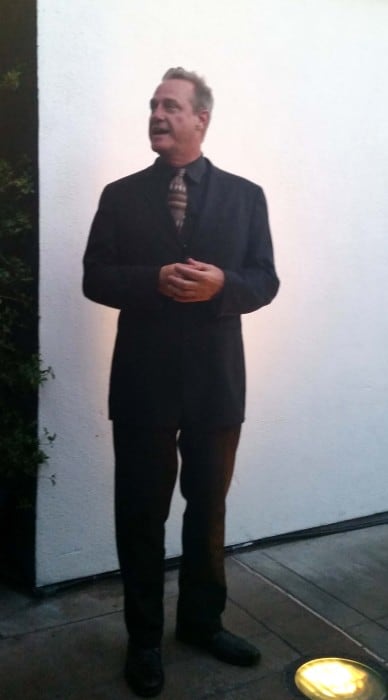 After meeting Chef Chris Tzorin, it was clearly evident that his menu and personality are a huge plus for Savannah Chophouse. He's engaging, feisty, energetic and knows his stuff. Every item on our plates was delicious and flavorful and just a little different from the norm. Chef Tzorin is upbeat and appreciative of everyone's interest in Savannah Chophouse, so much that he's extremely involved on social media. (Follow him at @ChefTzorin on both Twitter and Instagram!) With four generations of chefs in his family, he comes to the Chophouse with many years of experience (The Beach House, for one) as well as fun history from being on Cutthroat Kitchen and Guy's Grocery Games on Food Network. We talked to him briefly during this busy evening, when he made his way around the patio to speak to everyone — such an indicator of his love for the industry — and he mentioned that he's getting his son involved in the cooking classes now that he's old enough, and we agreed that keeping that love for food and family is never too early to start. (Chef Tzorin had his new friends by his side.)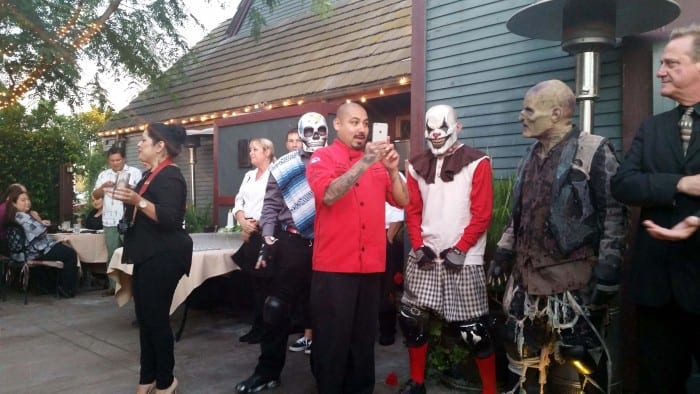 Thank you to Savannah Chophouse and Gigasavvy and everyone involved in this amazing evening! It's quite a drive for us but one we'll make again. I really want to visit during the holidays as I imagine their entertainment and decor is nothing short of spectacular then, too, just as it was on our visit on Thursday evening. Find them on Facebook, Instagram and Twitter, and look at my Instagram account as well for pictures of our evening. Go see how Savannah is back!!