Valentine's Day is coming, which means it's time for the Dangerous Cupcake team to share their annual Valentine's Day cupcake, perfect for a romantic dinner or a special treat for your significant other. I've created a Passion Fruit Coconut Rum cupcake recipe for this year's holiday, made with fresh ingredients and a lot of love! Keep reading for recipes for all the components!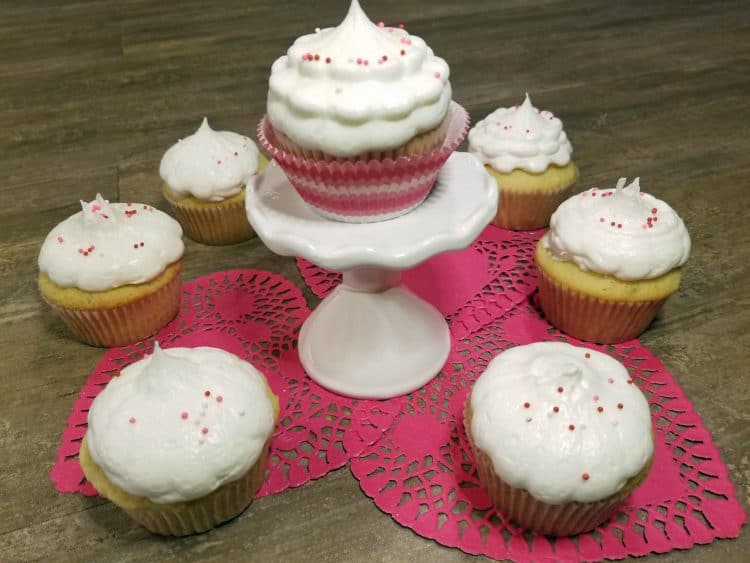 In creating a special cupcake, I am frequently inspired by a seasonal ingredient. Something pretty, something sweet, it depends on my mood, but each year, I want to do something different. This year, I heard that passion fruit was in season, and an idea was born.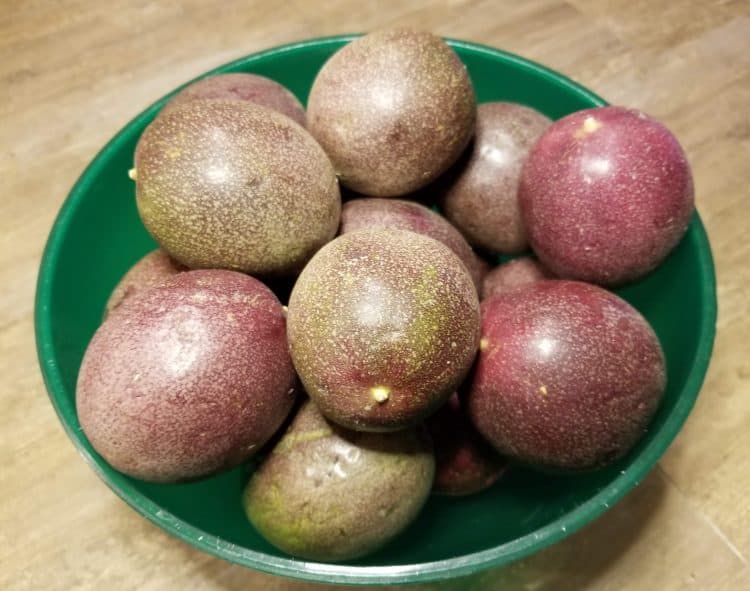 Aren't they beautiful? So many variations in color, so light and once I cut into them to get out the pulp and seeds, so tangy. The scent filled the kitchen, and I honestly wanted to take the bowl and a big spoon and sit down at the table. Thanks to Melissa's Produce for providing the passion fruit and the drinking coconuts that I also decided to incorporate into the latest dangerous cupcake recipe.
These drinking coconuts are not only delicious and organic, providing 100% coconut juice, but they come ready to use without any work. The straw is underneath that recyclable cardboard circle, which keeps the coconut upright as you drink, so simply pop the little brown tab, insert the straw and you're good to go. Or, do what I did and pour the water into a measuring cup to get out what you need for your recipe. More on that later!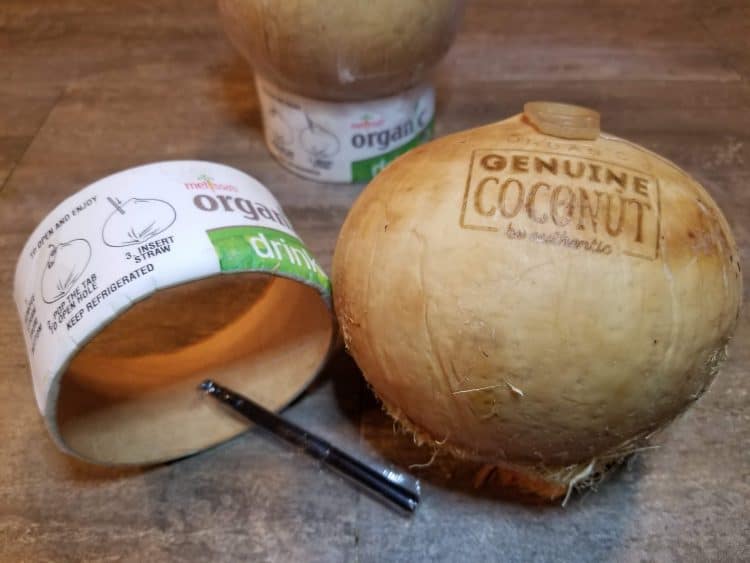 This recipe came together easily once I decided where I wanted to change up my basic vanilla cupcake batter. (This recipe includes egg yolks, so it is not a white cake recipe.) There are a lot of variations of vanilla cupcakes out there, and most vary depending on the amount of dry ingredients (flour, baking powder or soda, sugar, etc.) and the amount of butter, eggs — whites or yolks, or both — and flavor extracts. For this recipe, I omitted the vanilla and subbed in the beautiful Malibu Caribbean Rum with Coconut Liqueur shown below. Coconut and passion fruit are a perfect pairing!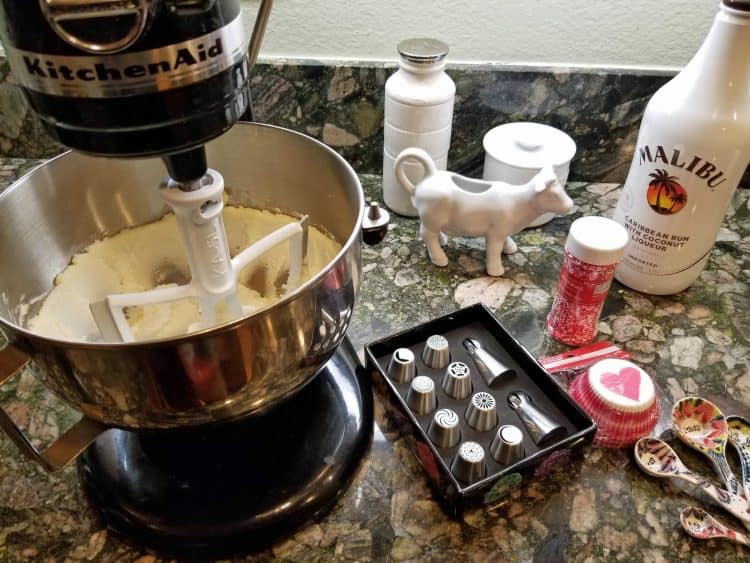 This batter is on the heavy side, but I promise, it results in a light, moist cupcake. I used a heaping ice cream scoop for each of the cupcake inserts. There is no oil in this batter, so it's safe to use white liners without oily residue on the liners that can happen in recipes with oil or shortening.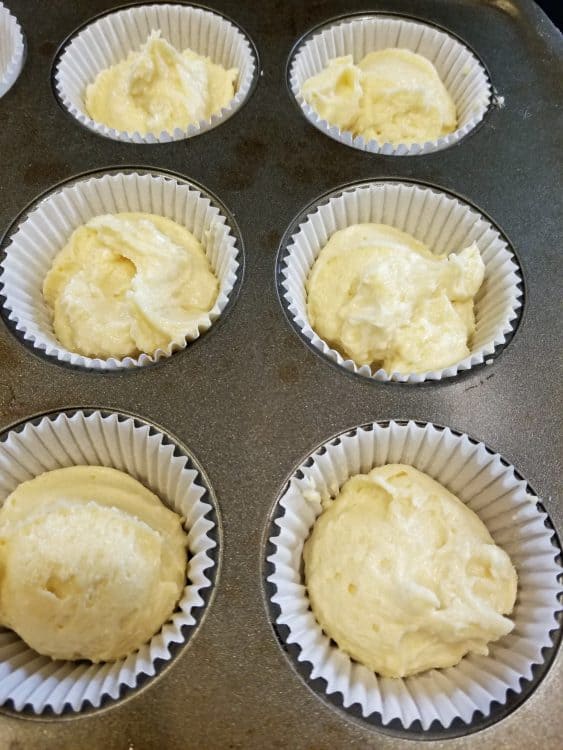 While the cupcakes baked, I put together the passion fruit filling, which I turned into passion fruit curd, similar to a lemon curd. If you're unfamiliar with eating passion fruit, there are a lot of videos available on Google, but I will say that I simply cut them in half and scooped out all the orange filling, seeds and all, into a bowl. The shells are lined in a thick white inside rind, which you do not use. While passion fruit seeds are edible, I chose to strain out the juice for this curd. (Some recipes use the seeds, so it's totally up to you!) About six or seven passion fruit yielded 1 full cup of passion fruit juice, just enough for a curd batter to fill all 20 or so cupcakes, with a little left over for the husband to enjoy.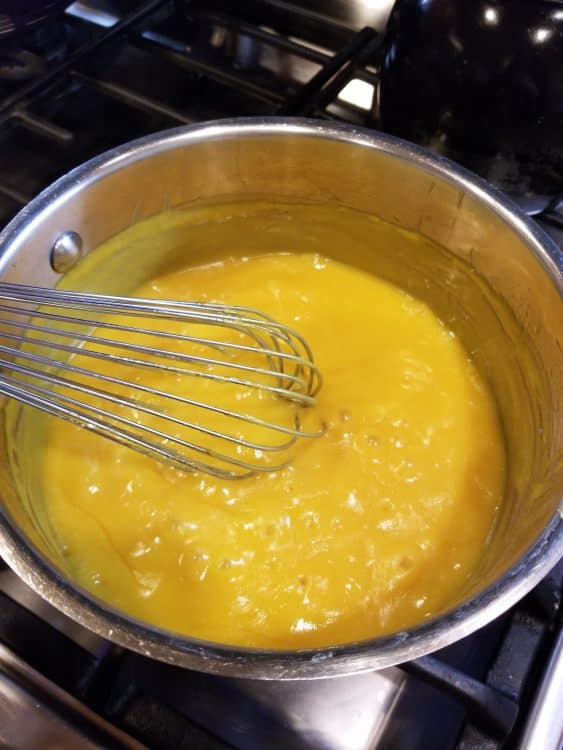 Isn't it beautiful? The color of the fruit needs no help whatsoever, and having cupcakes with an entirely natural filling means no artificial ingredients. The tang of this curd is spectacular!
Once the cupcakes are baked, which took 16 minutes in my oven (at 325 degrees), let them cool thoroughly on a baking rack. Remove them from the cupcake pan as soon as you can handle them, so they don't continue to bake from the heat of the pan.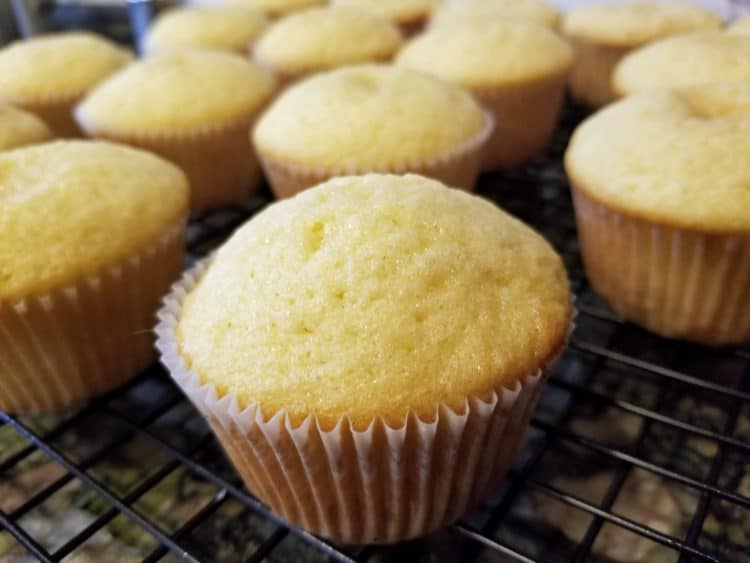 Once they are completely cooled, core out a well in the center of each cupcake. (These make great little one-bite snacks for the family who can't wait for the cupcakes to be assembled!) This little corer is my favorite, and I own four different types. I wish I could tell you where I purchased it, but it goes deep enough and pulls out the cake without too much effort.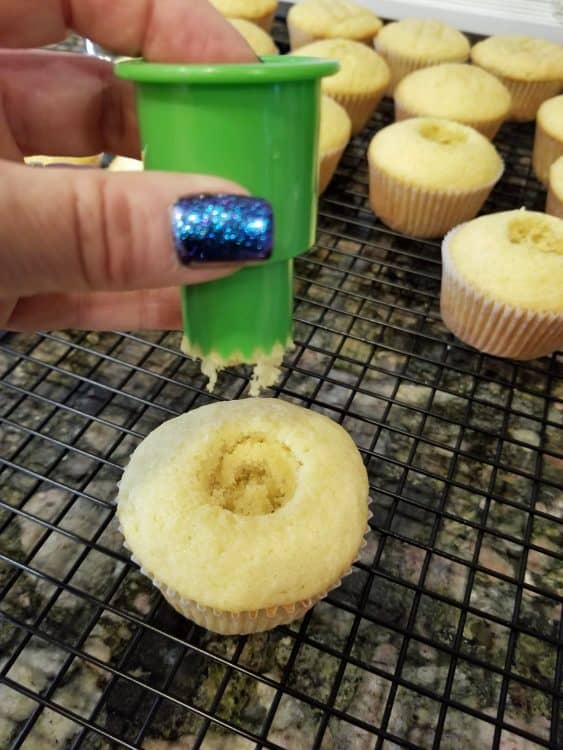 Be sure the curd is entirely cooled. It's tempting to eat it all while hiding in your room in front of a Lifetime movie, but refrain, because these cupcakes are spectacular. The flavors all work so well together and you get a little tangy surprise in every bite.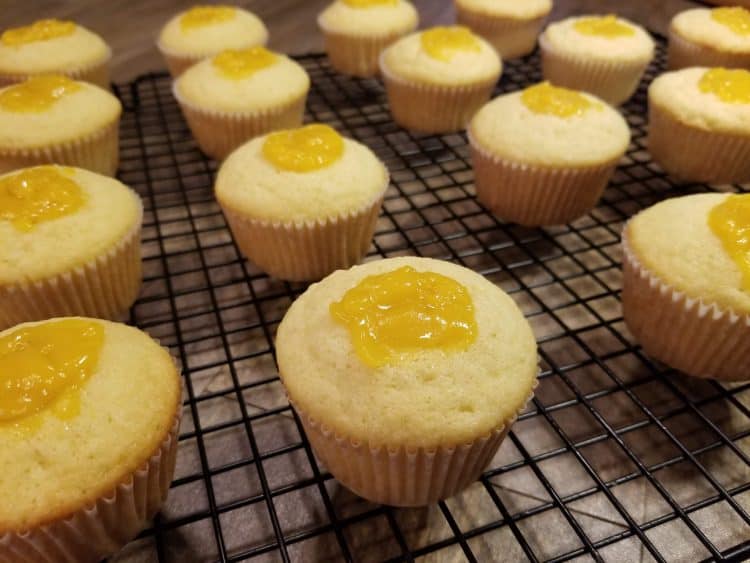 I'd been planning on how to decorate these cupcakes for a few days, but in the end, I decided that less is more. These cupcakes are good on their own, you won't want to take away from the natural fruit flavors with over-the-top sprinkles, dyes or add-ons.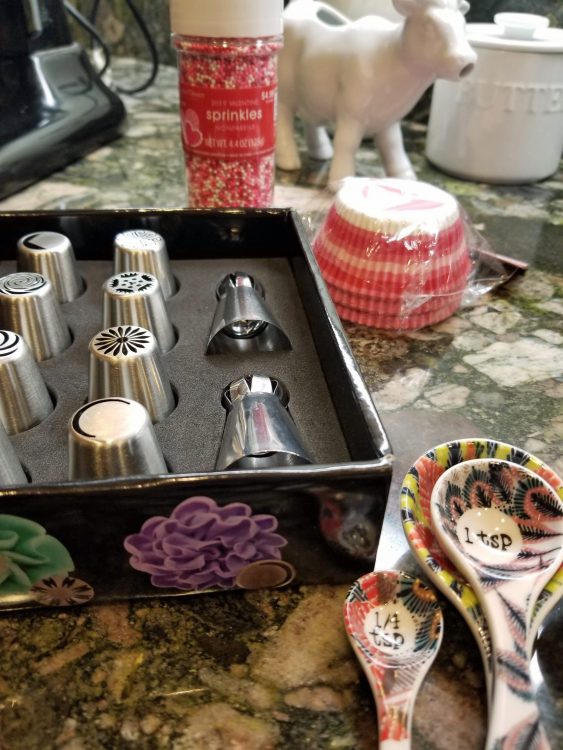 I also tried out new tips that I found randomly at Hobby Lobby after having watched videos about them on Instagram. I was so excited to have an excuse to test them out right away! Piping is a lot faster with large tips and butter cream that is the right consistency. Tip: Put your sprinkles on quickly, if you use them, or the frosting dries just enough that they will no longer stick.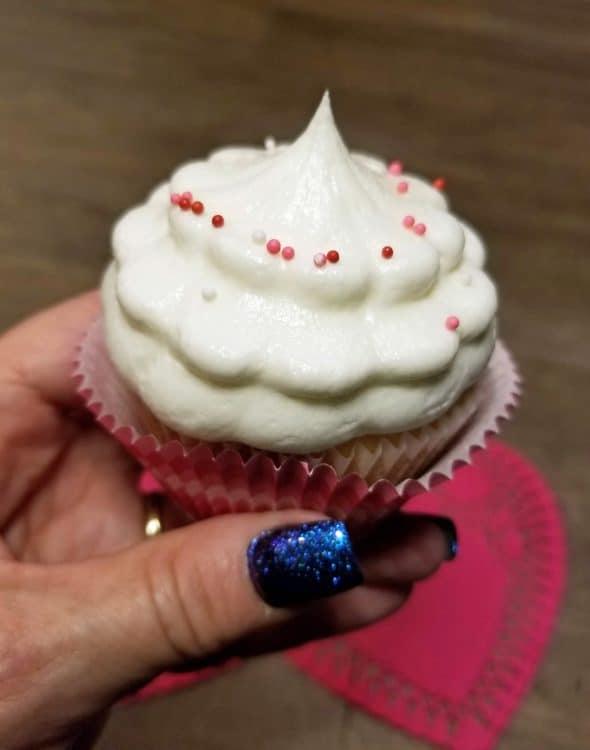 Oh. My. Gosh. I didn't try one until I was done with all the photography, but then I still wanted to show you what the inside of the cupcake looks like. Two forkfuls in, the frosting oozes just enough into the curd but it's not messy. The cupcakes were not crumbly, and it occurred to me later that sometime, I want to put a little curd in the piping bag to give a colored swirl to the top. Just one more way to make your cupcakes stand out!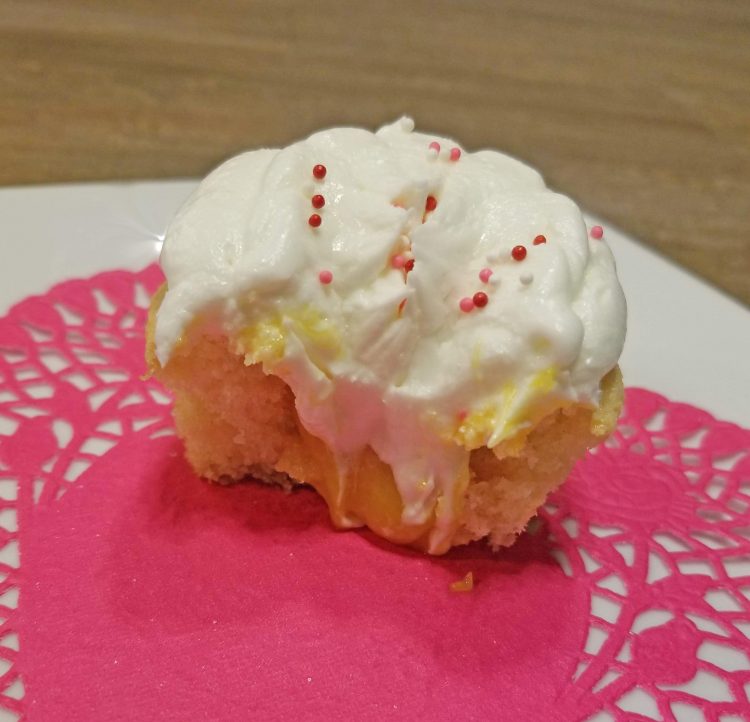 I may have had too much taking Valentine's Day photos of these cupcakes.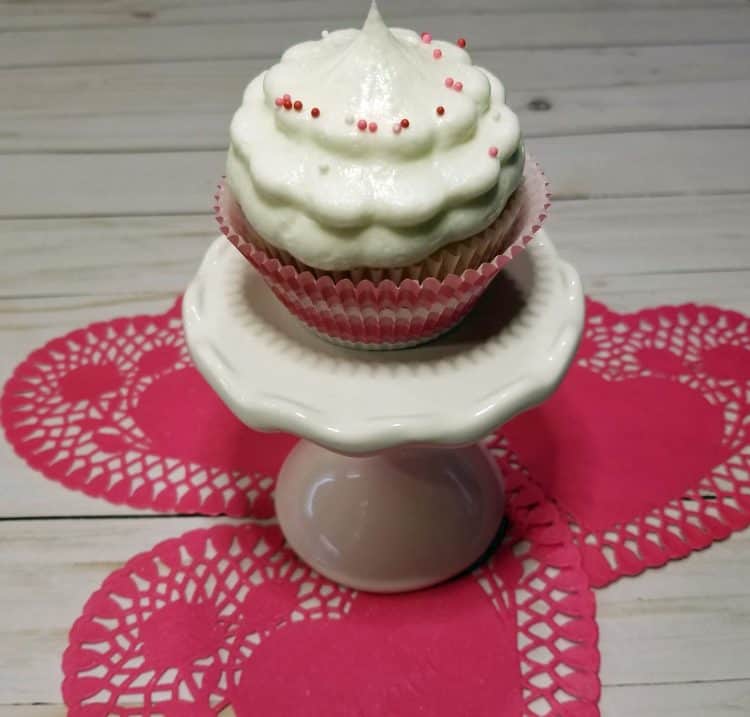 But let's get to the recipes!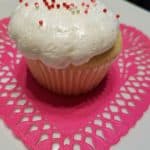 Passion Fruit Coconut Rum Cupcake
This recipe made 20 cupcakes in a regular-sized Wilton cupcake pan.
Ingredients
2

Sticks

Butter, Unsalted

1

Cup

Granulated Sugar

4

Eggs

1/3

Cup

Malibu Coconut Rum

2

Cups

Flour

1/4

Tsp

Baking Soda

3

Tsp

Baking Powder

1/2

Tsp

Rum Extract OPTIONAL for Extra Rum Flavor
Instructions
Beat butter and sugar in large bowl until whipped and light.

Add eggs to butter and sugar mixture, one egg at a time. Mix until combined.

Add flour, baking soda, baking powder and rum into wet mixture. Mix gently until combined. (Add rum extract as well, if desired.)

If batter is too dry, add more rum in 1 tbsp increments. (You can sub in milk or heavy cream if you don't want any additional rum flavor, but keep in mind that the flavor does burn off while cooking so it will taste less after baking.)

Place cupcake liner in 20 cupcake pan cavities. Scoop one heaping ice cream scoop into each cupcake liner.

Bake for 15-18 minutes. Bake time will depend on your oven, so check with toothpick.

When done, let pan cool on rack. Remove cupcakes from pan as soon as you can touch them safely. Continue to let cupcakes cool entirely, directly on rack.
When cupcakes are cooling, it's a good time to make the passion fruit filling. It will take some time to cool, so stir periodically OR place a sheet of plastic wrap on the top to prevent any skin from forming. (This also makes it more difficult for impatient people to steal tastes.)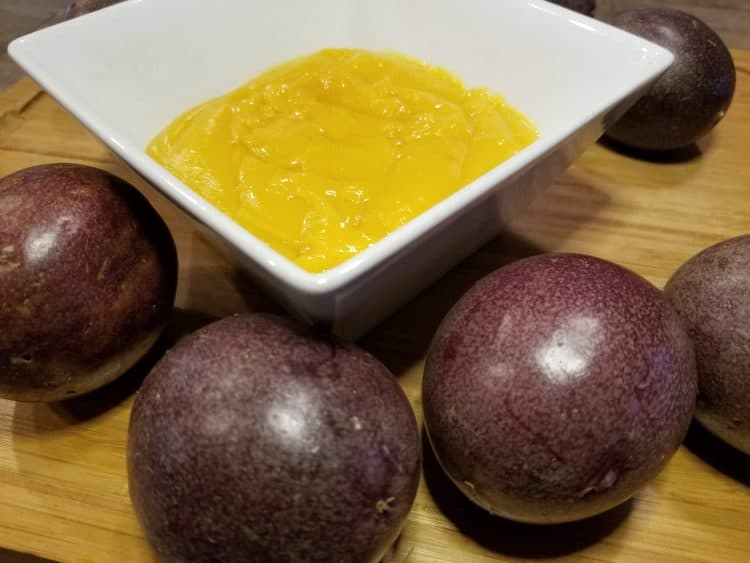 Passion Fruit Curd
This will be your cupcake filling, but it can also be spread on toast, waffles, ice cream or other items. This filling is sweet and a little goes a long way.
Ingredients
6-8

Passion Fruit

You will need 1/2 cup juice.

1/2

Cup

Granulated Sugar

4

Tbsp

Lemon Juice

8

Egg Yolks

12

Tbsp

Butter, Unsalted and Cut into Chunks
Instructions
Pour passion fruit juice and sugar into medium-sized pan on stove top. Heat just until sugar is dissolved, stirring the whole time. Remove from heat.

In medium-sized bowl, whisk egg yolks and lemon juice until combined.

Pour passion fruit and sugar mixture into egg mixture, just a little bit at a time. (Pouring in a very thin stream, whisking constantly and stopping every few seconds is best, as you don't want the eggs to cook. A little of the warm mixture at a time allows the eggs to slowly adapt to the temperature, aka tempering, without cooking them.)

After entire fruit and sugar mixture is combined into egg and lemon juice mixture, pour it all back into the medium-sized stove pan.

Turn heat back on low-medium, and whisk constantly until temperature of mixture gets to 160 degrees AND thickens up. (It took my mix 18 minutes to reach temperature and thicken, but this is stove and pan-dependent.) Remove from heat immediately and keep stirring until you pour the mixture into a bowl. Do not leave the mixture sitting -- it will continue to cook, and possibly will burn and/or separate or curdle.

Let cool entirely before you fill the cupcake wells with curd.
Last but not least, as the curd is cooling, begin the butter cream frosting. This is regular butter cream frosting, but made with the addition of the drinking coconut water. You will not be adding the traditional vanilla.
Coconut Butter Cream Frosting
Ingredients
2

Sticks

Butter, Unsalted and Softened

8

Cups

Powdered Sugar

1/2

Cup

Coconut Water

Additional Coconut Water
Instructions
Whip the butter in the mixer until light and fluffy. (Stand mixer is easiest.)

Add in 6-7 cups of sugar. Whip until combined, stopping to use spatula to pull away dry ingredients from inside of bowl.

Pour in coconut water. Mix until blended.

Add in remaining 1-2 cups of powdered sugar and mix again until blended.

If buttercream is too dry, add in 2-4 more tbsp of coconut water. Mix until fluffy.

Add into piping bag with tip of choice.
Pipe the butter cream onto those babies in your preferred style, and bam, you're ready to celebrate Valentine's Day. These Passion Fruit Coconut Rum cupcakes will be a big hit on your special night!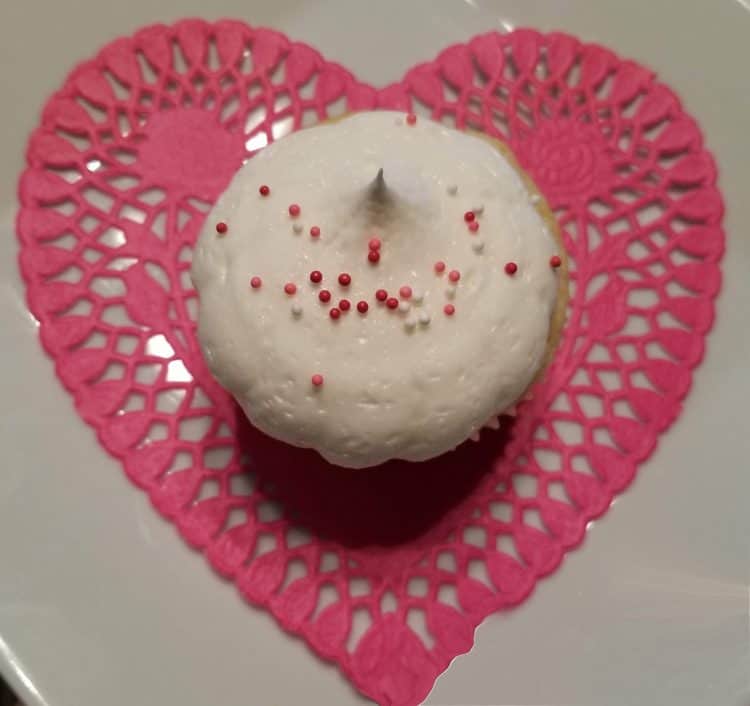 Happy Valentine's Day!