If you're like me, you're counting down the days until hatch peppers are available in your nearby grocery store. You've got at least one hatch pepper roast event on your calendar, and you've pulled out your favorite hatch pepper recipes. If you're not like me though, and you haven't yet tried an amazing hatch chile, now is the time.
Melissa's Produce is currently featuring this fun Hatch Pepper Gift Basket, available for purchase online at their website. They sent me one so I could tell you all about it and experience the fun myself, and I'm so excited to start incorporating hatch pepper items into my meals and snacks.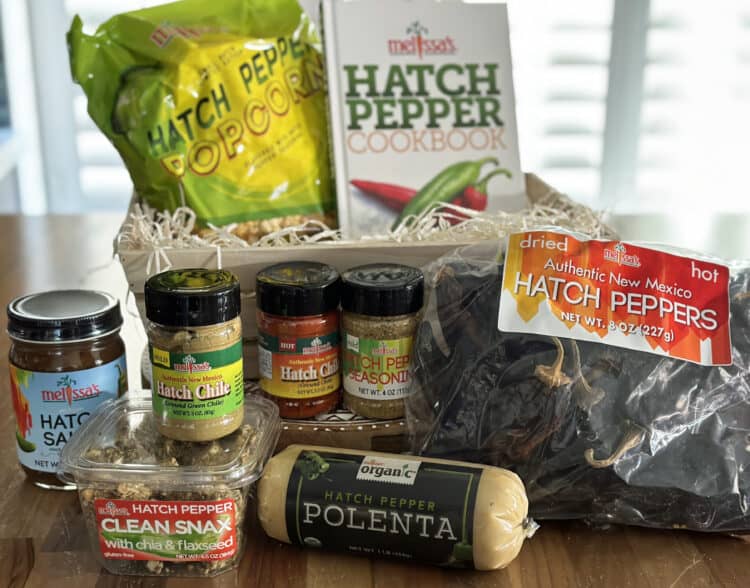 2023 Hatch Pepper Gift Basket from Melissa's Produce: Get Your Hatch Pepper Recipes Ready
Featured in this gift tray is a festive array of Hatch items in one complete collection­­­­­­­­­­­ including a copy of Melissa's Hatch Chile Cookbook, two 3.2 ounce shakers of our famous Ground Hatch Pepper Powder (1 Red Hot and 1 Mild Green), an 8 ounce package of Dried Hatch Peppers (Hot), 4 ounces of Hatch Pepper Seasoning, 16 ounces of Hatch Polenta, a 12 ounce jar of our delicious Hatch Salsa, and a 6.5 ounce tub of our Hatch Clean Snax. 
The basket comes gorgeously wrapped in cellophane for easy delivery and freshness. It's even pretty then, with a brightly colored bow and includes a reusable wooden basket. We have a few of these baskets now and they're perfect for taking dinner to a sick friend or carting muffins to a brunch party.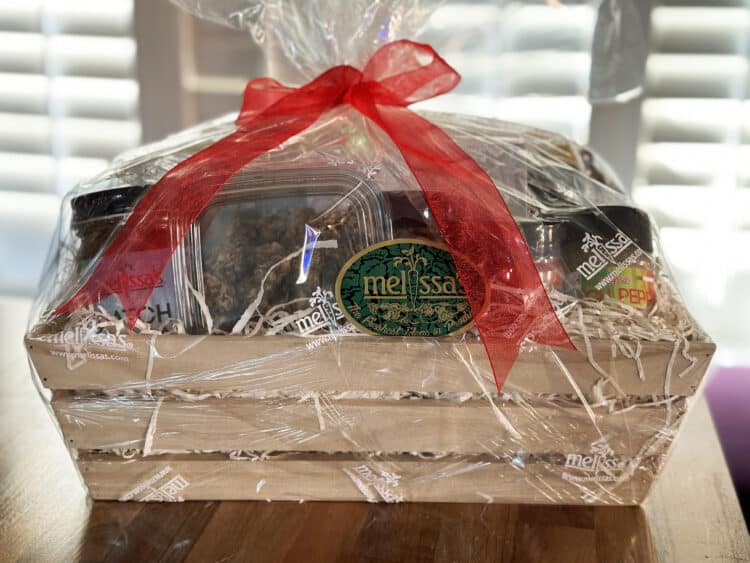 Melissa's Produce has a large variety of gift baskets to fit your price range and needs. We've had them sent to family members in other parts of the country and enjoyed quite a few ourselves. Some even come with a bottle of wine. I recently won a vegetable gift basket, full of a big selection of small potatoes, patty pan squash, zucchini, beets, artichokes, heirloom carrots and more that I am forgetting. It made several different dinners and we got to use things we don't always have in our pantry.
While many produce varieties are only available in specific seasons, you can order the Hatch Pepper Gift Tray year-round! It doesn't have any fresh hatch peppers in it, and it's a great way to incorporate this popular flavor into your meals even when peppers themselves aren't in season.
Fun fact: Hatch peppers are grown in one place, the Mesilla Valley, just north of Las Cruces, New Mexico, in a town aptly called Hatch.
We use hatch peppers in many ways; a couple favorite uses are on top of a veggie patty inside a brioche bun, or chopped up in my weird take on chilaquiles. (I do make chilaquiles more traditionally as well!)
If you learn of a hatch pepper roasting event near you, be sure to go and watch! You can usually buy both unroasted and roasted peppers at those events; then you can come home and freeze what you're not using right away, or if your friends and family are lucky, you can share.
I don't share mine often.
How do you roast a Hatch Pepper?
If you buy them fresh, roasting them is easy! We turn the oven temp on high and lay the peppers down flat on a pan with a little oil, none on top of each other. We roast them until they begin to turn brown or black, then rotate until evenly roasted all around. When you remove them from the oven, you can place them in a bowl and immediately cover it with plastic wrap; once they are cool enough to handle, this makes peeling them much easier.
Alternatively, you can roast them over an open flame, but I have only tried it once so I can't really give good advice on that, other than no oil.
If you're going to freeze them, you can peel after you thaw them. I usually do a mix of both — some peeled for ease of use later (if I'm feeling crunched for time) and some I will need to peel as they thaw.
They also come in a variety of heat levels, but not all locations always have each level. I prefer the hot, but let me tell you, some are HOT, while others are just hot. Test them out before you pop them in your meal!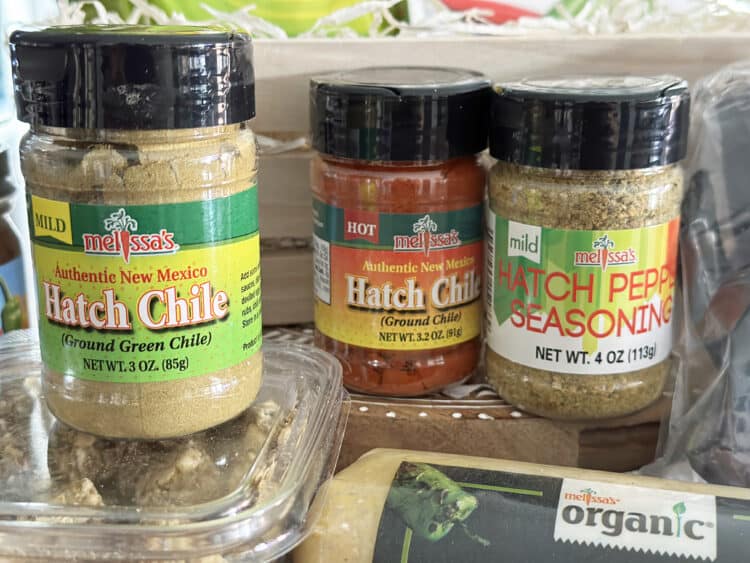 Melissa's Produce also sells several hatch pepper cookbooks, full of enough hatch pepper recipes that you'll want to buy extra peppers. Hatch pepper season isn't long, so stock up when you can. Try the stuffed hatch peppers for a great party app (we cut them in half to serve), or if you're into canning, try the hatch pepper jelly. It's so good! I love to pour it over some softened cream cheese — this goes fast at a party.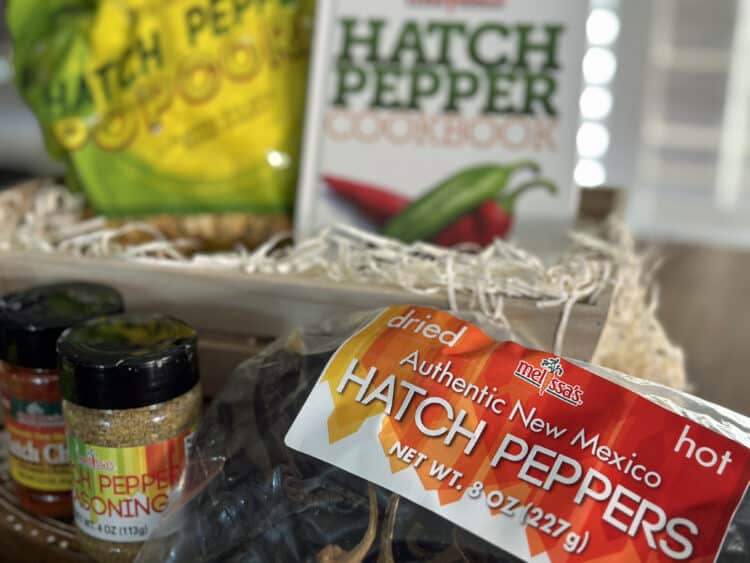 If you're interested in purchasing your own Hatch Pepper Gift Tray, it's currently available for $75.39. Shipping is fast, so if you're sending it to someone else during a hot time of year, let them know to keep an eye out! We've never had any issues, but it's been 100+ degrees here lately so I wouldn't let anything perishable sit outside. (This Hatch Pepper Gift Tray has no produce in it so it won't pose the same worry that if you got produce delivered this time of year!)
Stay cool out there in the heat and let me know what you cook with your hatch chiles!