Did you know that Disney is making a new version of the Buzz Lightyear story? Starring Chris Evans as a young Buzz, "Lightyear" is going to be amazing. It doesn't come out until June 17, 2022, so in the meantime, download some — or all — of these free Lightyear printables for some Disney family fun!
Each of these fun printables can be downloaded by right-clicking on the image in the gallery below, but just in case that doesn't work, I've listed them each separately below for individual download. There are four coloring pages, a maze, two spot the differences, a puzzle and a spaceship to assemble.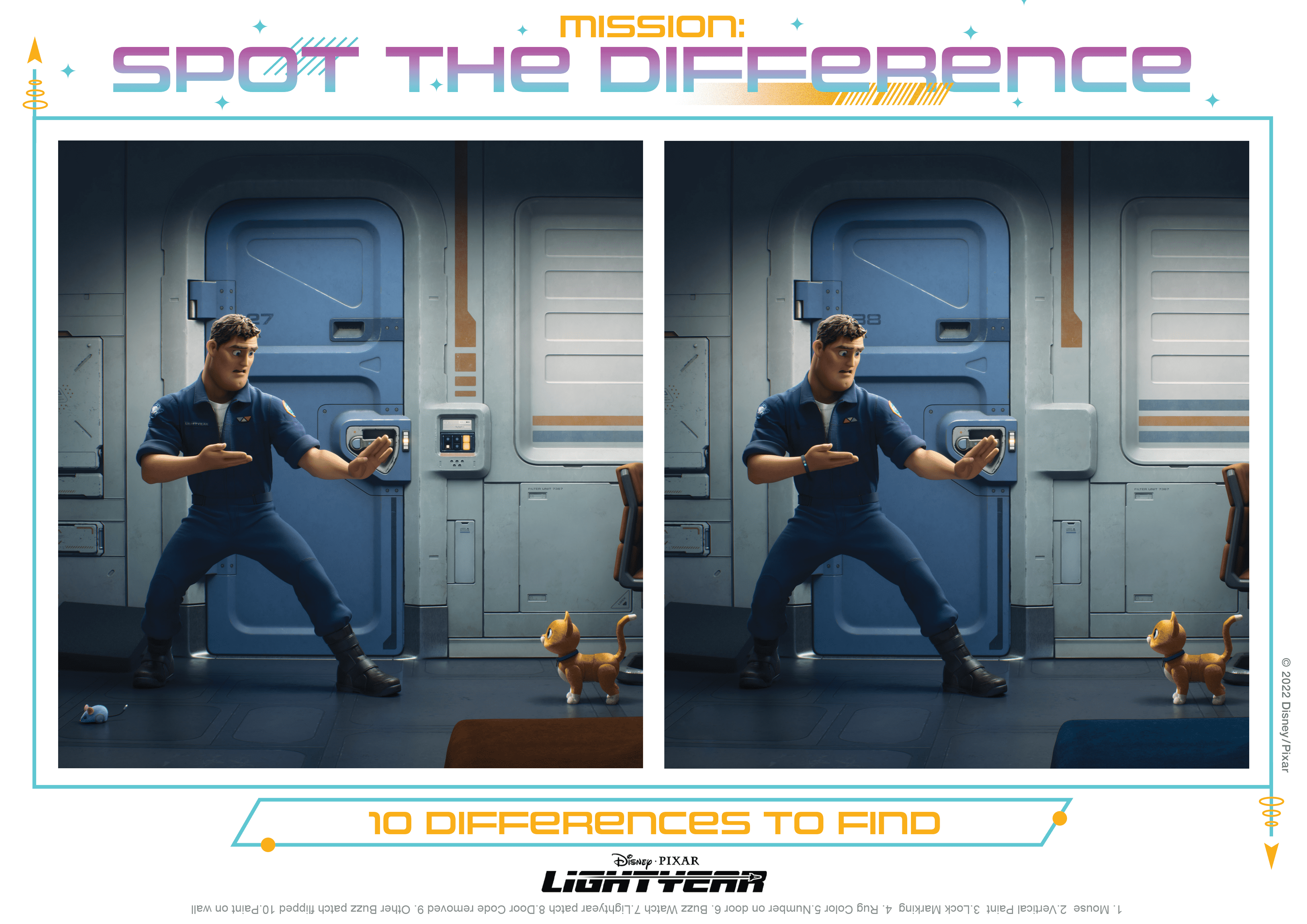 I'm going to be printing out each of these for my granddaughter to color when I go babysit her next week. She's a huge Disney fan, and I was so fortunate to take her on her first visit to Disneyland last month. Next month, I'm taking her to Disney California Adventure, where we're going to head straight to Avengers Campus so she can see Spiderman. She's also a huge Cars fan, so we'll be riding every Cars ride available and keeping an eye out for Mater and Lightning McQueen.
For more on Lightyear, here's the official trailer. (And did I say, Chris Evans plays Lightyear??)
Straight from the Disney press:
"A sci-fi action adventure and the definitive origin story of Buzz Lightyear (voice of Chris Evans), the hero who inspired the toy, "Lightyear" follows the legendary Space Ranger on an intergalactic adventure alongside a group of ambitious recruits (voices of Keke Palmer, Dale Soules and Taika Waititi), and his robot companion Sox (voice of Peter Sohn). Also joining the cast are Uzo Aduba, James Brolin, Mary McDonald-Lewis, Efren Ramirez and Isiah Whitlock Jr. Directed by Angus MacLane (co-director "Finding Dory") and produced by Galyn Susman ("Toy Story That TimeForgot"), "Lightyear" releases June 17, 2022."
The entire Lightyear cast is going to make this movie amazing: Chris Evans, Uzo Aduba, James Brolin, Mary McDonald-Lewis, Keke Palmer, Efren Ramirez, Peter Sohn, Dale Soules, Taika Waititi, Isiah Whitlock Jr.
Enjoy these free Buzz Lightyear printables to download and color with your kids! (Or your grandkids! Get them on the Disney fan train while they're young!)