Do you need to know the best reasons to buy Ralph Breaks the Internet tickets now? Keep reading! I'll give you a lot of reasons…but the biggest one of all? It's the first sequel to a Disney animated movie, so that alone tells you something!
Ralph Breaks the Internet takes place pretty much immediately after the first Ralph movie, Wreck-It Ralph, ends. Ralph's feeling pretty solid about his newfound friendship with Vanellope, but his insecurities may not be gone for long….or did they ever really leave?
Litwak's Family Arcade is a busy place, so busy that Vanellope's Sugar Rush game gets a lot of use, and one day it breaks. For an older video game, this can be the kiss of death, leaving Mr. Litwak the decision of trying to find the rare and expensive part or letting the machine sunset so he can bring in a new game. Once word gets out, Vanellope tries to deal with the possibility of being gameless, with Ralph trying to boost her mode. Once they find out that a part is available on a really cool website, eBay, which is accidentally referred to as "eBoy," Ralph is certain they can resolve the situation. Little did they know, the situation was just beginning.
The search for the broken part does a number on their world, as they realize that their video games are just one small part of what's available out there in the world wide web. Their trip through the router, out into the internet, is fun but it's never as easy as it looks. Throughout their adventures, they make a new friend, Yesss, a trendsetting algorithm who dedicates time to help Ralph succeed on YouTube.
Then Ralph sees the comment wall, and we all know what internet comments are like. Ralph and Vanellope each face their own dreams and goals, each learning what they need in life while realizing the affects it can have on their relationship — and what friendship truly means.
Ralph Breaks the Internet is a fun ride for all ages. Kids will laugh at the silliness of the racers, the funny characters and the banter between Ralph and Vanellope, while adults will get a kick out of the portrayal of the internet, all the way down to the shadowy profiles of the Dark Web avatars. Keep an eye out for familiar names and faces, and be sure to get your popcorn refill beforehand because the Disney princess scene is a huge one that you will NOT want to miss. Having all the original princess voices bring Vanellope into their midst — after some funny test questions — adds a touch of nostalgia to this movie, but this Marvel fangirl enjoyed the brief nod to Marvel when Ralph first arrives in the WWW.
Here's to them making a third in the Ralph franchise…or at least selling the princess gear. I NEED those pajamas!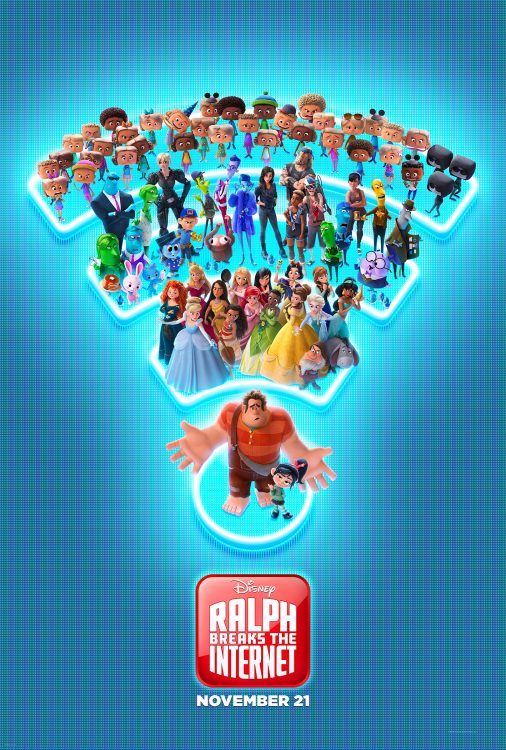 Here's the trailer to enjoy and then go buy Ralph Breaks the Internet tickets now!