This past week, we celebrated our 28th wedding anniversary. With COVID still in the picture, we opted to not fly anywhere and to instead enjoy more of our beautiful home state of California. There's a lot to see and do here, but after a lot of talk, we decided on a vacation full of relaxing, hot tubbing, eating and wine tasting in Paso Robles.
Paso Robles is a part of California wine country, located about halfway between Los Angeles and San Francisco. It's about 25 miles inland, so it makes an ideal anniversary trip destination, giving travelers a beach experience and a rolling green hills road trip all within 30 minutes. Restaurants of all types are prolific, from Pismo Beach to San Luis Obispo to Paso Robles, making it a foodie heaven, and with over 200 wineries in Paso Robles, a day of wine tasting can turn into days of wine tasting without ever running out of options.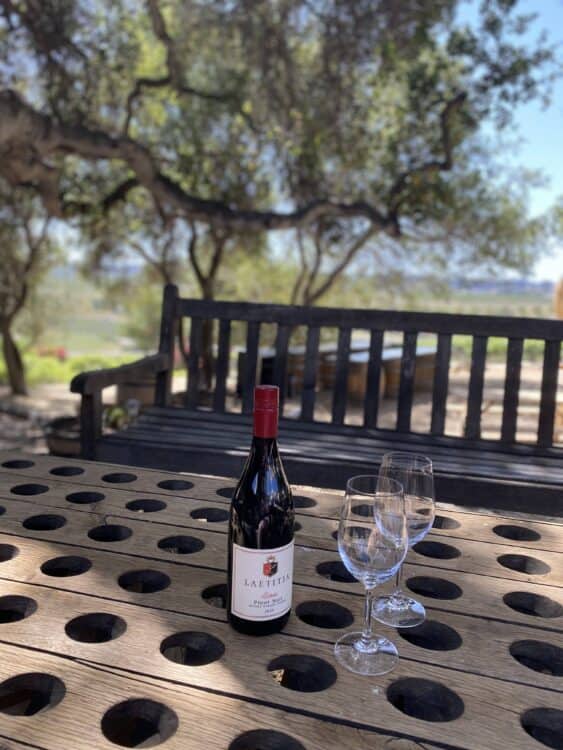 Planning a Day of Wine Tasting in Paso Robles
While some wineries have required reservations prior to the pandemic, almost all of them do now. We were able to walk into Laetitia Winery, located off the 101 heading into Paso, and enjoy a bottle of wine under the shade, without a reservation. (Tip: one glass is $15, and bottles start in the high $20s, so if you want at least two glasses of the same wine, buy the bottle. As long as you can safely cork it in the trunk of your vehicle, the law allows for you to take it with you.) However, we did see all other wineries have full tables and people weren't getting in the door without reservations, so call ahead if you're unsure of their policies so you don't drive out of your way for nothing. (And if you stop at Laetitia, take the time to play bocce ball, wine glass in hand. So peaceful and fun! And their Syrah — chef's kiss.)
If everyone in your party is going to be wine tasting, there are a lot of services that can drive you from winery to winery. Always be safe and drink responsibly. You can also get a ride share between wineries.
Scheduling a day of wine tasting in Paso Robles can be done online, and should be done as far in advance as you're able. You can book reservations via links on each winery's website, though some require you to call. We chose to book with three on our second day in Paso: Tobin James, Eberle Winery and Vina Robles. We were very lucky in that each winery had times available that allowed us enough time to fully enjoy the experience and safely get to the next winery.
Our first winery was Tobin James Wine Cellars. We've been wine club members for about six or seven years now, and the winery is a truly fun place to spend some time. The wine stewards are knowledgeable, friendly and make sure to listen to your preferences and craft a tasting experience around them while widening your scope and exposing you to new wines as well as your favorites.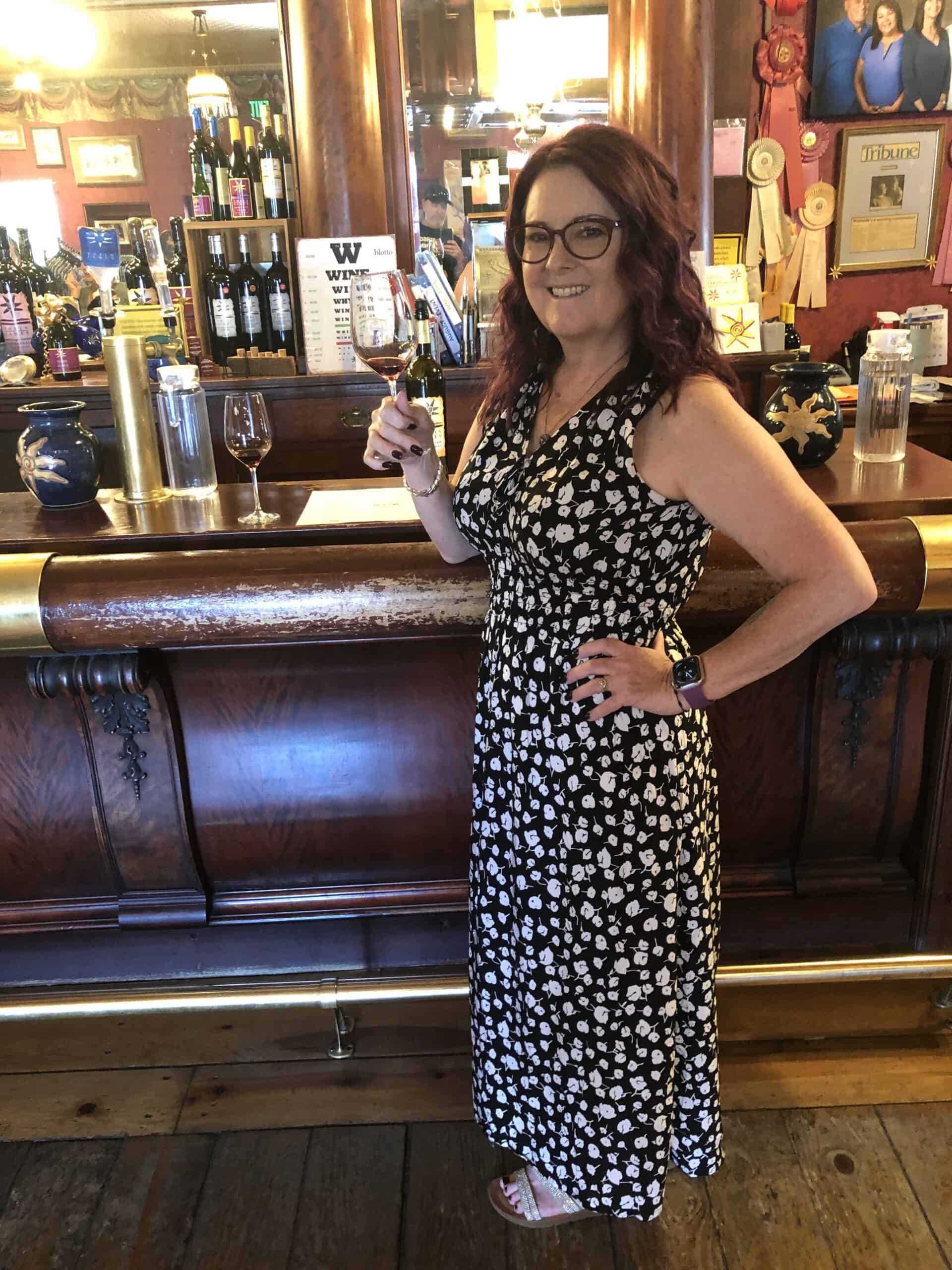 One extra fun thing about Tobin James is their big wine bar. Legend has it that Jesse James drank at it in the midwest back in the 1800s, and there's even a bullet hole to prove it. (We actually were standing right at it!) Tobin James has a relaxed vibe that will make any level of wine taster feel comfortable, so if you're new to the wine scene, put this one at the top of your list. If you're a wine lover of many years, you'll equally love it as the wine is exemplary yet there are wines for every budget. (And wine tasting is free once a quarter for wine club members, and the wine club is called the James Gang!)
When planning a day of wine tasting in Paso Robles or any other city, map it out beforehand. Check how far the wineries are apart and how long the typical drive is. Pad your time just a little, because you may just find you want to hang out a little longer — but bear in mind, many wineries will cap your tasting time or table reservation for only 90 minutes.
Our three wineries on day two were less than ten minutes apart total. After Tobin James, we drove just a few minutes down the road to Eberle Winery. They are known for the wild boar sculpture out front. Wine tastings are free, including a wine cave tour, though you can pay extra for an upgrade to a separate viewing area and higher-priced wines. However, we did the free experience and had zero complaints. The view was spectacular, our tour guide was entertaining and informative, and the pours were generous.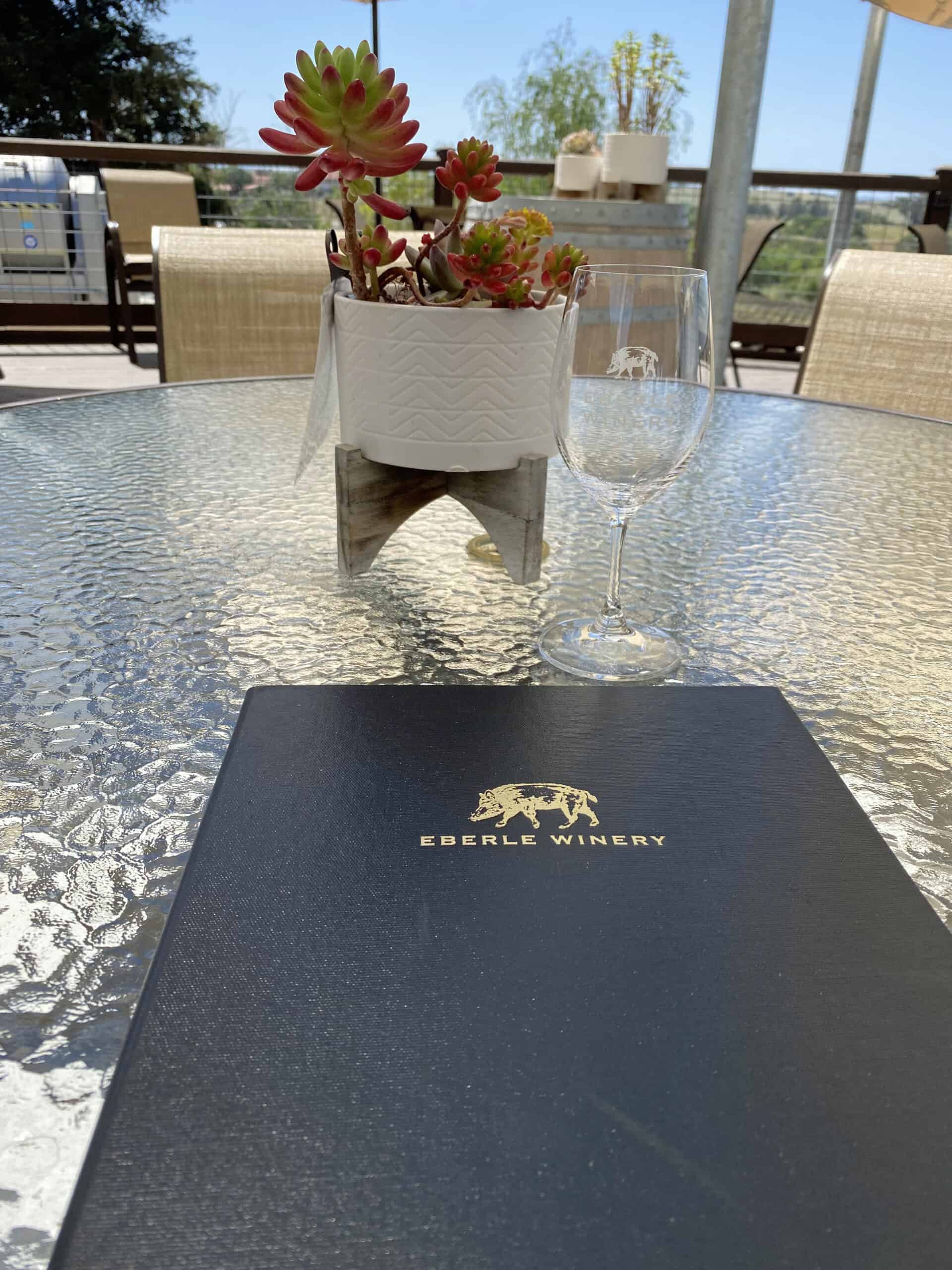 If you've done a cave tour before, not all tours are alike, so consider taking the one at Eberle. The layout is different and you get to see their cave dinner areas, from an intimate smaller table to a long setting for a large party. (Paso Robles wine tasting is about so much more than just tasting the wines!)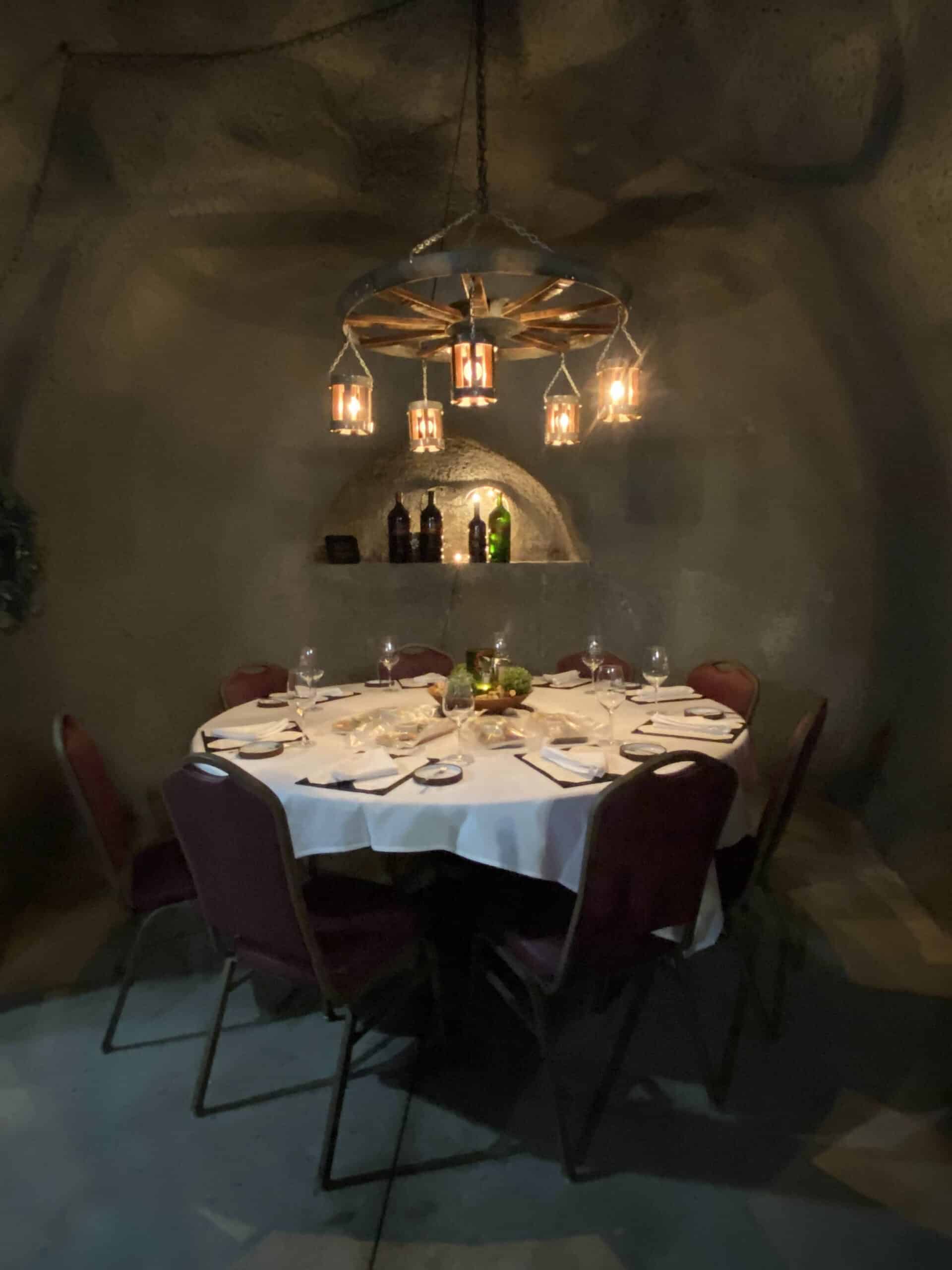 Eberle Winery has two awesome dogs that wander the property, and you are going to love them. They are Barbera and Sangiovese, and they like cheese and pets. They sat by us for a while, making sure to tell us that they wanted our attention, with gentle paws on our legs. They were so much fun to pet!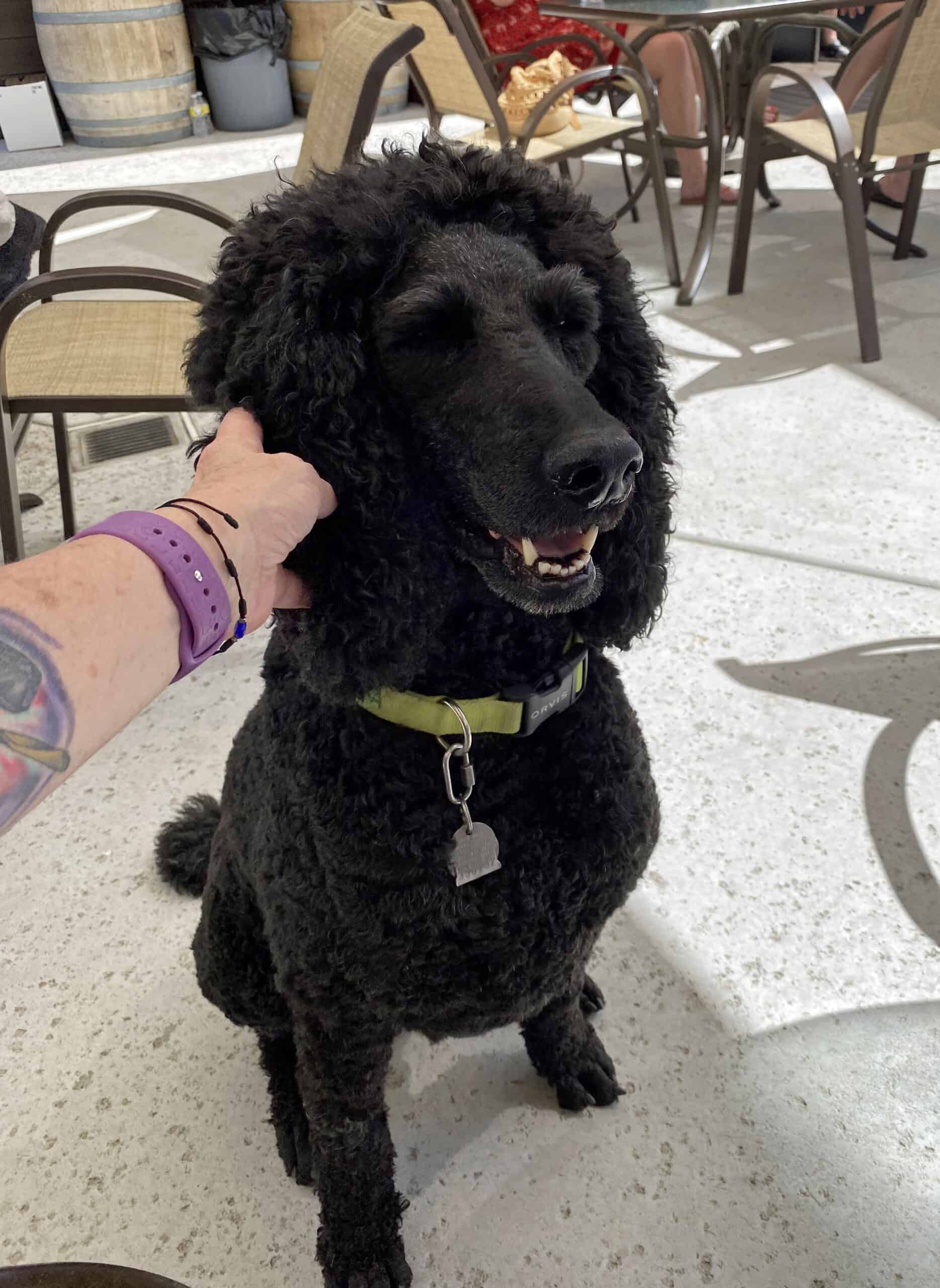 And last thing about Eberle — try the $20 grazing board (which included the perfect amount of charcuterie tray items) and the Rose. I am not a Rose lover, but give me this Rose and I am all in. We came home with two bottles and I may order more later.
Our third winery visit of the day was Vina Robles. Vina Robles has a modern vibe with its high-ceilinged tasting room and groomed roaming areas towards the back of the public grounds. We sat outside at a shaded table enjoying numerous new food items by their chef, in addition to multiple wines. My favorite was their Sauvignon Blanc and their Albarino. We came home with some of it, in addition to a couple of reds.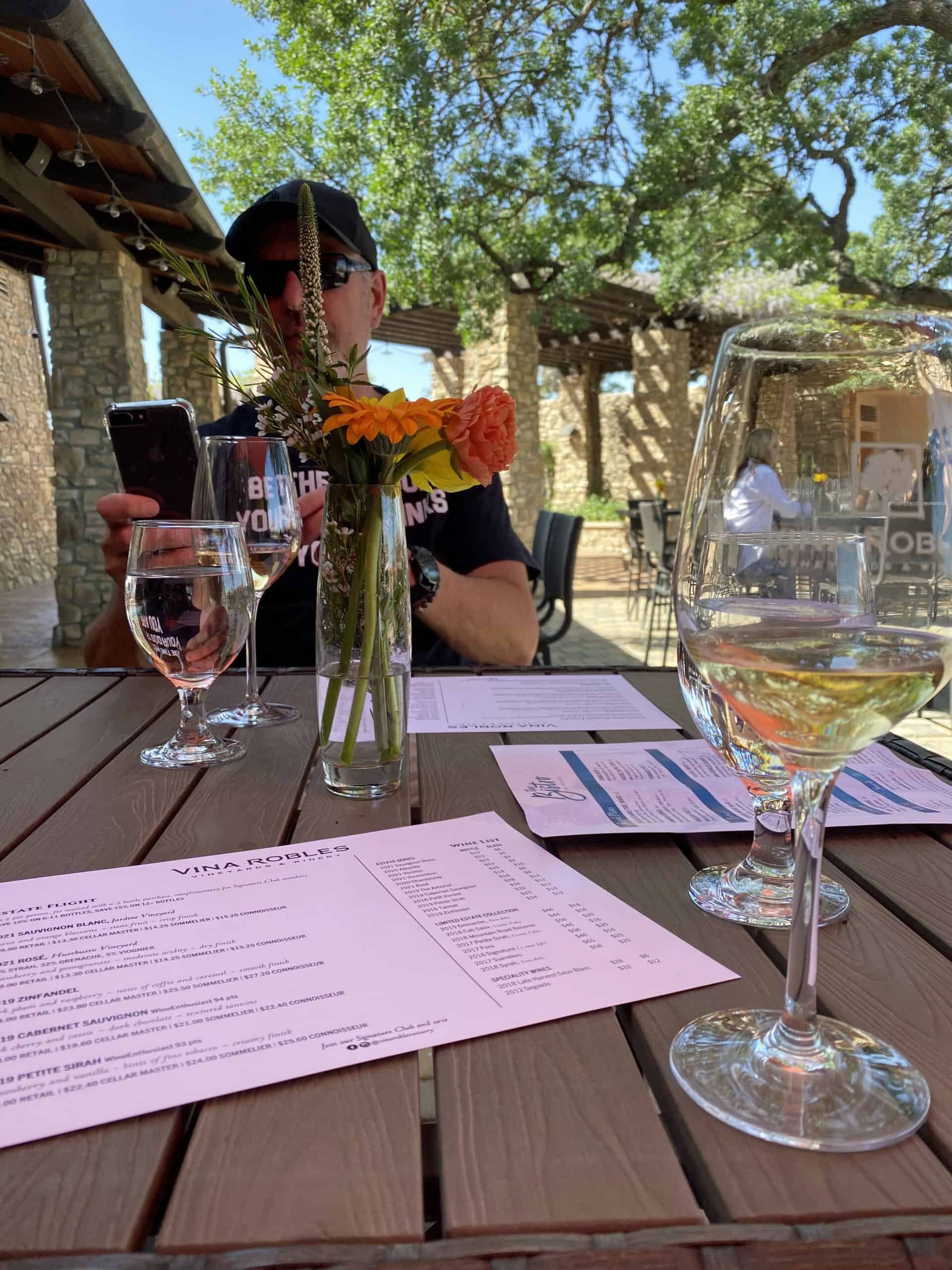 If you visit Vina Robles, you need to try their bacon creme brûlée. Spectacular! We stumbled into a marketing shooting and had a blast, so full disclosure that we were given the wine and food for free. We'd also started with a regular wine tasting inside, so we can truly say the experience was a fun one, and we'd recommend this winery as another one to add to your list!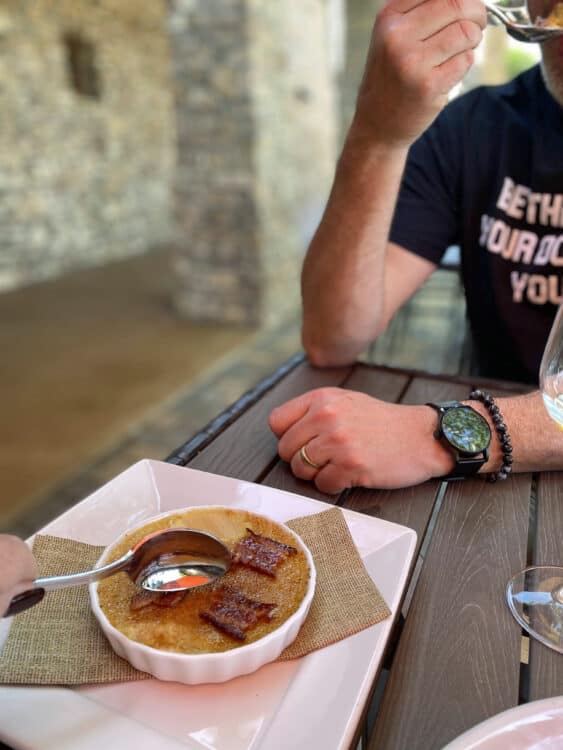 Another tip for planning a day of wine tasting in Paso Robles: planning your meals. You need to be sure to drink a lot of water and eat throughout your day. (We did see at least one tipsy person at one of the wineries, walking into the winery from a car share service. It does happen, and eating enough can help decrease your chances of being that person.) Not all wineries offer food, so check that as you make your reservations. We had a big breakfast at our hotel (which I'm not sharing right now, as we had no hot water throughout our trip and they have yet to address it with us) and Tobin James doesn't have food, so it was a natural first. Eberle Winery has the grazing board, and Vina Robles offers a lot of tapas. Inquire in advance and if you're unsure or want to keep costs down, pack a picnic basket or cooler to eat on the go.
If you buy wine, get it shipped home if the weather is getting up there in temps. Wine enclosed in a hot vehicle can cause expansion in the bottle, which in turn results in corks popping out partially or even fully. This means ruined wine. We bought a case at Tobin James and shipping was free.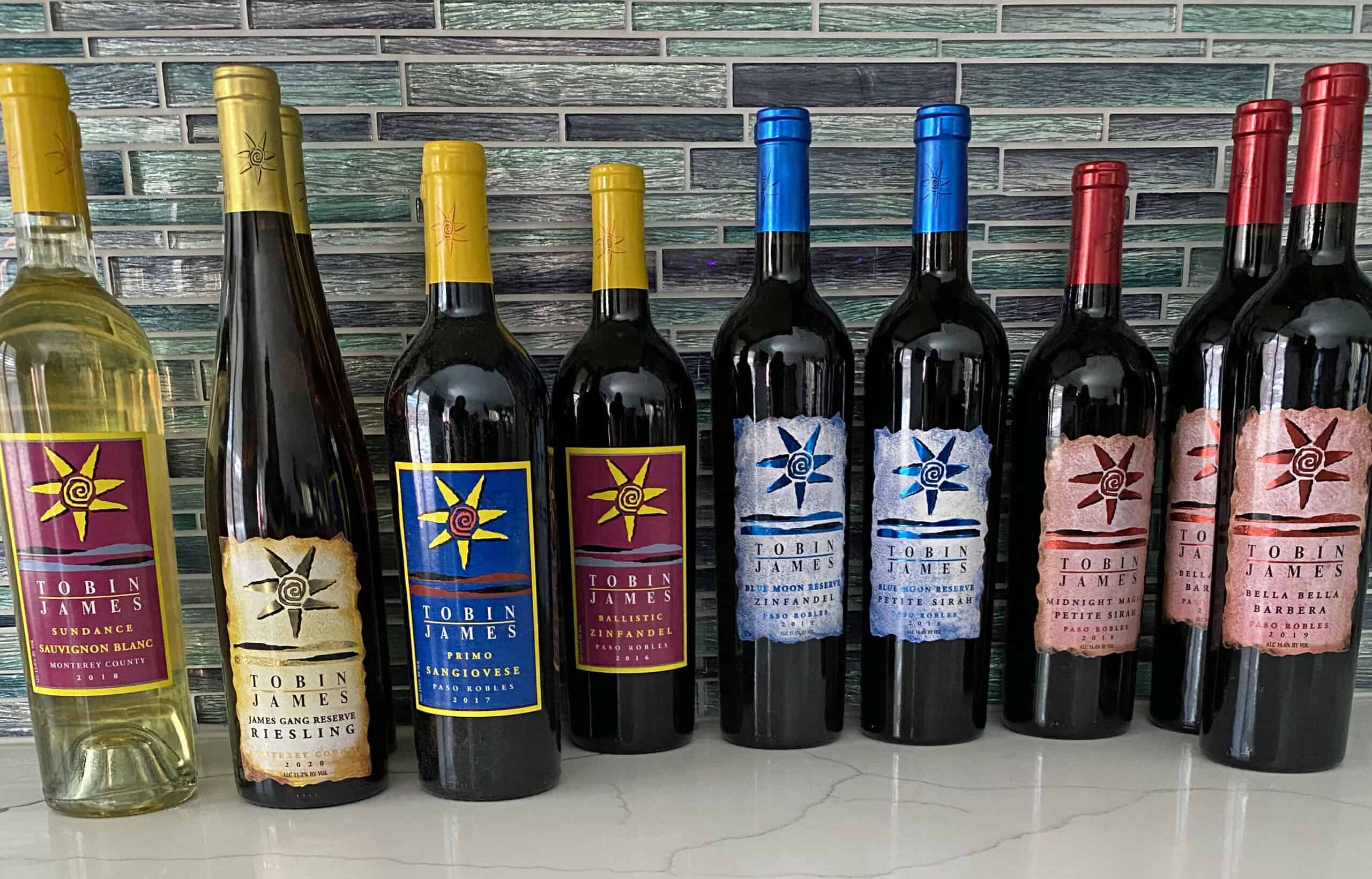 That's another topic — always ask about discounts and shipping costs. Most wineries offer a discount if you buy a full case or free shipping. This makes it easier to get those extra bottles you really like and not have to worry about shoving it in your trunk.
If you're celebrating a birthday, anniversary or other special event, tell the winery when you make your reservation! Some wineries will give you premium tables or other fun bonuses.
Planning a day of wine tasting in Paso Robles can take a little time on the front end, but it will be worth it! Knowing you can walk in and have your own table without waiting is everything when you're relaxing on vacation. Our honeymoon was up the California coast, so this trip is one of many similar vacations. You can read about another one here, where we shared other tips for wine tasting trips. With advanced planning and a little research, you can make an affordable wine tasting trip through California wine country, too! Make the memories you seek and don't forget to bring home some wine to treat your friends to Paso Robles wine tasting in their own home!