Disney's done it again! They have another heartwarming and inspirational hit on their hands with their newest movie. It is now playing in limited release and opens everywhere on September 30, but I saw it on Tuesday night, where I had the pleasure of walking the red carpet for the Queen of Katwe premiere!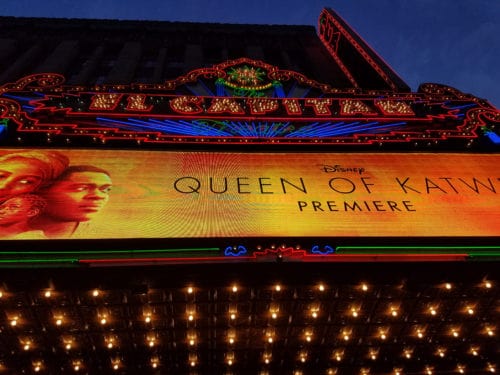 Words don't quite convey how much fun it is to be a part of a movie premiere in Hollywood. First there's the major decision: attire. Dress, shoes, jewelry, bag….and do I need a sweater? Contacts? Shades? I could use it as an excuse to buy a dress every time, but this time I was fortunate to have one handy as my attendance was pretty last-minute. If you've got to pack fast and get on the road asap, I can't think of many better reasons. I headed out to Hollywood within an hour and the first score of the day was that I forgot nothing!
Then there's the fun of getting ready. Makeup, hair, accessories, it's such a rush! I was part of a group of 25 bloggers attending with Disney, so it was a blast meeting everyone in the Sheraton Universal lobby, all dressed up and excited to start the evening. We arrived down at the El Capitan amongst crowds of people watching the premiere along Hollywood Boulevard. Sometimes the carpet for a premiere is a different color, depending on the theme, but it's always a red carpet greeting all the way, no matter what. Get your ticket, which turned out to be for the second-row center, get the wristband and start strutting it down the walkway!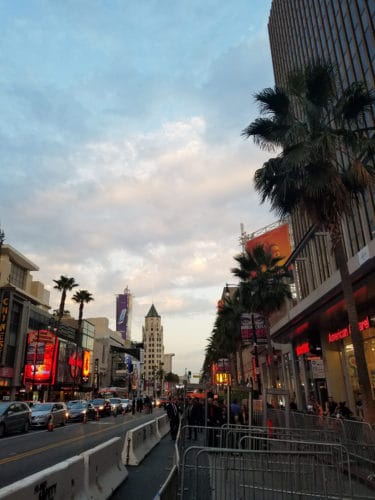 Like I told the husband, it's fun to get sassy in the best way. Find a premiere sign and strike a pose with your photo buddy so we all get good photos of ourselves. I was part of a photo buddy trio and we had a good time trying to stay out of the way of others while keeping it moving on the carpet. It can get crowded, especially as it gets closer to show time, but it's both eyes wide open as you look around constantly to see who else is around you. On a red carpet, you just never know who you may run into, literally. (Last time, during the Pete's Dragon premiere, I turned a corner and wham, one of my favorite characters from Marvel's Agents of Shield was right there making a sudden stop while he found his seat. Too cool!)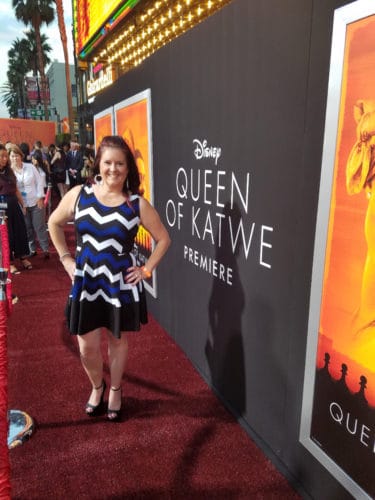 The cast of Queen of Katwe is stellar. Lupita N'yongo plays the mother of Phiona, the real-life inspiration for the movie about a rising chess star from an impoverished city in Uganda. Her mentor, Robert Katende, played by David Oyelowo, teaches her about life, hope and chess, so she's able to travel and better her own life and that of others. Her journey is not without major struggles and heartbreak, but you'll need to see the movie to know what I mean. Your heart will be tugged and pulled, twisted and uplifted simultaneously. More on the movie though in a later post.
The cast was taking photos on the carpet before the movie started, but I ran into Madina Nalwanga ("Phiona") inside the El Capitan. She's radiant, so well-spoken and simply put, a beautiful and gracious girl. (I was able to interview her on Tuesday, but more on that in another post, too, so stay tuned.)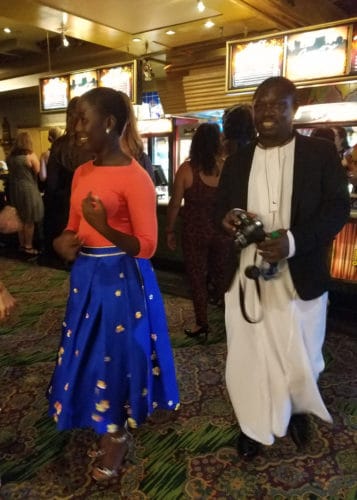 The El Capitan has such a history that it's a privilege to be able to attend a movie there on any day. Beautifully ornate and without a bad seat in the house, the musical prelude is always fun. Disney and Star Wars music played live on that piano, you can't beat it as a way of keeping you entertained until the main event begins.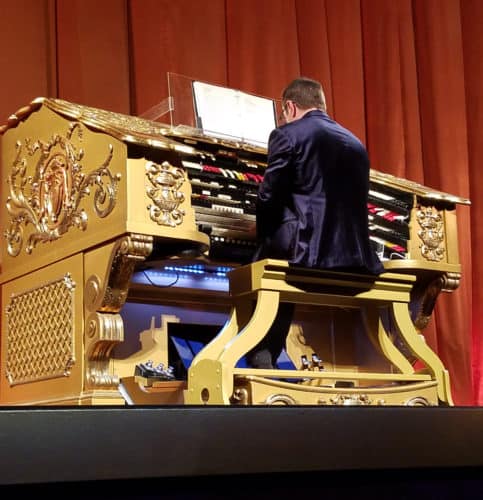 We grabbed popcorn and headed to our seats for the 124-minute movie. (It moves FAST.) It was over all too quickly and we headed across the street to the Hard Rock Cafe for a post-premiere party.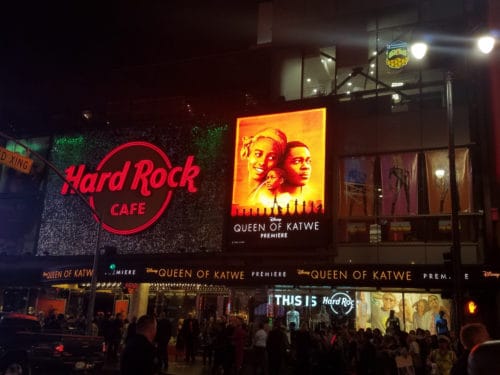 With celebrities and cast and other special guests everywhere, it was an event in itself just walking to our table. Even with big buffet tables full of finger foods and bar tables all over, and a dessert table with these tiny Oreo cooker mousse shooters, we were almost too excited to eat. Around 10pm, the cast started dancing, including various young actors who played other members of the chess academy. It was so fun to be on the dance floor with them! Isn't Lupita beautiful? (Pardon the darkness — club lights and all! I loved this candid photo of her big smile while she hugs her cast mate.)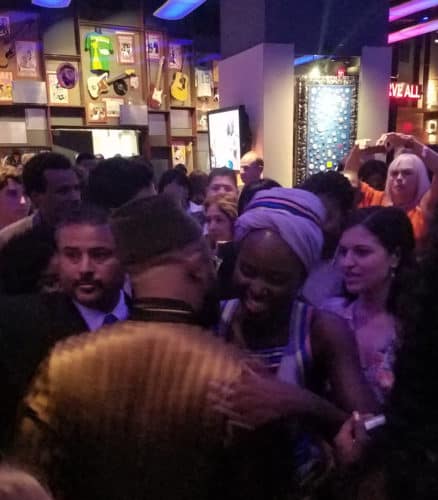 Before we knew it, the evening was wrapping up and lights were going back on in the Hard Rock. 25 dressed up ladies and most of us dying to take off our shoes. I made it to the shuttle without taking them off, but just barely. Even the comfiest of heels can put your feet through a wringer on a busy night, but it's totally worth it to be at the Queen of Katwe premiere!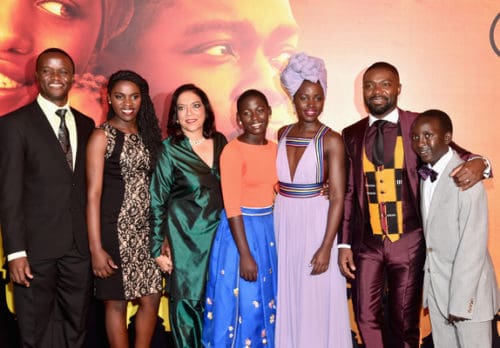 Disney, Queen of Katwe is an amazing movie that had me crying more than once.  I heard sniffles around the theater at various parts but at the end, spontaneous and heartfelt applause and smiles all around. I looked at the cast I'd interviewed earlier in such a different way, having seen the real story of their lives and what they'd been through and achieved. They all have every reason to celebrate like they were, because this movie is bringing new faces and talent to the forefront.
Go see Queen of Katwe and head back to the blog on Sunday for the next post about this week's Queen of Katwe event! For more info in the meantime, search for #QueenofKatwe event on Twitter, Instagram and Facebook — lots of amazing photos out there!
Save
Save
Save
Save