Feeling the pressure to get the perfect Valentine's day gift for your loved one? Don't let shopping stress take away from the holiday — head over to Victoria Gardens in Rancho Cucamonga, off the 15 freeway and Foothill Blvd., and get the ultimate Valentine's Day shopping done fast with my gift suggestions below.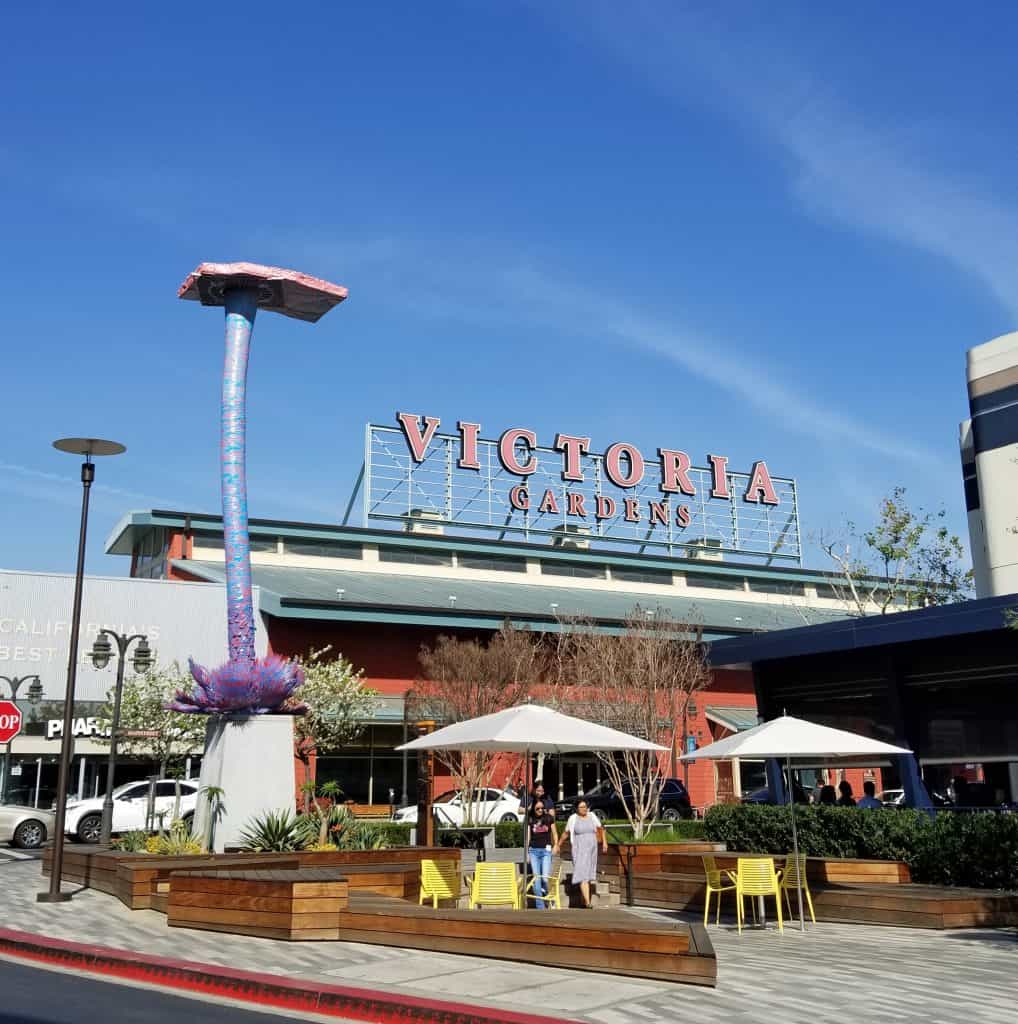 Even with a busy schedule, I am always up for a shopping expedition. Victoria Gardens is my local mall, so I may spend a lot of time there. I know it in and out, so when something new pops up, I head over to check it out. From happy hours to shoe sales to desserts, I can tell you where to find the best of it all. When I was asked to write about getting your Valentine's Day shopping done at VG, I jumped on it as it's an easy thing to write about and I love to tell people why they need to check it out, too. (And I was compensated to do so, but the photos, words and opinions are all my very own.)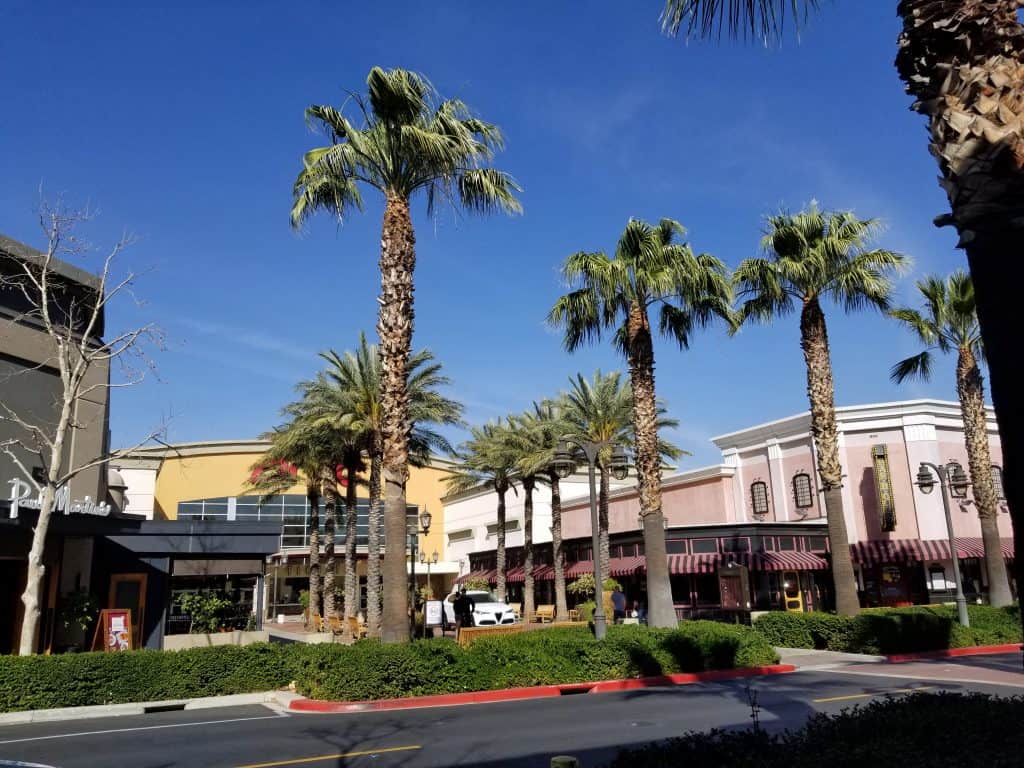 Victoria Gardens is a sprawling outdoor mall anchored by major retailers such as Macy's and AMC Theaters, offering both boutique and big name shopping opportunities. Grab a coffee on one end and by the time you get to the other, you'll be looking forward to the chance to set down your shopping bags and enjoy a snack. With new businesses opening regularly, the mall remains fresh and you'll always find plenty of new food items to try.
I visited a couple of days ago with the goal of putting together the ultimate Valentine's Day shopping gift guide. It was a beautiful day outside and after I picked up my gift card from Guest Services, I headed straight into to Helzberg Diamonds. They had a special event that day, where they were setting stones and making custom pieces. (They do this 3-4x a year and the next time is in May.) I wandered around the store, checking out some of my favorite sparkly stones: sapphires and tanzanite. The pieces all ranged in prices but they each had a component that was entry-level in pricing so getting your loved one a pretty piece of jewelry isn't out of the budget. That bracelet happens to be my favorite. And if your intended recipient is a Disney-lover like me, these pendants were beautiful as well and started at $49.99. See those trendy stacked rings? Something for everyone's price point and style.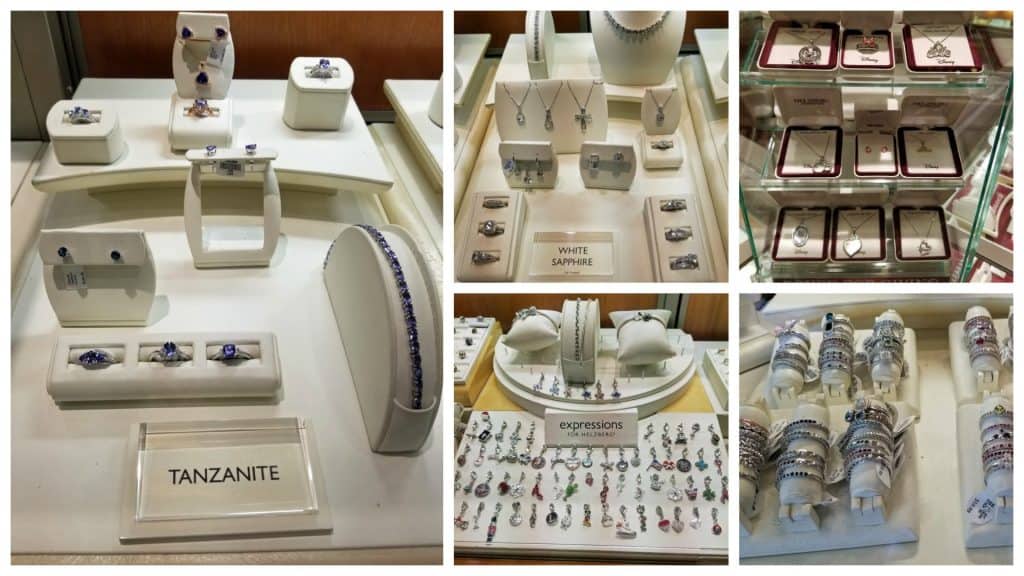 As a Marvel nerd, I of course had to stop over in Dynamic, one of the enclosed booth-buildings on the north end of Chaffey Town Square. Dynamic recently broke into two separate buildings; one is more male-focused, the other more female-focused with purses and jewelry. I could spend a lot of money in this store! They have some hard-to-find Marvel backpacks and bags, along with many other character-based objects. Had I not just received a new Thor bag, I'd have probably nabbed the Loki backpack up on the top — or the Guardians of the Galaxy bag next to it. So many gift options for the nerds in your life!

Next stop on my Nerd shopping list was Hot Topic. You never know what you'll find in there, and this time, I hit pay dirt with a sale on Marvel jackets. With 30% off, I scored this cool green Loki jacket for less than $50! With the Black Panther movie coming out this Friday (Feb. 16), which you can see at the Victoria Gardens AMC Theater, stop by Hot Topic first and grab a new Black Panther tee or other gear to wear to the movie.

While jewelry and candy are typical gifts for Valentine's Day — and fantastic gifts, for sure — think outside of the box if your special someone has different interests. As my husband knows, I'm happy any day with something Marvel-related!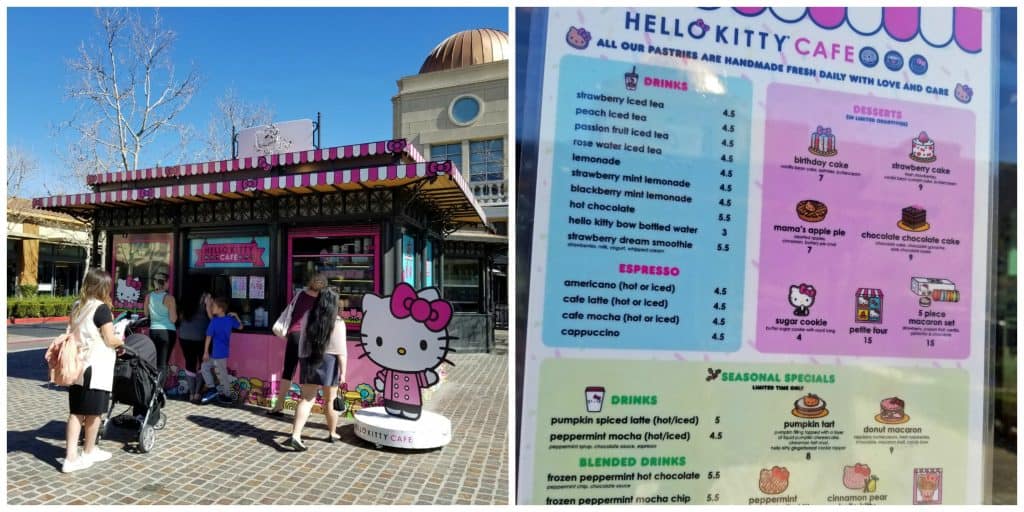 Something relatively new to Victoria Gardens is the Hello Kitty Cafe. I'd passed it a few times but it's pretty popular so I never tried it. Until today, and I'm going to make it a habit! The menu is simple, but successful. I tried the passion fruit iced tea and it was perfect for wandering the mall on a warm day. I want to try the macarons next time! If you're doing what we do sometimes — a fun shopping date — the Hello Kitty Cafe makes a good addition to your trip around the mall.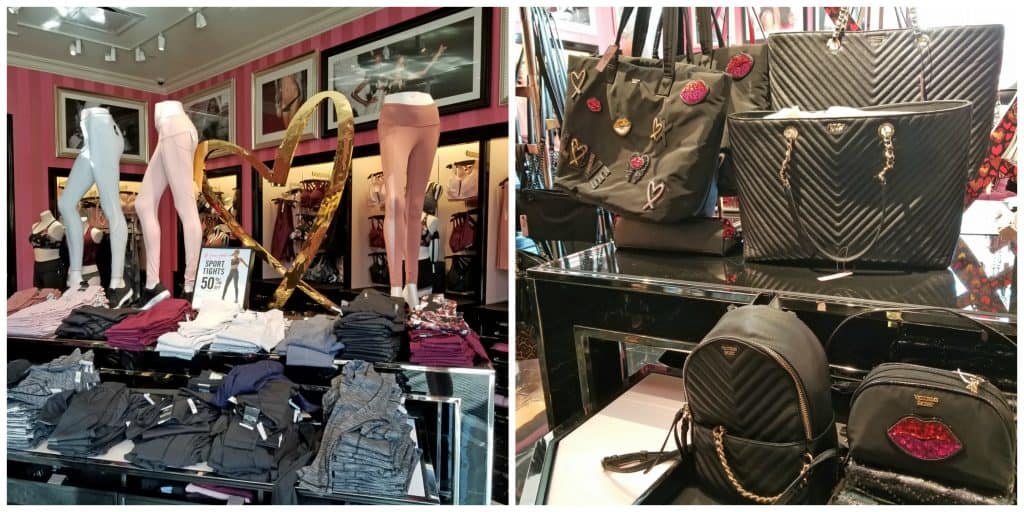 As a gym mom and a frequent runner, I am always looking for new workout gear and the husband knows that I'd be happy with a box full of sports bras or sport tights like the ones below from Victoria's Secret. We all know that you can score on gorgeous lingerie in VS, but they are making a name for themselves with workout attire. Their flower patterns really caught my eye, and their line of bags and backpacks are attractive. This tote bag on the top right is my favorite, I love the ribbing and the gold chain is just enough bling.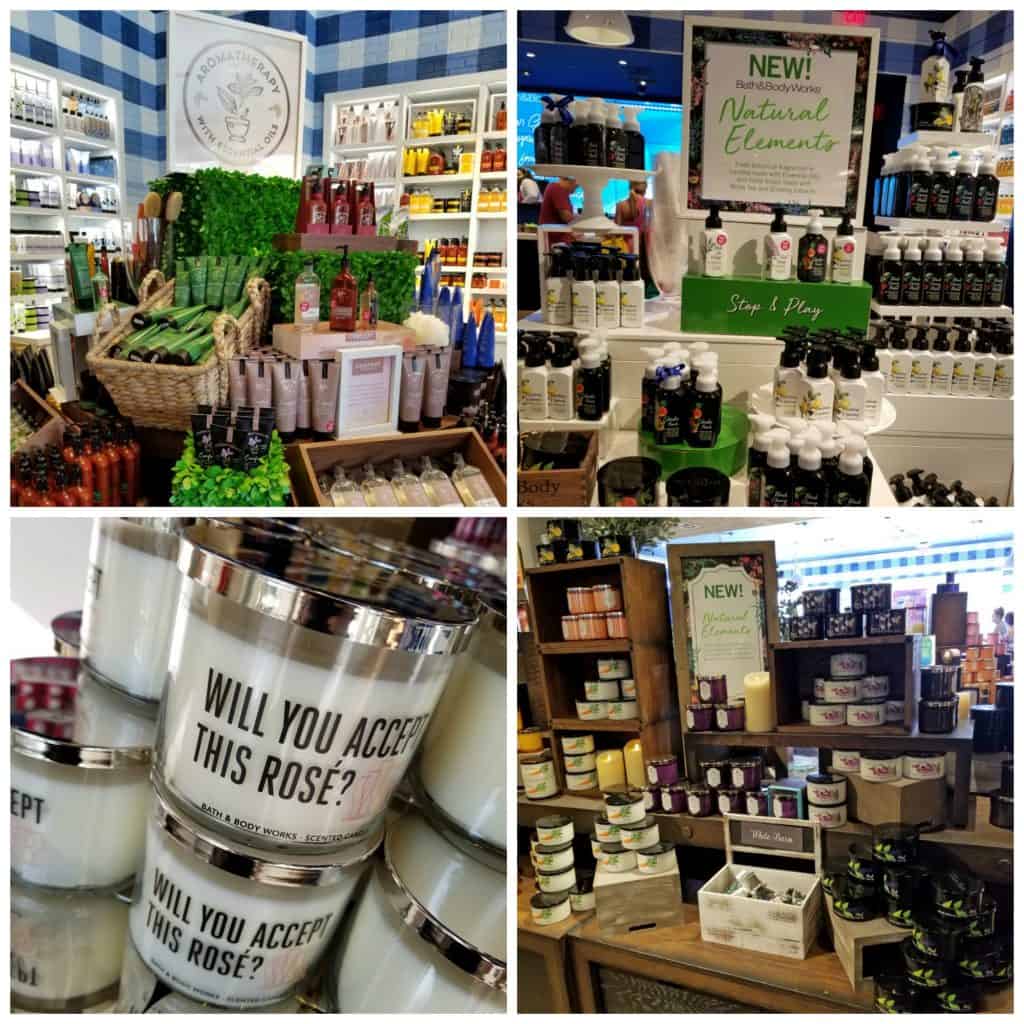 Bath and Body Works is always an easy bet for gifts. Initially known for feminine-focused purchases, the store has slowly segued into offering products for everyone from child to adult. Their new line of natural products, Natural Elements, expands upon their normal candle, bath products, body sprays and soap lines. This store offers so many types of gifts that your only problem will be deciding which items to buy! Bath and Body Works is also known for their BOGO-type sales, so keep an eye out so you can score on taking things home for free! Grab a bag as you walk in the door, you can't get out without buying something. I have a penchant for their candles and the scent choices can be overwhelming, so I aim to try a new one each time AND sticking with an old favorite. Good plan, right?

Ulta is another popular destination at the mall. It's a huge storefront, located on the south-east end, and includes one of the salons. I am a fan of their huge selection of O-P-I nail polishes and high-end hair equipment. If you love the Smashbox makeup line, get ready, they have a whole aisle!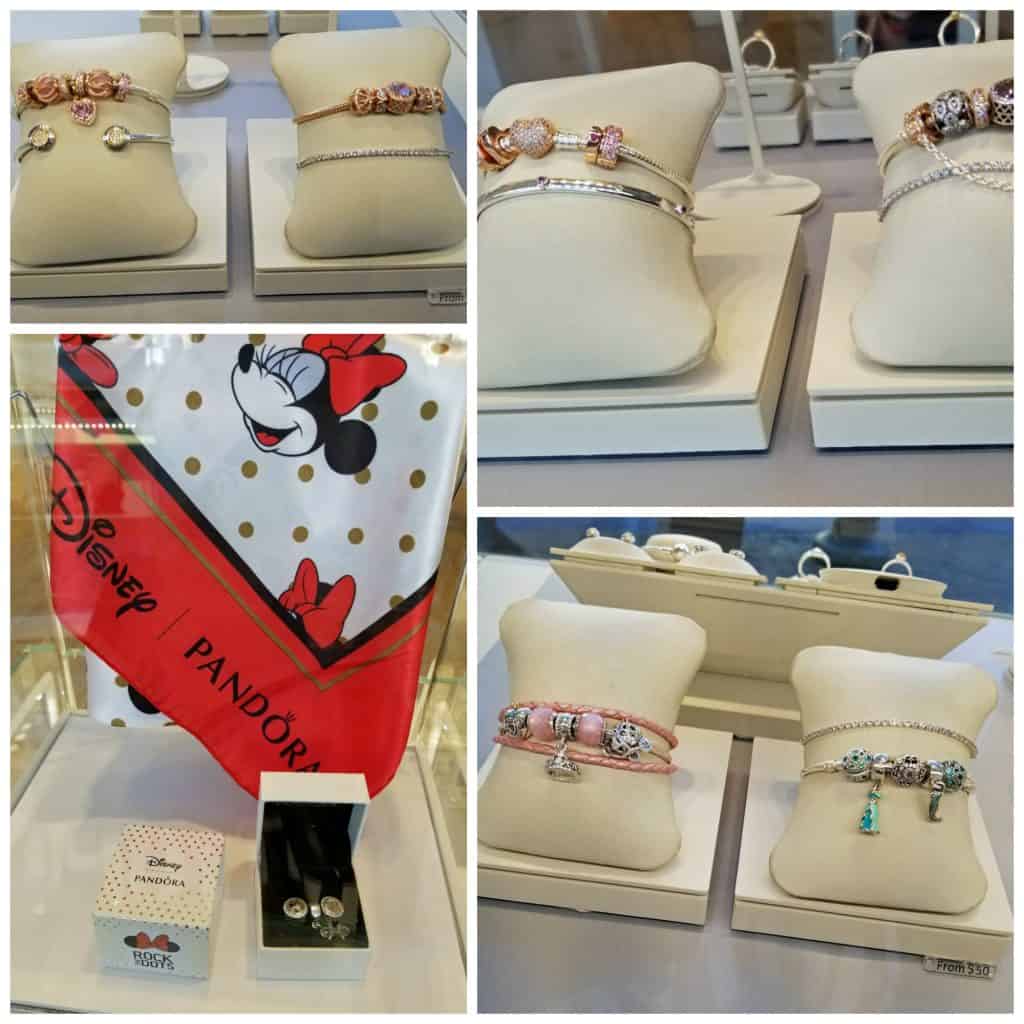 For another option of the sparkling variety, stop by Pandora. Their pieces started at $50 for the above Disney collections. I could happily add any of these to my Disney collection! Those Rock the Dots beads were probably my favorite. Depending on the budget, you can quickly put together a personalized piece like no other.
By then, I needed to sit down for a few and rearrange the bags a bit. There are so many choices of places to relax, and depending on time of day, you have your choice of sun or shade. This place on the south end of the mall is a favorite of many, with its fountains and ample seating choices, and on Fridays, when the Farmer's Market is running, it makes for a good place to enjoy any food you may pick up. (I vote for the  pupusas made 0n-site and stuffed with cheese, loroco and meats.)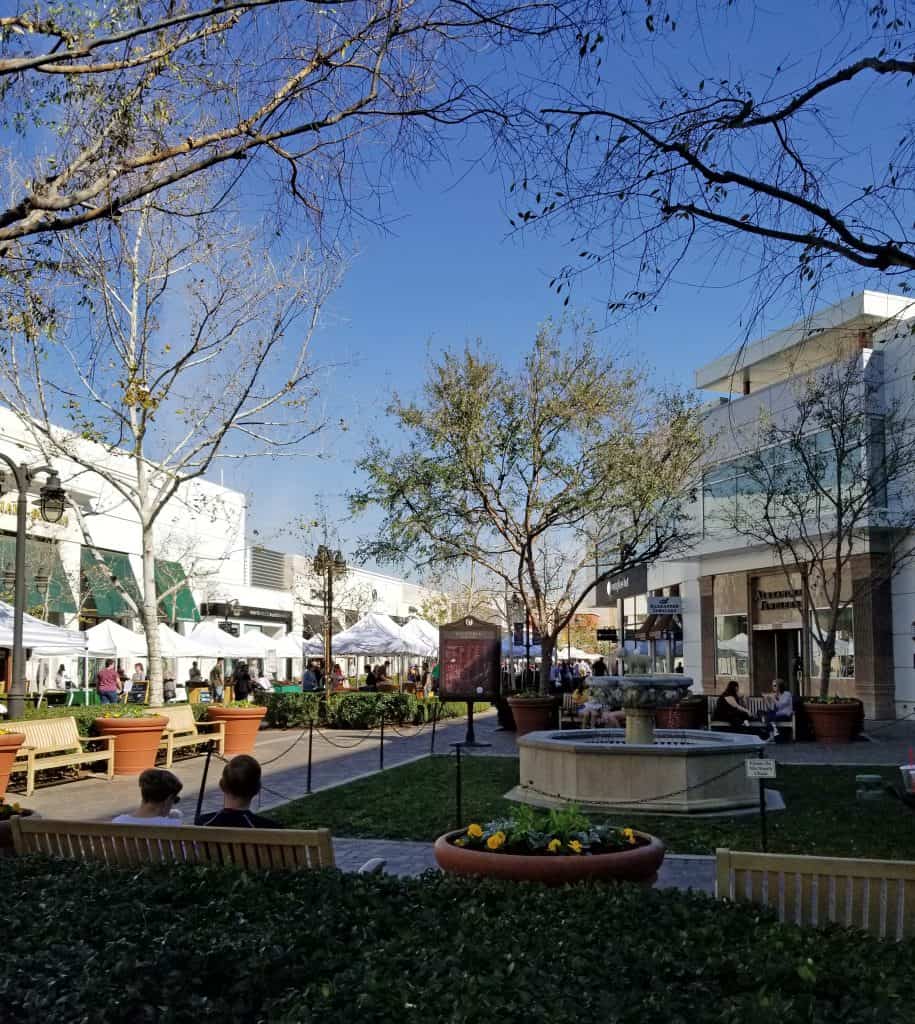 By this point, I was hungry. I'd passed quite a few places, and I kept telling myself "I'll go back here after I finish shopping." Let me just say — that list got LONG. The first place I said it about was the new Pie Hole. I've heard so many good things about this new lunch spot that I was really looking forward to trying a savory pie. (And that cereal pie on the top right, topped with fruity pebbles. I am still working on Project 2018 and have dropped more weight but wow, that one was calling to me….)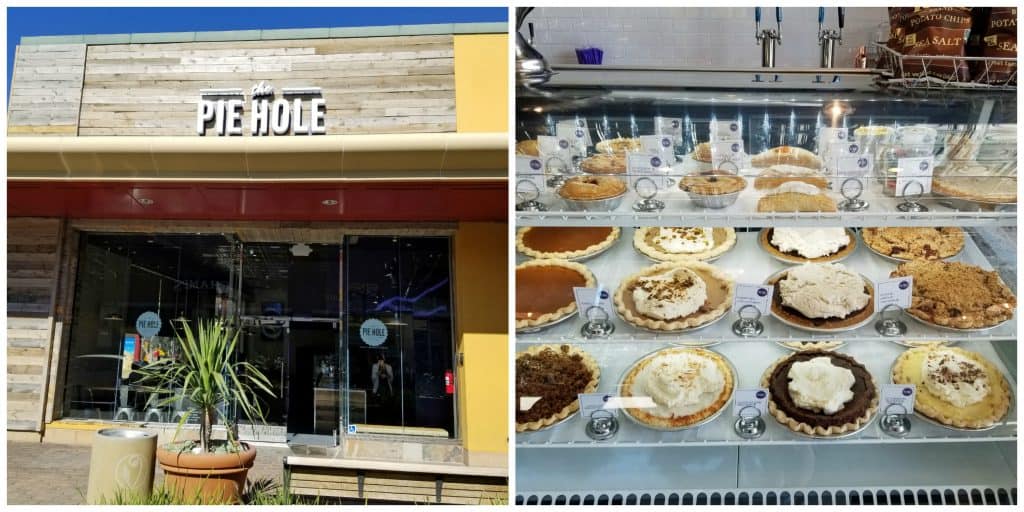 Problem was, by the time I got so hungry I couldn't stand it anymore, I was on the other side of the mall and headed towards Kubuki, a Japanese restaurant that's always been one of our date night staples. As always, Kubuki did not disappoint. (I was out the door for under $20 for all the food below!) That huge spicy veggie ramen bowl was half the size of my head, but it felt really good as I was still chasing away the bronchitis. I recommend both it and the basic California Roll I enjoyed with mango iced tea.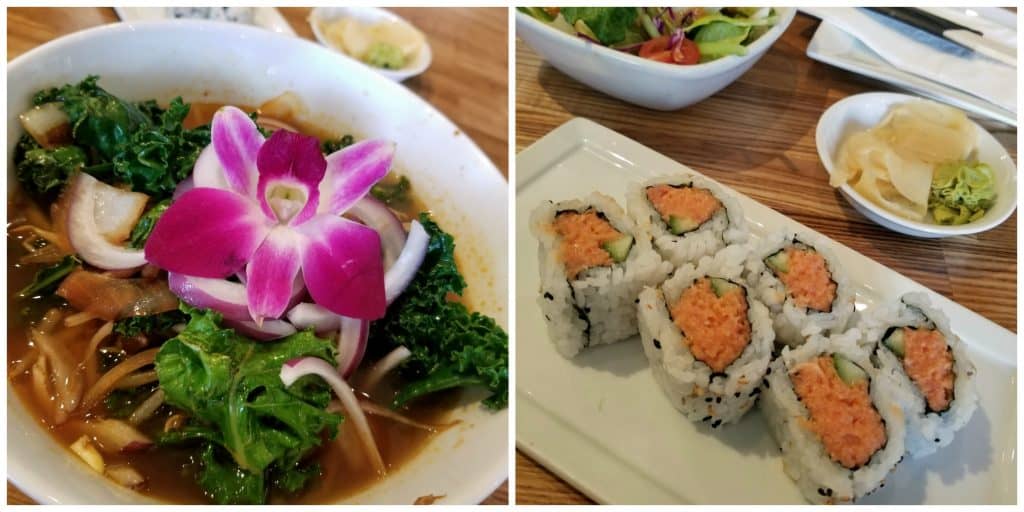 Any Valentine's Day shopper will tell you that at some point, they've considered picking up chocolate for a loved one. There's nothing wrong with a carefully chosen selection of boxed chocolates, and See's Candy at Victoria Gardens will help you make that happen. Stand at the counter (which was so crowded when I visited, I couldn't get a good shot) and one of the See's staff will patiently help you fill the box just as you choose. If you don't want to do that, you can choose from one of the many pre-boxed varieties available, and if your loved one is not a chocolate fan, you can still pick up sweets for your sweet by way of butterscotch lollies, sour hearts or the traditional caramel and/or chocolate hard lollies. I could eat my weight through those caramel pops.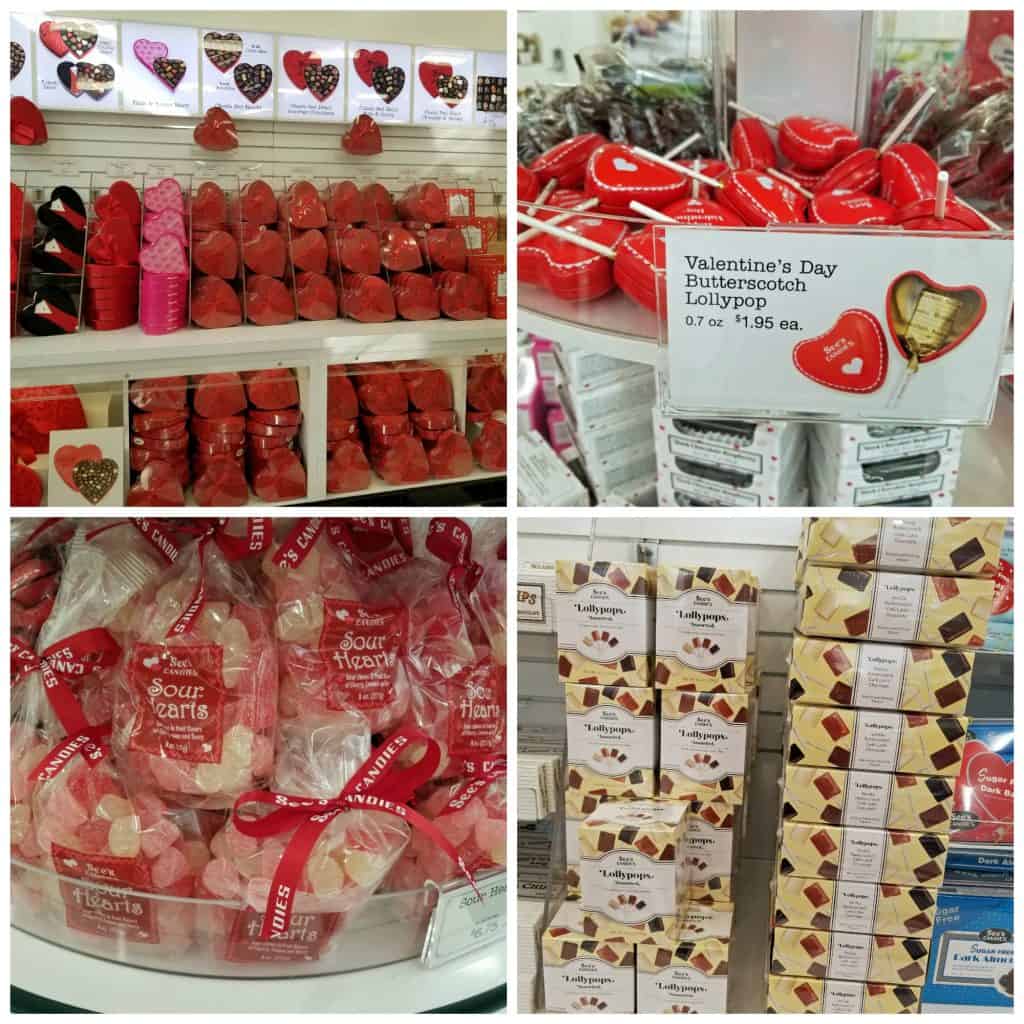 One of the other newest places at the Gardens is Afters Ice Cream. Just like the sign says, "Less talk, more ice cream." Afters is unique in that they offer the Milky Bun, which is kind of a cross between a bun and a donut and a croissant. Choose your ice cream filling of choice and the additional treats for the inside of your ice cream 'sandwich' and you will experience an ice cream treat like no other. Afters is something everyone has to try at least once, with their unusual ice cream flavors that change frequently so you won't get bored. These would make a spectacular dessert choice after a romantic movie Valentine's Day date!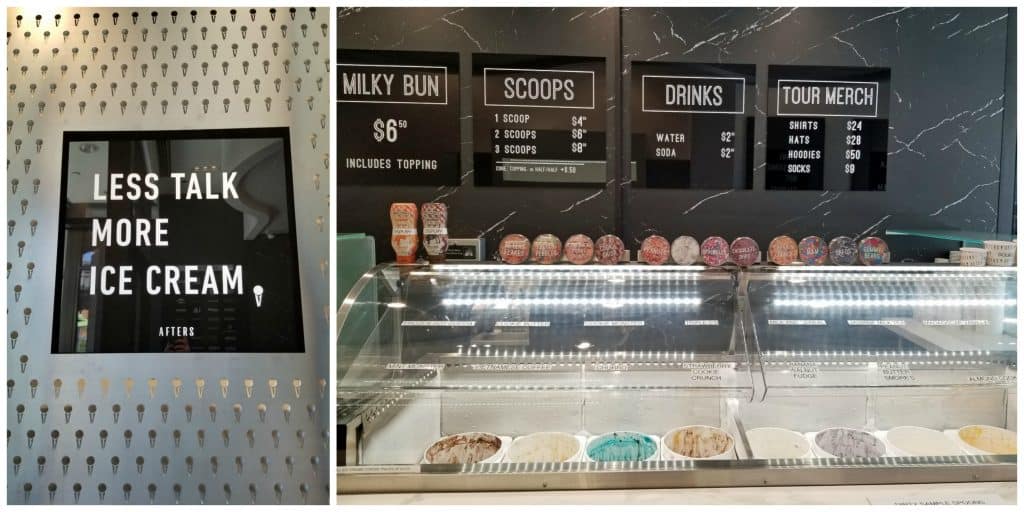 If you have a few minutes to plan ahead, bring your lock over to Locks of Love on the north-east corner of the mall by Anthropologie, catty-corner from King's Fish House. This is a wonderful photo opp and a fun thing to do with your partner or child to represent your love for one another.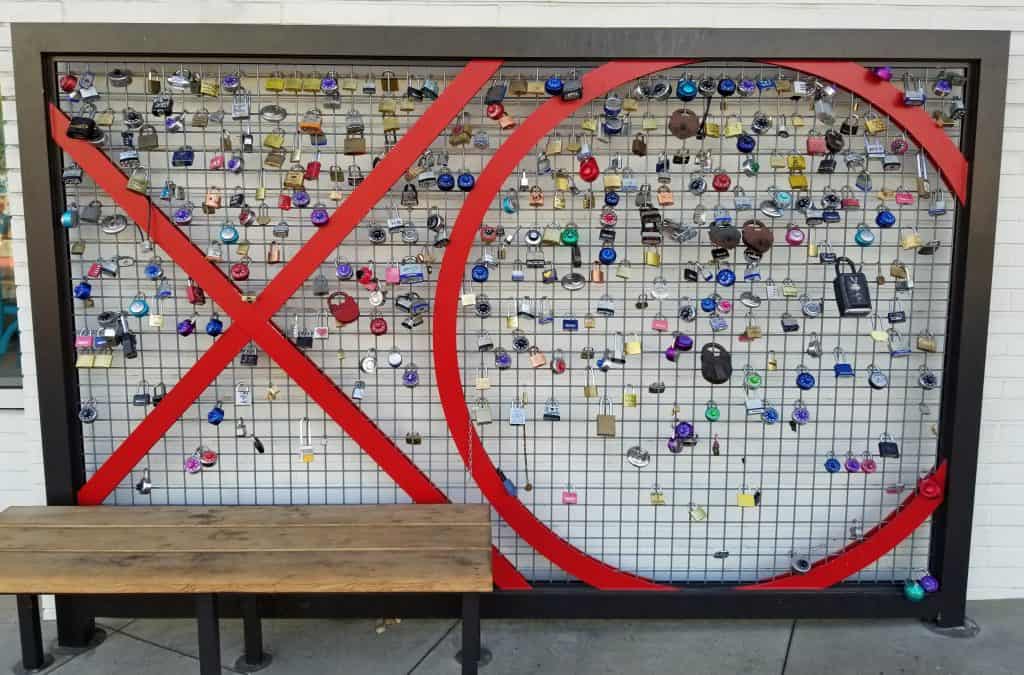 One of my favorite places is the Chaffey Town Square, a central location in the mall that houses the Cucamonga Choo-Choo, Guest Services and the splash pad fountains that are busy all summer long. On the south end, you'll see this beautiful and peaceful water display.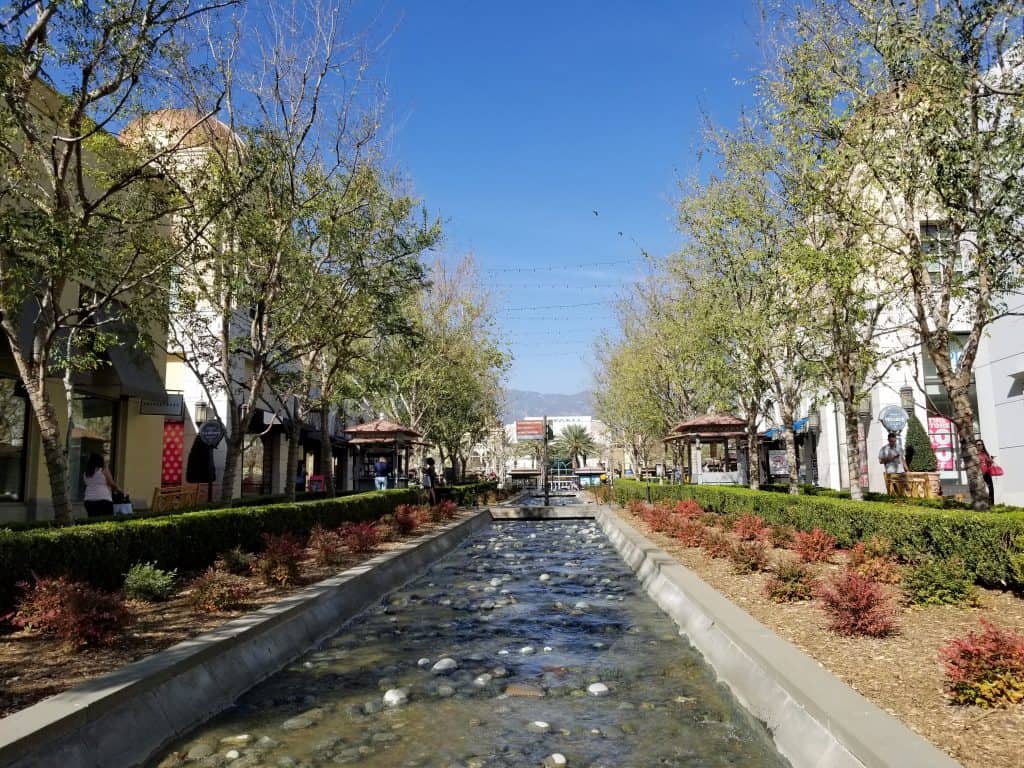 On the other end, looking towards the south, you'll see where concerts take place, yoga classes are held and Santa comes to visit each winter. (And there are the splash pad fountains I was referring to above.) My favorite season is Christmas, and that's when I love to come and walk through the mall, stopping at least once for a photo in front of the tall Christmas tree. It even "snows" nightly! That square also is home to special events year-round, so be sure to sign up for the Victoria Gardens newsletter or the VG Kids Club on their website so you'll get notification when everything is happening.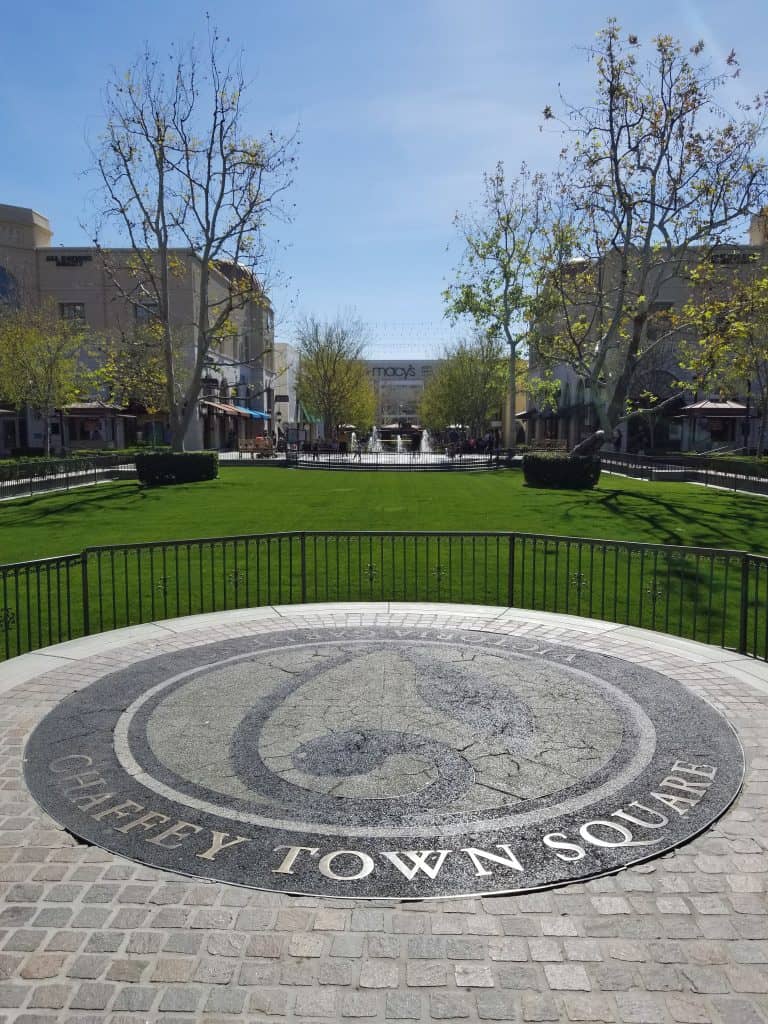 Victoria Gardens really is a home-away-from home for me when I feel like getting out of the house. The Yard House has wonderful happy hours — but they fill up early, so plan ahead — and Brio's Tuscan Grille makes a great martini. Lucille's of course is known for their deep-fried pickles and Honeyfish Poke is a quick stop if you want a poke bowl…which I'd be remiss if I didn't mention, as I'm there at least once a week for lunch. (Get there at 11am and everything's just being put out and there's zero line!) I haven't yet tried the new Punch Bowl Social, but it's a big space designed around family fun or date night, with games and cocktails and food in a uniquely-decorated space that includes a huge bar area. I hear it's hopping on weekend nights!
I hope some of my suggestions help you have your own ultimate Valentine's Day shopping done quickly and that you have a fun time! Happy Valentine's Day to you and I hope the day brings you whatever you wish for. (And I'll see you at Victoria Gardens soon, right? Head over to the website for a Victoria Gardens map and the Victoria Gardens hours, as some places stay open later than others, especially the restaurants and AMC Victoria Gardens, which makes the perfect end to a date night!)