COVID has changed everything, from how we shop from groceries, how we spend time with our friends and how we work. It stands to reason that we cannot currently interview celebrities in-person either, so we've had to become adept at utilizing technology. The War With Grandpa cast appeared to already have that one on lock!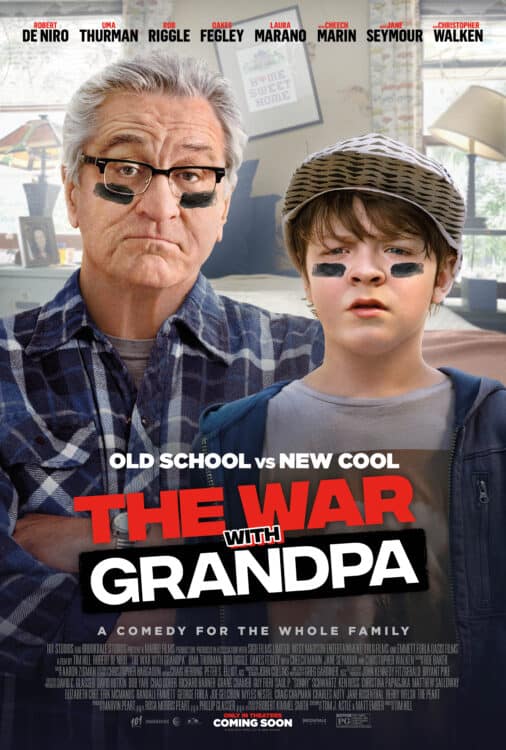 On tap for the interview was Cheech Marin, Jane Seymour, Oakes Fegley, Laura Marano and the producers, the Peart family (Tre, Marvin and Rosa). Online interviews are run similar to round tables, where small groups of people participate in interview sessions, so we're able to ask questions and get more time with each group of talent. The War with Grandpa cast interview operated the same, so we started the day by interviewing Oakes and Laura, who play siblings in the movie.
Without giving too much away about the movie, it is based on the book written by Robert Kimmel Smith, the story of a grandpa (Robert DeNiro) who moves in with his daughter and her family. Unfortunately, due to space issues, he takes over his grandson's room (Fegley) and as a result, they initiate a 'war.' Lots of pranks and stunts later, things heat up…and the rest I'll leave for you to learn when you see the movie.
A common question in the cast interview was 'what was your favorite stunt?' For Oakes, it was a hilarious scene involving a desk chair. He did read the book before filming the movie so he knew ahead of time of the story's premise. Cheech (who plays DeNiro's friend) loved the dodgeball scene, which you have to see to understand fully, but involves Cheech's character and their friend, Christopher Walken. (I wish I could have asked him if he really rode that skateboard at all!)
Getting to know Oakes and Laura was fun. Laura no longer has any grandparents but she shared how important her family is to her, and how much they've enjoyed having close time together during this pandemic, including regular Sunday dinners.
Jane Seymour plays the love interest of Robert DeNiro, who she meets at her 'job' at a Best Buy-ish store. She practiced it so much, in fact, that regular customers were coming up to her and asking her for help! She did all her own stunts for the movie, except for one kind of crazy move during that infamous dodgeball scene. During the interview, where she was so endearing and sweet, she had her grandkids over. One of them was making drinks with items from the organic garden in Jane's backyard. (The cast conducted their portions of the interview safely from their homes.)
When asked what they thought about the timing of the movie — in a world where many families are moving in together due to COVID-related issues — both Cheech and Jane (in the same session) agreed that it was perfect, because we need unity and to add positive things to the world, which he thinks they achieved. I'd agree!
I asked Cheech and Jane what their favorite scene was to either film or be in, as there were numerous emotional scenes. Both agreed again on the same scene: DeNiro's in his rocking chair, quietly rocking while looking out the window. It was heartwrenching, as his character had recently lost his wife, and his reminiscing tugged at every's emotions. So real and raw, especially for a movie that is primarily a comedy.
How this movie ever got made is the story behind the story, one that everyone needs to hear. Tre Peart was EIGHT YEARS OLD when he read the book and pitched the idea for the movie to his dad, with preliminary help from his mom. His dad thought it was cute, but ended up agreeing and here we are today, with Tre being the youngest actual producer on record. (He's currently in the 9th grade, juggling school work with the real tasks of being a producer. Dad Marvin says that he treated like him anyone else would have been treated on set and that Tre rose to the occasion.)
It was also Tre's idea that DeNiro play grandpa. He hadn't yet seen any of his movies, due to his age, but he knew he'd be perfect. (Can you imagine being a young kid with big dreams like this, wanting to see DeNiro in a movie you're producing, and seeing that come to fruition?)
The Pearts had some great advice for all of us to follow: cherish your family bond, you don't know how long it will last.
The War With Grandpa, by 101 Studios and Brookdale Studios, hits theaters on October 9! Check back here on the site then for a no-spoiler review, along with tips on language and age-appropriateness.
Stay safe and well, my friends!