Decades ago, I learned to make a traditional Shakshuka recipe. I have always loved it, and not just for the flavors. It's an affordable meal that feeds a large family and you can get it on the table fast. For less than $10, Shakshuka provides protein and vegetables, flavor and texture, and for a bonus, it's easy clean-up as it's all made in one pan!
When you have four kids in a twelve-year span, you're busy. Feeding palates in various stages meant I had to be creative. I also needed to stretch meals sometimes and change them up to avoid boredom. I have worked full-time since my 25-year-old daughter was born, and even though I always worked at home, I was always crunched for time. Doing homework with the kids, doctor's appointments, errands, it was a busy period, even though my husband has always been extremely involved. Sometimes this meant throwing together whatever I had time for but I wanted to avoid food boredom, too. Not an easy task!
Food creativity becomes a habit. Even though I have more time to spend in the kitchen, I still like to change things up. That's why I took my traditional Shakshuka recipe and added it to a base of polenta. It makes the meal go further, providing the next day's lunch for the husband, and even breakfast for me the next morning.
Shakshuka can also be spelled Shakshouka. Original Shakshuka appears to have come from North Africa, but it's strongly associated more recently with the Middle East and Israel. I found this to be fascinating, as my Ancestry DNA test confirmed that not only did we have Spanish ancestors (which I'd heard rumors of years ago) but that we're related to North Africa as well, specifically Algeria, Morocco, Libya and Tunisia.
I've always loved learning to cook food from our ancestry, but I've got a long way to go. Who knew I'd been feeding the kids one dish all these years? They all love Shakshuka and the girls even make it on their own for their families.
Traditional Shakshuka's a vegetarian dish, basically a tomato stew with eggs cooked on top. How cooked you let them become is up to you. I prefer them to be over easy, but I've also let them go to almost a hard yolk stage. The tomato base is all cooked in one pan, simmering to the point where you can eventually drop each egg in individually. In one large fry pan, I can make enough to cook eight eggs — two per serving — with a little of the stew leftover.
Some Shakshuka recipes call for chopped tomatoes but I used crushed and added some fresh chopped tomatoes from my garden. We've got a huge amount of tomatoes growing out there and I'm trying to find more ways to use them. You can use either option successfully, but I know a lot of people grew COVID gardens so there's something satisfying about harvesting your produce and serving it to the family.
Melissa's Produce had sent me a beautiful complimentary box of produce to use for our July blogger challenge. I made roasted grapes, a grape gin cocktail, pickled watermelon radishes, and I used the red bell peppers in this Shakshuka recipe. When rooting around the pantry for lunch that day, I realized I had two tubes of Melissa's Produce Polenta. It's easy to slice and pan fry, but you can also quickly rehydrate it. I chose to do that for this dinner, so while it added an extra pan to the clean-up, it's SO worth it.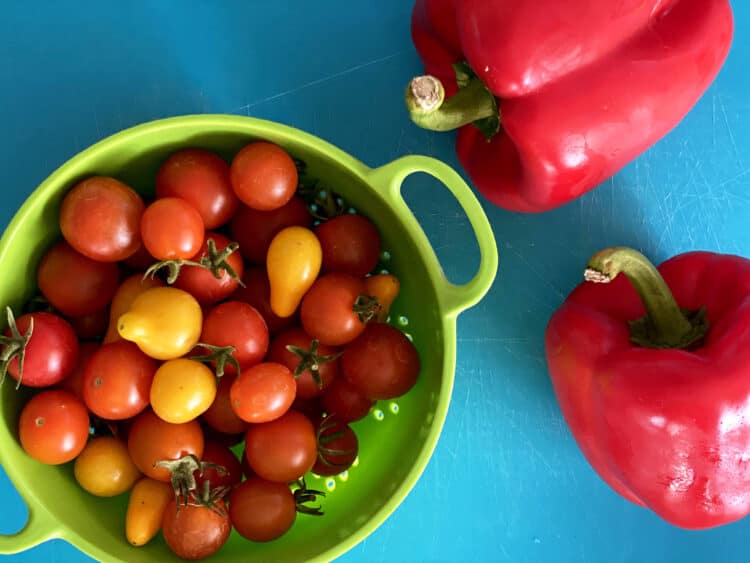 Rehydrating polenta can be done a few ways. Place the tube(s) of polenta in a deep fry pan or wide sauce pan. Smash it down, use your choice of liquid(s), mix it together and heat thoroughly. The polenta is already cooked when you purchase it in a tube, so it comes together quickly.
By serving the Shakshuka on top of polenta, it's not entirely traditional, but it's a nice contrasting set of flavors and textures. It can also be served for breakfast and it's easy to reheat. And for an extra few dollars, you've almost doubled the servings.
On with the good stuff, the recipe.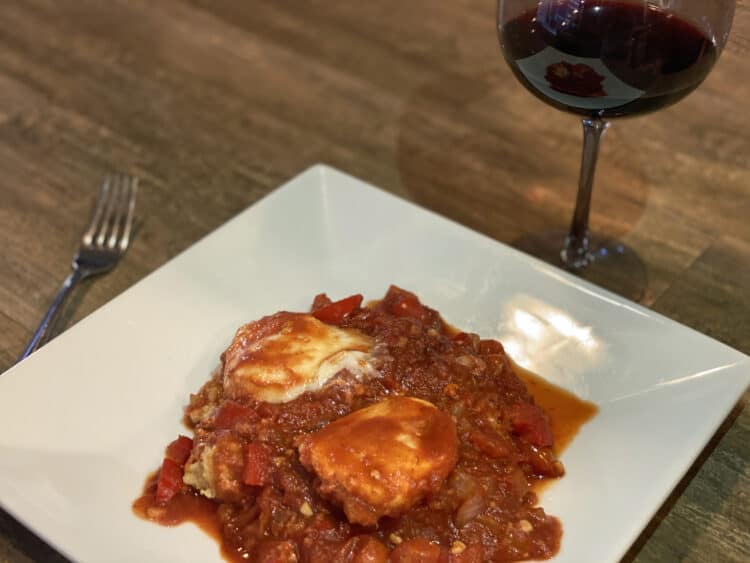 Traditional Shakshuka on a Polenta Base
2 tbsp olive oil
1 white onion, chopped finely
3 red bell peppers
3 tbsp chopped garlic
28 oz can crushed tomatoes
1 cup chopped cherry or yellow grape tomatoes (or both)
1 tsp paprika
salt and pepper
6-8 eggs
2 tubes of Melissa's Produce original polenta
8 oz chicken broth
1/2 cup half-and-half
In wide fry pan, heat up olive oil and add chopped onion and bell peppers. Saute for five minutes or until onions turn translucent.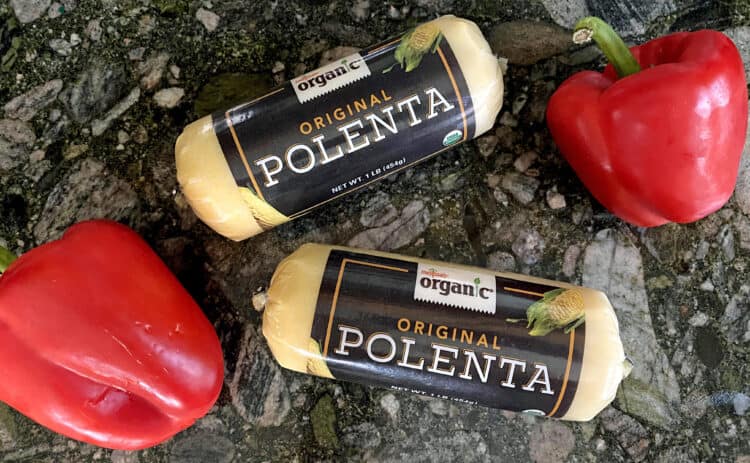 Prepare polenta in a separate fry pan. Place both tubes in pan, smash and pour in 6 oz of the chicken broth and 1/4 cup of the half-and-half. Heat thoroughly as Shakshuka cooks. As it heats, add remaining liquids until it reaches the consistency you like. Season with salt and pepper.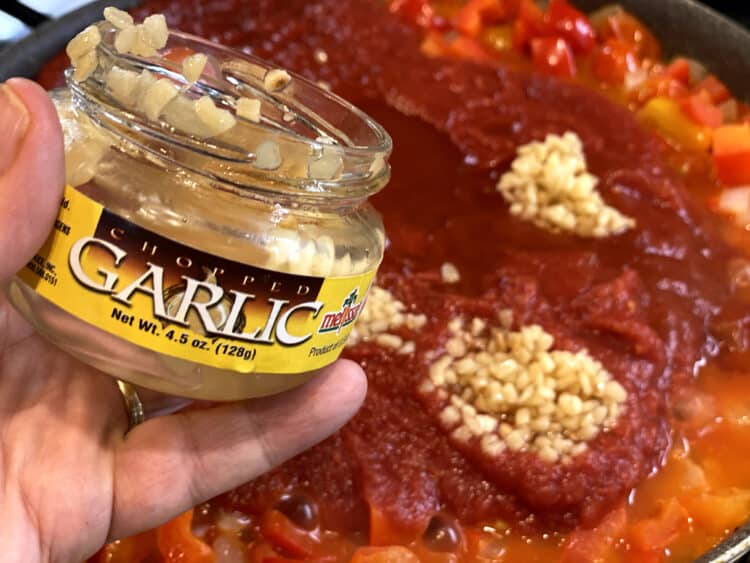 Continue with Shakshuka. Add garlic, tomatoes (both kinds), paprika, salt and pepper. Simmer for 12-15 minutes.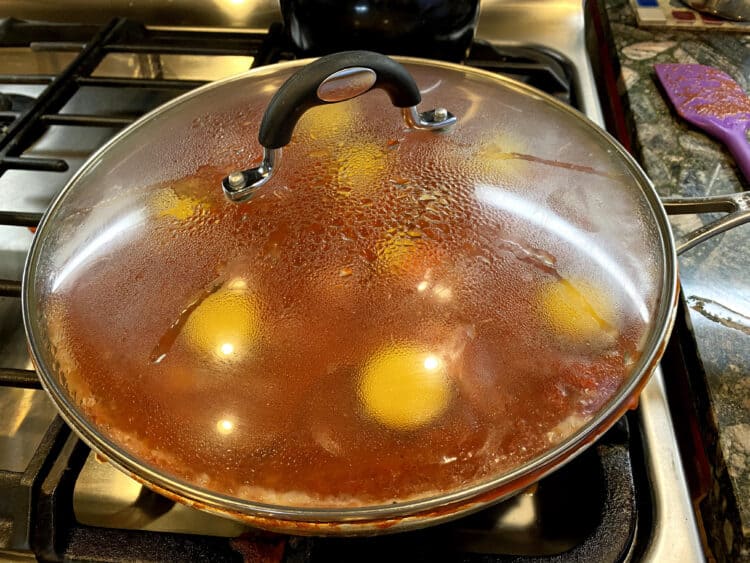 Crack eggs on top, put lid on pan and cook until eggs are no longer runny and have reached your preferred level of hardness.
This recipe takes about 30 minutes start to finish, and you do the polenta simultaneously. Two pans, not a lot of mess and enough to serve 4-6 people for $10. Budget-friendly dinners that taste delicious have become my preferred way to feed the family during this COVID lockdown. I can't say yet that I'm a fan of cooking every day, but I will say that when we do have something delivered or we do a safe curbside pick-up, I appreciate it SO MUCH MORE than I used to.
And that's a good takeaway from quarantine, right?

Stay well!