It's Halloween. Pumpkins are everywhere, the leaves are falling, the temperatures drop….and the monsters are hiding in the shadows at the Queen Mary's Dark Harbor 2019.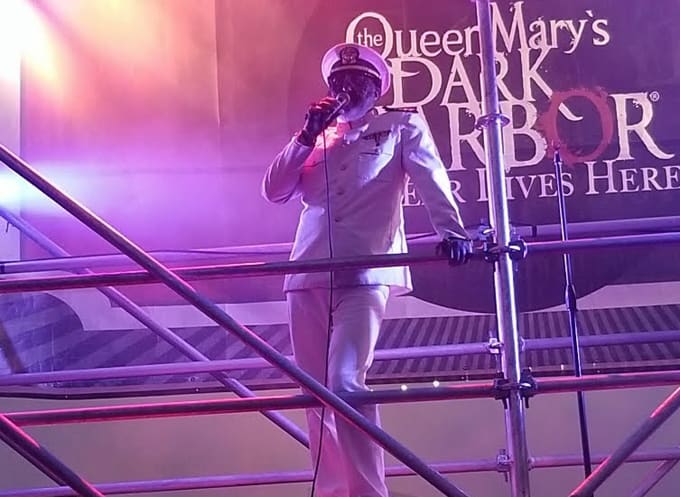 If scary things are your jam, it's time to head to Long Beach to celebrate Halloween along the water. Spend a few hours being scared by ghosts, ghouls and the infamous Captain.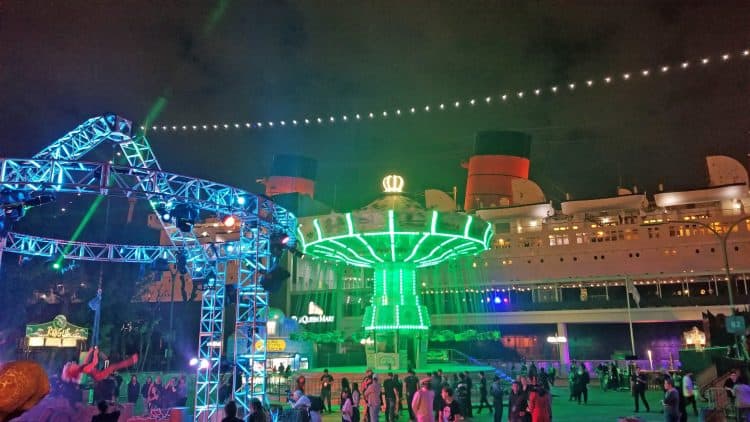 Then you take it up a notch for the real fear and walk….or run, if you are easily scared…through the six mazes, including the returning Intrepid — our favorite — or the new Rogue, the maze that tells the story of how the Captain died. Based on the story of a rogue wave, it will have you rethinking that next cruise…but don't let it stop you, as that kind of thing only happens in movies (like the Poseidon Adventure) and in Halloween haunts, right?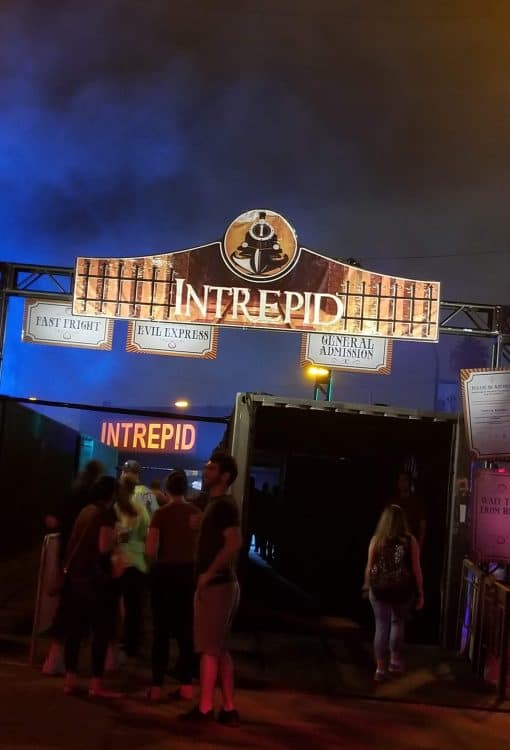 We attended Dark Harbor 2019 on opening night as media, so our tickets and cocktails were complimentary. The event has several bars, three of which are located outside the main gate into the scare zone, and numerous secret bars hidden inside the various mazes. If you get lucky, a ghost or two may hand you some tokens for access to the bars. (Thanks to the slider who gave us a couple!)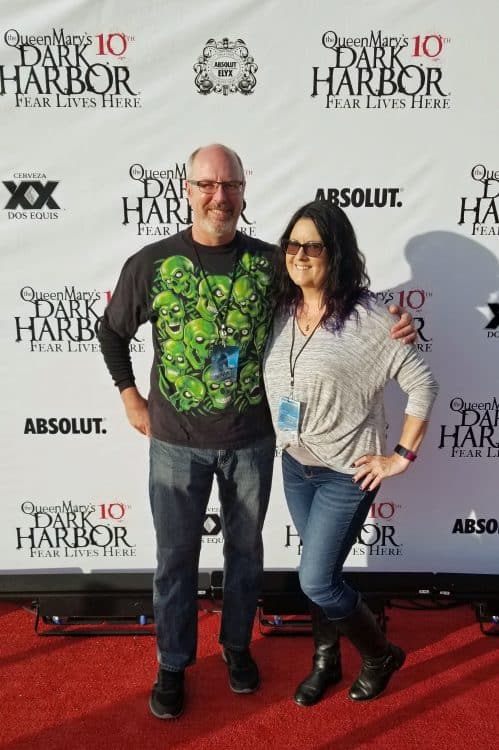 We arrived in time to hear the Captain, joined by the Ringmaster, announce the opening with his witty commentary on fear and his fellow ghosts. Then it was no holds barred scares, as we walked the gauntlet of monsters to begin our evening of mazes.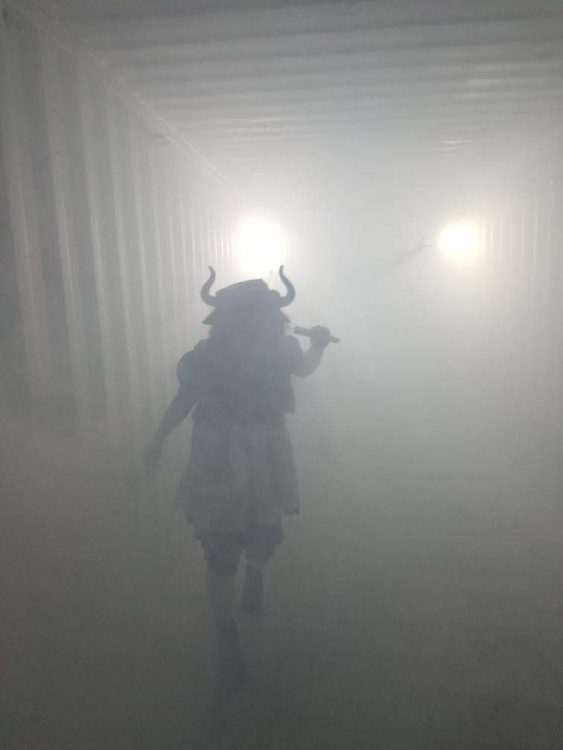 We visited Rogue first, as lines can get long as the night goes on. (I highly recommend you get an express pass. There are two kinds, but the Fast Fright tickets are already sold out.) We used the Evil Express option and our longest wait on opening night was less than five minutes. Totally worth it!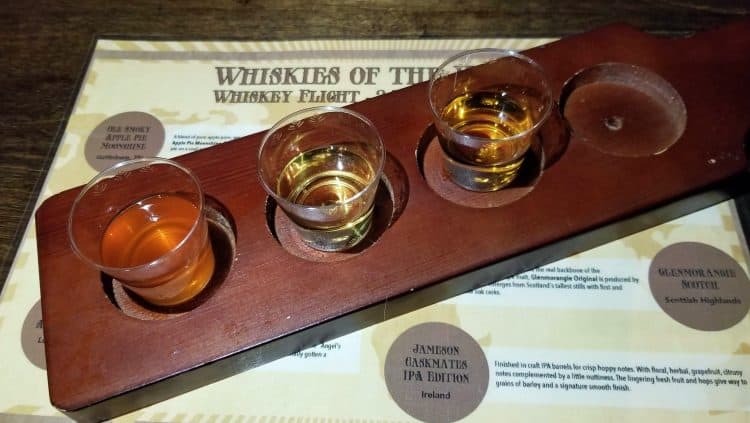 There are a number of places you can buy food, which is a separate fee, as are any beverages or cocktails. Try a flight of whisky over at the Barrel Tasting Room for $15, and experiment on sips of unique whiskys and bourbons. The mango habanero is HOT but a fun addition to a typical flight.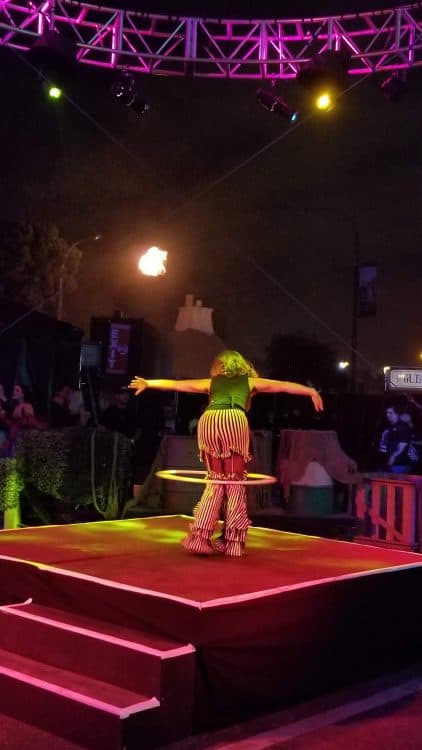 Between the mazes and monsters, you'll find other fun but freaky entertainment, such as aerial acrobats and other performers, in addition to some music. No Halloween event though would be the same without a slider show, and the Queen Mary Sliders don't disappoint!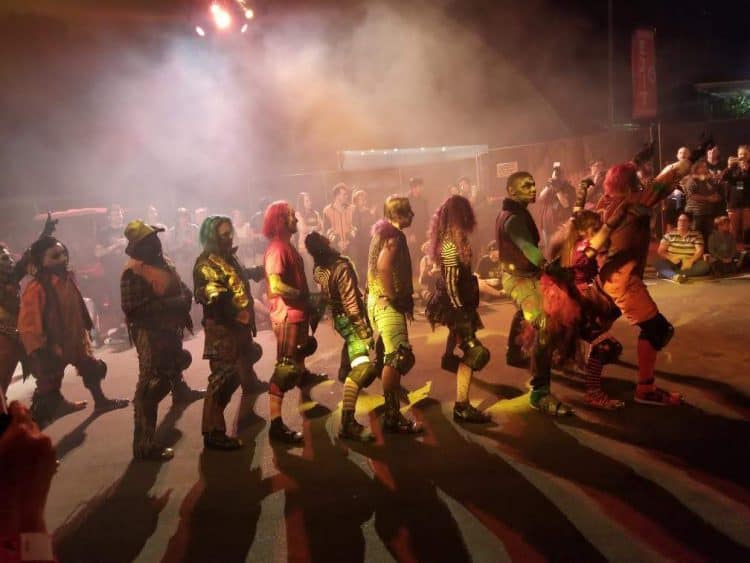 Here's a video of the show we saw on opening night. A video does not do it justice though, and it's something you need to see in person.
Back to the mazes though….they are all fantastic and there have been changes so if you went last year, you'll see new things this year. We loved Intrepid the most, with its scary green swamp that had us stopped in our tracks until we could figure it out. (I also may have gotten stuck in the mirror portion of the Circus Maze. If you like side shows and mirror mazes, that may be your favorite!) The mazes just continue to get better and better each year!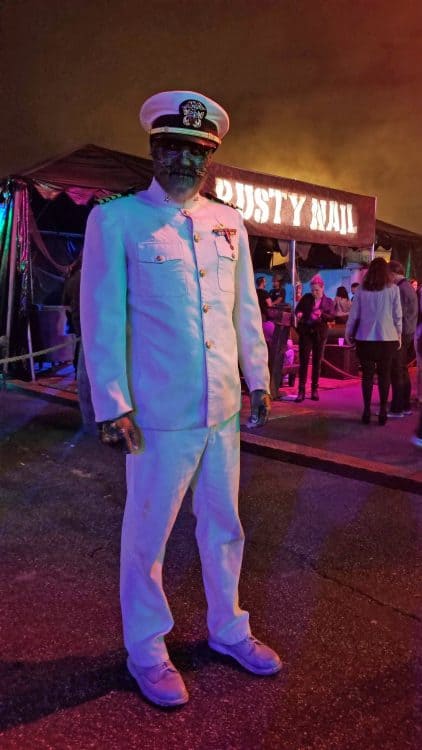 You can learn more about ticket prices and schedules at the Dark Harbor 2019 website, and you can also get more info about the entire event over at my other Dark Harbor blog post. We go yearly, and have for many years now, and we always have a blast. We also keep an eye out to run into the Captain, and we caught him this time near the Rusty Nail, a bar where we picked up a bourbon sour and took a breather. I lost my voice quickly and given we were getting on a 6:00 am flight to San Francisco, not sure if that was a good thing or a bad thing.
Thank you, Queen Mary, for a fun evening full of scares and more scares…and a lot of silly photo opps, not all of which are flattering but it's all about having fun, right?