Every year since my first as a California resident, when I was 13, we've made an annual trip to the Los Angeles County Fair. I remember being so excited the first time: a real fair, with unusual food, arts and crafts, big rides and my favorite, the animals. I was raised on a small farm back east, so I grew up exposed to farm life, milking cows, chasing pigs back to their pen and riding horses. I also remember the huge pig, Sweet William, getting stuck in a bath tub repeatedly. I cherish those farm memories, and as a result, I look forward every year to making new county fair memories with the animals. This year's visit was no exception!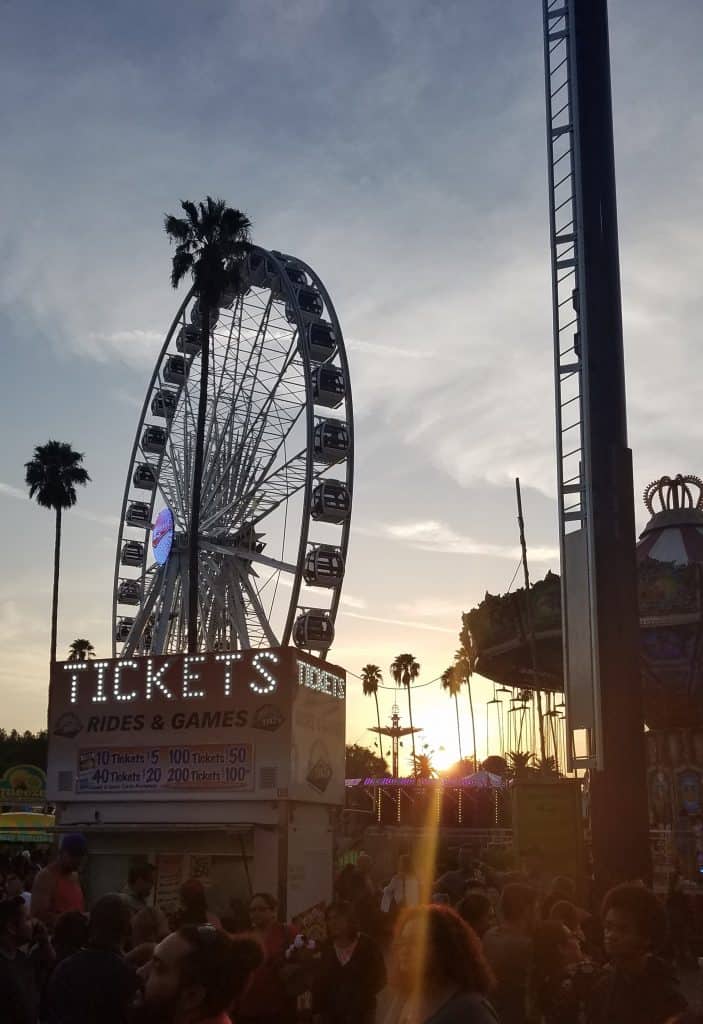 The Los Angeles County Fair is between the 10 and 210 freeways via Fairplex, McKinley or White Ave in Pomona. At 543 acres in size, it's a huge event with something for everyone. Every year, there are new additions to the food vendors and some of the regulars outdo themselves bringing in something even more unique. The Farm houses animals of all sizes and kinds, from bugs (even edible bugs!) to bunnies to goats to cows, all the way to a Budweiser Clydesdale horse team, complete with dalmatian. We were given tickets to attend as press, but all these photos and stories are my own!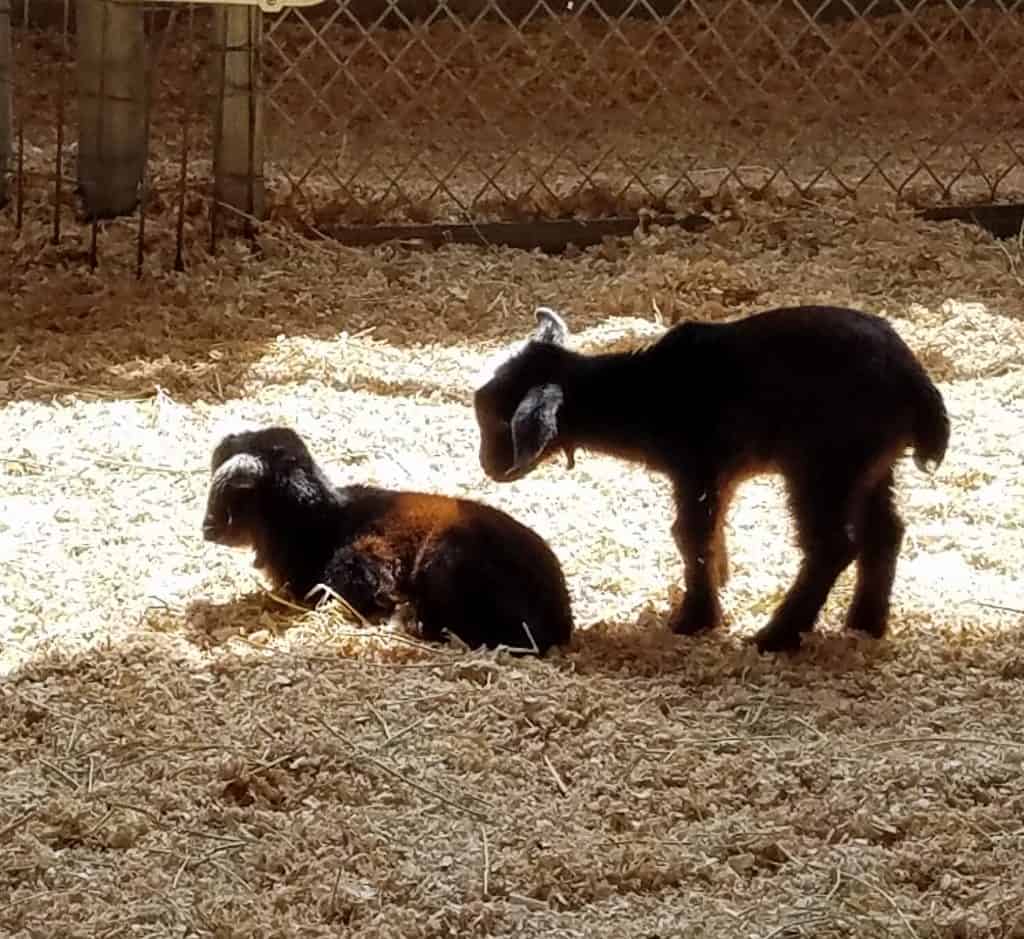 These newborn goats were the star of The Farm! The crowds of people around this area were deep, but everyone was wonderful about observing, ooh-ing, ahh-ing, petting them if within reach and letting others take their turns.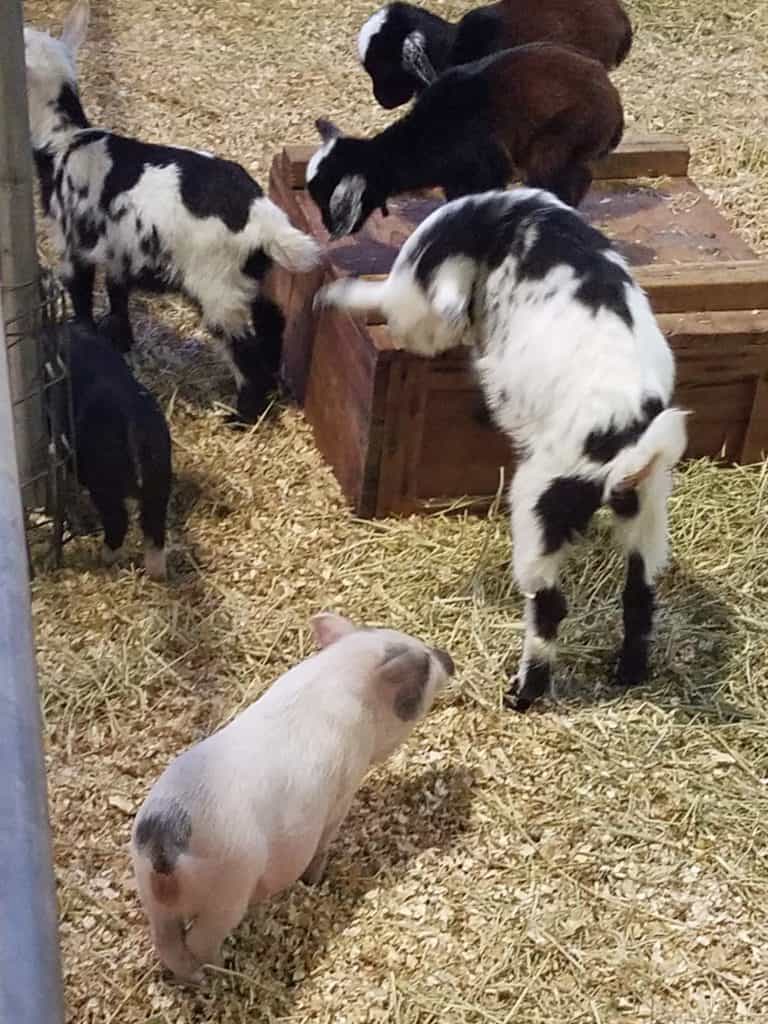 When they're this cute, you can't help but decide you're starting your own farm when you get home. I wanted ALL of these guys.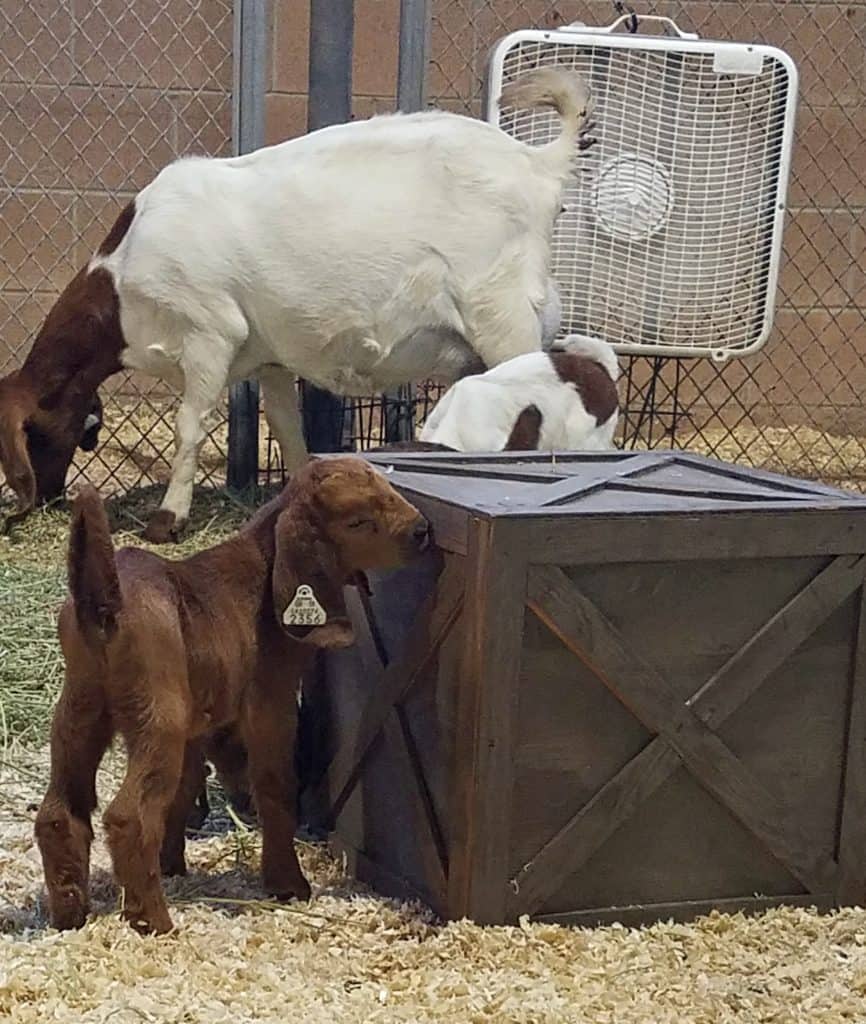 I wanted them, too. Aren't they adorable? They were so playful, jumping up and down from the box, though that little guy had a really hard time. The crowd was cheering him on when he finally made it.
Rides are scattered all around, so the younger set will be happy, the adults have several levels of adventure to choose from, and if you're really feeling it, you can bungee jump.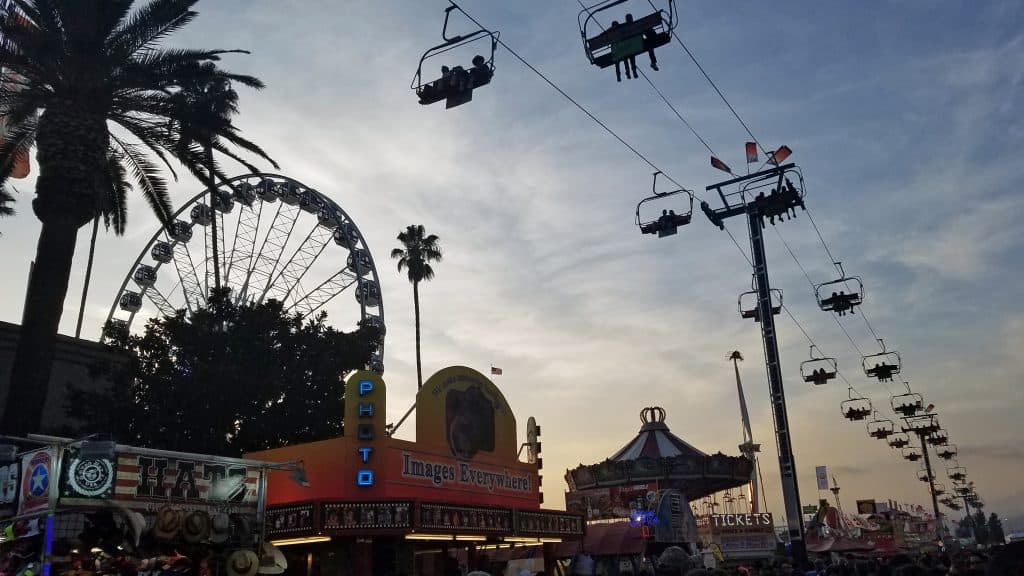 I did not feel it, nor do I think I ever will, but one of my daughters did it a few years ago. I cheered for her from the ground.
The Expo Halls line the back of the fair, offering the opportunity to watch demos of any number of home and yard products, Chinese Circus shows, and this year, ice skating and the Penguin Run in the Igloo, presented by Groupon. You can also shop to your heart's content, finding things that you didn't know you needed or wanted until you saw them at the fair, and then instantly, you HAD to have them. I bought a new tea pot, a scarf, handmade goat's milk soaps, artificial grass installation and a new permanent backyard patio cover. (Go big or go home, right?)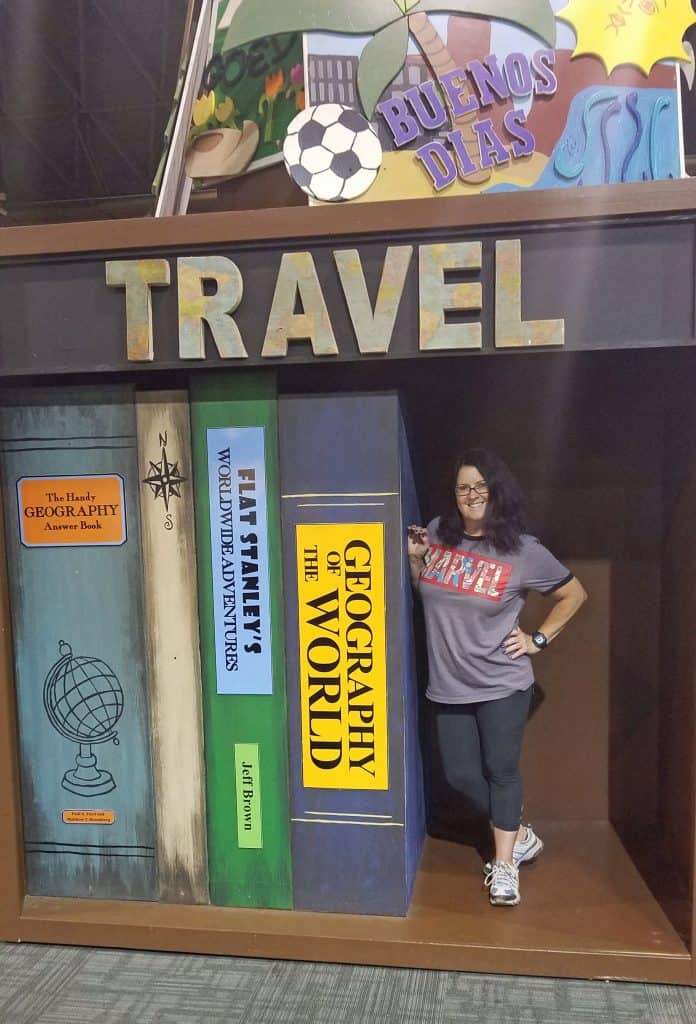 Don't put me on a shelf!!  But my hair though….I blame humidity.
Shows are everywhere you look, from the Grandstand area, the Bug Barn, the Magical World of Dragons, Wizards & Beasts and the Wonderland Stage. One can't-miss event is Jurassic Planet, where you wander through a rendition of the Jurassic period, where animatronic dinosaurs may just squirt you with water. It's a relaxing walkway with dinosaurs all around, and even a few hands-on activities for everyone.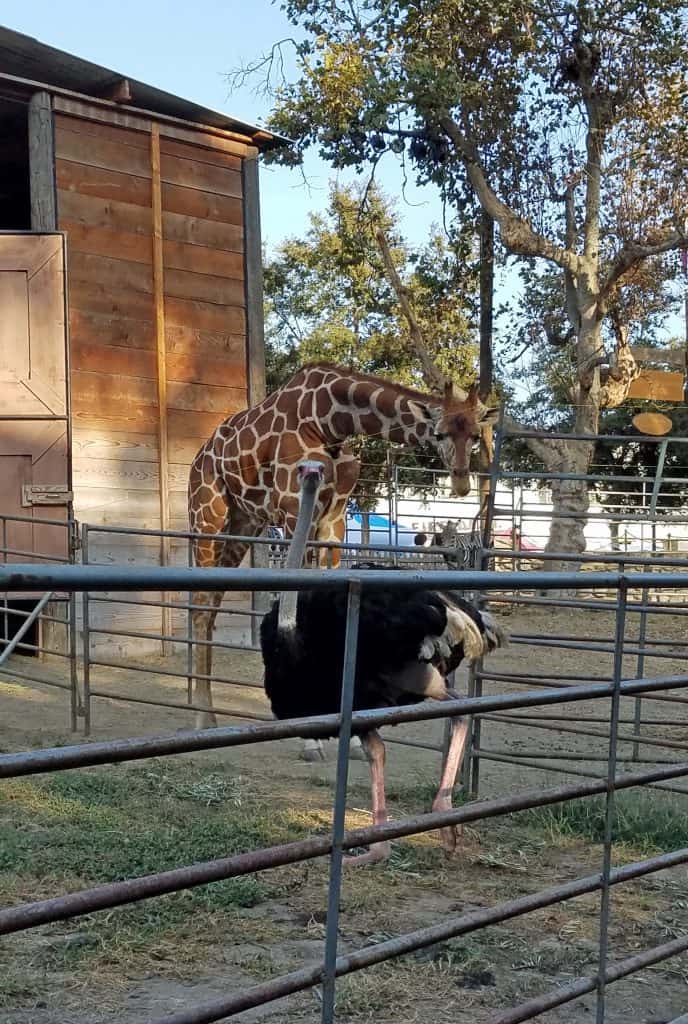 Photobomber alert! Can you please step aside, ostrich? (Or is it an emu? I gave him a glare and he stalked away.)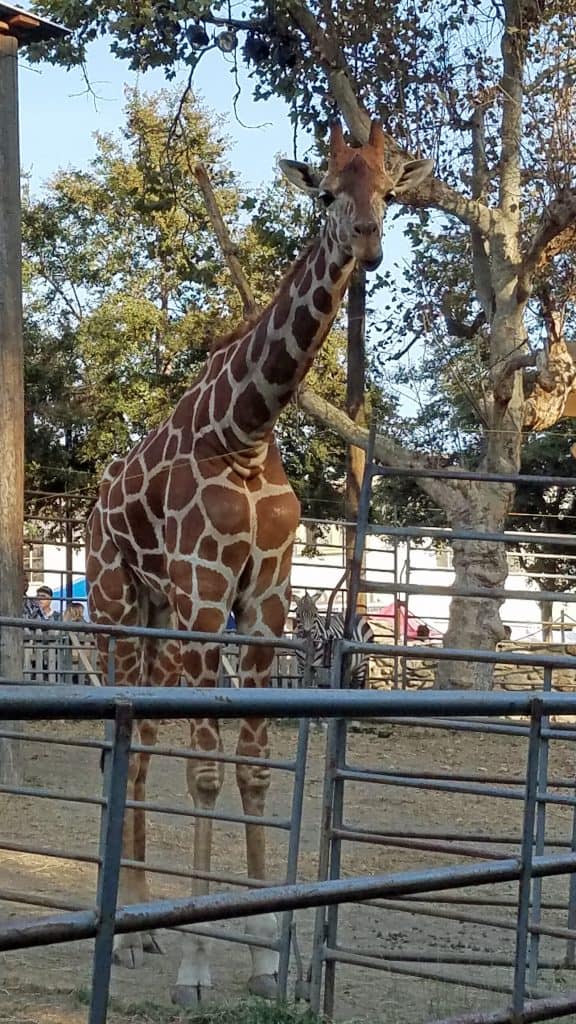 Another favorite place for us is Mojo's Wild and Crazy Lagoon. If you haven't picked up on yet from other posts, we spend a lot of time at California zoos and safari parks, so a day at the fair isn't complete unless we see all the animal things they have to offer. At the lagoon, you'll find giraffes — an absolute favorite of mine — birds, reptiles, monkeys and more!
The concert schedule for the fair is as impressive as always. The concert playing the evening we went was Styx and Kansas. We didn't attend, but throughout the years, we've seen Hall and Oates, Live and the Charlie Daniels Band. (Some tickets are usually available for free, while the reserved better seats can cost, so check ahead of time or be prepared to wait in line for the free ones.)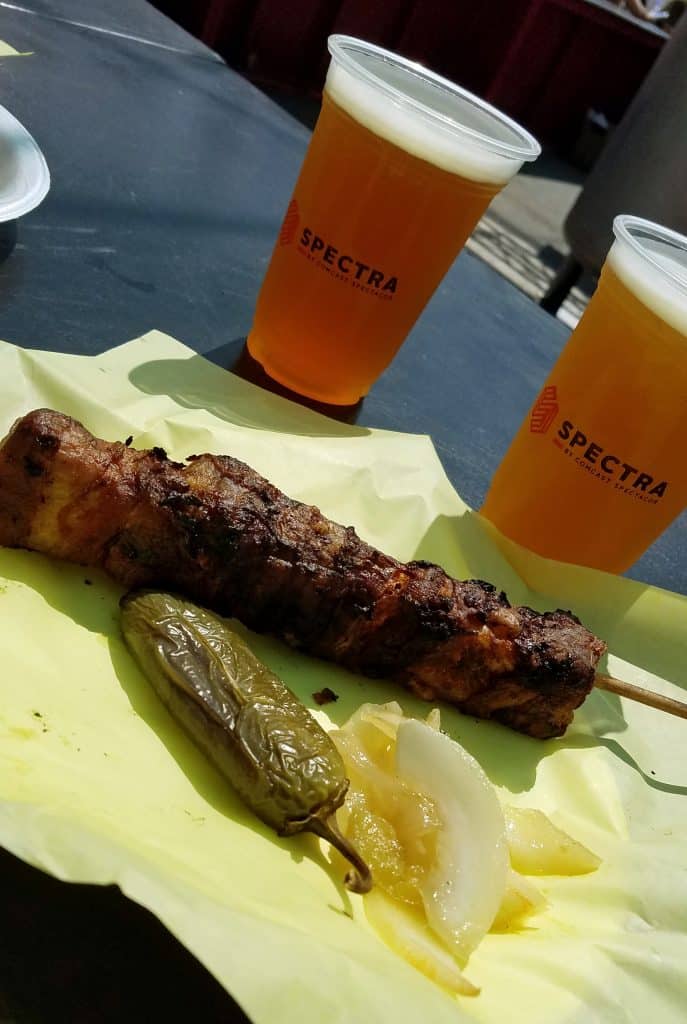 This year, we went for our favorites: deep-fried bacon-wrapped pork belly with a side of grilled chilis and onions. O M G. I can't not eat this every year. We accompanied it with refreshing citrus-based beers from the nearby beer garden.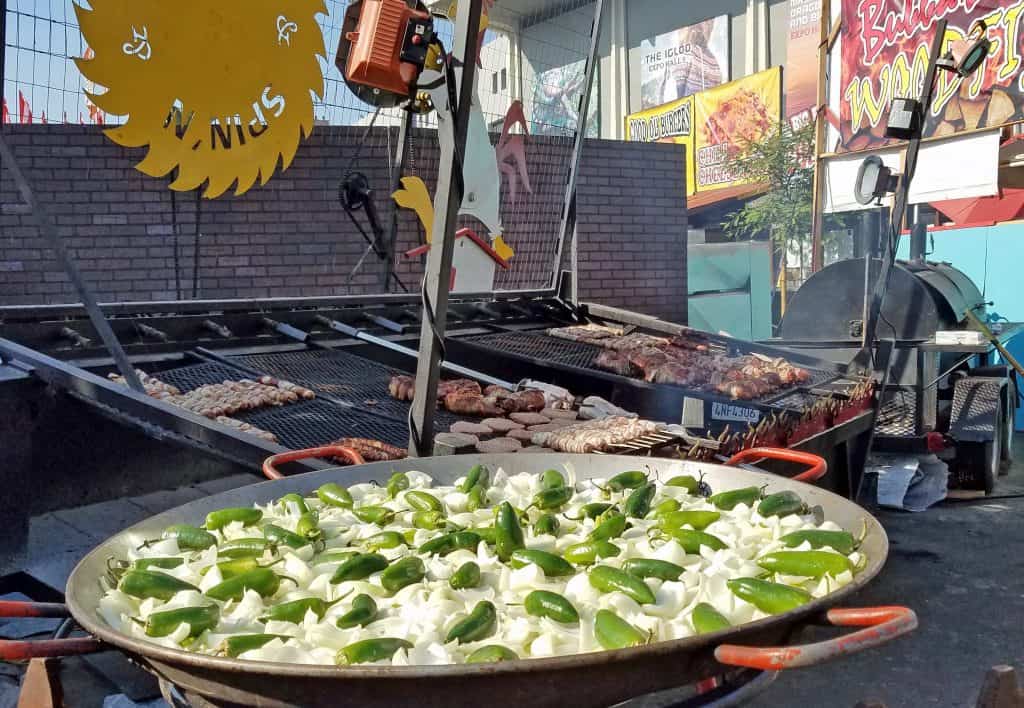 We hit up the funnel cake booth over in The Farm, where it was covered with maple bacon. "Sure, I'll have just a few bites, Hubs.."  Eats half. SO good.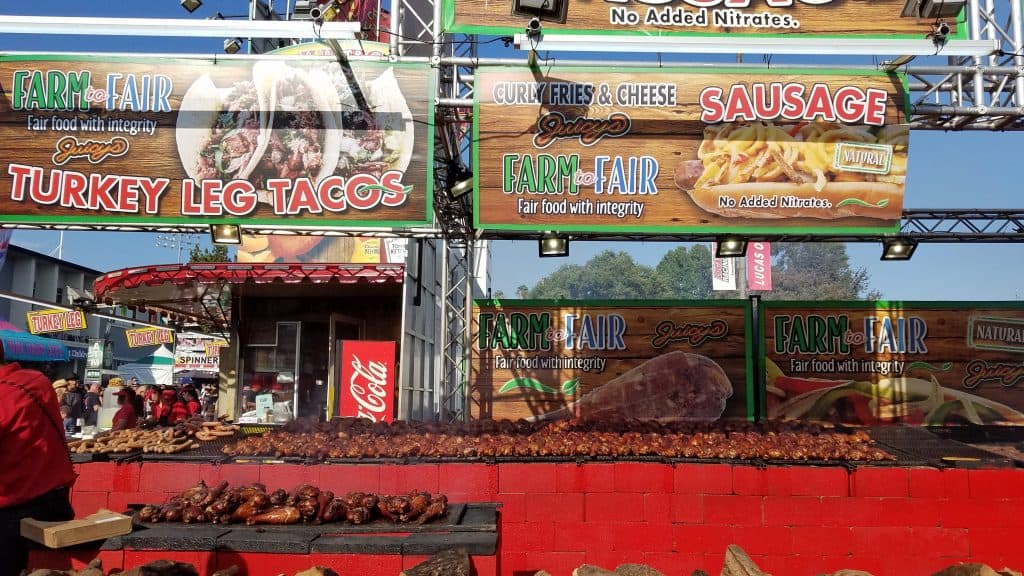 I believe those turkey leg tacos were new this year, too. There were a lot of people standing near me drooling at that field of turkey legs on the grill. No wonder the rail is so far back out of reach. The smell here was so tantalizing.
One thing we do every visit is try one odd and unusual food item that we'll never eat again until we're back at the fair. This year, it was the cotton candy ice cream sandwich from Chicken Charlie's.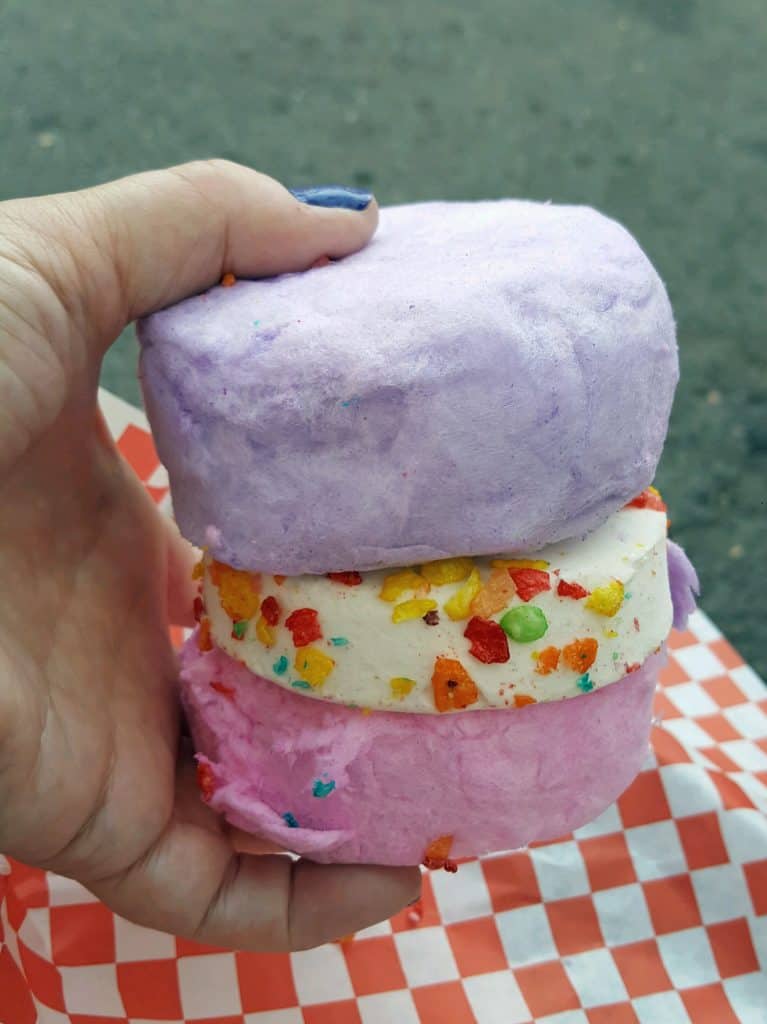 I love cotton candy but almost never eat it, and ice cream? This is rolled in fruity pebbles cereal for an extra crunch and wow. It's a lot of sweet in a tall sandwich, so we literally had to peel off the cotton candy, down to a thin layer to grasp the ice cream without it melting all over our hands. It was too big for our mouths — and too much sweet to have twice in a day — but we're definitely glad we tried it out!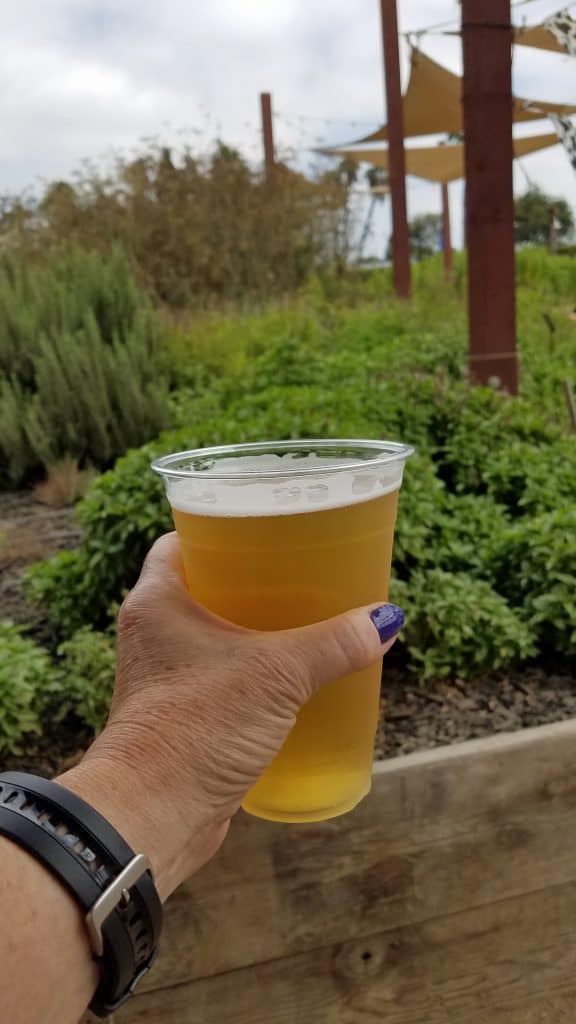 I have to recommend Pappas Artisanal over in the Farm. Surrounded by the herb and vegetable gardens beyond the animals, it's a place that makes you feel like you're not really at the fair but out in the country. Eat artisanal flatbreads and pizzas at long picnic tables while smelling the herbs via the light breezes. But you have to try the summer ale — if you like beer at all, trust me on this. Lemon, thyme and basil give just a slight herby-citrus scent and it was so refreshing in the heat. We may have gone back all the way over there mid-day to get another one. Maybe.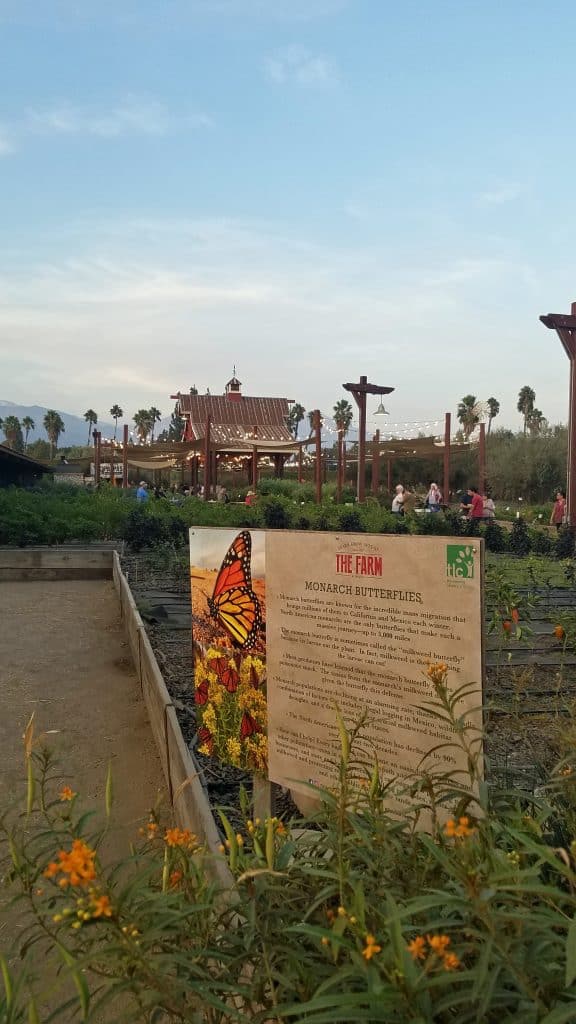 If you haven't gone yet this year, hurry! It ends on September 24 and this weekend's concerts are WAR & Tower of Power, Chicago (Saturday night) and Migos on Sunday. Walk around, explore and eat all the things.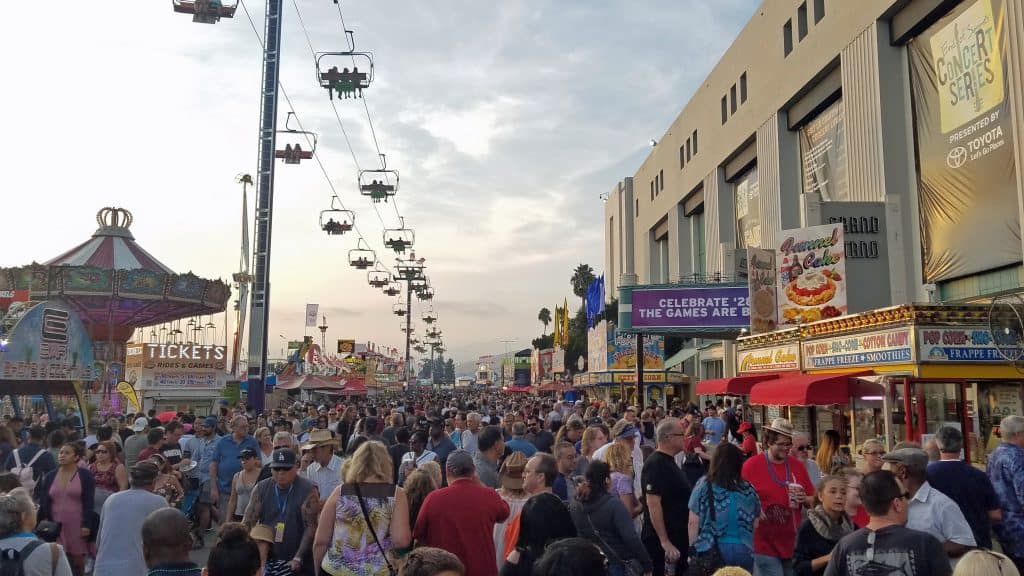 It only comes once a year, make those LA County Fair memories now! Until next year, LACF…