My daughter is a manager at a local winery — one we took her to when she was a toddler, in fact — and as a wine lover, I could not be prouder to see her behind the bar. She admittedly didn't know a lot about wine when she started there, and I was giving her tips on learning about wine tasting for beginners; she picked it up FAST, which I joke as being a genetic thing, and I visit her frequently. Listening to some of the questions she is asked, and some of the comments I hear customers I make, inspired me to write a post focused on beginner wine tasting.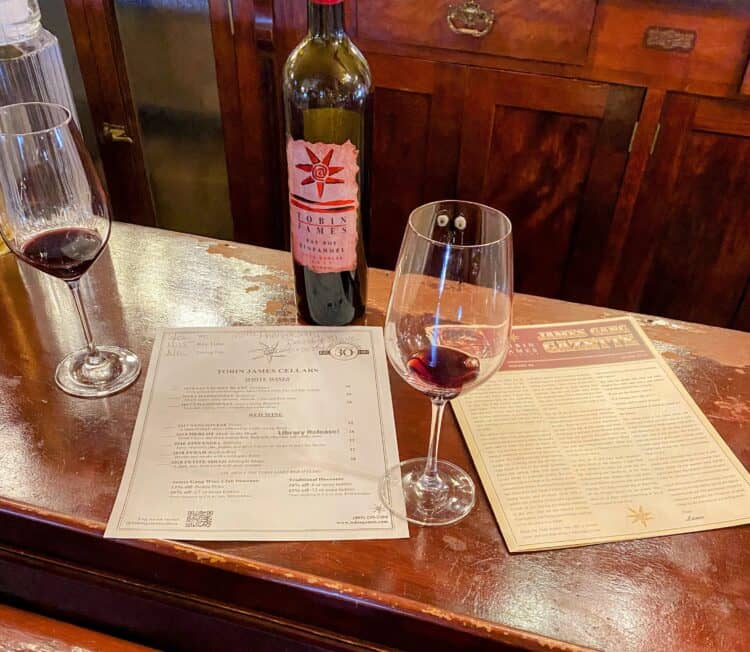 If you're not yet into wine, or you want to learn how to wine taste, I hope my tips below help you!
Learning About Wine Tasting for Beginners
Don't let other wine tasters intimidate you: I hear this SO often when I talk with people who want to go wine tasting. It's hard to remember that we were all new to wine at one point, particularly when you visit a high-end winery and hear wine terminology that you don't understand. This goes for those behind the bar, too! If they make you feel bad for being a beginner, it's not the winery for you. Some wine lovers get a little caught up and love to sound knowledgeable, but know this: most wine lovers and fellow tasters that truly know wine will not be like this. Many, if not most, tasters who aim to sound superior are putting on a show. Don't let it fool you or make you feel bad.
As for wine terminology, it's a great idea to familiarize yourself with a few popular terms before you go BUT it is not required. When you're wine tasting, you can ask questions if someone uses a term you don't know. It's okay to ask, and many pourers enjoy answering. (I've got a post going up shortly with the most common terms and a layman's definition; I'll come back and link that here after it's published.)
Select a winery that takes reservations: this allows you to have space at the bar or a dedicated table, so you're more likely to get more attention from the steward, sommelier or pourer. (Not all wineries have wine professionals or experts, aka sommeliers.) This will make it easier to ask questions and not have to taste faster than you're comfortable with.
Go at an off-peak hour: this is for similar reasons as above. The one possible downer to this is that they may not have as many bottles open for tasting, but some wineries will open more if there is interest, especially if you are there a couple of hours before the busiest for that day. You also will see less people around, if it makes you nervous.
Preview the wine online before going: many wineries share information about their tasting flights or options on their website or social media. This gives you the chance to look at their tasting profiles before you go. Some wineries provide a list of the five wines available for tasting, or others will show you all ten available so you choose five of those, for example. (Some wineries offer more tastes, others less.)
Red or white — or both: some wineries focus on one or the other, and some are known for a particular blend or varietal. If you've had a red wine and liked it, maybe you choose the red flight or a mix; same with white. If you remember the type, such as Chardonnay or Merlot, tell the pourer that and they can help you choose.
Wine tasting is usually not free anymore: there are a handful of wineries that will give you a couple of tastes for free, but the majority will charge upwards of $10. If you plan on visiting multiple wineries and are on a budget, verify in advance!
Take photos as you go: this is something even the most experienced wine tasters do. This helps you remember what wines you did or didn't like, making future purchases or tastings easier. You can even add some notes to your photos, because you may find you favor one type of wine, like a sauvignon blanc, and while they're all slightly similar, each flavor profile will be different. (Did you also know that our palates will be the final deciding factor though? A label may say melon notes and hints of citrus, but you'll taste peach. And that's okay!)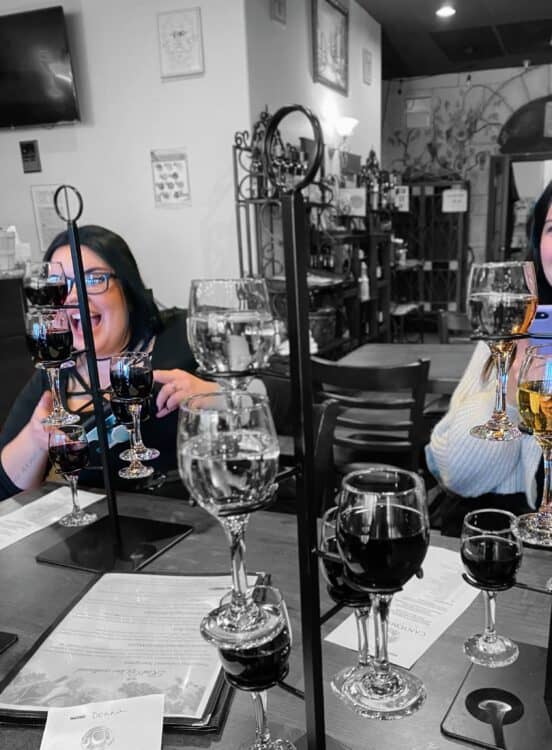 You taste what you taste: this refers to the above note about tasting peach when another person tastes green apple. Nothing is wrong with either, despite what the sommelier in the Netflix movie, Wine Country, says! I mean, you don't want to taste dirt or wheatgrass, but there are always going to be subtle nuances that differ amongst people.
Start slow: you can get pretty lit if you run wild at a bunch of wineries and you're not used to it. Pace yourself! Also, maybe pick between red or white and focus in that realm initially. Red wine has a very different mouth feel (literally, how it feels in your mouth) than white. Going back and forth between the two can make it hard for your palate to discern slight differences in varietals, and you aren't going to give either their best chance to shine.
Eat at or in-between wineries, if you are going to more than one or two: this helps you cleanse your palate, allowing for you to more fully taste each wine, while also giving your tummy a break. Beginning wine tasters don't always realize how potent wine can be! Check the ABV values, or alcohol content, as it ranges from 5.5% to 25%-ish. That's a huge variance, and it can sneak up on you.
Keep that pinky down: for reals, no one drinks with their pinky up. This isn't tea, it's wine tasting, let your hair down and relax! You do not need to dress fancy, but it's okay to still dress nice. I've gone into wineries in shorts, summer dresses, jeans and sweaters and maxi-dresses. Some wineries do have attire requirements, so check ahead, but most just want guests to be respectful.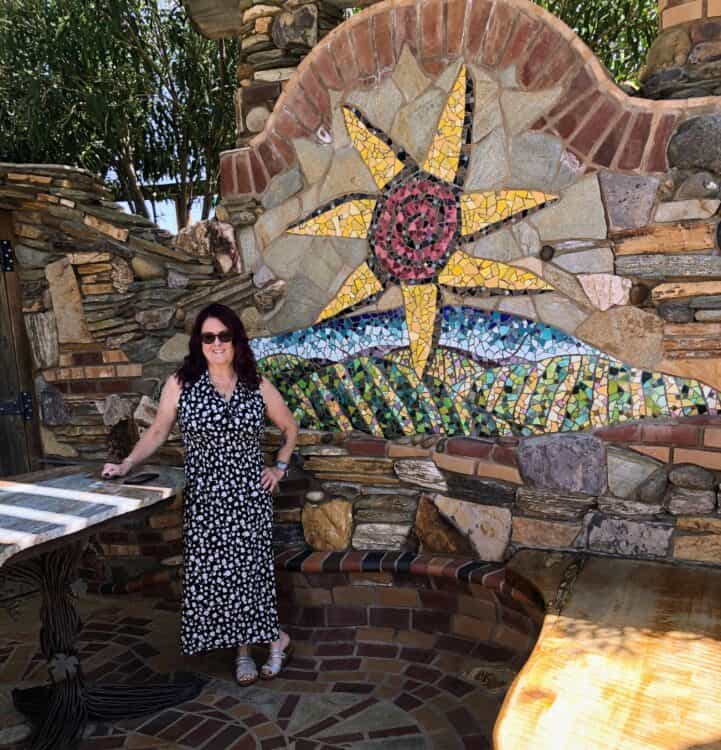 Just don't relax so much that you make others uncomfortable: I've been to wineries with people so drunk they could barely stand, where they're verbally rude to staff and loudly vulgar or obnoxious. Wineries can ask you to leave, so just keep in mind that everyone's there to enjoy themselves. Some people go for a relaxing moment on their wine, others go for a romantic date night, and others go with groups. We've done all of it.
Be patient with yourself: true wine tasting requires you to swirl, smell and sip. Swirl and smell it. What do you smell? Sip. Let the wine flow over your tongue. What do you taste? Take a breath between sips, flavors change. If they offer you crackers, use them between tastes; if they offer you chocolate or another treat, be sure you know which one to pair it with. It's crazy how a small bite of chocolate will change how the wine tastes!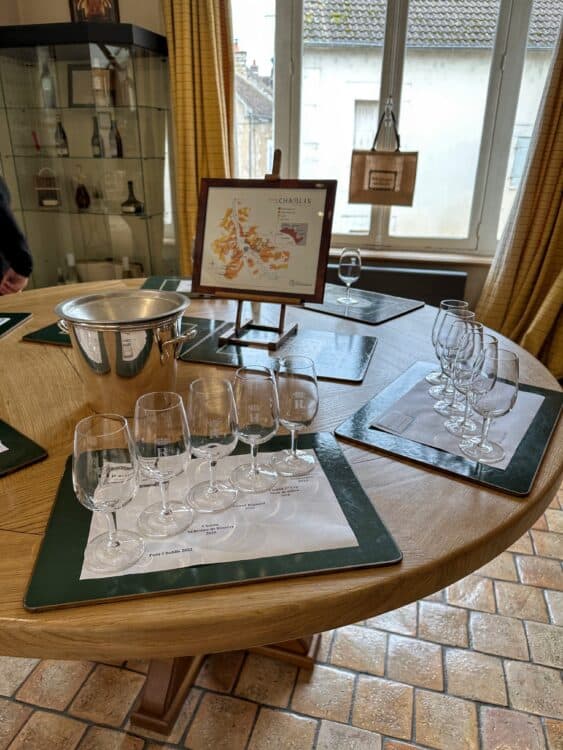 Check age requirements: of course, anyone under 21 cannot be within the bar area at any winery, but some wineries do not allow anyone under 21 on-property. No, they aren't being rude, and yes, they will thrive without allowing parents and small kids there because many people prefer wineries to be a child-free environment. A lot of parents get child care and need that moment away, so we don't need to ruin it by demanding we bring our babies or toddlers in. There are plenty of wineries who allow for families, just away from the bar or in an outer area. Some even have picnic tables and areas designed for families, but respect the rules and other guests. (And blocking seats with strollers or changing kids on tables — seen it often — are serious no's.)
Acknowledge there is a learning curve: mastering wine tasting for beginners isn't an overnight thing. It can take months to really feel comfortable in knowing what to ask for and what wine pairs with what food. That's part of the fun of it! I've been wine tasting for over 30 years now and I still ask a lot of questions. I still Google what kind of wine to serve with a particular entree.
Familiarize yourself with your state laws: for example, in California, we can purchase a bottle of wine on winery property, but we cannot open it and drink it at the tasting bar. We need to sit at a different table and carry our glass around, but not the bottle. Wineries are also limited to specific sizes of pours and yes, they can/will cut you off if you appear drunk or unsafe to yourself or others. Don't put them in the position of having to correct you; they aren't paid enough to put up with customer abuse. (I've seen customers yell at servers for not opening a type of bottle, not giving them a glass instead of the plastic cups available at that event, not allowing them to bring in THEIR OWN WINE FROM ANOTHER WINERY and so forth. I've seen parents yell at staff for asking them to get their baby seat off the bar…yes, really…and for not quieting down other patrons because their child is watching something on their iPad while mommy and daddy taste. I've seen a family almost brawl when the manager asked them to pick up their diaper bags and gear off of a couch they weren't sitting on, and tasters wander through closed areas 'to explore.' Wine makes people do weird things. Don't be these people.) If you're just learning about wine tasting for beginners, this kind of thing can be a big turnoff, but it doesn't happen everywhere so don't let it scare you off.
And REALLY important: TIP YOUR POURER(S). Some wineries still pay them on a server wage schedule. Even if they are paid a good wage, they are running around behind the bar to bring you the next of your tastings, and unless it's a scheduled tasting event, you're all on different schedules. That takes skill and patience on their part. TIP THEM. Bring cash, because if you put it on the tab, they have to share it, even if they didn't help you.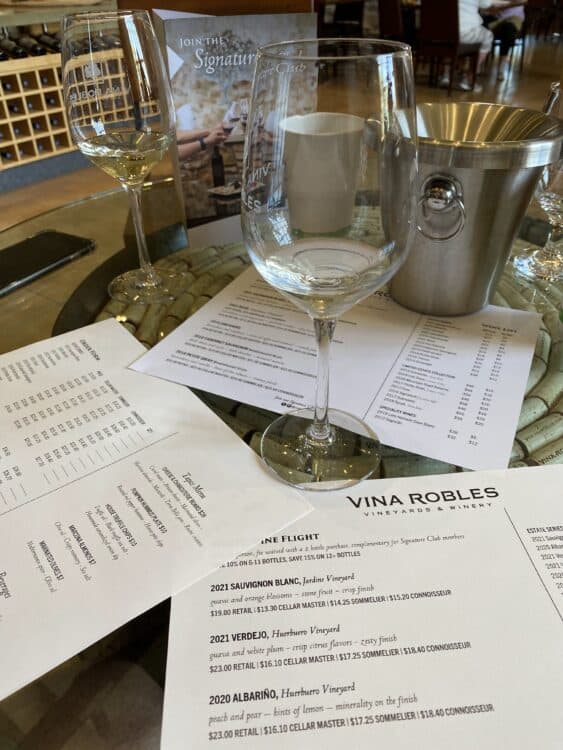 Learning about wine tasting for beginners should be a fun thing, not a chore. It can be a hobby or a skill — or both! We started off many years ago at a very local, niche winery that made what my husband called kool-aid. (They are no longer open as they were back then, so if you Google it, you will not find them.) It was sweet and 'thin' feeling, but it was a fun place, and a lot of people really enjoyed it.
A lot of the experience of beginning wine tasting is the ambiance. Wine tasting should feel relaxed, but every winery's theme is different. I prefer wineries that are in their own building as opposed to one in a strip mall or first floor of a big building. The freedom to roam outside is a bonus, and the further into wine country you go, the more of these you'll see. Lighting, background music or live music, noise level, decor, find what suits your vibe. My favorite one ever? Tobin James in Paso Robles. You can read more about wine tasting in Paso Robles here. We've done extensive research.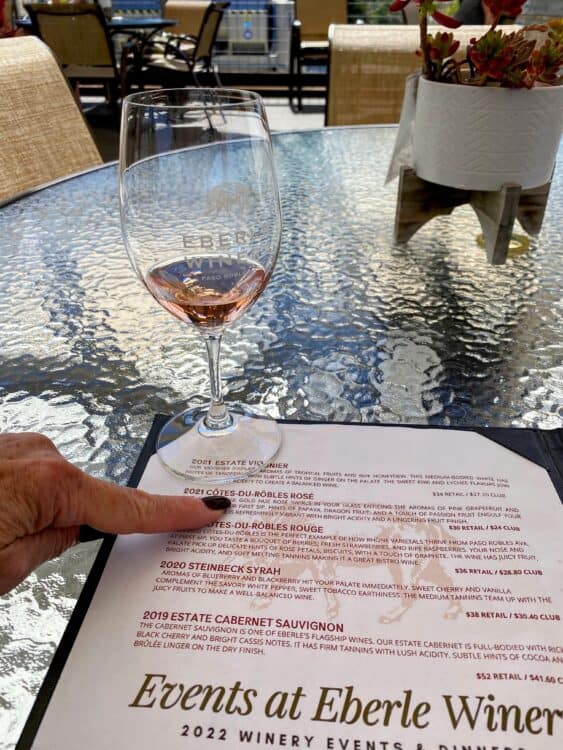 Once you've passed the beginner wine tasting level, consider joining a wine club! Almost every winery has one, and for one fee, you can get a wine shipment as often as every month or as few as two times a year. If you're local, you can pick it up, and some have a wine club party; others ship it to you. Again, my favorite is Tobin James; each of their shipments has eight varied bottles, which I can alter a bit if I don't like something, and one surprise quality gift. We've gotten cool blankets, coasters, glasses, bowls, table decor, placemats and more — all beautiful with their star pattern but no words, so there's nothing that looks like you're marketing for them when you use it. It comes twice a year, making it affordable, and if I need to pause for a shipment, no problem, no fees! Inquire with your favorite winery and maybe you'll get lucky with one that offers summer or holiday events like ours does.
I hope this very layman's introduction to wine tasting has helped! Wine doesn't need to be associated with 'getting drunk' or 'partying,' though it can be; it's more associated with enjoying the experience and flavors and if you get to do it with those you love, even better!