Recently, a blogger friend of mine came up with a really cool idea — a bunch of bloggers agreed to "walk a mile in another blogger's shoes" by writing a guest post on a topic that suits the other blogger's blog. (Lots of blogs there!) Below is my guest post, the fantastic Gracie from
All Those Things I Love
. Read her rockin' turkey enchiladas recipe and then check out her blog! Thank you, Gracie!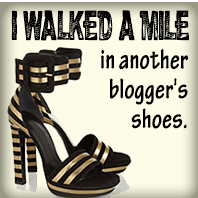 Fricking* Turkey Enchiladas
I don't cook. I am capable of the act, I just don't like to. I will, if pressed or if out of necessity, but I really don't enjoy the task. And when I cook, I need to follow a recipe and, really, for all involved, it should be a one-dish kinda thing since I'm horrible at the timing required to have side dishes and the entree arrive at the table at the proper temperature. I was lucky to marry a man who cooks and actually enjoys it, most of the time. (Lucky or a prerequisite? I'll never tell! 😉 )
In the rare occurrence that he doesn't feel up to cooking or going out for dinner, and I am unable to convince him that me picking up Take Out qualifies as me providing a meal, I'll pull out my trusty enchilada recipe, one that's been adapted over the years from our combined tastes.
I'm not big on a traditional enchilada with red sauce (too peppery/smoky/Tabasco-y for me), I prefer a green sauce instead. He can go either way. And chicken does nothing for me. I find it to be just a step above tofu, flavor-wise. I prefer beef, but to be "health-conscious" we opt for ground turkey instead.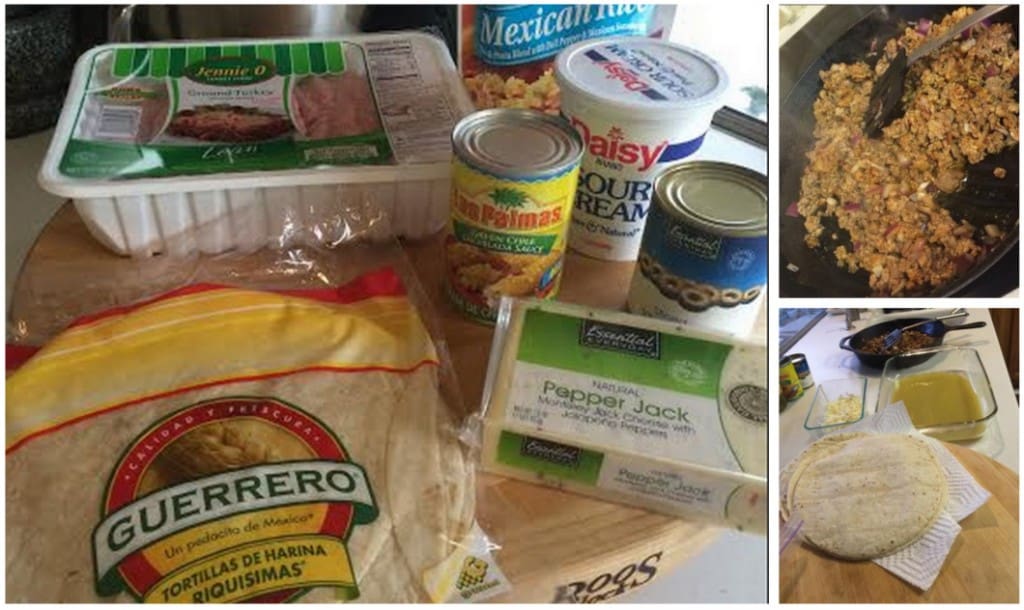 He detests corn tortillas, so we opt for flour tortillas. And that's fine with me, because it gives the enchiladas a bit of a flautas feel.
So here I submit to you, The Fricking* Turkey Enchiladas
Ingredients:
Onion
Garlic
1 lb Ground Turkey
Taco Seasoning
Green Enchilada Sauce (19 oz cans)
6 – 8 Flour Tortillas (medium size)
8 oz Pepperjack Cheese
Sour Cream
Sliced Olives
Heat a small bit of cooking oil in a saute pan and add finely chopped garlic and onion. Saute until onions are softened
Then, add ground turkey and taco seasoning to the pan and cook until lightly browned.
Remove from heat
In a baking dish, lightly cover bottom with green enchilada sauce (about 1/2 of can)
Take a flour tortilla and gently place one side into the shallow dish with enchilada sauce and press gently. Do the same with the other side.
Sprinkle pepperjack cheese over the tortilla and add meat mixture on top and roll, leaving ends open.
Place tortilla roll up in the baking dish against one side. Continue with remaining tortillas, placing them in baking dish up against previous tortilla roll up.
Pour remaining enchilada sauce over the contents of the baking dish.
Bake for 20 – 30 minutes in a 350 degree oven until dish is warmed through.
Top with more shredded pepperjack cheese. Add dollops of sour cream, sliced olives and serve that spicy, cheesy, gooey goodness!
*Fricking is a combination of our last names! I was a King before I was a Frick  😉 Oh, you may notice a pair of "man hands" in these pictures… yep… I got out of cooking, once again! 😉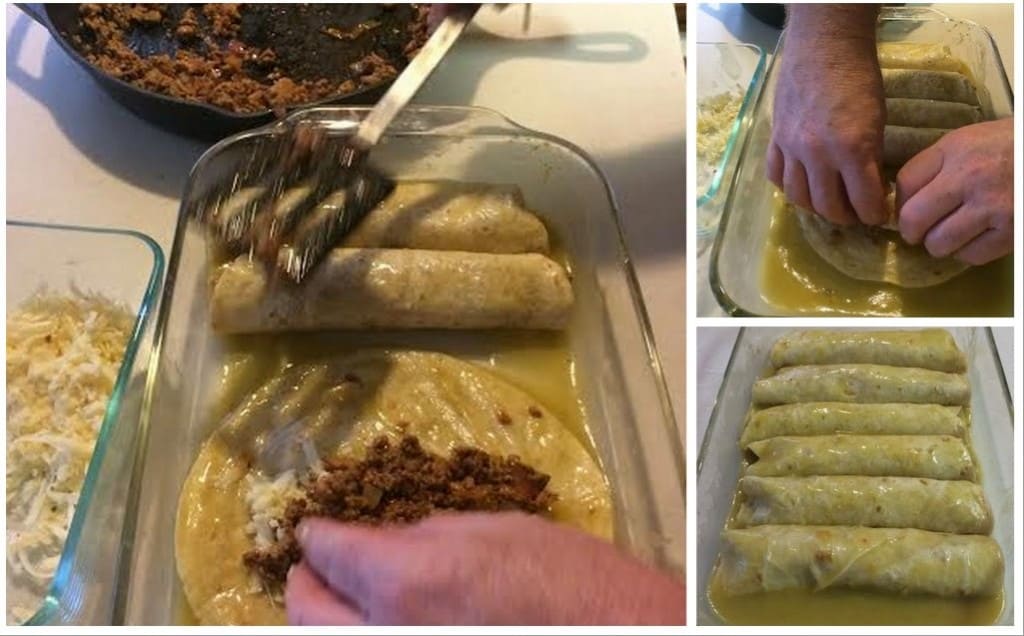 Assembly time!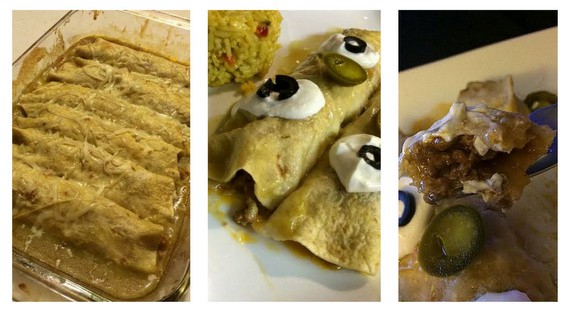 Gracie Frick lives in Orange County and is the principal at All Those Things I Love.com. She describes herself as a "Shopper extraordinaire, incapable of paying retail, married w/ 2 Corgis, an owl (not a lark), a wannabe Martha Stewart (without the skill set)."

Enjoy Gracie's delicious turkey enchiladas recipe and let me know if you try it!