Now that summer is here, there's a large selection of fresh fruit available in an array of colors and flavors. On hot days, it's the perfect natural snack, but sometimes we want to elevate it a little. When Melissa's Produce sent me a gorgeous variety to use in our monthly blogger challenge, the first thing I thought was how it would be delicious on a platter surrounding a light, fluffy dip. That inspired me to come up with the below healthy creamsicle dip recipe that I think you're going to like!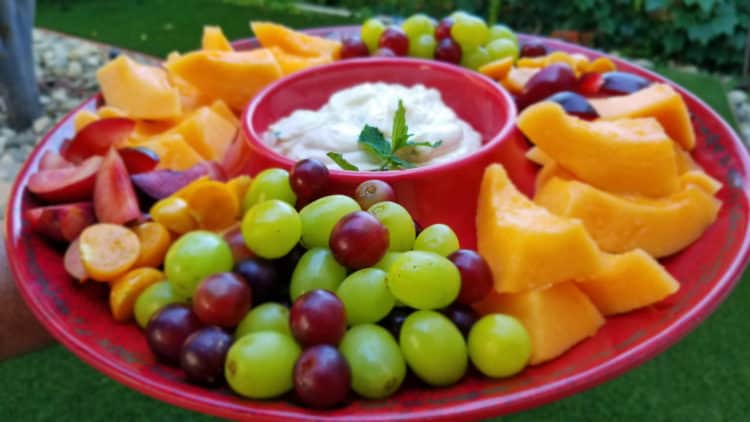 An easy dip many people like is made with cream cheese, powdered sugar and vanilla, and another version uses marshmallow fluff. Both are good, but definitely not healthy. I took a little bit of each of those recipes and used them in my own version, adding in something you may have seen in several of my recipes here on my blog: fresh oranges. We have a large tree out in our backyard, so I like to incorporate them into foods when I can. This dip was a great opportunity to do that again.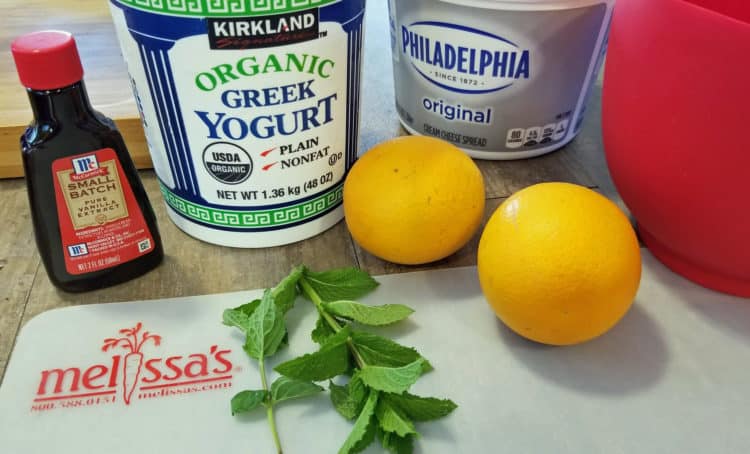 Fair warning, there is some sugar in this recipe and it's not fat-free….but it is a healthier alternative to most fruit dip recipes and I bet your family will love it! It also isn't overpowering in flavor, so the real taste of the fruit you dip it in still shines through.
An orange creamsicle is a very popular ice cream treat, and the flavor is also reminiscent of an orange drink bought at Orange Julius. (Do you remember that place? It was always my favorite thing to buy when I went to the mall as a teen!) I think this dip nails that flavor in a way that we can eat without doing too much damage to a healthy lifestyle!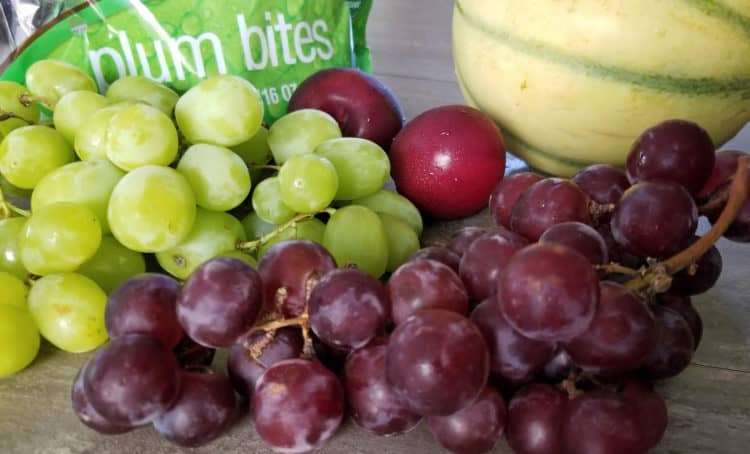 First, I made a really pretty platter out of the fruit from Melissa's Produce. It included a bright orange, creamy Charentais melon, similar to a cantaloupe, both red and green Moscato grapes, plum bites and something entirely new to us, golden berries.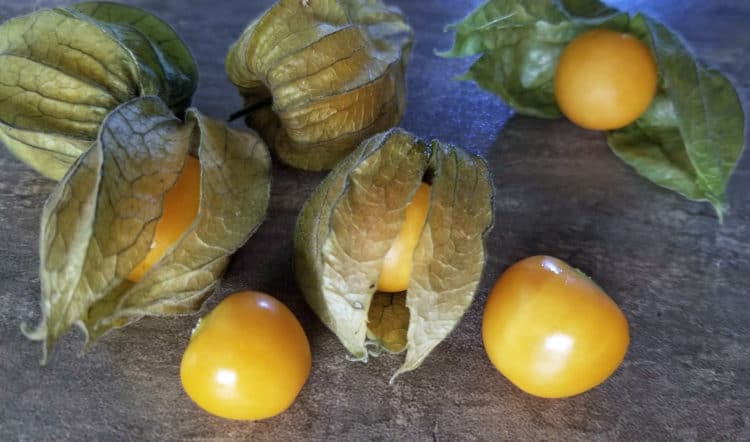 Initially, the look of the golden berries had me wondering. They look like tomatillos from the outside, with green, drying husks surrounding a round berry, the size of a very small cherry tomato. Inside the husks, the berry is bright gold and the fruit itself is delicious. We likened it to a mix of a cherry and a kiwi, with maybe a hint of apple or blueberry. Some of them are more sour than others, so I cut them in half for the platter just in case. They were the first fruit completely devoured, and it didn't take long at all.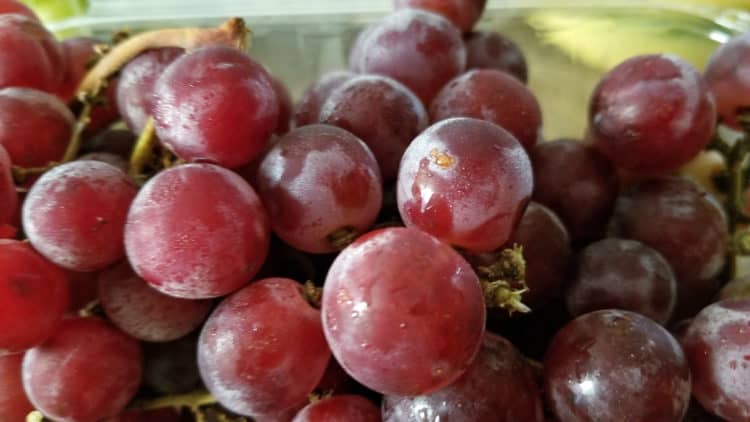 The moscato grapes are firm with a nice pop and mild grape flavor, and the plum bites were like regular plums, just smaller and possibly more firm. We sliced those and the charentais, and arranged everything on a tray with a hole in the center for dip, easy to transport out to the patio where everyone had gathered.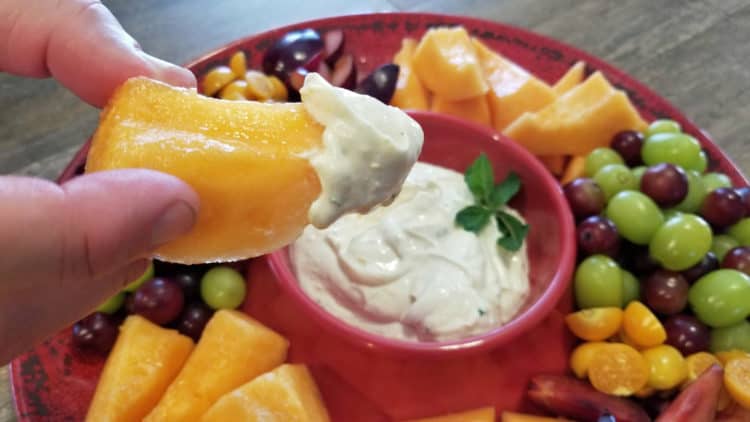 On to the healthy creamsicle dip recipe, which you can whip up in less than 10 minutes. Chill it if you're not going to be serving it immediately. (And when I call it healthy, that's in comparison to regular dips!)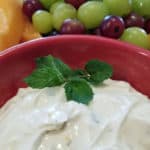 Healthier Creamsicle Dip Recipe
Ingredients
2/3

cup

softened cream cheese

2/3

cup

Greek yogurt

2

tsp

sugar in the raw

1

tsp

vanilla extract

2

tbsp

fresh orange juice

zest of one orange

fresh mint, finely chopped

approx. 7 or 8 leaves
Instructions
Mix cream cheese and Greek yogurt together until whipped and fluffy.

Add in sugar in the raw until smooth.

Add the remaining ingredients into the bowl and combine thoroughly.

Serve. (Chill if not being served immediately.)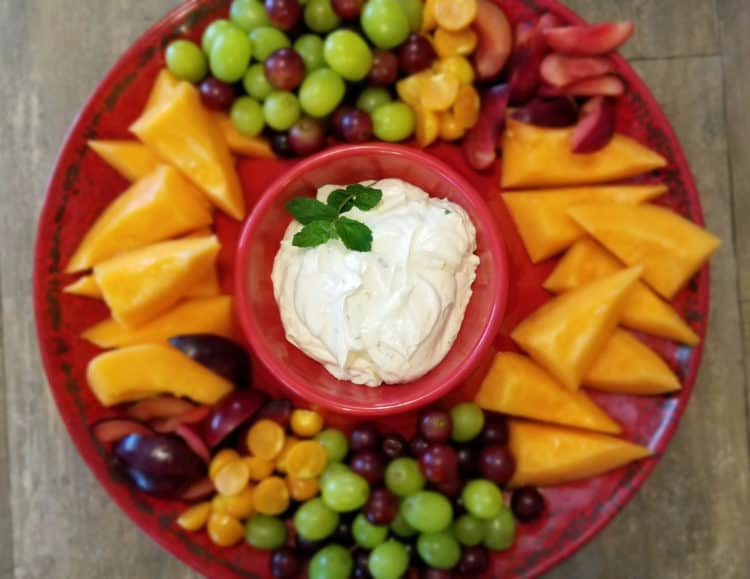 Let me know what you think, and thank you, Melissa's Produce, for the free box of fruit and Clean Snax! You can learn more about golden berries and other produce at the Melissa's Produce website. For more creative uses of fruit, check out the recipes from three other blogger friends!