I'm excited to announce I'm a new member of the Bolthouse Farms Harvest Network! That means I get to use delicious Bolthouse Farms products to come up with fun recipes and uses. Tough work, right?? Making a fun summer treat is a gig I love to do!

This month, my complimentary set of products included three dressings —  Cilantro Avocado, Creamy Roasted Garlic and Classic Balsamic — and two different kinds of juices, the Watermelon Mint Lemonade and Green Goodness. Oh, the things I could do with all this! I also received a cool popsicle mold set, so of course, my first recipe creation had to be for a refreshing popsicle.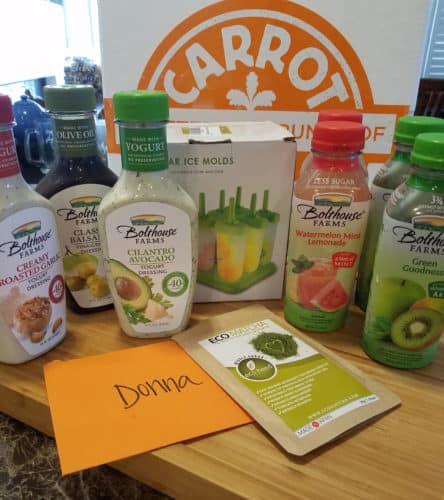 I drink a lot of smoothies. We bought a new high-powered blender a couple of months ago and it gets a lot of use. I love to drink healthy smoothies for breakfast, including things like frozen bananas, fresh fruit and unsweetened coconut milk. Then I received the Bolthouse Farms box and decided to try something new, based on a simple smoothie idea. Using the Watermelon Mint Lemonade, I made these light but zingy popsicles quickly and easily. In just a couple of hours of freeze time, my kids – or the husband and I – have a new treat that's both affordable and healthy.
My popsicle recipe is easy, inexpensive and made up of ingredients found at almost every grocery store, in addition to the Bolthouse Farms Watermelon Mint Lemonade. Taking advantage of summer produce is the best way to vary our diet throughout the year and enjoy the best of what California has to offer this time of year.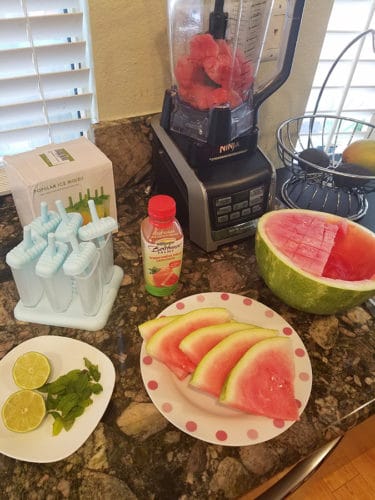 Cut the watermelon in half, then score the inside of the half similar to how you'd cube a mango. It makes it so much easier to scoop out.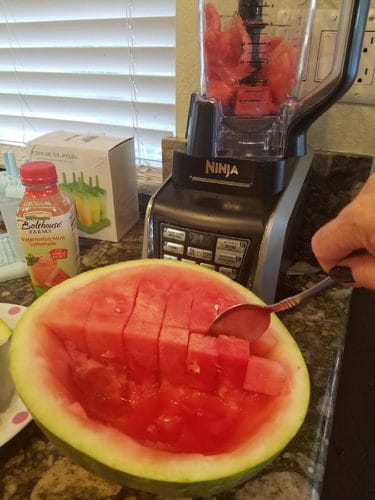 (My watermelon was priced at three pounds for $.99, which is on the higher end of the scale, but I bought the smallest one they had. This still left us over 1/2 of the melon to eat as-is. SO good! Did you know if you buy a watermelon with a brown or yellow area, it can be sweeter than others?)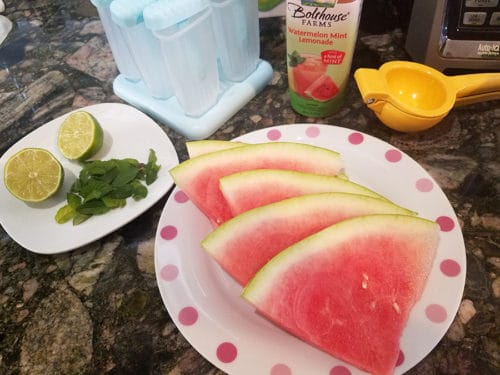 The kids were enjoying the leftover slices of watermelon after I filled the blender with the cubes. It was a seedless watermelon, perfectly ripe and pink and so pretty.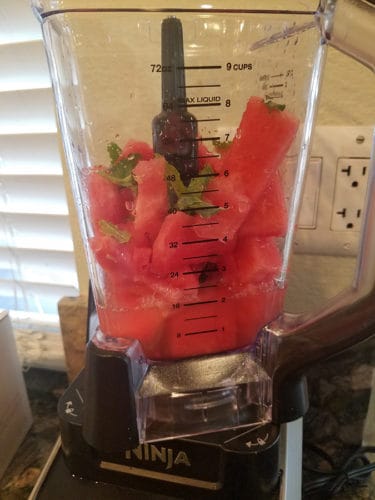 I filled the popsicle containers only 3/4 of the way, to allow for swelling as they freeze. Depending on the size of the popsicle mold set that you use, you may end up with a little leftover mixture like we did. I'm going to add it to tomorrow morning's smoothie!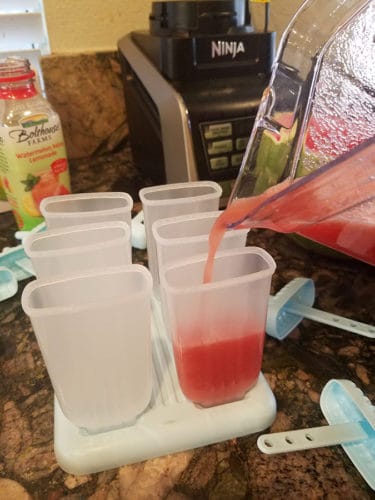 Anything with ingredients as bright as this watermelon or as vibrant as the mint is bound to come out beautiful.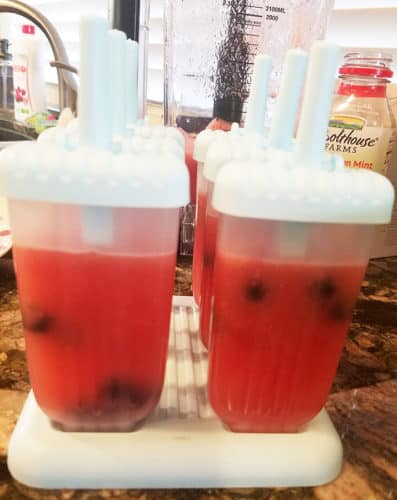 The idea is a simple one but a good mix of flavors that anyone can enjoy for a dessert or just an afternoon snack! I had ideas to make it even fancier, but decided to not mess with a good thing. Sometimes simple is best. The lime brings the sweetness of the melon just a little more and the blueberries make it prettier, too.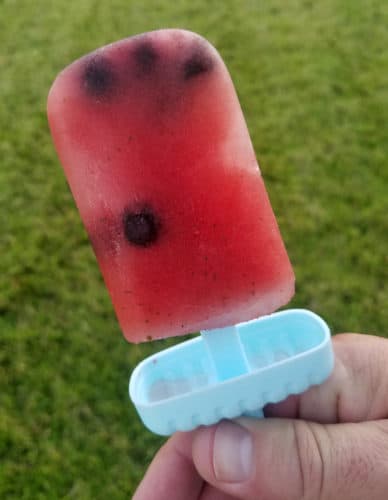 Watermelon Mint Lemonade Popsicles
1 cup Bolthouse Farms Watermelon Mint Lemonade
3 cups fresh watermelon
1 fresh lime, juice
20 fresh mint leaves
40 blueberries, fresh or frozen
Place the first four ingredients in the blender. Puree until smooth. Pour into the popsicle mold set up to 3/4. The mixture should be thick enough to drop 6-7 berries in one at a time; if not, freeze 30-45 minutes until slightly thick and then drop berries in so they don't all fall to the bottom.
Freeze until solid and enjoy!
If you're not familiar with Bolthouse Farms products, visit their website. You'll see not only all the products available but their interactive social media feed. More importantly, you'll learn how they believe healthy and good food should be affordable, available and accessible. I agree, wouldn't you? Once on their site, choose the type of product you're interested in, at the top, and you'll find more information about each. Visit the blog for recipes, too. Lots of cool ideas! We also used the Cilantro Avocado dressing to drizzle over grilled romaine lettuce heads cut in half. It's an easy side that you can throw on the grill with whatever else you want to barbecue, making it delicious, cheap and healthy. That's the best to hope for in regards to a meal, right?
The lemonade I received inspired the popsicles, but only because the taste was so good. It made me think of the fresh mint plants I have growing in the backyard, so I used those in the recipe. I love to make things with fresh mint! The lime just gave it a little tang to cut the sweetness, as the melon I purchased was on the sweet side. The blueberries added a different texture and they infused a slight fresh berry taste without overtaking the watermelon flavor. Perfect!
Check out Bolthouse Farms products and see if you get inspired to make fun summer treats! I'm betting you will. The variety of healthy options, easily available at your local stores, will help you come up with new and easy ways to feed your family. School started early here in our area of Southern California, so this lifestyle blogger has to come up with lunch and after-school snack ideas earlier than many. Bolthouse Farms just made that easier! With their products, I know we aren't eating anything unnecessary or bad for us, and their flavors are spot-on.
You can find Bolthouse Farms on Facebook, Twitter and Instagram, too. (Follow #BHFNetwork to see what the bloggers and others are coming up with!) Their photos will make you want to get creative, too!