Recently I posted about a wonderful Del Real Summer Party in a Box I'd received and a giveaway I hosted. In conjunction with that, I got to create a recipe using a Del real item of my choice. Below is my creation, Roasted Veggie & Chipotle Chicken Quesadilla, something my family loved and I'm excited to share with you! If you'd like to help me win the recipe contest, come vote for me daily HERE. Then share the url for others to vote for me too!
Follow Del Real Foods on Twitter and you can find other cool recipes by checking out the hashtag #RealFlavor. (But vote for mine first!)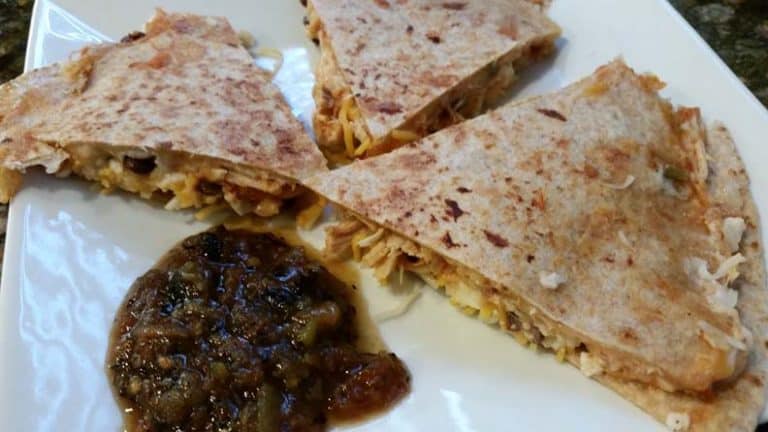 Roasted Veggie & Chipotle Chicken Quesadillas
Author:
Maple-glazed roasted sweet potatoes and lime-onion black beans give texture and added flavor to the spicy Chipotle Chicken Tinga melted with Panela and Mexican blend cheeses then pan fried to a crispy outside makes for a delicious entree.
Ingredients
1 container Del Real Chipotle Chicken Tinga
3 fresh sweet potatoes, chopped
1 15 oz. can black beans, drained and rinsed
1/2 onion, finely chopped
4 tbsp. maple syrup
Juice of 2 limes
8 tortillas, soft taco size
1 package Cacique Panela cheese
1 1/3 cups (approx.) Mexican blend cheese, shredded
1 fresh jalapeno or 3-4 tbsp of pickled jalapeno, finely chopped
Salt
Pepper
Olive Oil (optional)
Instructions
Heat oven to 350.
Assemble bowls, mixing spoons, cookie sheet, skillet and plates.
Combine chopped sweet potatoes and maple syrup in a bowl; mix until sweet potatoes are all coated. Pour onto cookie sheet and sprinkle with salt and pepper.
Place cookie sheet into oven when it has come up to temperature; set timer for 20 minutes. Stir every 7-8 minutes to ensure even roasting.
Prepare remainder of ingredients while sweet potatoes are roasting.
In medium mixing bowl, combine black beans, fresh lime juice, finely chopped onions and jalapenos. Splash with salt and pepper and mix thoroughly.
Heat Chipotle Chicken Tinga according to package directions in microwave. When completed, remove from steamer bag.
Crumble approximately half of the Panela cheese in bowl Place bowl of bean mixture, chicken, both cheeses and tortillas in assembly line fashion on prep surface along with four plates.
Begin to assemble quesadillas during last few minutes of sweet potato roasting. Place one tortilla on each plate and sprinkle approximately 1/4 cup of Mexican cheese blend on each. Remove sweet potatoes when done, give them a final stir and put them on assembly line.
Complete assembly of first quesadilla. On top of the Mexican blend cheese, place some of the Chipotle Chicken Tinga, bean mixture and roasted sweet potatoes. Sprinkle with a little more of the Mexican blend cheese and add the crumbled Panela before covering with the second tortilla.
It's important to have cheese next to both tortillas and melting thoroughly with all the ingredients in order to hold the quesadilla together.
Heat skillet to medium heat and add 1 tbsp olive oil. (If using a non-stick surface, the olive oil is optional but it can add to a crispier outside texture.) Carefully place first quesadilla on skillet and heat until lightly browned. You may then very gently flip the tortilla, or you can choose to place a cast iron skillet on top of the quesadilla as it is cooking to avoid having to flip it. (The top will not be browned if you use this method but it will be heated through and melted together sufficiently.)
While each quesadilla is heating, assemble the next one.
When quesadilla is thoroughly melted through and heated, remove from skillet. Let it rest a couple of minutes so you can then slice into sizes of your choosing with less mess.
Serve and enjoy with some Del Real Molcajete Salsa!
If you're a vegetarian or vegan, there are ways to change up this recipe to prepare it in a way that you can also eat. Whatever you do with it, be sure to try and enjoy some of the salsa. It's perfect on top of any type of veggie or chicken chipotle quesadilla. Let me know how you change it up!