Every year, we are one of the hosts of a neighborhood block party. Now, we live on a cul-de-sac, so it's not a huge block party but with all the kids and extended family members and a few special friends that show up, we have a pretty good crowd. It's a bunch of fun people who like to eat, try new beverages and light a few legal fireworks. Everyone enjoys good conversation, delicious themed food and there are a lot of laughs from start to finish.
Because it's a once-a-year deal, we like to make it special. This means a menu that's planned in advance and decor to suit the occasion: stars and stripes, perfect for a stars and stripes party!
But, since it's an annual thing, the pressure goes up each time to make sure it's unique and distinct from the year before. While we can come up with varying red, white and blue foods, desserts and cocktails, we have to ramp up the decorations. We can't just do any plastic plates and utensils, but we have to really make sure that our serving ware befits the importance of the holiday celebration, the playlist is as festive as possible and each person immediately gets the stars and stripes party feel as soon as they walk in the door….or cul-de-sac!
This is where Wayfair comes in to play. Wayfair.com is loaded with entertainment, decor and home goods designed to help you create any atmosphere that you aim for, including July 4th. As a thanks for sharing this website with you, Wayfair compensated me but the words here are my own. (The pictures, however, are theirs! We are up to our necks in prep for a special event next week and I can't decorate yet!)
Our party is held primarily outside, with a series of rectangular tables, a couple of portable canopies and one or two grills. Some of the food is created inside, but other than some drink refill stations and restrooms, we're outside for the duration. We play cornhole, horseshoes, do silly things with three-wheel scooters and play with water balloons. It's always a blast…and of course, the balloons are red, white and blue!
I have a vision of what this year's affair will look like — this stars and stripes party will be the best one yet! Red, white and blue stars and stripes will adorn every table, each buffet, and even the games will be color-coordinated. From glasses to utensils to the lighting, it's stars and strips everywhere!
This American Flag Cotton Table Runner fits both the stars and the stripes criteria. It's also durable enough to withstand the breezes we typically get, and any melted ice cream spills. (This year, we're serving wine slushies!)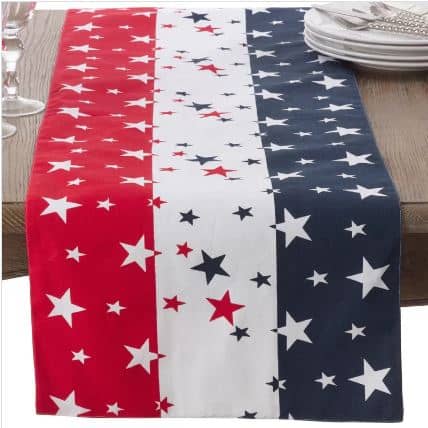 To help anchor the table runners and carry some items back and forth to the house, this Two Piece Tin Star Bucket Set will be split between two of the tables. They are 9″ deep, so I'm thinking one will be used for the water bucket to put out the used fireworks. (Only ground fireworks and sparklers are legal here, so we always keep a couple of buckets on hand for safety.)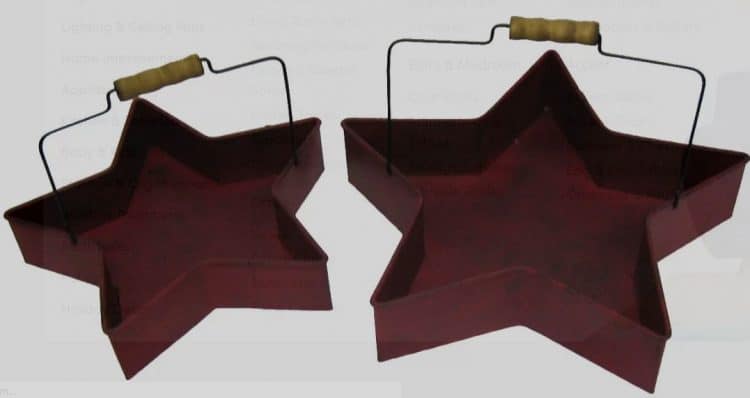 And those wine slushies I mentioned? They will look FAB in these stemless wine glasses that sport patriotic phrases.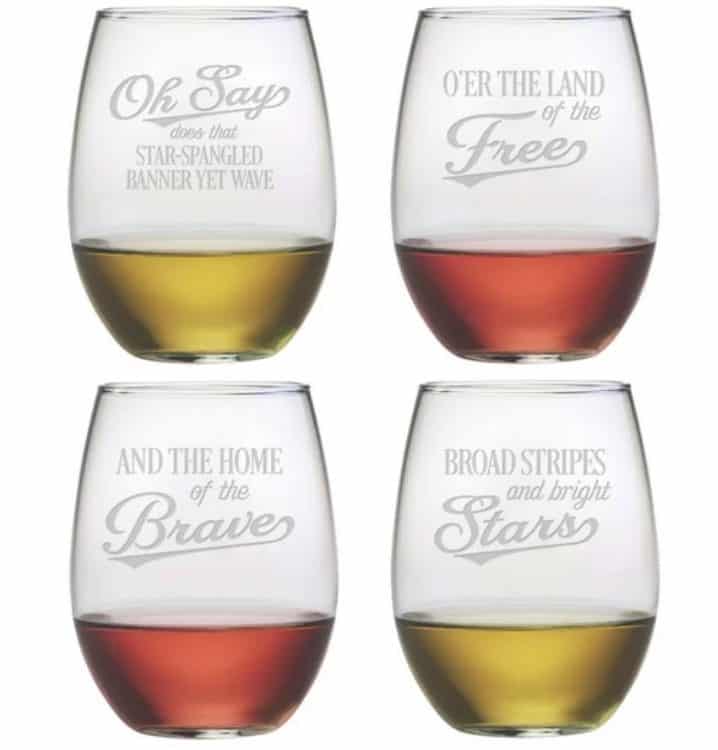 In the spirit of a July 4th parade, the party wouldn't be complete without some bunting. We usually hang it from the front of our garage, since that's our place of entry for the festivities. Our house has a weird front door and we want to discourage people from going to that door, as no one will hear them to let them in! These 3′ x 6′ polyester buntings will create an unavoidable doorway to the beverages and bathrooms, two really important party ingredients, right?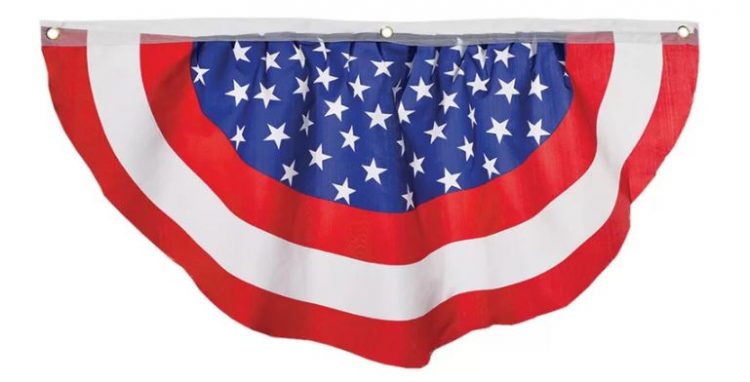 To help line the sidewalk and keep it safe once the sun sets, these American Luminaria Bags will keep people on the right path and still provide a glowing stars and stripes look.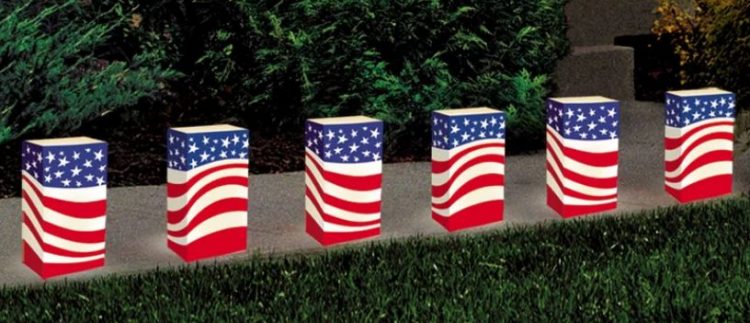 Food serving is easy, with the help of some inexpensive red, white and blue round and rectangle plastic trays I've already purchased. Something inevitably gets dropped so we try to cut back on the possibility of injuries from broken glass. This year, I want to add in these Patriotic Stars and Stripes Food Trays, which come in a pack of 50. These would be especially fun for the kids, but who wouldn't want to eat their party snacks or hot dog out of one of these trays?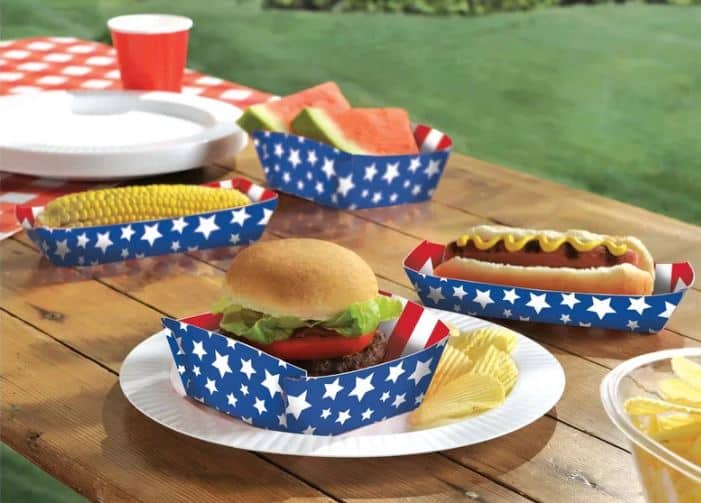 I typically make sangria, which I may not do this year because of the wine slushies — too much alcohol in the hot sun isn't always good — so I'm thinking of making either a fancy iced tea or mint- or fruit-infused water to go in the beverage cooler. This 192 oz. blue dispenser fits right in with the color scheme and even cooler, you can buy multiples, because in the interest of space, they stack!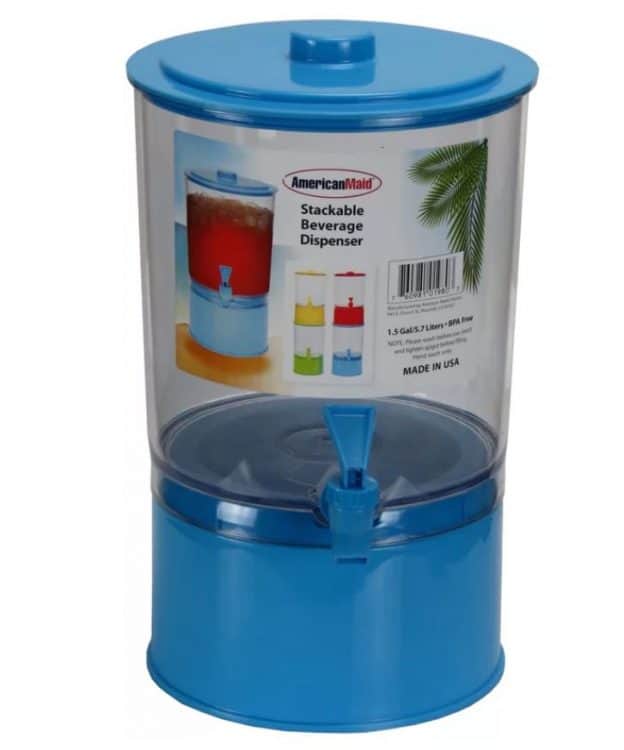 Each year, at every holiday, I try to add one extra thing, something no one else has done, something that makes people say "WOW, I wish I had done that!" We're known for hosting stellar parties, and it can be hard to live up to the hype without breaking the bank. This year, people are going to rave about this amazing Patriotic Stars and Stripes Inflatable Cooler. Isn't it pretty amazing? And it's a great conversation starter, because it is big enough to hold juice boxes, soda cans or beer bottles, ensuring everyone at the party is going to revisit it all day long.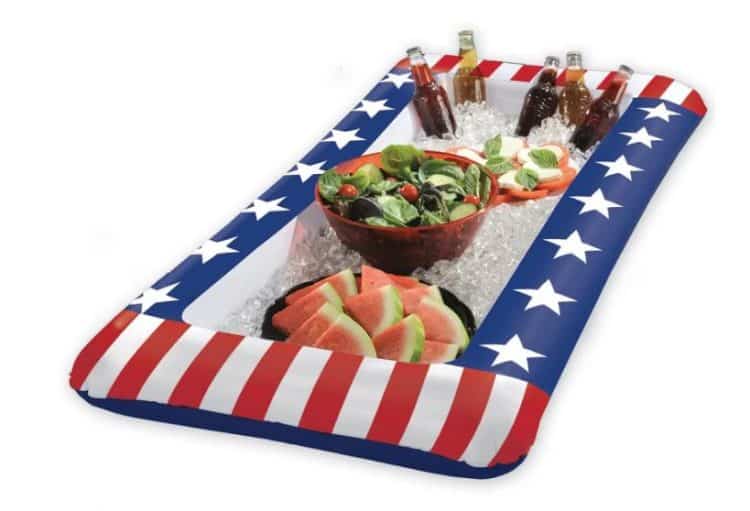 And because everyone loves to take selfies or other similar party photos, I am SO getting this Uncle Sam Photo Prop. For only $9.99, it's totally worth it for the entertainment value!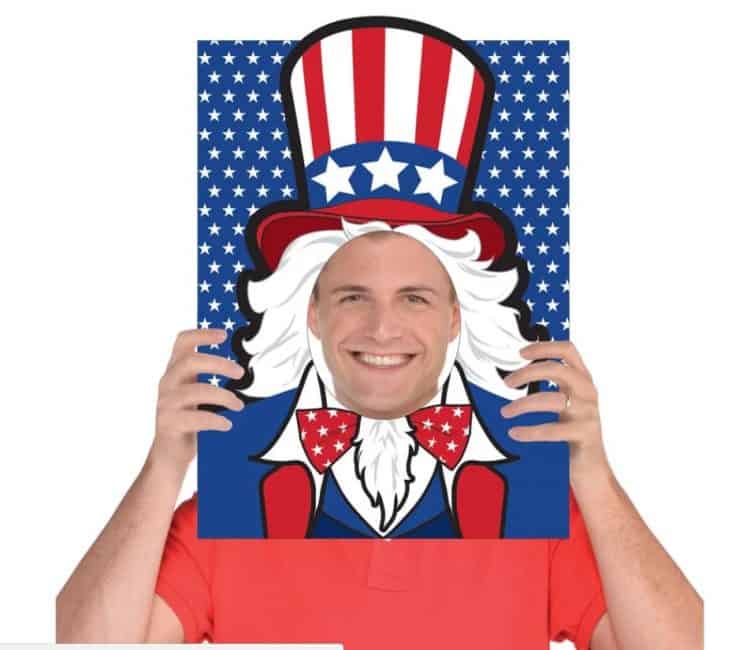 Whether you do a full blown stars and stripes party complete with a firework finale, or you just get takeout and listen to the fireworks exploding from your livingroom, enjoy the holiday and stay safe! (And I'll share some goofy Uncle Sam selfies later!)