Now that I'm back to work part-time, as a freelancer in a field I absolutely love, some days are busier than others, leaving me less time in the kitchen. This means I need to find creative ways to still get a delicious dinner on the table fast…and if I really want to make the family happy, I'll surprise them with a dessert. Thanks to Melissa's Produce, I came up with a super-simple dessert recipe that the family loves: Hot Cinnamon Apple Crepes. It comes together so fast, you can have a dessert in front of everyone in under 30 minutes!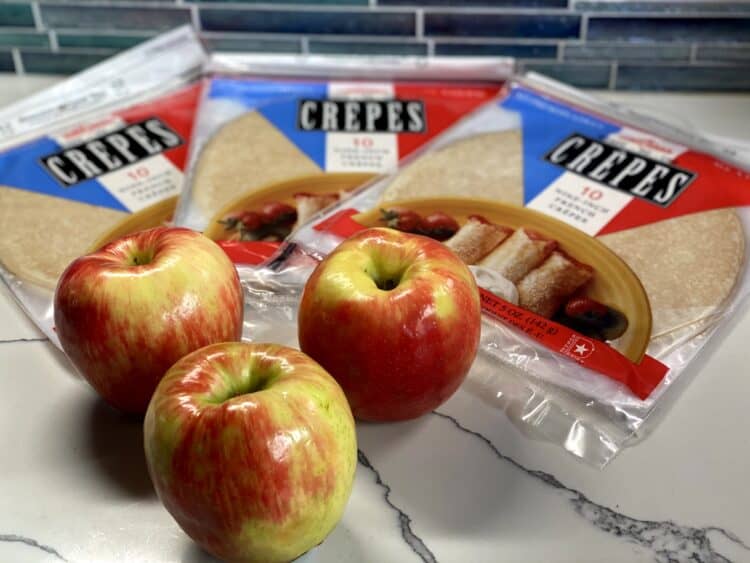 The key to this dessert recipe is using Melissa's remade crepes. They come ten to a package, and they are separated in a resealable bag, so you can use only what you need without waste. They are pliable yet delicate and durable, so whatever format you use for crepes — rolled, flat or folded — these work without tearing. Keep a package in the fridge for spontaneous desserts, because you can fill these with pudding, for a quick treat to make with the kids, or get fancy with any number of fillings, savory or sweet.
Using some of Melissa's Produce apples, also sent to me with the crepes, I made this Hot Cinnamon Apple Recipe with only a few ingredients. It makes plenty of filling, so you don't need to skimp on the filling, and you can decrease the sugar or get fancy with whipped cream if you want to ramp it up.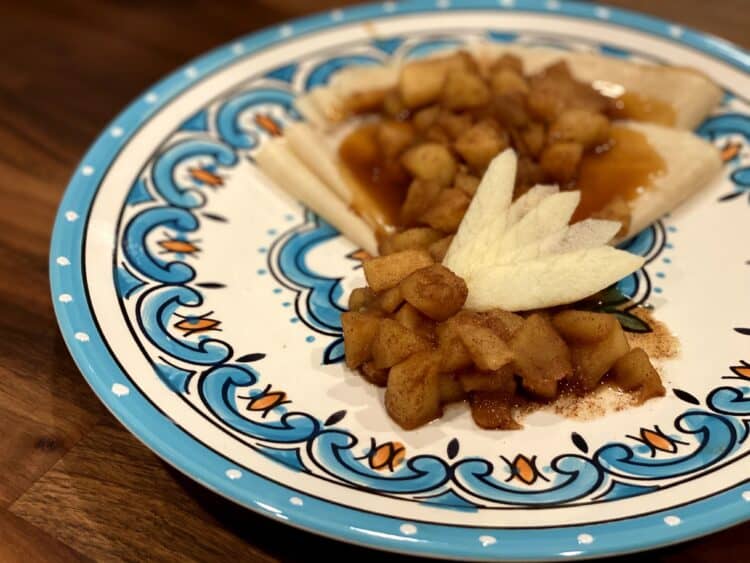 Hot Cinnamon Apple Crepes
4-5 large apples
6 tbsp butter
1/3 cup brown sugar
2 tsp cinnamon
1/8 tsp cayenne pepper
8-10 crepes
caramel sauce (homemade or store-bought)
Place butter in saute pan and melt.
Peel and chop the apples. Mix apples with brown sugar, cinnamon and cayenne pepper until coated.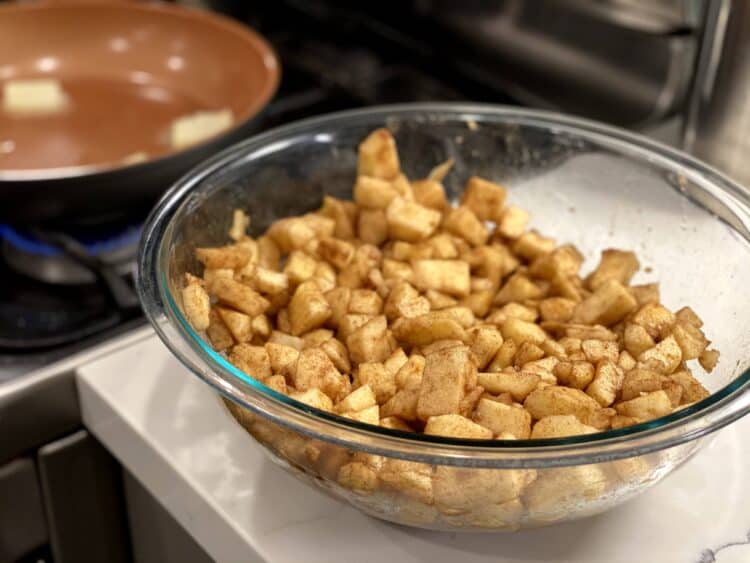 Pour apple mixture into pan, on medium heat, and cook for 10-15 minutes. Heat until they are softened yet still have a slight crunch.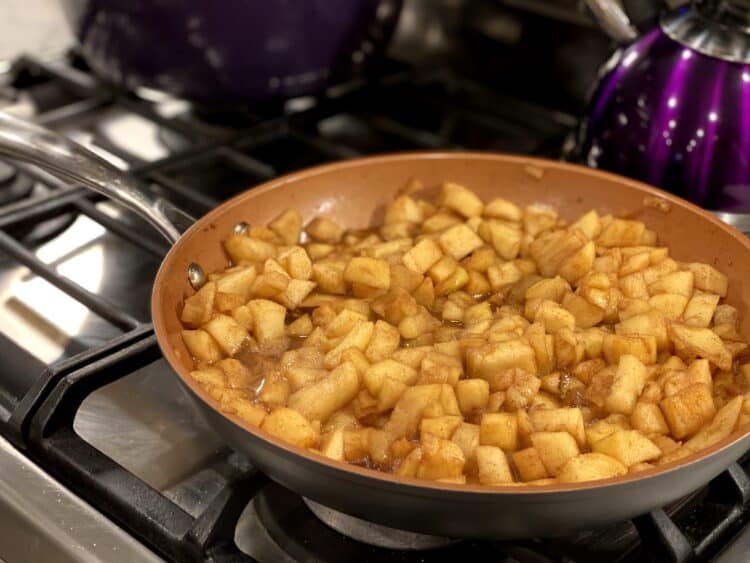 Pour apple mixture into pan, on medium heat, and cook for 10-15 minutes. Heat until they are softened yet still have a slight crunch.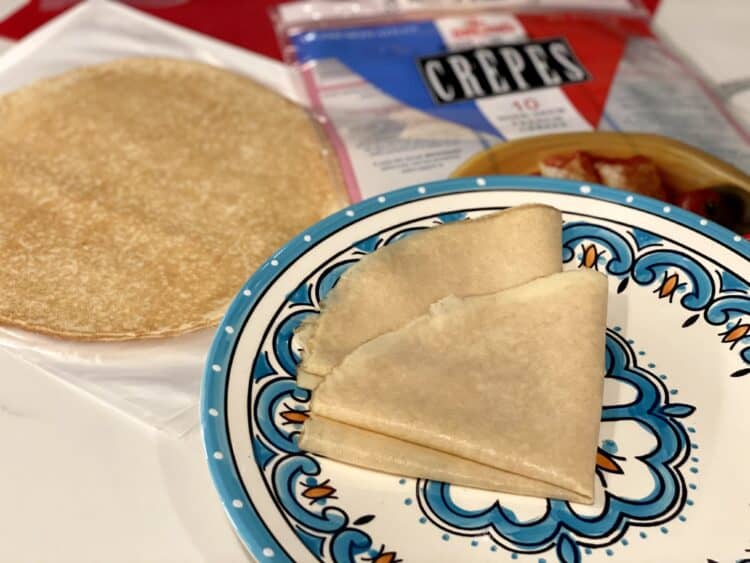 Assemble crepes! We folded, drizzled with caramel sauce and topped with apples. Serve warm.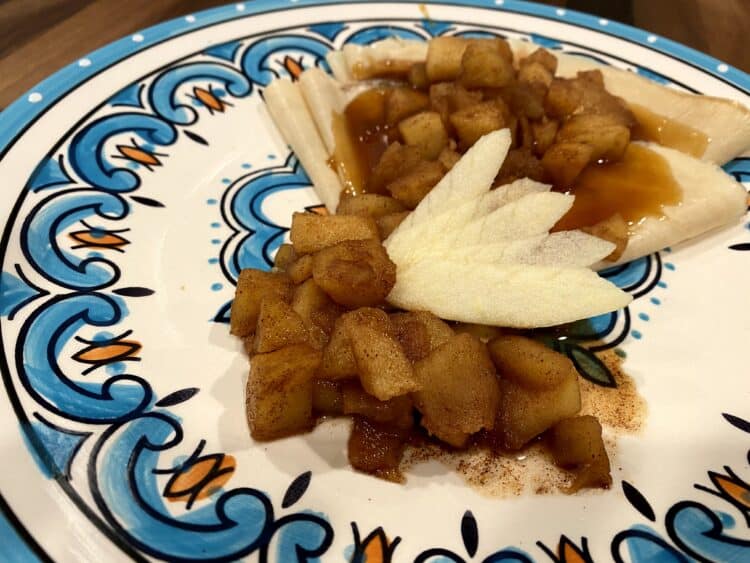 Tip: choose a type of apple that is crispy and tangy. The flavor will be better and the apples will retain a bit of a crunch rather than getting mushy. You can also do a similar type of filling with other fruit, like pears or peaches.
If you want to add an extra kick of flavor, add 1/2 tsp of almond extract or 3 tbsp of DiSaronno liqueur after cooking.
I love spicy food and I keep a wide variety of spices in the pantry that help ratchet up the heat level in things from snacks to entrees to desserts…and it helps keep our desserts just a little unique without being more difficult.
Check out the variety of produce options at Melissa's Produce and see what new recipes you can come up with!