Before I launch into how to host a Daytona 500 party that your friends will be looking forward to each year, let me tell you a little story. It starts here and ends with the creation of a new tradition.
Back in 2005, the husband was given tickets to sit in the FedEx suite at what was then the California Speedway here in Fontana for the Spring NASCAR race weekend. We were NASCAR novices and little did we know that the weekend would be the beginning of a new obsession. Fast-forward 12 years later and we're diehards who count the days between the Homestead race in November and speed weeks in February. Every year, we host a Daytona 500 party. We serve fellow fans race-themed food amidst checkered flags, loudly cheering on our drivers and sharing excitement about the upcoming NASCAR season. Each year, the guest list grows and our menu changes, but with a little preparation, we're able to do it without breaking the bank.
Here are my tried and true tips on how to host a Daytona 500 party for the ages!
A Daytona 500 party is similar to other parties in that you'll need the basics: food and beverages, themed decor and things to keep the guests busy. A race party hinges on being able to watch the race, so the obvious requirement is one that could break the bank, so we're going to assume you've already got a TV large enough for all your guests to watch. Bonus points if you have a Bose or other sound system that makes you feel like you're at the track. Seating within view of the TV is another big deal, but given that NASCAR fans don't need fancy, we've even used camping chairs. It feels just like tailgating!
Decorating with a race theme really gives you so many options! The fun begins as our guests walk to the front door of our home, as we turn that long sidewalk into a race track. We line the concrete with black plastic tablecloths, secured with tent pegs and/or black or grey duck tape. We use other colored duck tape to mark pit road, with orange cones signaling the entry and of course, the front door is the finish line. One year, it rained heavily at the beginning of the party, so the husband played jet dryer by clearing water off the 'track' with a blower while dressed in gear from our driver.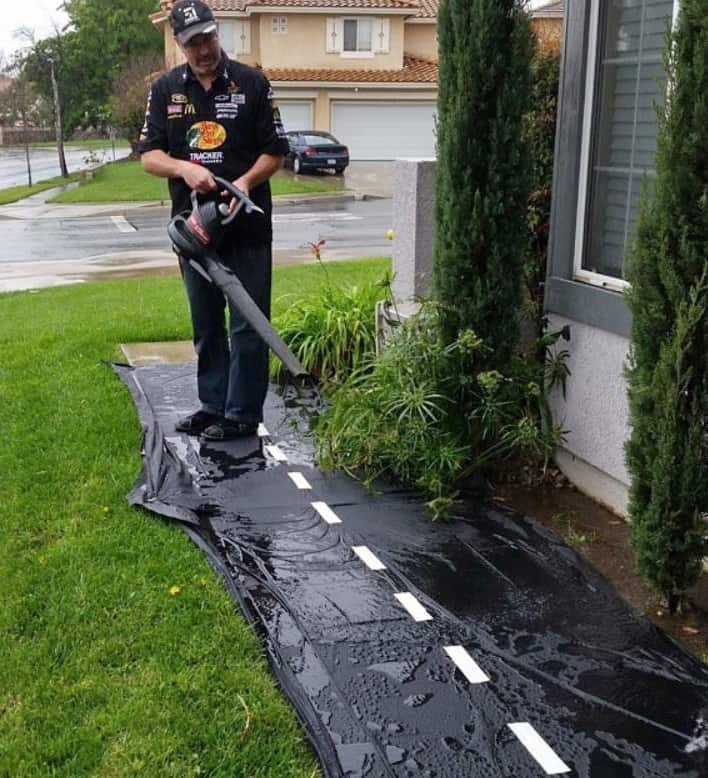 Years ago, I made a quick trip into Party City and purchased a plastic tablecloth that looked like a city with streets. (Links to products are affiliate links and may result in me getting a little money if you buy, fyi.) We've re-used it so many times, I worry each year that it will be the last party but with a little care, it's still going strong.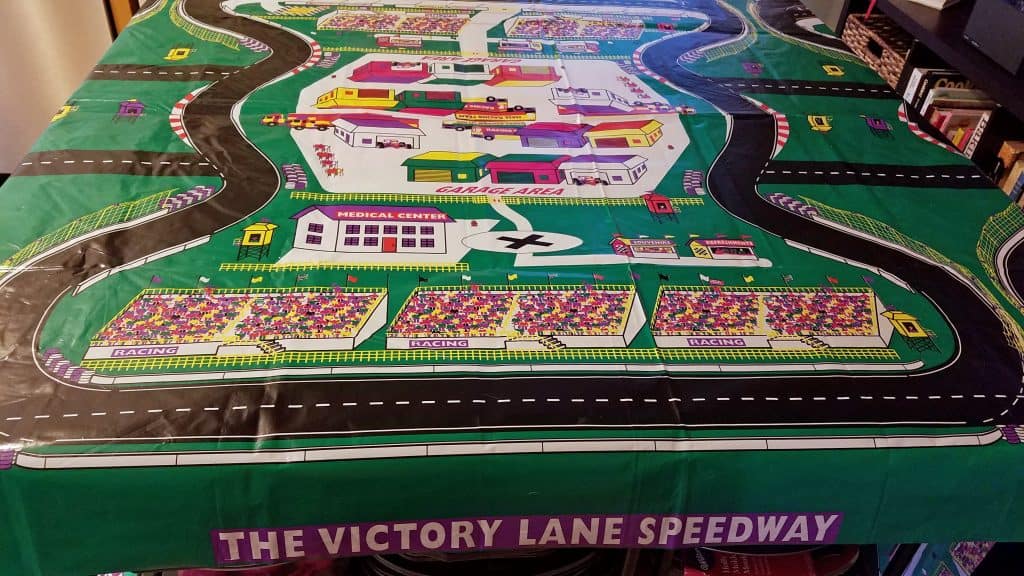 We place miniature race cars (think Hot Wheels or Matchbox) onto the table, adding a little whimsy to your buffet. Checkered-flag paper plates and cups add to the look, and for fun, we purchase napkins at the dollar store in the color of flags: start, caution, black and red. This tablecloth is pretty cool, too.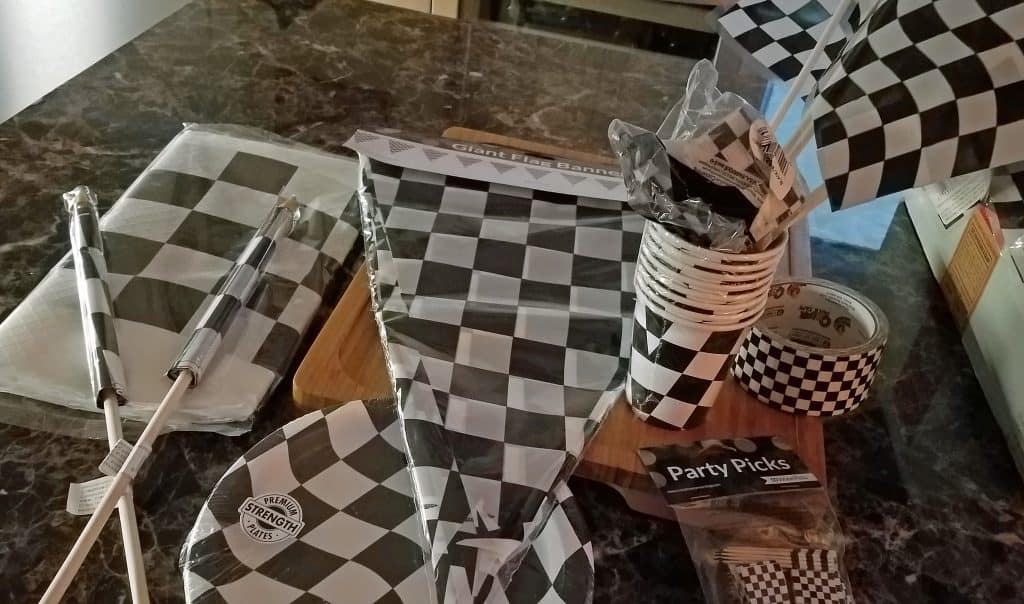 The same trip that yielded the table cloth also gave us the checkered-flag banners and actual flags. These too have lasted over a decade and are now an expected staple at all our parties.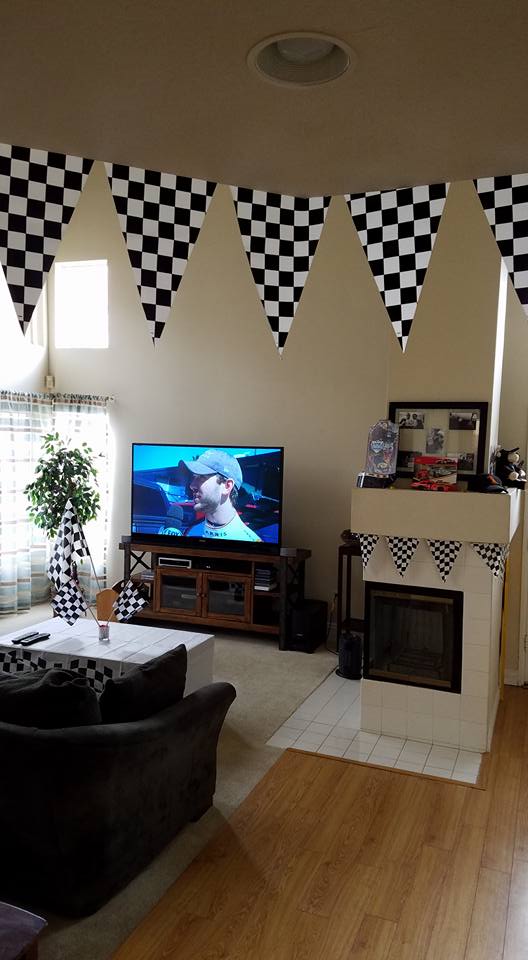 Daytona 500 party games have to be race-oriented, but that leaves you so many choices! Here are a few of our favorites:
Purchase a table cloth with a race track or roads on it. (You can find them here.) If you can't find one, they're very easy to make with a plain color tablecloth and a sharpie. Have every guest choose a race car to represent them; it's even more fun if you can pair them with a race driver they like. Each guest chooses a race term, and each time it is said by a commentator, their car moves forward one car length. Whoever crosses the finish line first, or gets the closest, wins a prize.
Pin the steering wheel on the car! Yes, it's exactly what it sounds like. Everyone gets a steering wheel and while blindfolded, attempts to affix it to a car on the wall. Whoever is closest to the correct placement wins.
Choose the race winner! This is very easy and takes zero preparation or supplies other than a prize. This game is fun because while people of course want their own driver to win, they may actually pick someone else who is known to do better at this track.
Hot Hat — sounds silly and it kind of is, but that makes it even more fun. When the race starts, everyone is wearing the hat of the driver they like, want to win or just has. (This way, you've minimized the chances that anyone has to buy a hat as most NASCAR fans already have one.) Every time a commentator says "And we have a new race leader", everyone swaps hats with someone else. The only rule is that you can't swap back and forth with the same person consecutively. There are two winners to this game: the one that ends up wearing his own hat (so be ready, there could be a tie) or the one wearing the race winner's hat, which won't always happen.
Trivia games can be a great way for people to show off their skills. Give everyone a pad and pen and ask them to quietly write their answers — or let all heck break out and ask people to answer the fastest. I go with the paper/pen route, our group can be pretty competitive. Ask what terms mean, who won how many championships, what color is x sponsor, just have fun with it!
And last but not least, silly sentences for the win: keep a bowl of popcorn on the table and give everyone their own small empty bowl. Each time they are talking to someone and manage to wind in a NASCAR-related term, like "loose coming out" or "pound of wedge.."…and I know, these can make for some interesting sentences but the terms are legit, they grab a piece of popcorn and put it into their bowl. Whoever has the most at the end of the race wins!
Daytona 500 party food doesn't need to be fancy, but race fans can get hungry so be sure to have enough. Sweet, salty, spicy, we cover all our bases, all the way through to dessert.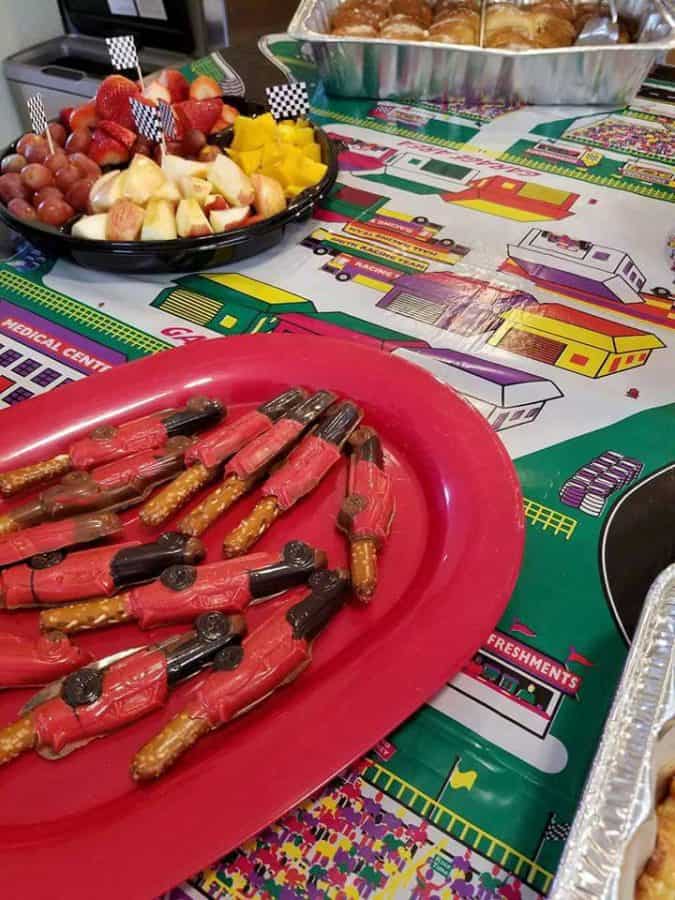 One big hit that makes it onto the table every year is a chocolate-dipped pretzel shaped like a race car. Using this Wilton mold and some meltable chocolate discs, this treat is easy to make and for approximately $8-$12, you'll have a unique dessert. Go one step further and decorate the pretzel cars with the colors or numbers of the drivers your guests are rooting far. (And if you happen to make too many with your driver's number, that's totally okay, and maybe even expected.)
Food can be any party staple or favorite. We host quite a few race parties throughout the year, so we use the track as a theme if we can. If we were hosting when the Martinsville race is on, we'd have hot dogs. Darlington? Pulled pork. Sonoma? Grapes and wine. It's really all about what you and your guests will like. This cookbook has a lot of fun ideas created by NASCAR people.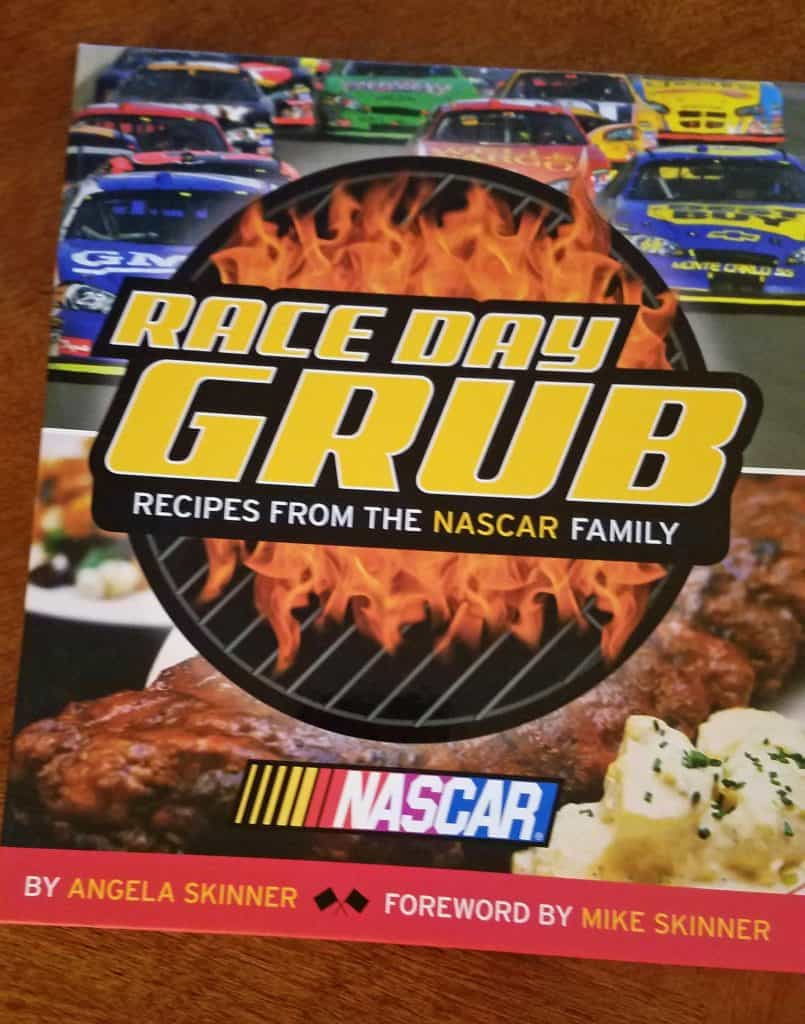 Get creative with your Daytona 500 party supplies!Decorating the food and beverage tables is always one of my favorite things to do. Checkerboard crepe paper swirls and balloons the colors of caution flags brighten up any area. Labels printed on cardstock or cut with a Silhouette Cameo 3 allow for heavy personalization and creativity with labeling food.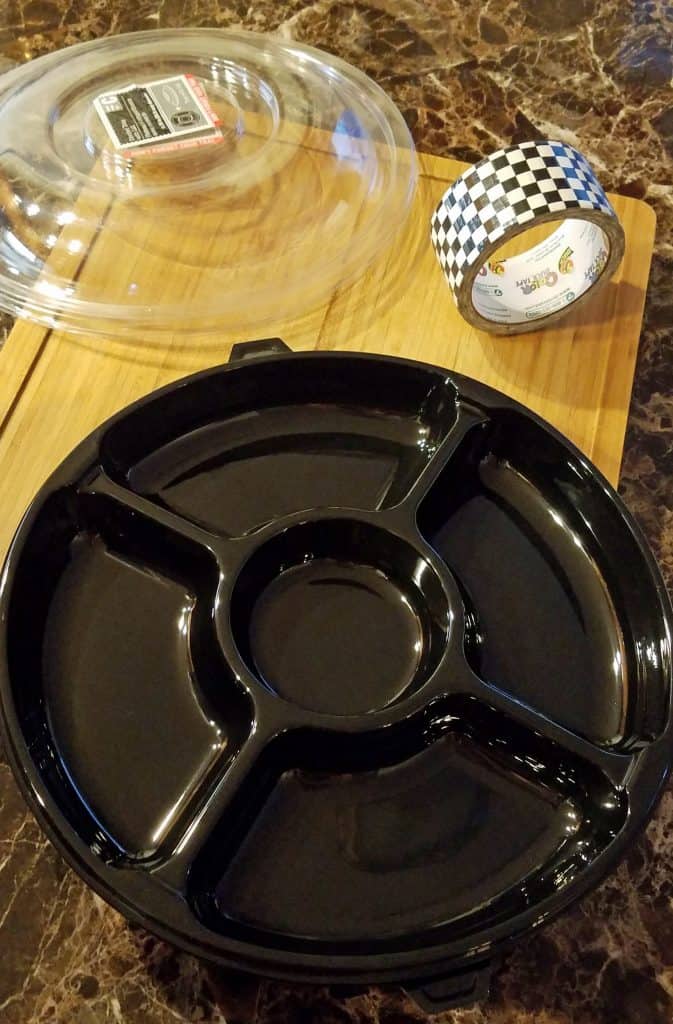 Big round black serving trays from the dollar store look like tires. So do Oreos. Pretzels and cheese blocks are jacks. An apple cider punch (which may or may not be spiked with Fireball or another whisky — after all, NASCAR roots and 'shine) can be labeled Sunoco Fuel. Bacon-wrapped items can be lug nuts. It really is just about having fun and putting your own spin on things. The more you are into NASCAR, and the more familiar your guests are, the more inside jokes you can use. Food doesn't all need to be elaborate and store bought isn't a no-no, so don't feel you have to be spending hours on food prep.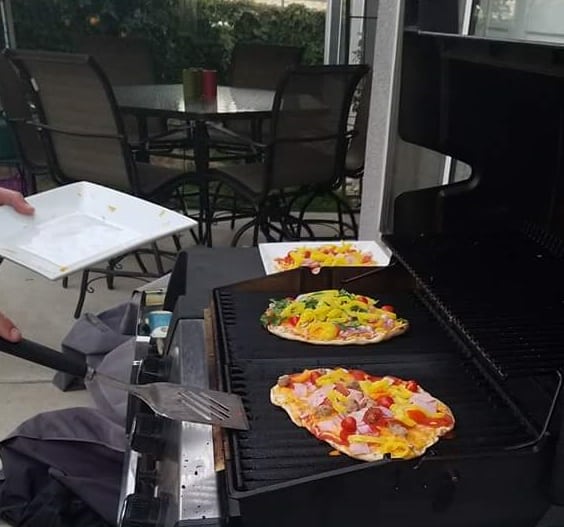 This year, we're serving individual grilled pizzas. I make the dough ahead of time — round, of course — and stack it, oiled, in between wax paper. The husband will grill them to the proper consistency, and then each guest will create their pizza on their own. "Pit road" will offer a long line of sauces and cheeses and toppings, all labeled with a bit of silliness in keeping with things found on pit road. They can place it on the barbecue table, then refill their gas tanks while waiting for its second turn on the grill. Various sides and snacks will be on the main table next to those infamous pretzel sticks, too.
One other fun activity before the end of the party is for everyone to get their picture taken in Victory Lane. A checkerboard tablecloth on the floor, a trophy and whatever other decor you want to represent the track is all you need to give each guest an individual memory.
If you're worried about how to host a Daytona 500 party, don't. As any NASCAR fan will tell you, it doesn't need to be fancy. It's a fun sport with a lot more class, knowledge and money involved that people think, but we really are all there just to have a good time. Yelling for our drivers, laughing with our friends and just enjoying a sport we love is all that it's about. That will happen whether you have pizzas delivered or you steam crab legs and serve homemade sushi.
To stay organized, create a few lists — one for food, one for games and one for decor. My style is to use the front of a piece of paper for what I want to make and do, and on the back, write the list of all the items I need. I then use those three lists to combine one master list for the stores I need to get to. A typical party requires I visit Party City, Target and the grocer. I cross-check the lists to make sure everything on the three separate lists make it onto the main list, and then it gets stuffed into my voluminous purse for the shopping trips. I use Alexa if I'm walking around the house and randomly think of something; when I get to the store, I can double-check the Alexa app to make sure I miss nothing. Technology is amazing!
If you're on a budget, you can also use those lists to break down areas of concern to see what is required and what's optional. Assign tasks to others, so you're not out front putting together the race track on the sidewalk when you should be setting up the food table. For even more organization, at the risk of sounding OCD with it, I keep a manila folder for the lists. (That's just a good tip that works for any party hosts.)
Planning the Daytona party food and party supplies should be a fun prelude to the party. Don't let it stress you out, but plan early for the best selection without worry of shipping delays. However you do it, have fun!
Now let's go racin', boys!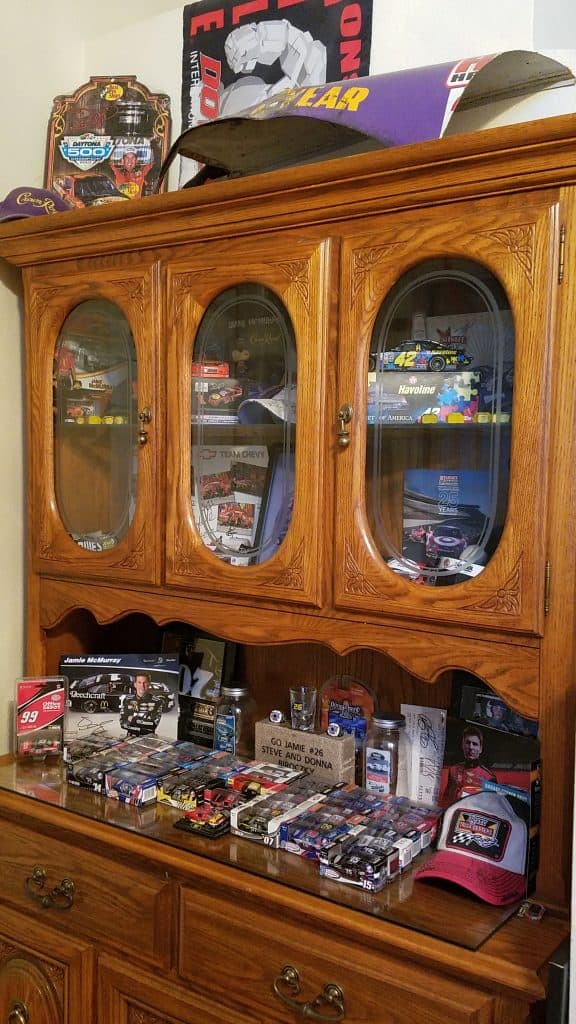 If you have more tips on how to host a Daytona 500 party, comment and share them below! Daytona, baby!