We're smack in the middle of the 2023 NASCAR championships and it's hard to believe that the 2024 NASCAR racing season is only a few short months away. If you haven't yet been to a race at the Los Angeles Coliseum, now's the time to purchase your tickets! Not only will you see a premium racing show on the short track that defines "short," but there's a new addition to this year's exhibition.
NASCAR announced today that a NASCAR Mexico Series race on Sunday, Feb. 4, will precede its season-opening exhibition featuring the stars of the NASCAR Cup Series, the third-annual Busch Light Clash at the Coliseum. That means fans can enjoy two great races in one day inside "The Greatest Stadium in the World."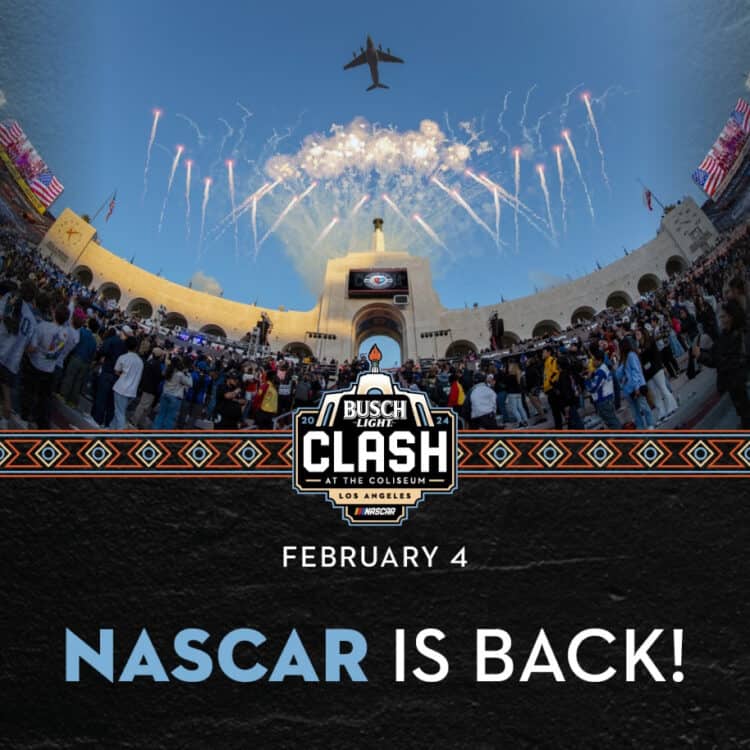 "This is a tremendous win for our fans and our sport," said Ben Kennedy, NASCAR's Senior Vice President, Racing Development and Strategy. "Not only will the fans see the stars of the NASCAR Cup Series in action, they will also bear witness to the talent and skill that is found within the NASCAR Mexico Series. I can't think of a better way to begin our 2024 season."
NASCAR has opened its season with the Busch Light Clash at the Coliseum for the past two years, an international stadium that's hosted two Super Bowls, two Olympics, a World Series and countless other major events over the past 100 years. Even if you've been to the Coliseum before, there's nothing like the sound of roaring engines with views of downtown LA.
"This is an incredible honor for the NASCAR Mexico Series and its drivers," said Jimmy Morales, President and General Manager of the NASCAR Mexico Series. "The competition in our series is always intense, but I know our drivers will want nothing more than to become the first Mexican driver to win inside the Los Angeles Memorial Coliseum. This is going to be a race we will not soon forget."
If you're unfamiliar with the NASCAR Mexico Series, it began in 2004, and three years later, it became NASCAR's first internationally sanctioned series, competing on nine major tracks tracks throughout major cities in Mexico. In fact, 2016 NASCAR Xfinity Series Champion Daniel Suárez began his stock car racing career in the NASCAR Mexico Series in 2008.
The list of NASCAR Mexico Series drivers competing at the Coliseum on Feb. 4 will be announced at a later date, along with the full day's schedule of racing and entertainment. NASCAR on FOX will once again broadcast the Busch Light Clash to set the stage for the 2024 NASCAR Cup Series season. The NASCAR Mexico Series race will be broadcast on Fox Sports 3 in Mexico, and available pan regionally on Claro Sports and the D Motors channel on DirecTV.
A single ticket purchased is good for both races, and tickets begin at $65, with kids 12-and-under at $10. Fans who want to take their race-day experience to the next level can upgrade to the NASCAR Pre-Race Party, which includes brunch, cocktails, musical entertainment, surprise guests and more! It also includes track walk access, signing the start / finish line and exclusive on-track photo opportunities. Fans are encouraged to get their tickets now while supplies last by visiting www.nascarclash.com.
For more info about the Clash experience, read my post about our day at the LA Coliseum in 2023. I also had the absolute pleasure of attending in 2022, and I can't wait to add 2024 to my list of races. If you're a NASCAR fan, you need to attend at least once. It's not your typical NASCAR race, and there are no points because it's not part of the regular series, but it's a fun way to introduce someone to the sport. Plan ahead — parking may take some time, and the earlier you get there, the easier it will be to park and beat some traffic — but there are photo opps, driver appearances, and of course, race gear and food. There isn't a bad seat in the house, and the ticket prices make it affordable to everyone. Hope to see you there!