If you've spent any time here on the blog or on my social media platforms, you know how much I love cars and racing. We've followed NASCAR since 2005, I drive a Dodge Challenger SRT8 392 on the daily and if it goes fast on four wheels, I want to watch. The smell of burning rubber can make my day (as long as it's not necessarily me having to replace my Pirellis) and the wind coming from cars whizzing by me at the track is a feeling I'll never tire of.
When I was contacted by SVRA (Sportscar Vintage Racing Association) a couple of weeks ago for their Feb 7 – 9 point race at Auto Club Speedway in Fontana, I quickly replied with an emphatic yes. This was my first SVRA event, and the opportunity to watch a different group of drivers — drivers who mainly pay their own way, racing purely for love of the sport — get behind the wheels of their very unique, and varied, automobiles, was something I didn't want to miss.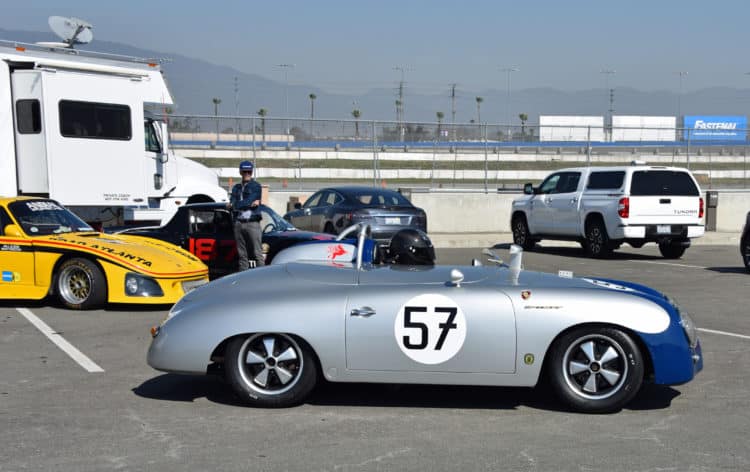 The race that weekend was on a road course, on and around the actual Auto Club Speedway track, was 2.88 miles long with 21 turns, lasting about 30 minutes. Entrants get garage space for only $275 for the weekend, making it affordable to enter your car. Awards were given out to winners on Sunday in the SVRA Winners' Circle, which I unfortunately had to miss as I had a pre-planned trip down to San Diego.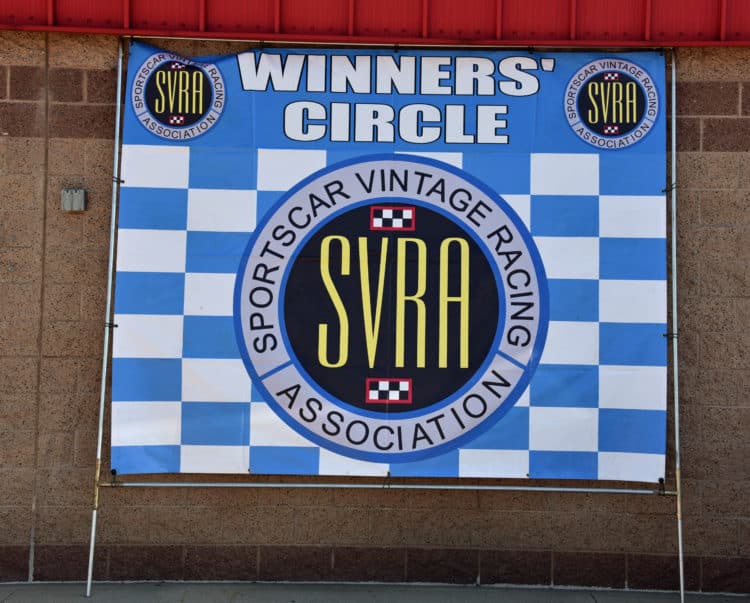 My all-day access to the garages and track gave me up close views on the inner workings of race day practice and prep. It gives you a new appreciation for what's involved in getting a team to the track and running in the race.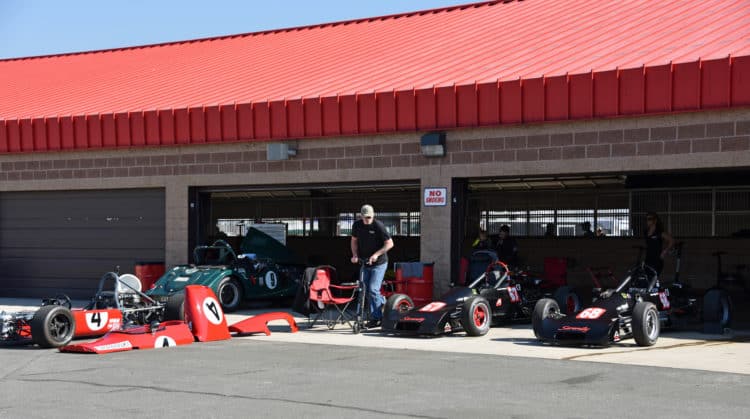 Driver Kim Madrid Shares Advice for Other Females Interested in Racing
I also got the opportunity to meet driver Kim Madrid of Formula Ford racing. A fellow Rancho Cucamong-ian, she is an inspiration to female race car drivers everywhere and it was a pleasure to meet her. Kim started racing in 1997, after being raised around autos her whole life, as her dad raised her and he was a mechanic. She was always around the mechanical part of cars, but never racing.
She started with dirt bikes, quads, then motorcycles, but realized she preferred four wheels, which led her to open wheel cars in 2004. She started out in a production car, and her kids have grown up with mom being involved in racing. In fact, her 31-year-old daughter travels to all her races with her, making a true family affair.
Right after I arrived, Kim's car had been hit by a flying cone that went up the nose of the car, took out her mirror and hit her in the head. Open wheel racing is no joke, but Kim was fine and ended up fixing her own car before getting back out on the track for practice. She does have a couple of sponsors but mainly product, which is a definite help when you're footing the bill for travel and the other costs of maintaining a race car and being part of a team.
She is a leader for Formula Ford and was sharing that the team of drivers are also a family of sorts, jumping in to help each other. When you're out on the road, thousands of miles from home and something breaks, being able to share with your fellow drivers can make or break the experience while providing enviable camaraderie.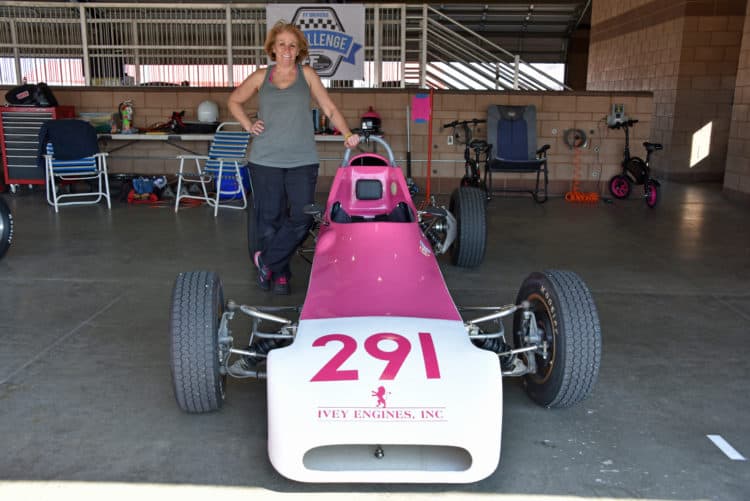 Every driver has a favorite track, and Kim's is Watkins Glen, New York. That track is also a road course set in the gorgeous Finger Lakes area of upstate New York. (I grew up not far from there and only wish I'd gotten to attend a race before I moved away!)
I asked Kim what her first piece of advice would be for someone considering entering the sport. Her response is a good one: do some ride alongs before you make a commitment to be sure you really like it. She'd done one when she was younger, at Willow Springs in Lancaster, California. The track was muddy and messy and they ended up sliding off. The driver apologized to Kim for the experience, but she was exhilarated, it was "better than any rollercoaster ride I'd ever been on" and she wanted to do it from that point on.
"Women can do this just as good as a man." Parting words from Kim that need to be shouted from the rooftops, so for any fledgling drivers out there, or women interested in racing, don't let anything stop you!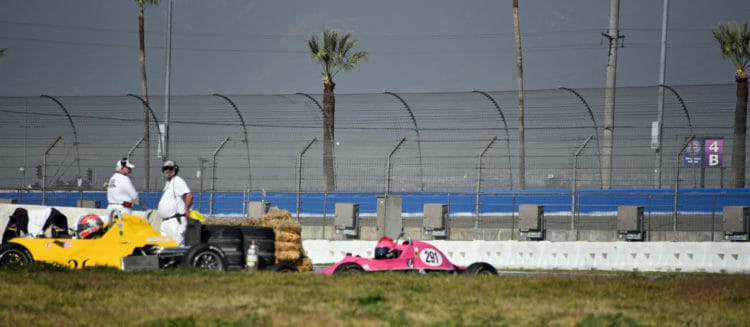 Last, but not least, I was treated to a couple of hot laps on the road course. The pace car driver took me out in the Mercedes convertible and we hit speeds of 85mph. It was completely exhilarating as we sped through the straightaways, braked hard into the corners and did it again. I wish I'd gotten his name, but you can hear his advice on my video below. (Thank you so much for that thrill!)
If you're a racing fan or a car lover, this is a great family-friendly event. Tickets are affordable, with kids 12-and-under getting in free. Concession stands are available, or you can pack in your lunch, beverages and chairs. Spend the day with your family and feed your car obsession with up-close access like I had!
Thank you to SVRA, driver Kim Madrid and Auto Club Speedway for inviting me to attend the event as media! I'm always excited to cover automotive events, and this one was even better with the addition of the interview with Kim.
Sometimes we moms get lost in parenting for so long, we struggle a little to find ourselves. We don't always get back to things that make us who we are, and it's so important that we don't let that happen. We're moms forever once we have kids, but we're also people who need to have interests, hobbies and careers that fulfill us when we're no longer needed 24/7 by our kids. Kim is an amazing example of a badass woman who took her interest, made it work within her family structure, and is thriving. I'm so glad we had the chance to meet, and I'll be following her going forward. You can find her on Facebook at Formula Ford and SVRA.
Keep an eye on the SVRA website for information on future events that may be happening close to you. They're one of the oldest organizations in vintage racing and they have a national presence. They also offer unprecedented access to vehicles in the paddock that other major racing events won't allow, at major venues such as Indianapolis Motor Speedway, Sonoma Raceway, Circuit of the Americas, Watkins Glen and more. Legendary cars on legendary tracks. Try it out and I bet you'll be hooked. There's nothing like auto racing on any level.