Twenty-five years ago, my daughter was almost two years old. I worked at home and she was alone with me during the day as our two older children were in school. One day, we started watching this new show with an adorable little blue puppy. Before long, my daughter would start pointing at the tv and saying "Teve! Boo!" And so it began. All these years later, we're celebrating the Blue's Clues 25th anniversary with the world…and we couldn't be happier about it.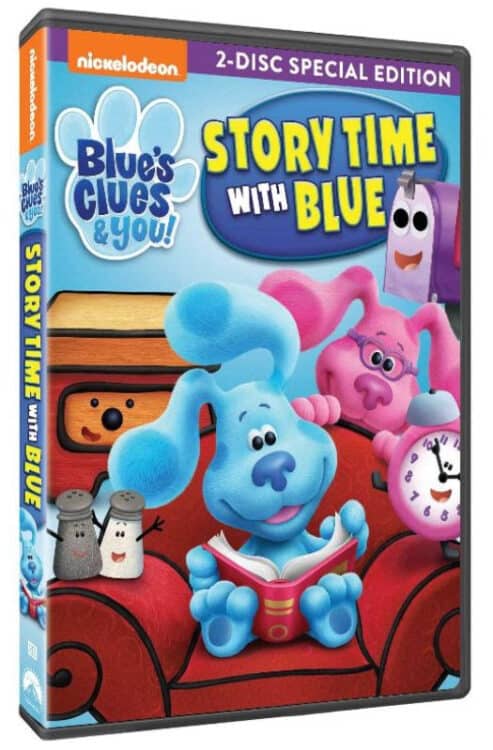 Thanks to Nickelodeon, who sent me the Story Time with Blue 2-disc special edition DVD set from Paramount Home Entertainment and Nickelodeon Home Entertainment, I can now introduce my two-year-old granddaughter to the world of Blue. This special set is available as of September 14 and is full of so many fun moments with Blue, Steve and other memorable characters from the iconic series.
Enjoy attending a pajama party with Blue and her friends, discover Blue's favorite part of bedtime and dance to that infamous "here's the mail, it never fails…" song we all got stuck in our heads and couldn't get it…and we secretly enjoyed it.
Here's the full breakdown of what is on this DVD set.
Disc One – Blue's Clues & You! Story Time with Blue: (runtime 1 hr 30 mins)
Episodes:

Story Time with Blue
Blue's Big Imagination
Pajama Party with Blue
Sleepy Singalong with Blue

Special Features:
Disc Two – Blue's Clues: Blue's Biggest Stories: (runtime 4 hrs 46 mins)
Episodes:

Blue's Big Birthday
Treasure Hunt
Blue's Pajama Party
Magenta Gets Glasses
Steve Goes to College
Blue Takes You to School
The Legend of the Blue Puppy
Blue's Room Snacktime Play Date

Special Features:

Blue's Memory Photos
Blue's Room Shorts
I watched Blue's Clues with my daughter every.single.day. For years. She owned every piece of Blue's Clues attire we could get our hands on, including shoes, underclothes, dresses, pajamas and more. We even created 50 handmade Blue's paw prints for her 5th birthday party. Then there was that MOST AMAZING TIME she won the random drawing of a handwritten mail to Blue. She'd spent so much time at home, decorating the mail, writing a letter and making sure it was perfect. When her name was called it was the BEST. What a memory!
Pick up your copy of Blue's Clues 25th Anniversary DVD set today and relive your childhood or enjoy flashbacks with your kids!