Avengers, assemble! Hear it once again when Marvel's latest Blu-ray release hits the shelves on August 13, along with Endgame deleted scenes and gag reel!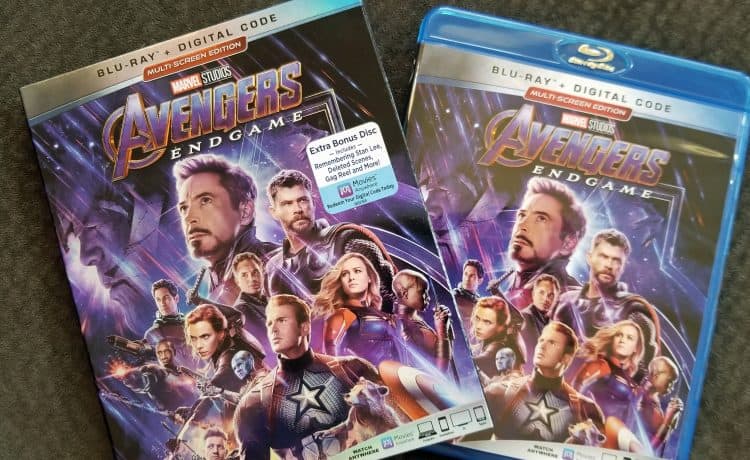 The acclaimed 'end' of the Avengers, Endgame, is a three hour long movie that will have you glued to your seat. (Seriously, hit up the restroom and your kitchen first so you have beverages and snacks ready. There really is no 'good' time to take a break or pause, because the movie goes that fast.) From its opening scene, which picks off exactly when Thanos snaps his fingers at the end of Infinity Wars, though in a different environment, Marvel takes you on a thrill ride of action and emotions.
As the Avengers head towards the ultimate goal of killing Thanos, their fractured team of superheroes has to work together in a new way. They not only want to try and bring back their fallen comrades and the rest of society that Thanos wiped out, but they want to find themselves again in life as they now know it. Their sense of family has tightened and relationships deepen and change, yet they aren't really sure who they are.
Cap has found himself the leader of a therapy group of survivors, and Black Widow has taken on a Nick Fury-type of role, a job she takes seriously as she strives to find where her best friend Hawkeye has disappeared to. Captain Marvel reappears, inspiring the group to find Thanos and attempt to take him on once again, and other Avengers are brought back into the fold in humorous and emotional ways. Ant-man just showing up at the gate, after his five years in the quantum realm is perhaps the funniest.
My personal favorite has always been Thor, and his reintroduction in Endgame provides comedic relief in a way you won't see coming. The fight with Thanos, and its results, take a toll on him in a way no other Avenger experiences, and we get to see him in an entirely new light. Some of his lines are the funniest in the movie, though "Idiot in the landing zone," uttered by Nebula, will forever have you thinking of tiny tacos in the hands of a grinning Banner-Hulk.
As the Avengers re-unite to try to undo Thanos' decimation, they face new challenges but with a group mentality of "We owe it to everyone not in this room to try."
Game on.
Endgame is action-packed, has a few words in it that may make parents blink for a split-second, and there are more than a few scenes that will make you teary. Their travels through time allow to reminisce and wonder the future of certain characters (cough, cough, Loki, cough) and make you wonder what you'd say if you had the chance to visit a parent who has passed or how you help a devastated friend.
If another Marvel movie deserves a nomination, this is it. Stellar special effects, the same amazing cast and a closure to a 10-year story line make it my pick for movie of the year….and that's not just because of my obvious obsession with all things Marvel. My reviews are spoiler-free so I won't share many details here, but I did a blog post about the Endgame cast interview a few months back that you can read about for more info here.
Order your copy today, or head to the store on August 13. The Blu-ray has a special tribute to Stan Lee, Endgame deleted scenes and a gag reel that will have you laughing…something you'll need to do after you watch the entire movie. I watched it again last night and it still got to me. (I also noticed a lot of new things, so that alone is reason to watch it multiple times!)
It's already out on digital if you just can't wait, too. I may or may not have purchased that already because I didn't want to wait for the Blu-ray!