Today's post written by Devon!
If you've already read my recent post on Wednesday about Disneynature's latest True Life Adventure film, "Born in China," then you already know that this is a beautiful, educational film about all these amazing species that reside in the deep lands of China. This movie comes to theaters today, April 21, and I had the opportunity to interview Roy Conli, the producer of this film.
Known to many people for his work on "Big Hero 6" and "Tangled," this was the first true life adventure film he has worked on so far. He tells us about how he originally was working in the theater, and about 24 years ago, he started working on these animations, and has done multiple since starting. When interviewing him, he gave us tons of information about what happened during the making of this adventurous film.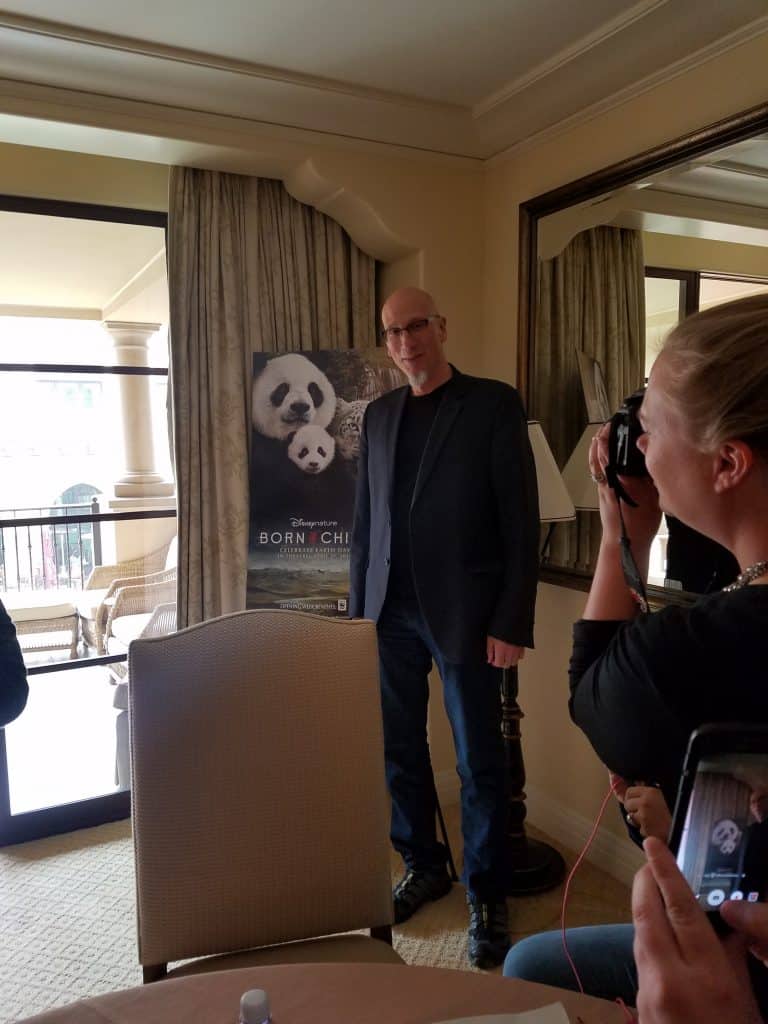 First, he explained to us the difference between working on animation films, versus working on nature films such as this. With animations, you start from the very beginning; building a story board, scripting, building it up as it goes along. However, with these nature films, you start slowly. When they first arrived in all of these different habitats, they first began by journaling the animals' behavior, taking videos of them, and becoming overall more familiar with each of these creatures. From there, he credits a lot of the story creating to Lu Chuan, the director of "Born in China." The story is international, in the way that it was able to be relatable and touch everyone's hearts. He explained how they wanted to use the cranes as spiritual, the chiru as earthly, and that those came together to create the other three stories.
The narrator, John Krasinski, was perfect for the role because Roy and the creators wanted to have comedy, drama, and heart, all in this movie, and they needed a narrator whose voice was able to embody those three things all at once. Roy talks about how he was always drawn to him as an actor, and just views him to be an amazing performer who was able to "get to the heart, do the drama, and he's a great comedian."
He talked to us about how he personally went and visited the pandas, which was an amazing experience in itself. The cinematographers, that Roy himself refers to as the "unsung heroes" during this experience, would dress in full panda suits and would wear panda scent as not to disturb the pandas in their habitat. He explains that Ya Ya, for example, is an 800lb. animal with a cub, so the crew would have to stay sufficiently away, while still blending in with the environment.
The golden monkeys, on the other hand, were the "easiest animals to infiltrate," because they love to play for the camera, he says. The cinematographers placed what are called "camera traps" – real cameras, set aside from everything, and controlled through a remote further away from the camera.
And lastly, the snow leopards, which are notorious for being difficult to photograph and video, were the most severe. The cinematographers had a small, two bedroom hut that they would stay in, and they had a strict routine on leaving the hut to catch footage, and coming back to stay safe and warm.
In the movie, there are some moments of peril that may be scary to young or sensitive children. When asked on his thoughts about it, Roy kept it simple; this was a true life adventure film. They wanted to really portray what real life was like for all of these creatures, so all the creators just had to let nature take its course, and that it's "important to portray life as is."
When asked what he wanted everyone to take away from this movie, he told us that he wants everyone to understand that there isn't much difference between the human and the animal world. Just like a monkey can feel left out, a mother panda can struggle with wanting her baby to stay home, and a snow leopard can learn just how difficult it can be to survive; Roy Conli wants everyone to feel as one.
He says how in making movies such as these true life adventures, they have three goals; to inspire, to educate, and to entertain. Ask anyone who has seen it – this movie truly succeeds at all three of those.
Lastly, Roy Conli tells us how he and his wife are both members of the Snow Leopard Trust, which is an organization that helps fund the safety of snow leopards as a whole specie, and also members of the World Wildlife Fund (WWF). The most amazing thing is during the first week of this movie being out (April 21-27, 2017), Disneynature will make a donation to the WWF through the Disney Conservation Fund to help protect snow leopards and pandas in China.
If you go visit "Born in China's" website here,  you can download both an educator's guide and an activity packet for free! Filled with tons of fun activities, tips for protecting the environment, and exciting trivia on each of these amazing animals, these free downloads are a great way to get you and your kid excited to see this movie during its opening week! Have a wonderful Earth Day!
Here's the trailer in case you haven't seen it yet!