I've always been a dog person. We've had dogs as far back as I can remember, other than a stint of a few years before I married my husband. Small dogs, big dogs, I love them all, but I have to say that I've honestly never given much thought to how dogs became domesticated. They've always just been pets, but if we look back in history, we have to wonder: at what point did dogs change from wild animals living together in nature to animals that sit on our laps and give us kisses for giving them a treat?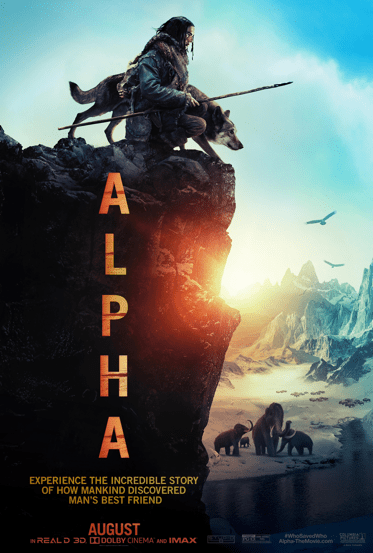 Sony's new movie, Alpha, explains it, the evolution of wild pack animals to dogs that keep us warm at night and become a part of our family. Debuting in theaters on August 17, Alpha is the story of a young man on his first 'adult' tribal hunt, so his tribe can survive the winter. As the son of the chief, he has been trained heavily for the mission but in a world where it is every animal for himself, it's dangerous. Things can happen in a minute, and they do, stranding the young man in a very precarious place by himself, with a distraught father only returning home because he believed his son to be dead. However, the son survives, only to wake and find out he's entirely alone and must find the path to return home. He starts out on his journey solo, but that quickly changes, bringing us the story of the Alpha.
Written and directed by Albert Hughes, the cast is small, but the visually stunning movie packs a lot of action and adventure into the the 97-minute long film. The film is rated PG-13 as there is intense action. It is also a visually dark film in many spaces so it could be too much for the younger crowd, and one of the earliest scenes in the movie is dark in nature. (I won't give any spoilers, but the death of animals, particularly in a group, can be hard to see at any age and may leave adults explaining to kids that it's just a movie.)
Alpha is a quick flick and I love the relationship between the young man and the dog. Training a dog is one thing, but in an era where one doesn't train dogs, but avoids them as they are dangerous, it's enlightening to watch the two bond as they both learn to trust each other in a role neither has experienced before: from wild pack animal to best friend! If you're a dog lover, you will enjoy Alpha even more! Also, if you want to enter for a chance to be a part of the Alpha Movie Fan Gallery, or to be featured as the Alpha Dog of the Week, tag #WhoSavedWho and #UseMyAlphaPic on social media, along with a picture of your favorite dog! Now, I'm off to go share a photo of my #MissietheYorkie. Enjoy the movie!