Last week, I got a sneak peek at ABC's new comedy, Home Economics. From the perspective of three very different siblings, it approaches real-life situations with humor and compassion that we can all relate to. In my recent interview with Karla Souza, who plays the spouse of Topher Grace's character, I got some behind-the-scenes scoop on what it was like making ABC's latest sitcom.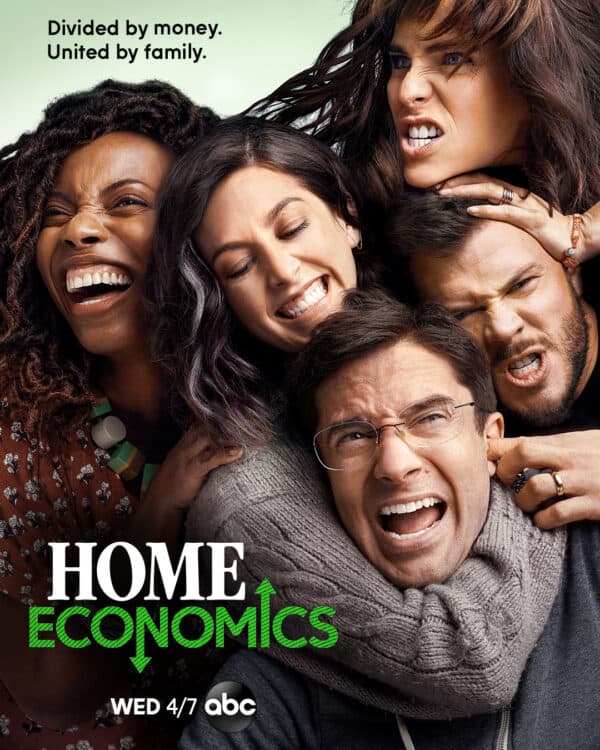 Home Economics is funny. The first episode alone had me laughing at the exchanges between the rich brother, the sister who just lost her job, and the brother who seemingly has it all together yet desperately needs a loan to hold him over. That, in a nutshell, is the basis of the show. Each of the siblings is facing their own unique crisis, only sharing so much with the others, without realizing how much better they'd be if they communicated and supported each other.
Isn't that how life is for everyone though? We go through our day-to-day lives, trying to ensure our forward-facing self is positive, yet we talk our problems to death at home. Then we go to family gatherings and want to leave after five minutes because we're not being honest. For one reason or another, we stifle ourselves. As we learn from the three siblings on Home Economics, we should probably change it.
Self-deprecating humor is always a draw. Making fun of ourselves can help us get through the worst of times…but so can making fun of others, which these sibs have down to an art form.
The cast of Home Economics has familiar faces as well as up-and-coming actors who you'll enjoy in their new roles. Led by Topher Grace, it also contains Karla Souza (who plays his wife), Jimmy Tatro (his 'rich' brother), Caitlin McGee (his sister) and Sasheer Zamata (her partner).
Our interview with Karla Souza proved she's well-cast in her role as the feisty Latina, "Marina," who has taken time off from her career as a lawyer to care for her family. She's the supportive wife who loves her young family — and wine. Her admitted imperfections make her relatable while we love her for her wit and the ease with which she says it.
We got to sit down with Karla in a Zoom meeting last week and she was a delight. Funny, quick on the draw when there was a technical glitch and friendly to each and every one of us.

She was candid about what it's like to go from filming a weekly drama show ("How to Get Away With Murder," also on ABC) to making a comedy, which is "hard" by comparison, as well as what it's like trying to do it all during a pandemic. Doing table reads over Zoom, then doing run-throughs with masks on, before doing it for the live camera while seeing everyone's faces for the first times during that scene.
In short, "it was a really fun way to kind of shed that skin and sort of start afresh on TV with something like this. "
Karla was fun throughout the entire interview, but I felt she really endeared herself to us all — even more — when she mentioned that the role had initially been written for her character to be Peruvian. She spoke with the network and explained that she couldn't really laugh at herself (as Marina) in the same appropriate way as if her character was Mexican, so they made the change based on her input. She also points out that a Latina's marriage to a White man, brings a lot of comedic options as well. As you'll see, it definitely works.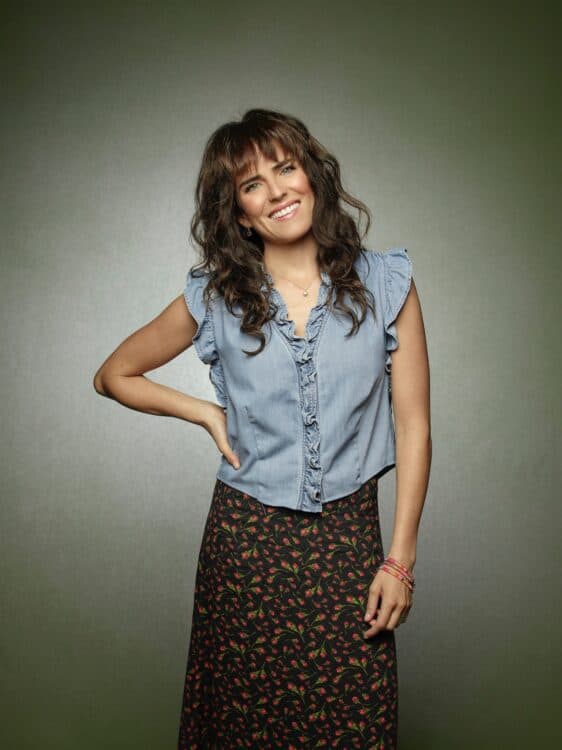 When one of the main actors mentions that it's hard to keep a straight face during filming, you know it's got to be a fun set to work on, and that often translates to a success that viewers can feel. I think that's the case with Home Economics — Wednesday nights on ABC at 8:30pm PST.
Thanks, ABC, for the opportunity to interview Karla Souza and get a close-up look at the making of this new show. Can't wait to see more episodes!