Scoop on our DWTS Q&A session with "Dancing with the Stars" pros and "Dancing with the Stars: Juniors" mentors Brandon Armstrong, Alan Bersten and Gleb Savchenko! 
Ever since its first season, I've been an avid fan of Dancing with the Stars. Actually, let me back up a bit…the husband was an avid fan, and I teased him about watching reality TV, something he doesn't normally do. "But…." and before you know it, I was sucked into it. I've watched every single season, cried along with the stories of some of the stars, cheered, danced in my seat, all the things a DWTS fan does. Most importantly though, I've been in awe of the dance talent on the stage, and in last week's press trip with Disney and ABC, I was privy to a DWTS Q&A session with three of the Dancing with the Stars pro dancers and mentors (seen below in my brief video clip): Brandon Armstrong, Gleb Savchenko and Alan Bersten.
I am not a dancer. Like, not at all. I was not given any bit of dance talent, but that doesn't mean I don't try a little here and there. It's just usually when the house is completely empty and a beautiful, slow or moving song comes on. The three DWTS dancers we got to meet deal with people like me every week — adults and children — and turn us into amazing dancers worthy of fans. (If DWTS ever does a random, non-celebrity season? Sign me up!) I got to do all this courtesy of a press trip, so I am so lucky for this to be a perk of what I get to do as "work!"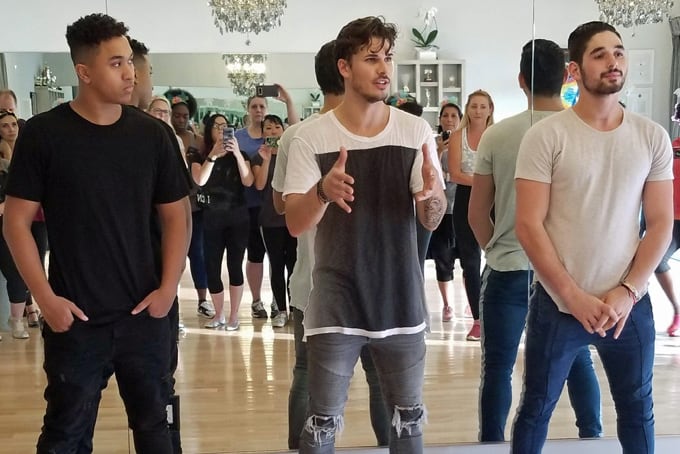 While we did get a dance lesson, as you can see by our attire above, I'm not quite ready to share that with you yet. But, we did get a Q&A session with these three hunks, full of laughs, dance wisdom and a whole lot of inspiration. In just a few minutes, we learned why their partners are in such amazing hands and why they learn dancing so fast….and do it with smiles on their faces.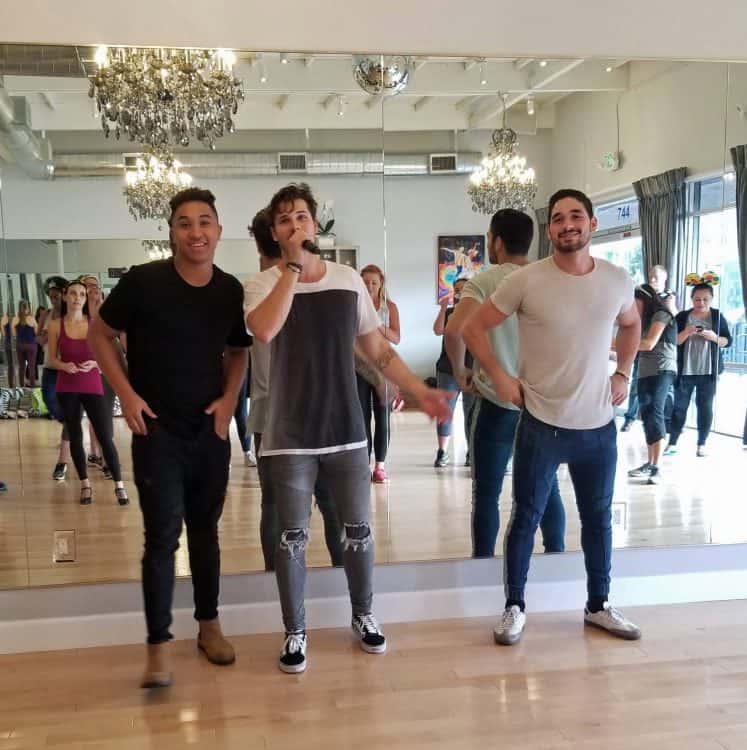 Our DWTS Q&A session took place at the studio in Los Angeles that Gleb Savchenko owns with his wife, Elena Samodanova. Pro Dance LA is located on Fairfax Ave., and offers classes to dancers of all ages. I haven't taken dance lessons before, but the husband and I have talked about it so I have done some research, and I think the rates at Pro Dance are very reasonable. (If only I lived less than an hour away! I'd go there before our local studio.) There mantra is "If it doesn't challenge you, it won't change you."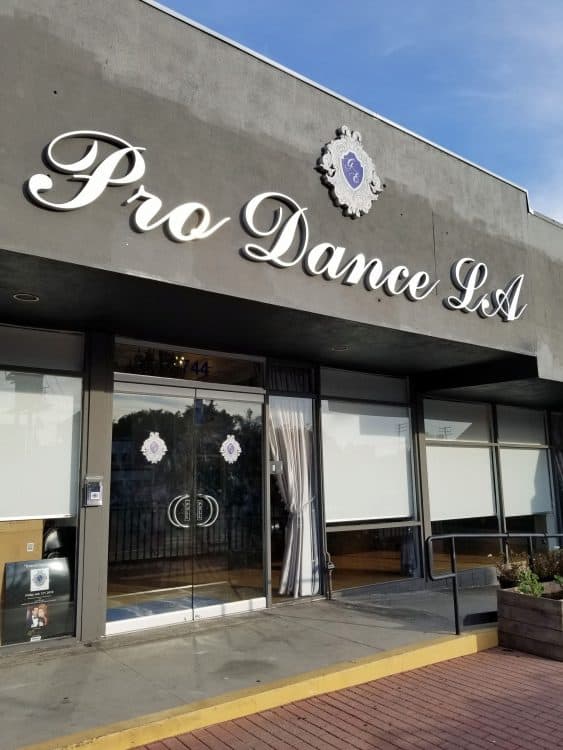 You can follow Pro Dance LA on Facebook, Twitter and Instagram, too, for more info! There is also a YouTube page for both DWTS and DWTS: Juniors HERE.
Gleb, Brandon and Alan are an amazing trio. We got to throw some questions at them rapid-fire style before our dance lesson, so here are a few of the tidbits I learned:
Brandon has had a ton of dance training, even though he started "late" at 13, but he prefers hip-hop. (He did a brief riff partway through that had us all smiling. He's good!) Gleb is also trained in all styles but prefers ballroom. Alan is as witty as they come, responding to the same question about dance styles with a quick "I've never danced before. I don't know why I'm here." And his smile! (Well, let's face it, ALL of their smiles lit up that dance studio.) Alan started dancing when he was seven, and was quick to point out that even though they are all professionals, they are still learning every day, every single time that they get a new song.
A common question that we all want to know is always: favorite moment. Brandon's was of course that he just got his first season on Dancing with the Stars! He did an Argentine tango that he absolutely loved. It was non-traditional and really showcased his style. I think that's one thing we all love about Dancing with the Stars — the individuality we see in every performance.
Alan's favorite moment was also joining the show. As a young boy, he would watch the show with his grandmother and dream about being on it. Dream big, kids, dreams DO come true and Alan is one big example of it.
Favorite dream dance partner? J Lo. There was a lot of head nodding and agreement going on then! Ariana Grande came up, too. (That would be an epic season, right?)
These guys really have good hearts. When asked what provides inspiration for their dances, YouTube was mentioned, but the overarching answer was the music and their partners. They get to know their partner, where they come from, what they do, and why they're on the show and each person requires their own type of dance and story in the dance. It's all about the celebrity, as their job is to make them look good. (And they are rocking it!)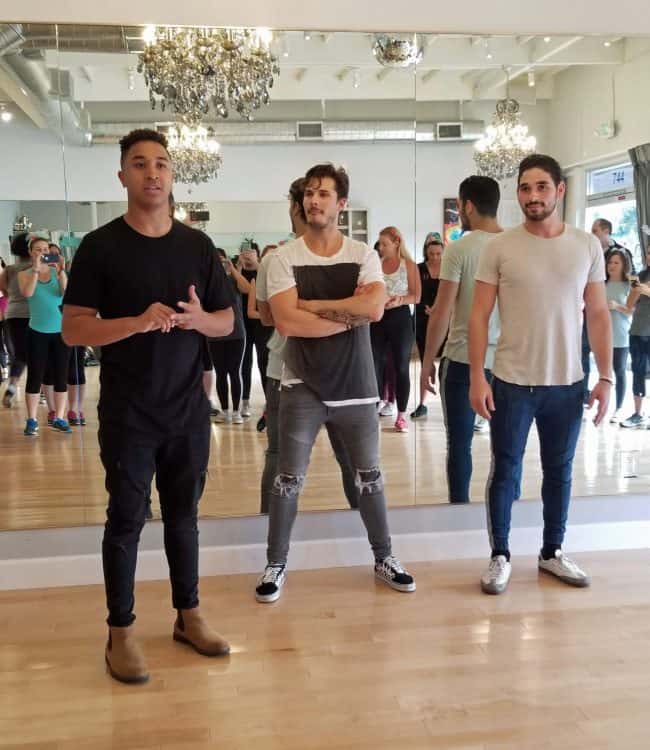 When asked what they felt they needed to learn more about, Brandon mentioned ballroom. He was taught ballroom, but he was not an elite ballroom dancer. Gleb added some perspective to it though by reminding us that while it is about a dancing competition, it's first a tv show, so camera placement and visual details — like being able to see his face in a shot — means that he can't always do a proper, perfect hold as he would in a professional competition as then you won't see his face. To me, this just said that they are even harder workers than I'd originally thought, as this means they are dance mentors who provide instruction, motivation, direction, inspiration AND they still have to remember where to look and how to provide the best camera angle. So much more goes into these shows than one would think!
One big example of providing inspiration was shared by Alan. His DWTS: Juniors partner is Sky Brown, one of the best skate boarders in the world. Her feeling was that if you did your best, nothing else really matters, so while he's the mentor, she taught him something. Gleb has an eight-year-old daughter who dances but isn't "super" into it, and to dance, "…you have to really want it. Inside of you has to be that competitive feel."
Obviously, the hardest part is eliminations, especially for the Juniors. They really seem to roll with it though and enjoy the experience. I think they handle it more graciously than I could! The next DWTS: Juniors episode is Sunday, November 11 (8pm EST/PST) and is "Juniors Choice," where each couple will perform a Charleston, jazz, cha cha or samba, dancing to a song that has special meaning to them or is just a favorite song. I'll be watching — will you? (I was actually at this episode during taping, so I can't wait to see if my daughter and I made it on-air at all!)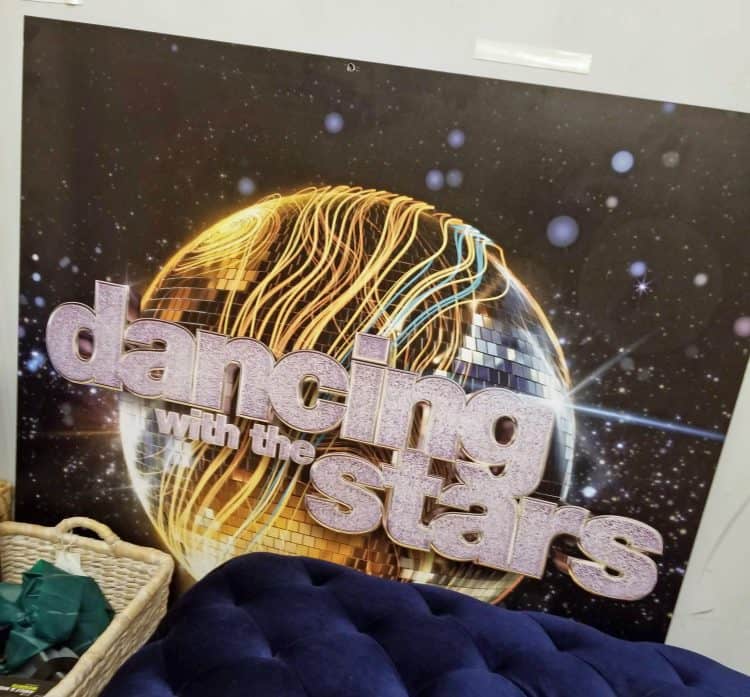 The next Dancing with the Stars episode, live on Monday, November 12, features the remaining six couples heading into the semi-finals. The first dance will be dedicated to a meaningful person in the dancer's life, and will be a waltz, salsa, contemporary or Argentine tango. The second dance is the Judges' Choice dance, used to determine who goes onto the finale, and will be a jive, foxtrot, quick step, salsa or cha cha. The first set of scores will be combined with the second for a final judges' tally. So much suspense!
Thank you, Gleb, Alan and Brandon for an amazing experience! "Dancing with the Stars: Juniors" airs Sundays at 8|7c on The ABC Television Network or streaming or on the app and "Dancing with the Stars" airs Mondays at 8|7c on The ABC Television Network or streaming or on the app. Don't miss it! (Did you know that there is also a DWTS Live Tour? You can find out how to buy tickets HERE so you can see it in person!)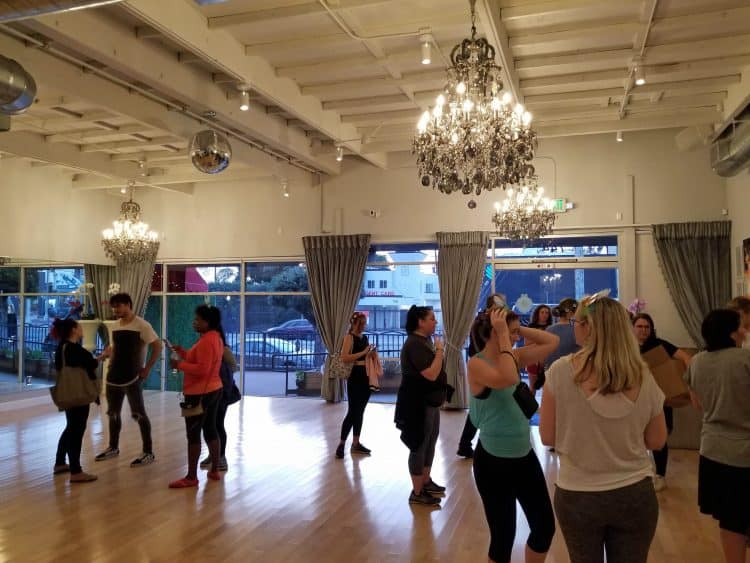 Stay tuned for a blog post in a couple of months detailing our dancing lesson! I won't give away anything more than this clue: we were on the Disney Nutcracker press trip, so check out our headbands!