Last week, when I received the agenda for the Disney's Nutcracker Event press trip, I was so excited to see that we were going to be not only visiting the Station 19 set, but that we were going to be interviewing Station 19 cast — actress Jaina Lee Ortiz ("Andy Herrera") and actor Boris Kodjoe ("Captain Robert Sullivan") — AND the show's showrunner & Executive Producer Stacy McKee! I've been watching the show since its first episode, and I'm a big fan of the whole crew, and their crossover episodes with Grey's Anatomy. Have you watched it yet?
If not, you're going to want to now, after I share some of the behind-the-scenes scoop about some of the Station 19 cast and crew — Jaina, Boris and Stacy. They were all such a pleasure to interview and clearly, they have a lot of fun at work!
One of the most surprising things we learned was that Jaina Lee actually took the fireman's test. Do you know how hard that is? That's real dedication to immersion into the role and learning more about what real firefighters face to become a fireman. Part of the test is dragging a 165-pound body, and she attempted to practice on her mom even! Not only does it give her real insight into the physical challenges of a firefighter, but she gets to keep in shape for those sexy scenes. Looking at her in these photos, she looks fab!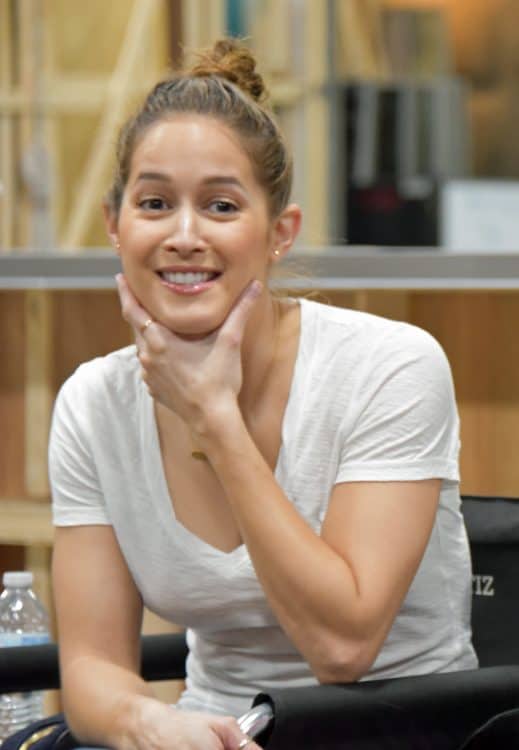 Boris admitted he had not taken the test, but he then dazzled us by speaking German, only one of the several languages he speaks. (Remember that episode where Andy is repeatedly muttering under her breath in Spanish about the new Captain and then he finally responds, in Spanish, later? That was one of the best scenes!) By the end of the interview, he said he would indeed take the test, too! He and Jaina and Stacy have a lot of respect for each other and their obvious chemistry will make for success onscreen as well as off.
Boris wanted to be on the show as soon as he heard about it, but he was already committed to an amazing role on another network. When that was cancelled on a Friday, he met with Stacy on Monday, so by Monday night, he'd already rolled right over to Station 19 to play the new captain on the scene…which isn't without its own difficulties, as Andy and others were attempting to get the role of Captain once her dad (Captain Pruitt Herrera, played by Miguel Sandoval) had to step down due to medical issues. I'm anxious to see how this continues to play out this season!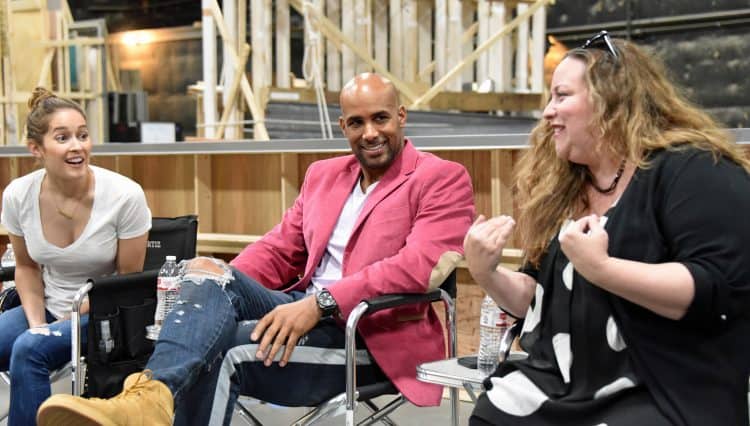 Let me share some applause for Stacy, who began with Grey's Anatomy on Episode 1, all those seasons ago, but left on season 13 in order to start Station 19. I had visited the Station 19 set a few months ago, where I sat next to Stacy during a traditional fire house breakfast, and I remember her sharing how she had visited an actual set (in Seattle) to figure out what to include on their studio set, so they could film all the scenes necessary, include any rendezvous scenes necessary. (And we know that Station 19 and Grey's both have those!) Station 19 was created to highlight the station, just three blocks away, that has been scene as an accessory to Grey-Sloan Memorial for 13 years. We've all heard about it and scene the medics and firemen, but now we get to know them personally, and Stacy's made that crossover happen seamlessly.
Stacy is not just the Exec Producer, but she's a fan. When Shonda mentioned there would be a spin-off, she immediately volunteered. Then she heard that they had found their Andy, and the beginning of the idea just blossomed from there. She went to interview two female fire captains, two badass women who are moms who also fight fires, and she was smitten. Her words exactly were "Pinch me!" about the excitement of being involved. (Don't we all want to work on something that we love so much?)
Stacy revealed that this season, she's getting a chance to really flesh out the characters and cast of Station 19. Season 1 only had ten episodes, which barely scratched the surface, but now she's able to develop relationships and let us see what makes each person tick, including the new captain.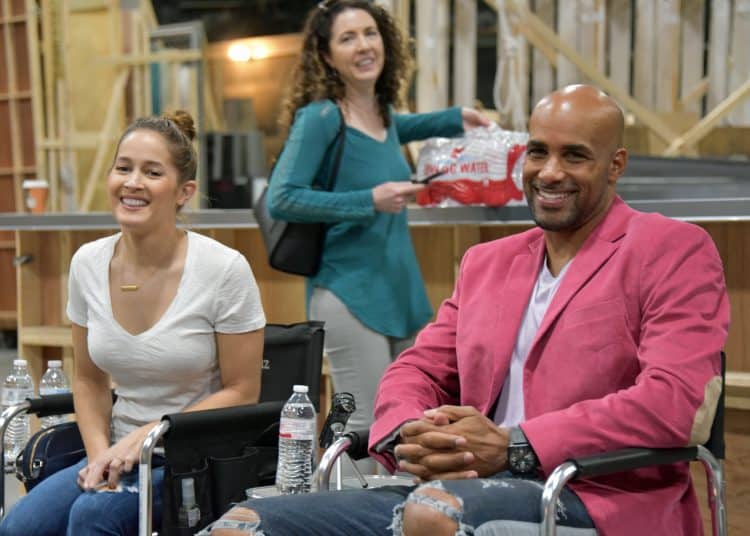 Did you know that a lot of the show is actually filmed in Seattle? The exterior shots are there on location, but they also have a burn stage here in SoCal, where they do indeed include fire, which necessitates that they all learn proper safety measures and experience real heat. The turnouts they wear weigh 40 pounds, and they wear the real ones. They also have a legit fireman on the set to supervise and make sure the scenes feel as authentic and realistic as is safely possible. What they can't burn for real, they add in as CGI, but as a fan, even knowing that, I can't tell when I watch!
Are you going to watch this week? Here is a really brief synopsis of this week's episode, which sounds like a must-see!
Last Day On Earth" – Just when Ryan agrees to talk it out with his dad, Greg Tanner makes an unexpected visit to Station 19, leaving Ryan and others confused. In an effort to connect with his crew, Captain Sullivan enlists the help of an unlikely source for some bonding tips.
Here's also a brief featurette starring Boris Kodjoe, which is not available out there for public viewing yet, so enjoy! It really summarizes the Captain's personality….so far. I suspect we're going to get a lot of insight into what has made him this way very soon, and I can't wait to get to know him better.
And that personality you see? It came out in our interview as well! We also got a glimpse of it when Jason George surprised us on the set when we took a brief tour.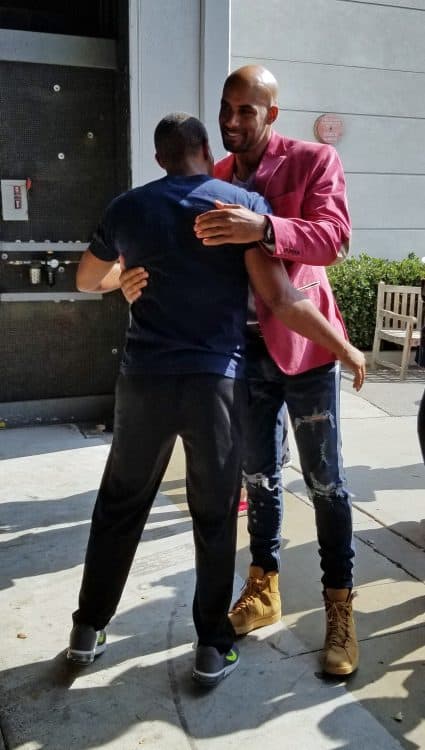 Check out some of the fun shots I got — this is what the set looks like when they aren't filming, you'll recognize it all if you've watched even just one episode this season.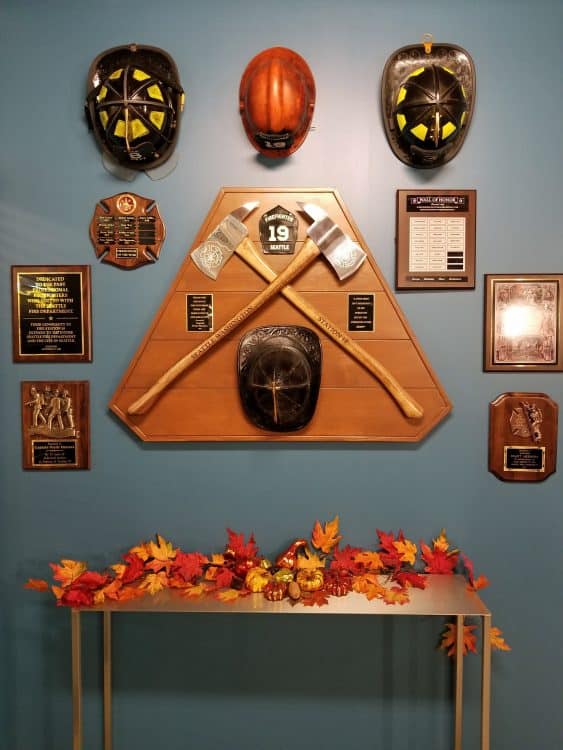 That memorial wall is a bit of a tear jerker, as firemen are indeed heroes and I also have a son-in-law who is a fireman. Heroes, every single one of them, whether they are headed to a house for a medical issue, rescuing a cat (they really do that!) or saving someone from a burning building.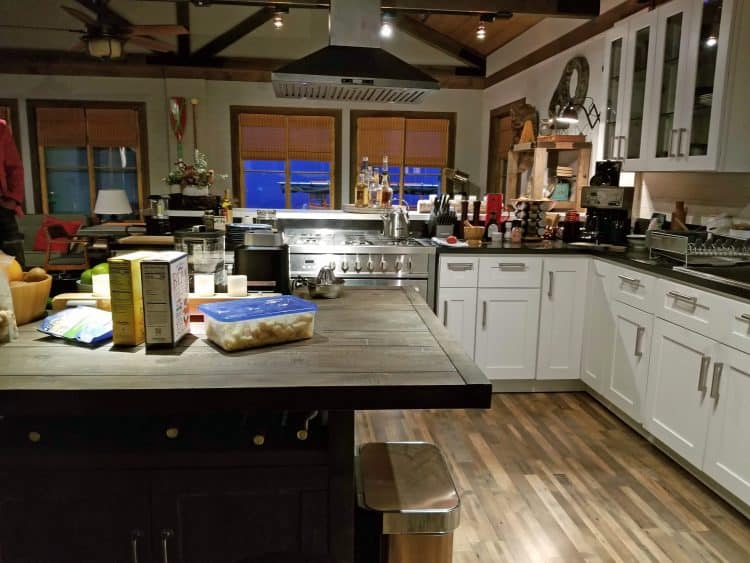 That set is going to be really prevalent this season. It's so realistic, down to the food on the counter and the items scattered throughout the various rooms.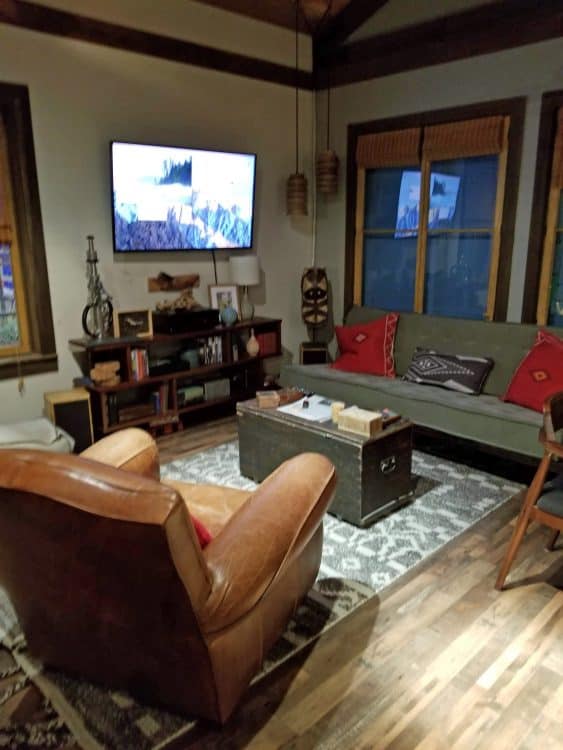 Recognize this workout room scenery? No set props here, just real workout equipment.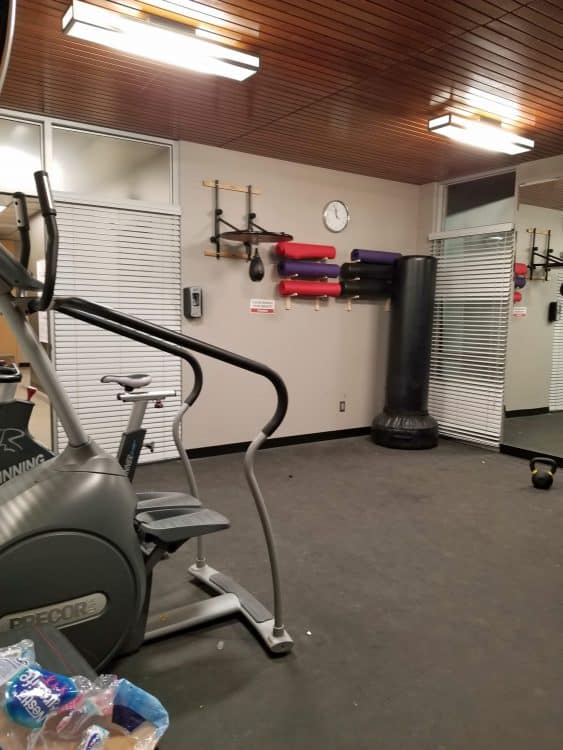 Thursdays at 9|8c on The ABC Television Network or streaming or on the app — here's the Station 19 playlist on YouTube for online viewing! Get to know the cast of Station 19 today!