The longer this quarantine goes on, the harder it is for families to find things to do. Game night, family movie night, fancy dinner night, even just playing in the yard, it's all getting old….but have you watched Dolittle yet?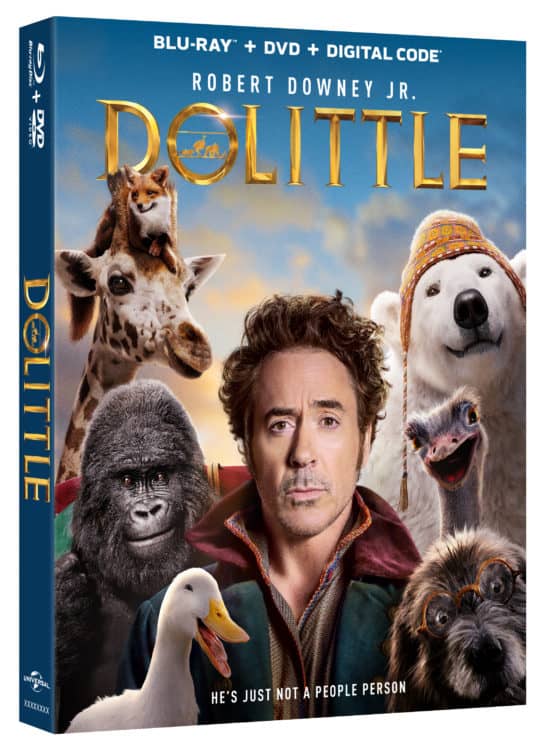 Universal Home Studios released this movie on Blu-ray last month, and it's a lighthearted fun film that's rated for all ages. Adults will enjoy the fun animal sequences and the kids will get a lot of laughs. And then there's Robert Downey, Jr. Who doesn't love watching him in pretty much anything? The rest of the cast is also very talented, bu I have a soft spot for Chee Chee, the gorilla voiced by Rami Malek.
This movie takes place in Victorian England seven years after Dr. Dolittle's wife dies. Here's some movie specifics straight from Universal:
The adventurous tale is brought to life with an all-star cast that includes the voice talents of Academy® Award winner Emma Thompson (Last Christmas, Late Night), Academy® Award winner Rami Malek (Bohemian Rhapsody, "Mr. Robot"), Selena Gomez ("Wizards of Waverly Place"), John Cena ("WWE"), and Tom Holland (Spider-Man: Homecoming) and more. The film is directed by Stephen Gaghan (Syriana) and produced by Robert Downey Jr. and Susan Downey.
After losing his wife, he hermits himself away behind the high wall of his manor but is forced to set sail on an epic adventure when the queen falls gravely ill. Helping Dolittle in search of a rare cure are his rambunctious animal friends—including Chee-Chee (Malek), an anxious, self-conscious gorilla; Dab-Dab (Octavia Spencer, The Help), an enthusiastic but bird-brained duck; the bickering duo of cynical, neurotic ostrich Plimpton (Kumail Nanjiani, The Big Sick, "Silicon Valley") and chilly-but-chill polar bear Yoshi (Cena); as well as a headstrong parrot named Polynesia (Thompson). Catch incredible bonus content that you can only see on the 4K Ultra HD™, Blu-ray™, DVD, and Digital release showcasing the making of the film and insight to all the cast.
Downey's accent and kooky behavior is fitting for a story about talking animals. If you're looking for a serious award-winning movie, this is not it, which makes it exactly what you need for a family movie night in the middle of a lockdown!
My kids are older, so we didn't theme food for this movie but I did have some ideas for Dolittle-themed food!
I'd make tea, to play off Dr. Dolittle's visit to Queen Victoria, who is sick after eating a mysterious plant. (Hence, his reason for the visit to Buckingham Palace.)
Fruit salad, because they have to seek a special fruit to cure the Queen. Of course, it would include bananas.
Crackers: silliness because of Poly the Parrot!
And of course, a fruit punch cocktail for the adults…rum, anyone?
Dolittle makes a cute family movie night, and a fun addition to your movie arsenal for future visits by friends with kids, who will get a laugh out of the animal antics. Pick it up or download on digital today!