Thanks to Walt Disney Animation Studios, we got a sneak peek at the making of Disney's new Strange World movie, which hits theaters exclusively in November 2022. This new, original animated film introduces us to three generations of the Clade family, explorers each in their own right. Together, with Searcher Clade's wife, a three-legged dog, Callisto Mal (president of their town, Avalonia) and a blue blob they name Splat, they work to save their world by saving Avalonia's primary source of energy, Pando. Little did they know what lies ahead.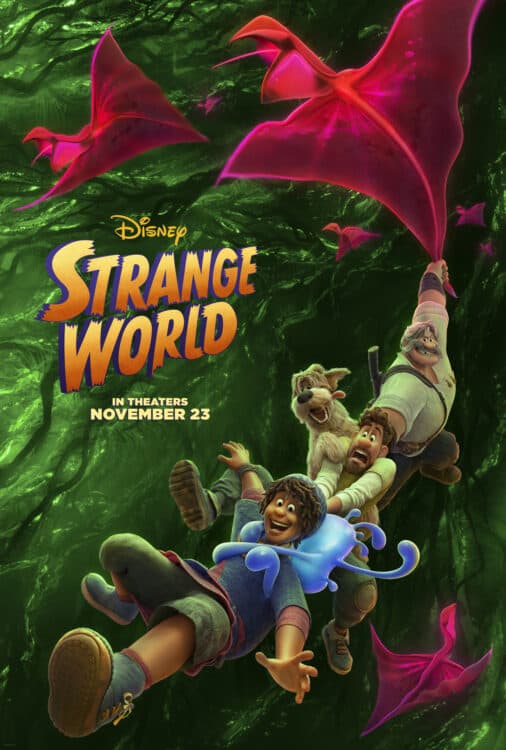 Strange World takes us on a Journey to the Center of the World-esque adventure, where each of the three Clades runs into their own personal journey in addition to the larger one at hand. With engaging characters, incredibly colorful scenes and nature that's come to life in ways you've never seen, Strange World will pull you in.
Strange World" features the voices of Jake Gyllenhaal as Searcher Clade, a family man who finds himself out of his element on an unpredictable mission; Dennis Quaid as Searcher's larger-than-life explorer father, Jaeger; Jaboukie Young-White as Searcher's 16- year-old son, Ethan, who longs for adventure; Gabrielle Union as Meridian Clade, an accomplished pilot and Searcher's partner in all things; and Lucy Liu as Callisto Mal, Avalonia's fearless leader who spearheads the exploration into the strange world. Helmed by director Don Hall (Oscar®-winning "Big Hero 6," "Raya and the Last Dragon") and co- director/writer Qui Nguyen (co-writer "Raya and the Last Dragon"), and produced by Roy Conli (Oscar®-winning "Big Hero 6," "Tangled"), "Strange World" ventures to the big screen
In attendance at the Strange World movie press day was:
· Director Don Hall (Director)
· Qui Nguyen (Co-Director and Writer)
· Roy Conli (Producer)
· Mehrdad Isvandi (Production Designer)
· Sean Jenkins (Head of Environments)
· Amy Smeed (Head of Animation)
· Justin Sklar (Head of Animation)
Early press days include Q&A with various teams from the film's development, and it's always a joy to learn their inspiration for the film and the processes involved in its creation. Don and Qui started our day, immediately sharing that our kids and the adventure stories of our childhood drive their inspiration. Qui wanted to focus on "how do we make a world for today and tomorrow?"
The big focus for press days leans toward the how and why of the movie, and the Strange World movie early press day was no different. There was a lot of laughter, as animators are notoriously quirky and clever, and the Q&A sessions are always fun. When asked about the design inspiration for the specific parts of nature, they revealed that the big Transportasaurus was inspired by sausages! Their goal, of course, was to be wholly original, and in the few minutes of film that we saw, they have again succeeded.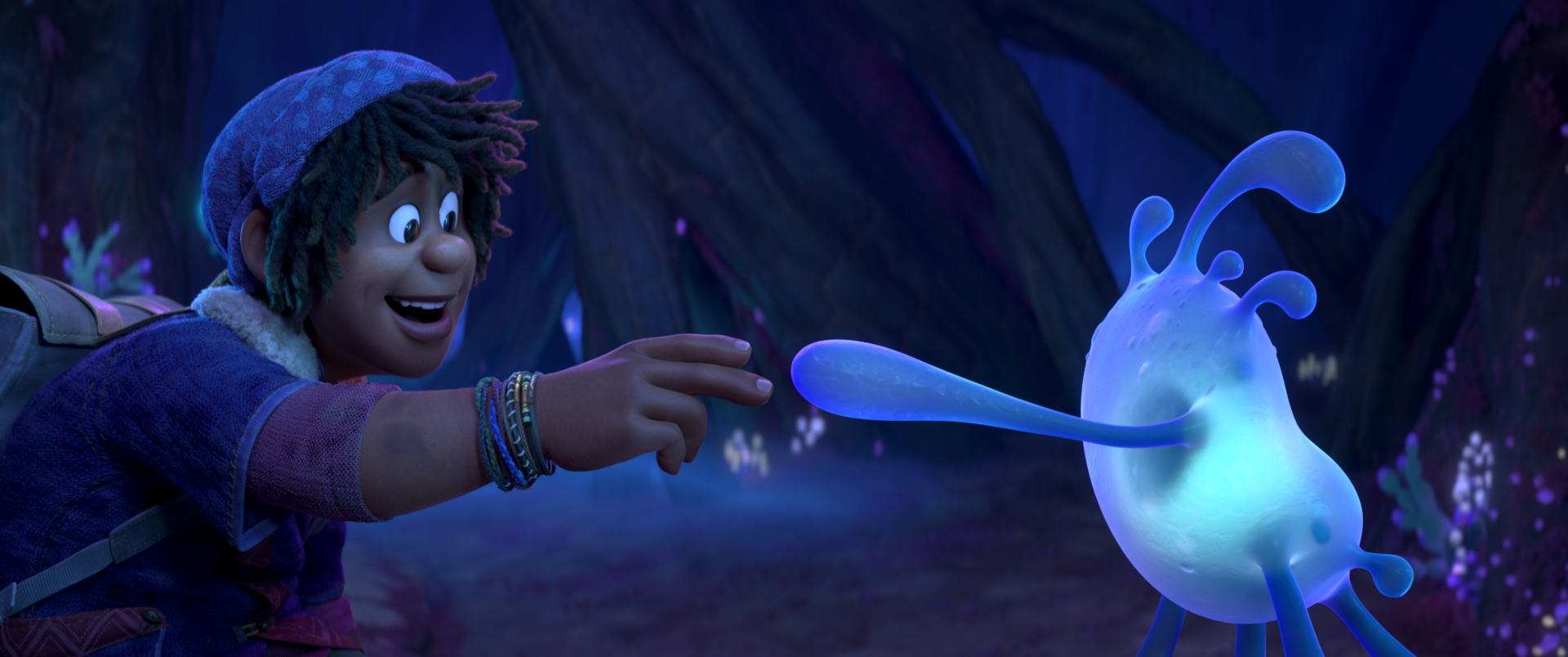 One big character that is indeed entirely unique is Splat. He's an ally that the Glades find on their inner-planetary adventure. He's a lot like Baymax, where his visuals are very stripped away. Without any face, he had to display his emotions and communication without a face and with pantomimes and other means. He reminds me of what someone would envision a much bigger, and happier, germ would look like, and because he can go "splat" against an object and resume his normal shape and size gives him the name we all love. He's also unique in that there is zero human sound effects with Splat; he is 100% machine when it comes to any/all audio. Animation had to really work hard on Splat. He refreshes 24 times every second he's on screen, which means 24 individual animations PER SECOND. That's pretty incredible. Every time I come from an early press day, I am more amazed at the amount of work put into the Disney and Pixar films. It gives me such a renewed admiration. Splat's moves were all created to somehow be entertaining, even though he was the hardest character to create tech-wise. When you see the movie, you'll see why, but for me, Splat was a scene-stealer.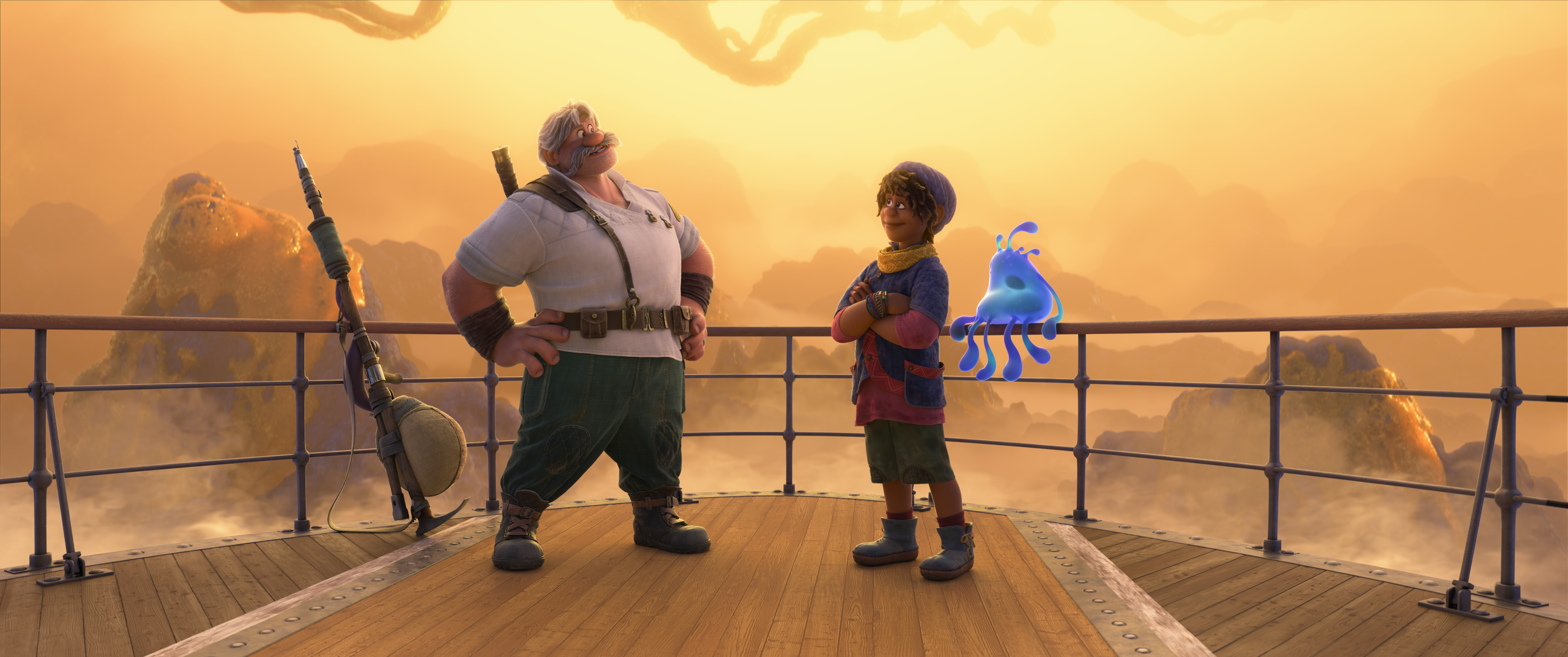 A great question for Don and Qui was about the son's name. All the other names are very regal, original and exciting, but the son's name is a normal human name, Ethan. That was by design, because they wanted to give him something more ordinary. Entirely practical choice, because saying Ethan Glade was a lot easier than saying Jaeger, Ranger (the first iteration), Meridian, Callisto, etc. Ethan inserts one name that's easier to say.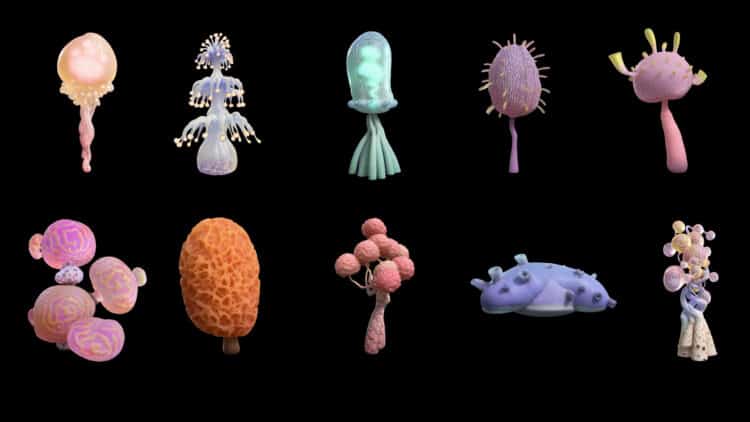 Something you'll probably notice in the film is that the landscape is not made up of green, yet you see it as a forest of sorts. There was a bit of a challenge to make that happen, because we expect a landscape to be green, yet this one is entirely beautiful with the trees and other natural organisms being varying shades of pastels and bright colors. Fun fact: the Strange World movie environment is the largest one built ever in Disney animation. They didn't have computers large enough to fit it all on one screen!
Another fun fact: the individual components of that landscape had nicknames for the animators to refer to, such as Whoopie Cushion, Flatty Patty, Hillwalker…and Kevin, which gave us all a laugh. (It was named after the animator who designed it.)
One incredible moment of the event — well, it was all incredible, but one major highlight was the opportunity to do a VoiceOver for a scene. To stand in a booth where the real talent stands? Sign me up! First, here's the studio view of me doing it.
And here's the finished product! I had three words and it's a lot harder than it looks when you see it on the big screen.
I can't wait for the debut of Strange World. It's a family-friendly movie for all ages. I haven't seen the whole movie, of course, but I imagine from what I did see that it's safe for all age ranges and has a little something for everyone. (And I guarantee you're going to see a lot of adults in there without kids. Including us.)
Watch the trailer and see for yourself!
Thanks again to Disney for the invite! We enjoyed breakfast and lunch, fun Splat lattes and the opportunity to do a voice over as one of the movie characters. More on that later!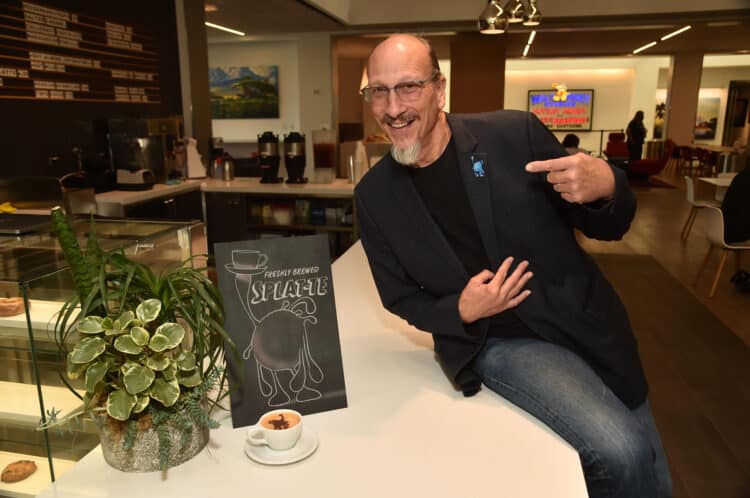 And of course, pictures with Splat — day made! Let me know what you think of Disney's Strange World movie after you see it.