What is it with us that we sign up to voluntarily get scared?? Every year, I wonder this…and then I head to Knott's Scary Farm. This year was no different. I was invited to Knott's Scary Farm's media event on opening night, and what a night it was!
This year, I took my 20-year-old daughter. She'd never been to Knott's Scary Farm and she was in for a treat!  The evening started with a media dinner, but first, we were at the gate as the Deadly Seven arrived with the Green Witch.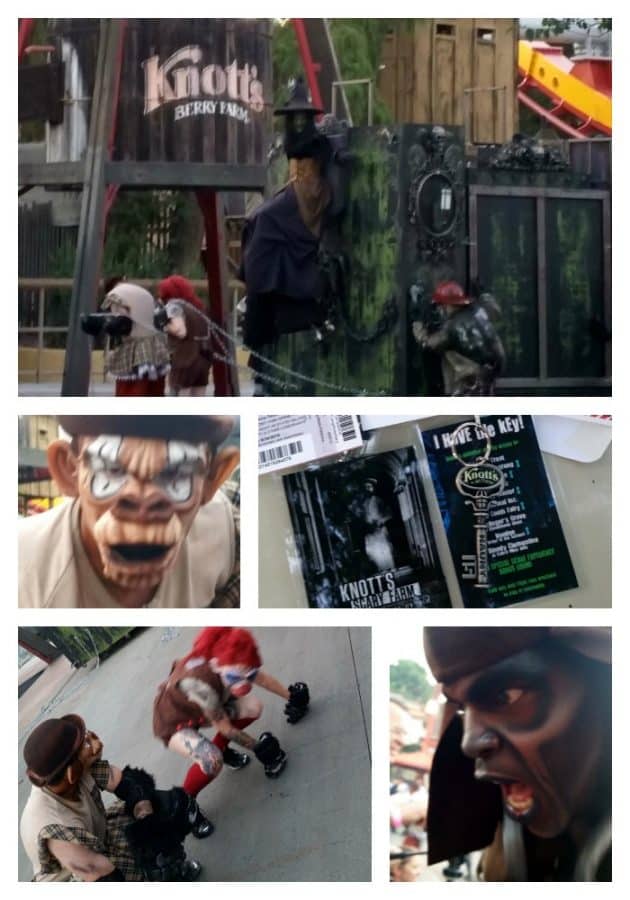 The Green Witch got just a little too close and beckoned me to come to her. I didn't.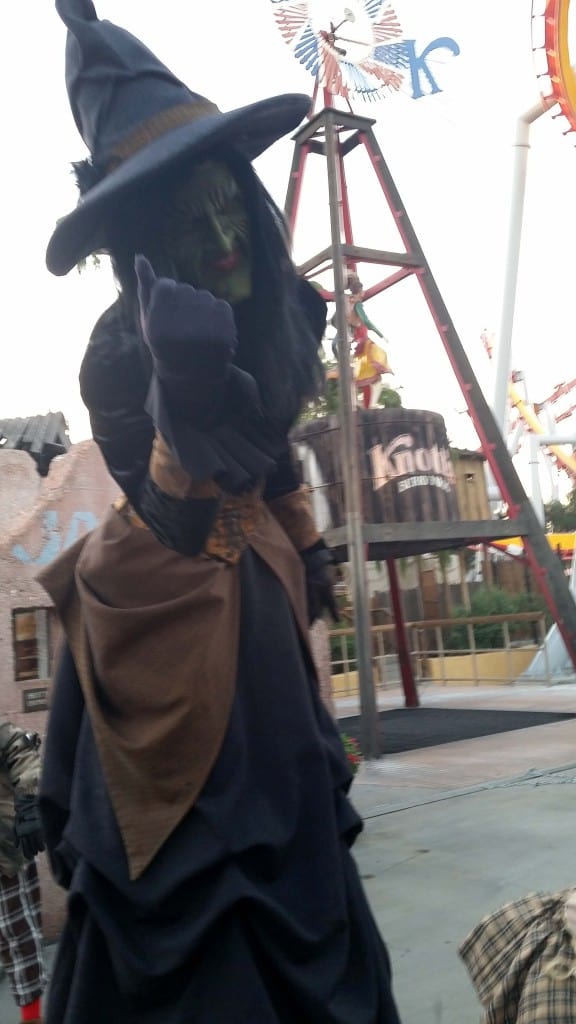 After we escaped the Green Witch, we ran past The Gunslinger's Grave maze to head to the fiesta village, where dinner was being served. As luck would have it, there was no one in line for the maze yet, so we were first! That maze is super-scary and old west styled, so it's a definite must.
As usual, Knott's put on quite a display of Halloween-themed food, from the bar to the desserts.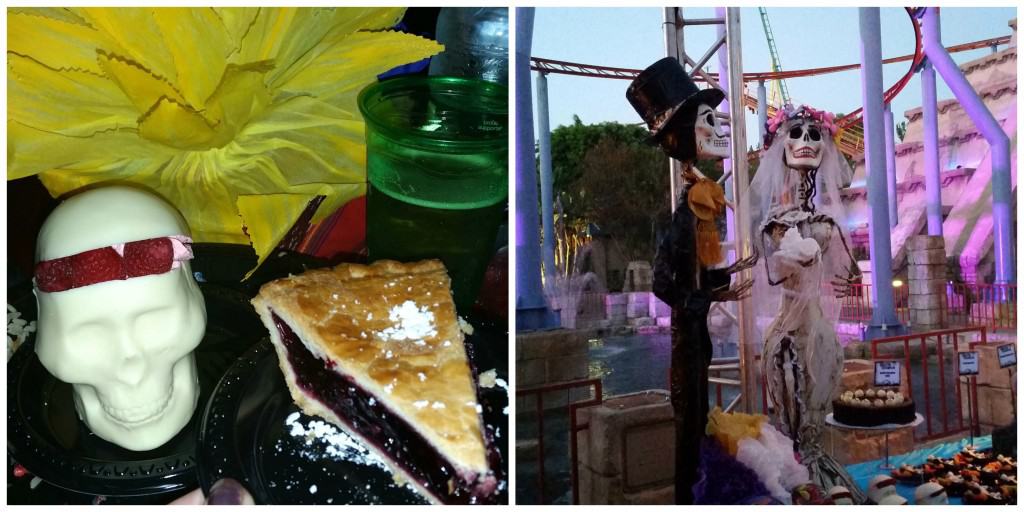 Then it was time for the mazes and scare zones. This was the first year that the Calico Mine Ride had live talent inside. We were sitting on the wrong side of the car for most of it, so if you've got a younger child with you and you want them further away, get into the cart and sit on the far side. The views from every seat are fantastic though, so wherever you sit, you'll get a show. The story is that a family came to visit the mine and were murdered there, hence the name "My Bloody Clementine." Clementine haunts the mine and you'll hear and see her creepy spirit all throughout the ride.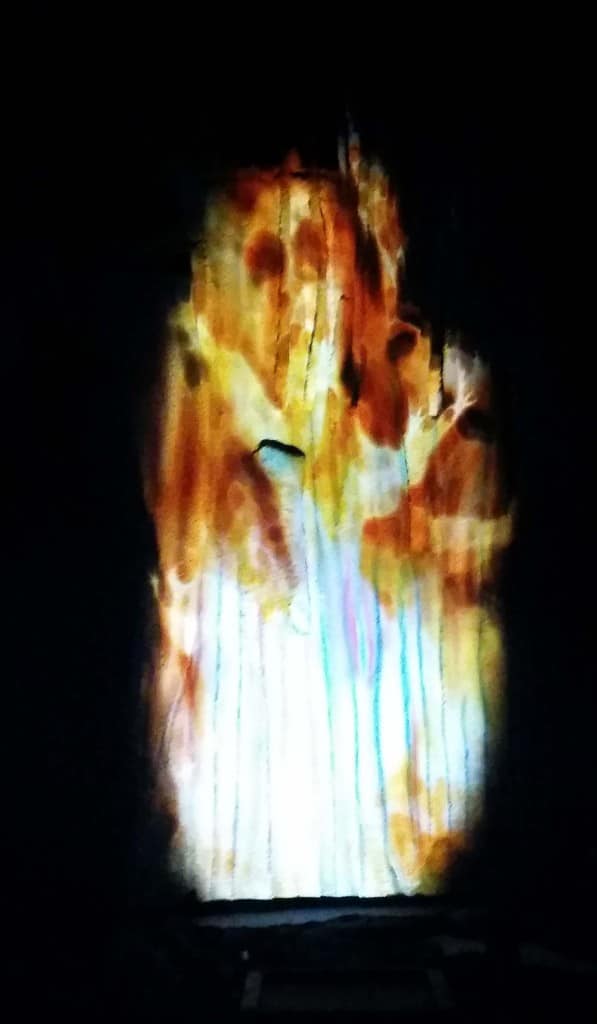 Do you like magic? You'll want to visit the Black Magic maze, a Houdini-themed walk that is scary from the entrance. The first scene is a headless seance and it will get you walking faster!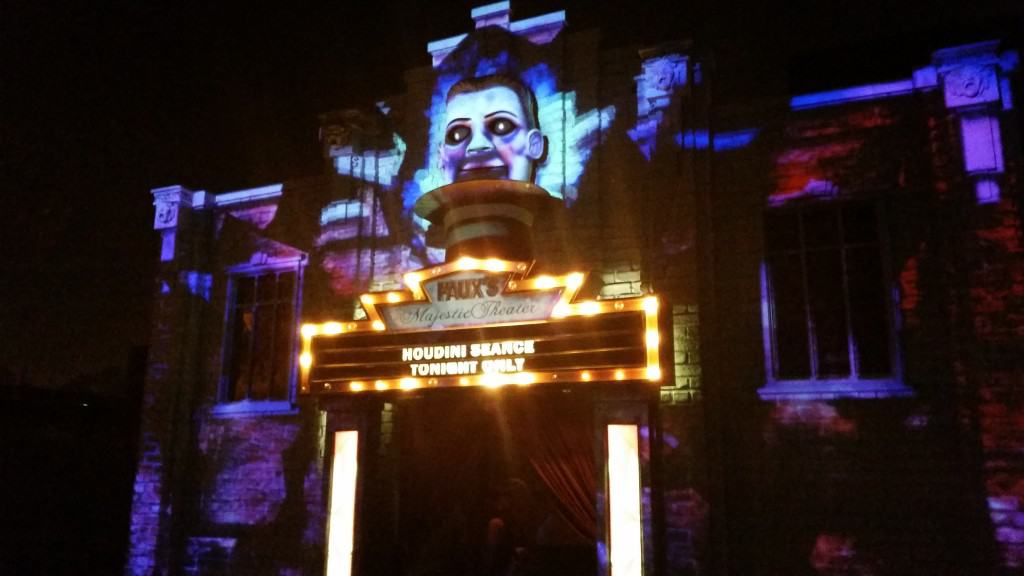 It's easy to get distracted by all the ghosts and monsters and sliding creeps, but be sure to look around. All over the park, pay attention to the little details. Each year, it gets better and better.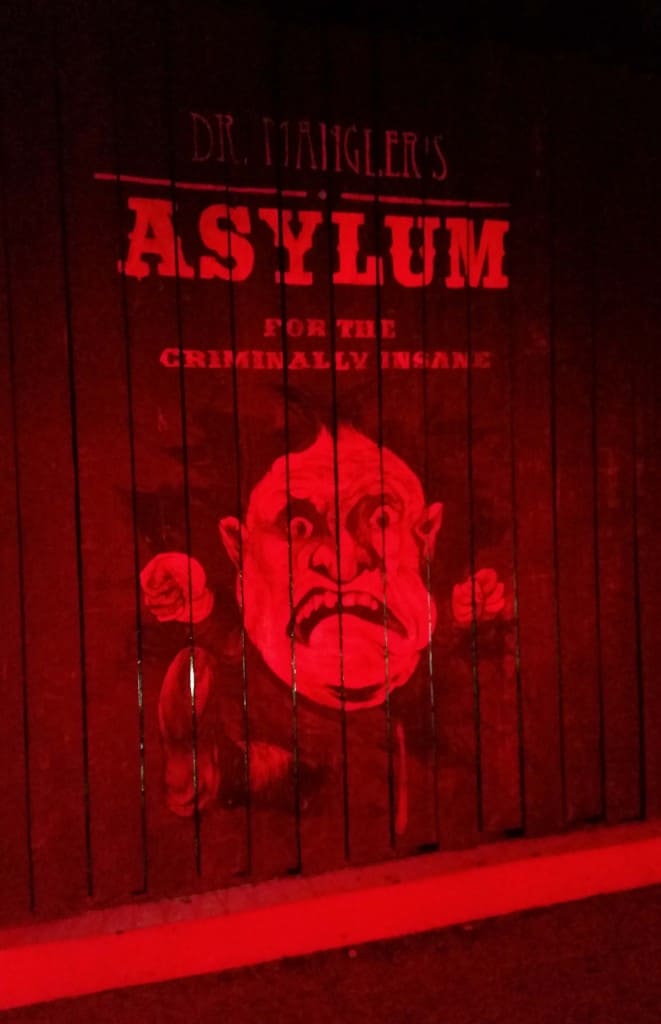 See what I mean?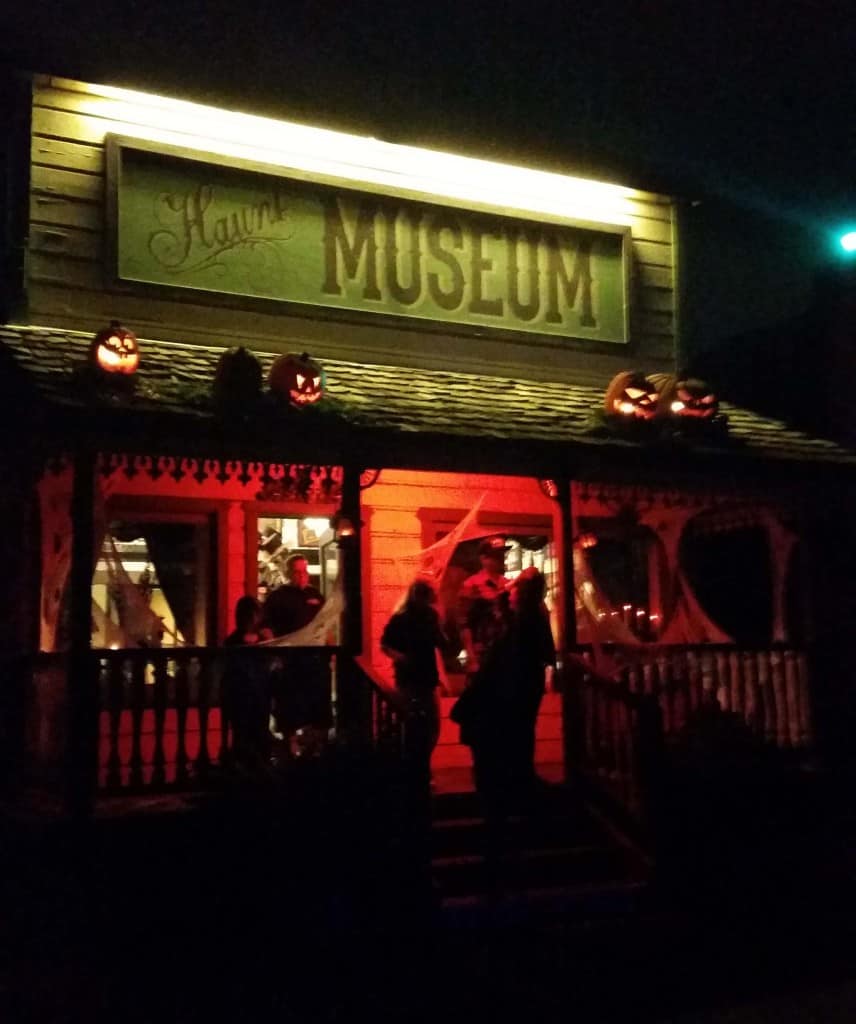 This haunt museum is available year-round, but visit it at night when you have to traverse a fog-filled pathway, avoiding ghostly cowboys. Filled with actual props and pieces of Scary Farm history, you definitely want to plan on spending some time in there.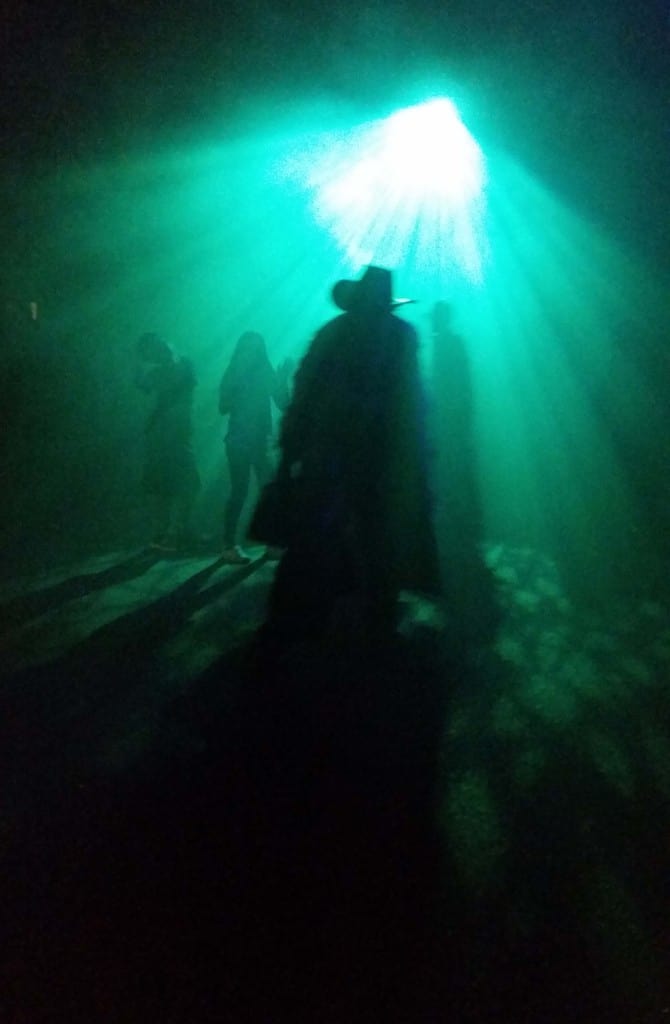 And this is one dude you'll have to get by to get there.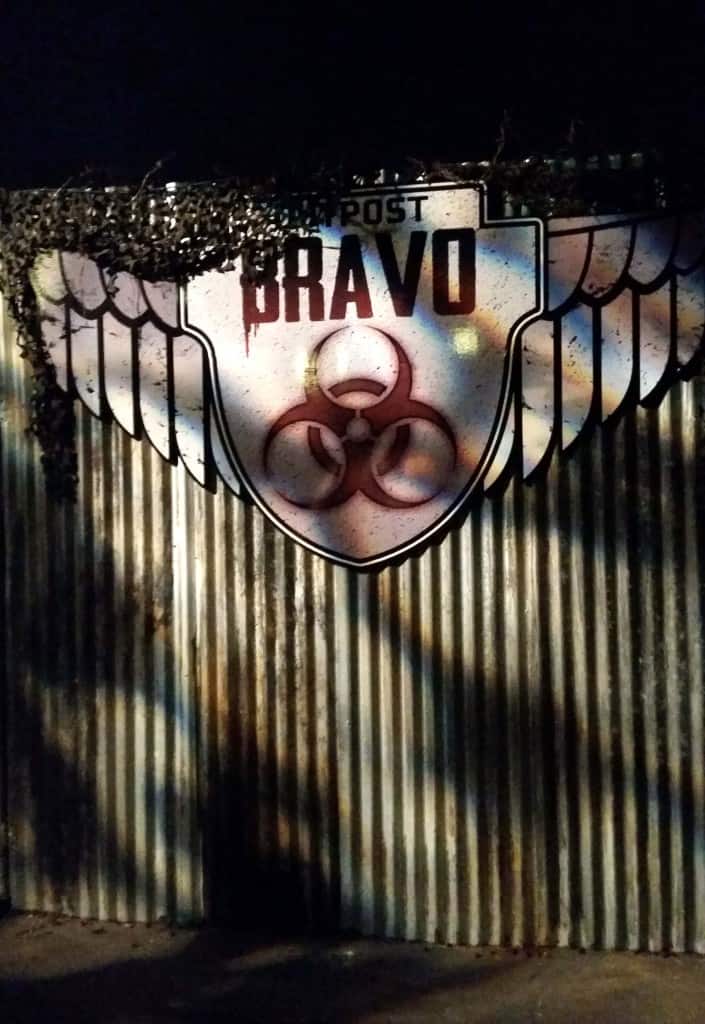 Like zombies? You'll want to visit the Special Ops: Infected maze. It's a live, interactive zombie-laden run, twice the size of last year's maze, where you'll shoot at zombies, recharge your health and try your hardest to make it to the end alive. (Beware, the line for this one gets long so you may want to hit it up early. I didn't, so I was unable to experience it this year. I love zombie stuff so I was bummed but next year, I know where to go first! This one's popular!)
Knott's Scary Farm offers family entertainment all throughout the night in addition to the mazes and scare zones. Just be prepared to be scared, and it may be too much for the younger crowd. Knott's hasn't left them out though, as Camp Snoopy is now Camp Spooky! Just right for the kids under 12 or so, you'll see the Peanuts characters in costume and enjoy Halloween decorations on a much less scarier level. Something for everyone again at Knott's during Halloween this year. I hope you get a chance to attend — buy your tickets in advance, some nights will sell out!
Happy Halloween!